NFL Week 5: A Dozen Bold Predictions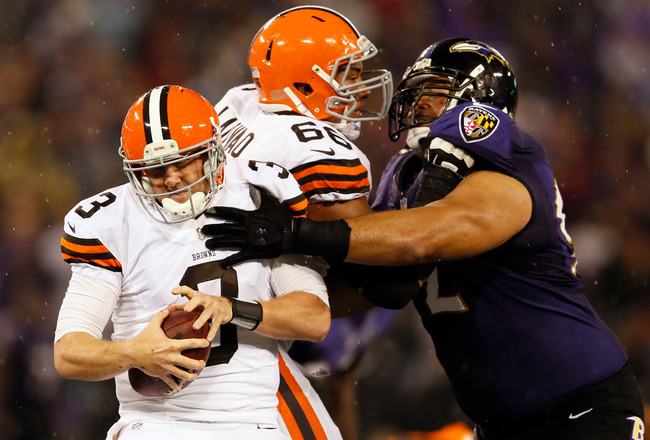 Are Brandon Weeden and the Browns ready to break into the win column in 2012?
Rob Carr/Getty Images
First, a thank you for all of those who have either enjoyed or been annoyed by this weekly forecast.
Over the last three weeks, we have gone out on a limb (and perhaps further) 43 times and by my count, every prediction has come true (give or take 40 or more).
In all seriousness, we had the 49ers beating the Jets by 34 points last Sunday and the Bears picking off Tony Romo five times on Monday night. Heck, we even had the Lions giving up two more special-team touchdowns and losing to the Vikings a week ago.
Unfortunately, those boldest of picks were left on the editing room floor (or were perhaps a figment of someone's imagination).
In any case, it is try and try again as we attempt to unearth the most unlikely of scenarios that actually have a decent chance of coming true.
Maybe…
1. Chief Concerns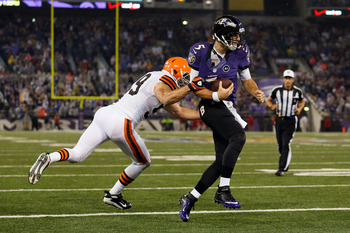 Rob Carr/Getty Images
There are those who felt that the Kansas City Chiefs may be a team to be reckoned with in 2012.
So far this season, they've been closer to a wreck.
With a league-high 15 turnovers in four games and all three of their losses by at least 16 points, it's been a disappointing start for the Chiefs and head coach/defensive coordinator Romeo Crennel, who won two of his last three games a year ago after taking over for Todd Haley. In those games, the Chiefs gave up a total of 33 points.
In 2012, the Chiefs have given up 40, 35 and 37 points in losses to the Falcons, Bills and Chargers, respectively.
Here comes 3-1 Baltimore, with some extra rest after a 23-16 Thursday night win over Cleveland in Week 4. The Ravens' offense looks much different this season, as does the defense.
But what hasn't changed is the contrast between the team's performance at home and on the road. Dating back to the start of 2011, John Harbaugh's club is 12-0 in Baltimore and 4-6 on the road, including the playoffs.
There may be some uncertainty regarding the Ravens' defense, but there's no question how important this game is to the Chiefs. And they'll play with that kind of urgency on Sunday and come up with a solid win.
2. Good Things Come in IIIs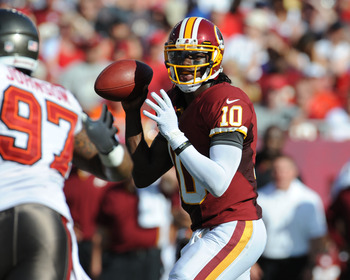 Al Messerschmidt/Getty Images
It's been quite the start for a franchise still searching for its first Super Bowl title.
And if the 4-0 Falcons can beat the 2-2 Redskins on Sunday in D.C., they will have started 5-0 for the first time in the team's history.
But that figures to be easier said than done against an intriguing Washington team, one that has learned to score points thanks to an assist from rookie quarterback Robert Griffin III.
The 'Skins have scored at least 24 points in each of their four outings this season, which equals the number of such performances during all of 2011.
More significantly, only the Chiefs are averaging more rushing yards per contest than the Redskins. Conversely, only three teams are giving up more yards per game on the ground than the Falcons.
Last week, Cam Newton totaled 86 of the Panthers' 199 rushing yards vs. Atlanta. This season, the Redskins are averaging 171.0 yards per game rushing and Griffin III has run for 234 yards and four touchdowns.
And by late Sunday afternoon, the Falcons will still be seeking their first 5-0 start.
3. Better Luck Next Time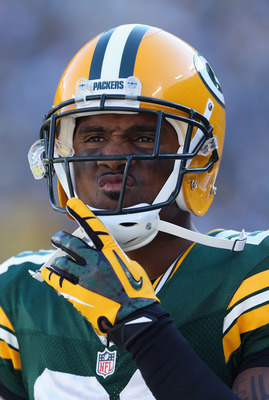 Jeff Gross/Getty Images
Heisman Trophy winner.
Super Bowl champion.
Ball-hawk extraordinaire.
It's been quite a run for Charles Woodson, who began his stellar career in Oakland and was a Pro Bowler for the Silver and Black.
But his days in "Titletown" have been incredibly impressive. In seven seasons with the Packers, Woodson has 38 interceptions and has returned nine of those thefts for scores. He had 17 interceptions with the Raiders and has returned two for touchdowns.
Do the math. That's 55 interceptions, 11 returned for scores. The latter total is one short of the NFL record held by Hall of Famer Rod Woodson (12).
Of course, number 12 is about to come at the expense of No. 12. Colts' rookie quarterback Andrew Luck will send a pass Woodson's way, and the veteran defensive back will take it the distance to tie the league mark.
And in the future, when someone asks who holds the record for most interceptions returned for touchdowns, you'll be able to say "Woodson" and not be wrong.
4. It's a Steel
Ron Chenoy-US PRESSWIRE
In some ways, we haven't seen the real Pittsburgh Steelers in 2012.
In Week 1 at Denver, there was no James Harrison, Rashard Mendenhall or Ryan Clark. A week later in a win over the Jets, Clark returned but Troy Polamalu joined Harrison and Mendenhall on the sidelines, as was the case a week later in the loss at Oakland.
Off a well-timed off-week, Mike Tomlin's club appears as healthy as it's been since the start of the season. And the Steelers will need to have all hands on deck against a Philadelphia Eagles' team that can be explosive yet implode at any moment.
Still, Andy Reid's team did not commit a turnover in last week's win over the Giants after coughing up the ball a dozen times in their first three contests.
And that's where Polamalu comes in. In the second quarter, a blitz will lead to a sack, fumble and return by the perennial Pro Bowl safety that will lead to a Steelers' touchdown. In the fourth quarter with Pittsburgh trailing, 16-10, the rangy safety will pick off a Vick pass, takes it to the house and Tomlin's team will win by a hair.
Sorry. I couldn't resist.
5. Yo, Adrian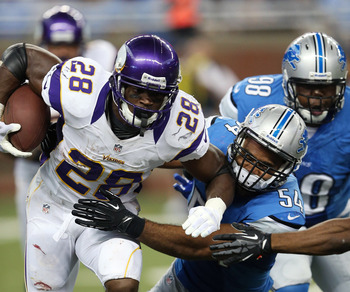 Leon Halip/Getty Images
It is hard not to be impressed with what is going on in Minnesota these days.
A mere 10 months ago, Leslie Frazier's team was on its way to a three-win season. And in Week 15 at Washington, star running back Adrian Peterson went down with a knee injury that was apparently serious enough to put the start of his 2012 season in jeopardy.
But a funny thing happened on the way to another disastrous showing for a franchise only a few years removed from an appearance in the NFC title game. While a 3-1 start hardly ensures a playoff berth, it is already as many wins in four weeks as the Vikings managed in 16 weeks in 2011.
It's also been a decent start for Peterson, who has rushed for 332 yards, 102 of those coming in last week's surprise win at Detroit. But now the Minnesota workhorse faces a Tennessee Titans' defense that has yet to answer the bell in 2012. Only the Saints are giving up more total yards per game than Mike Munchak's club, which has struggled equally vs. the run and the pass (27th in NFL).
Hence, it will be Peterson who rings them up for 200-plus yards on the ground and three touchdowns as Frazier's team improves its record to 4-1. Don't be stunned if the Minnesota back makes a run at his own NFL single-game rushing record (296), set against the Chargers in 2007 in his rookie season.
6. Fit to Be Tied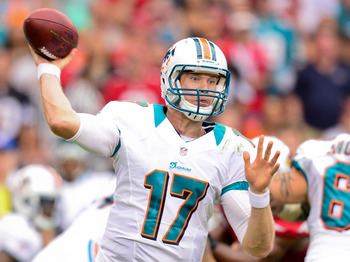 Matt Kartozian-US PRESSWIRE
Despite some positives, the Joe Philbin era in Miami has gotten off to a frustrating start.
After the offense failed to score a touchdown in Week 1 at Houston, the Dolphins ran roughshod over the Raiders seven days later.
But the last two weeks has seen Miami fall in overtime, first at home to the Jets and last week at Arizona.
Now Philbin's club heads to Cincinnati for a date with a Bengals' squad that has rebounded well after being manhandled by Baltimore four weeks ago. Marvin Lewis' team has won three straight and last Sunday stifled the Jaguars in Jacksonville.
There are too many coincidences here to ignore. Miami's last two games have been tied at the end of regulation. And the Bengals have scored and allowed exactly 112 points in four games this season.
At the end 75 minutes on Sunday, Cincinnati's totals will read 136 and 136. If you need to be reminded of the last time an NFL game ended in a tie, it was 2008 at Paul Brown Stadium when the Eagles and Bengals played to a 13-all standoff.
Why not?
7. Little (vs.) Giants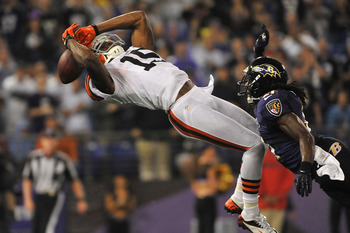 Larry French/Getty Images
On top of a tough month, it must have been a rough week and a half for Greg Little.
The talented Browns' wideout dropped his share of passes in the team's 23-16 Thursday night loss at Baltimore as Pat Shurmur's club remained winless in 2012 and now has a 10-game losing streak dating back to last season.
Still, there have been signs of hope thanks to the efforts of rookies such as running back Trent Richardson and quarterback Brandon Weeden.
It says here that the desperate Browns will give the defending Super Bowl champion Giants and their banged-up secondary fits as Weeden and Little connect for three touchdowns, including a score that leaves that teams tied at 21-all with 1:38 to play.
Unfortunately for Shurmur, that's 98 seconds too long when it comes to Eli Manning, who will lead his team to a Lawrence Tynes field goal on the final play of the game and a 24-21 win.
When it's all said and done, it adds up to a case of too much Little, too soon.
8. Duh, Bears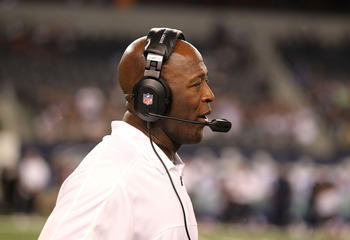 Matthew Emmons-US PRESSWIRE
Apparently, all is well the Windy City after all.
A few weeks after Jay Cutler had the stuffing knocked out of him on a Thursday night at Lambeau Field, the Bears have rebounded with a pair of victories, the most notable last Monday's 34-18 triumph at Dallas in which Lovie Smith's defenders picked off Tony Romo five times and returned two of the thefts for scores.
Since being sacked seven times and throwing four interceptions in the Week 2 loss to the Packers, the Chicago quarterback was dumped only four times in beating the Rams and Cowboys.
The number two is significant because it happens to be the number of sacks by the Jaguars…this season.
It's been a disappointing start for Mel Tucker's unit, which was sixth in total defense in 2011. But in 2012, Jacksonville ranks 26th in the league in yards allowed. Only two teams have been worse against the run.
Until now.
After going three straight games without a sack, the Jaguars' defense will awaken in a big way, dropping Cutler six times and paving the way for a surprising 19-17 win.
Call it the Day of the Cat.
9. San Francisco 65, New York 0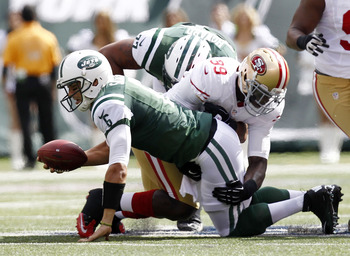 Jeff Zelevansky/Getty Images
The 49ers made the most of their first of two trips to the East Coast this season.
Jim Harbaugh took a page out of last season's travel manual and it paid off in a big way. A year ago in late September and early October, the Niners had back-to-back games at Cincinnati and Philadelphia.
After what proved to be a win over the Bengals, Harbaugh kept the team in Ohio rather than fly back to the West Coast. Only a professional could tell you if that lack of extra travel had anything to do with San Francisco's come-from-behind win over the Eagles.
Last week, it may not have been jet lag but road rage that inspired Harbaugh's club, which blew out the Jets at MetLife Stadium one week after getting run over by the surprising Vikings. The 34-0 victory over Rex Ryan's club remains the only shutout in the league this season.
That is, until this Sunday, when the demoralized Bills (fresh off a 52-28 loss to the Patriots in which they blew a 21-7 third-quarter lead) will arrive in San Francisco and leave 31-0 losers.
That makes it Niners 65 and the state of New York nothing in the span of two weeks.
Next up for Harbaugh's team? The Giants.
10. No Place for Peyton
Rick Stewart/Getty Images
While it's true that Peyton Manning and Tom Brady don't throw passes against each other, it always seems to be fun when these highly lauded quarterbacks take the field against each other.
Including three playoff encounters, this will mark the 13th head-to-head meeting between the two who have combined for 714 touchdowns passes, 407 by Manning and 307 by Brady.
More times than not, Brady's Patriots have gotten the best of Manning's Colts, winning eight of the previous 12 meetings. But it should be pointed out that four of the last six meetings have gone the way of the Broncos' newest quarterback.
However, while the focus will be on Nos. 18 and 12, it's the number 86 that's most significant here. That's the number of points that Brady and company put on the board in a pair of wins over the Broncos last season, including a 45-10 thrashing of John Fox's team in the divisional playoffs.
It's hard to tell just how much better the Denver defense is this season, although it's worth noting that it has already given up eight touchdown passes in four games. That number could go up significantly if the Broncos don't get to Brady early and often.
But don't be surprised if this one goes the way of the Broncos' two losses this season. Denver will dig itself a 20-point hole only to see Manning and company get within six points by game's end.
11. Saints 7, Chargers 6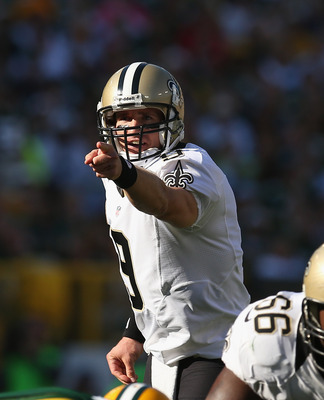 Jonathan Daniel/Getty Images
In figures to be a memorable evening in the midst of a forgettable start for the Saints and quarterback Drew Brees.
That's because the record-setting passer of a year ago can break an NFL record by throwing a touchdown pass vs. the Chargers on Sunday night. It would mark the 48th consecutive game with a scoring toss for Brees, breaking Hall of Fame quarterback Johnny Unitas' mark of 47.
It won't be the first time the Saints' signal-caller has topped Unitas on a list this season. Last week, his three touchdown passes at Lambeau Field gave him 291, one ahead of the one-time Colts' signal-caller.
Given the ability of the New Orleans' offense as well as the problems its defensive unit is having, look for Brees to tie another NFL record by throwing seven touchdown passes to former teammate Phillips Rivers' six on Sunday at the Superdome.
And for the Saints to get their first victory of 2012.
12. No, Holmes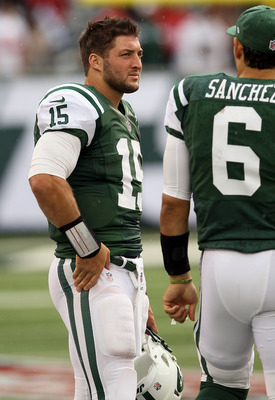 Elsa/Getty Images
When it rains? And in the case of the Jets, it apparently pours even when the skies are clear.
Just when you figured it might not get any worse for the Rex Ryan's team after learning they lost start cornerback Darrelle Revis for the season in the overtime win at Miami, they'll now be without standout wide receiver Santonio Holmes for the remainder of 2012 after he was injured in the club's 34-0 home loss to the 49ers.
Despite still being tied for first place in the AFC East with a 2-2 mark and both of those wins coming against divisional rivals, apparently it's all over for the Green and White, who are hurting in other areas as well.
Into town comes the formidable 4-0 Houston Texans, who have outscored their opponents by a combined 70 points and have allowed only one touchdown in the first half and five touchdowns in four games.
So do Mark Sanchez and company have any chance against arguably the NFL's best team so far this season?
Perhaps if the Jets' defense takes matters into its hands and put points on the board via a few Texans' turnovers. Of course, Gary Kubiak's club has only coughed up the ball twice in four games.
Last week, the Jets became the only team to be shut out this season. By very late Monday evening, that scoreless stretch will have reached two contests.
Keep Reading