Tottenham at Manchester United: 8 Bold Predictions When Spurs Visit Old Trafford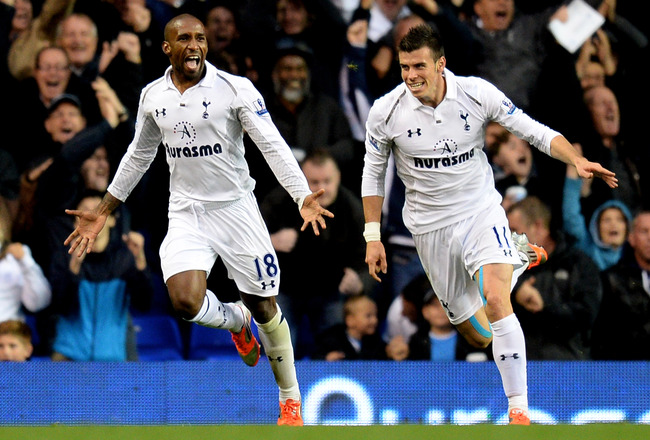 Mike Hewitt/Getty Images
There's no denying it—Tottenham is light years ahead of where they were last time they faced Manchester United.
When Spurs took on the Red Devils last March, they were hanging on to the hope of a top-three finish and certainty in this season's Champions League.
Tottenham lost by the score of 3-1 in front of a home crowd at White Hart Lane, had to settle for a fourth-place finish and, well, we know what happened from there.
It's an early-season rematch, but the result will either catapult Tottenham to the top of the league table or cement Manchester United's place at the summit.
No matter who gets the points, it's going to be a thrilling weekend for both clubs. Here are my bold predictions as Tottenham takes on Manchester United and continues on towards its first title since 1961.
Clint Dempsey Makes His Second-Straight Start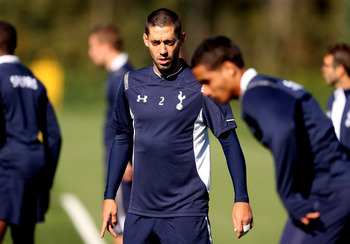 Scott Heavey/Getty Images
We're just getting started in the article, so I'll keep things light—Clint Dempsey earns his second-straight start for Tottenham.
Not only does it make sense with the kind of money Chairman Daniel Levy paid for him, but Dempsey is the future captain of Spurs' midfield and he's earning time on the pitch no matter the competition. The American started against Lazio in Europa play, was on for 76 minutes against Carlisle in League Cup play and he's already made two league appearances.
He hit his stride against Queens Park Rangers last weekend and there's no doubt he's fully match-fit. But will he finally get one between the posts for his new team?
...and Scores in the First 15 Minutes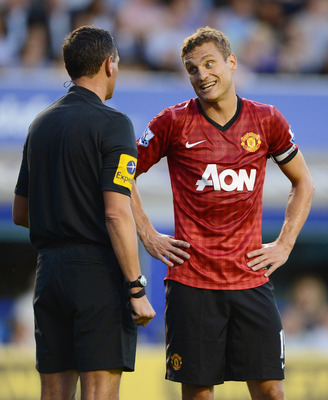 Michael Regan/Getty Images
Manchester United supporters are lamenting the loss of Nemanja Vidic, but they'll quickly find out on Saturday just how badly they need him.
The centre-back's play through the first five weeks of the season has been nothing short of remarkable. Besides his midfield's propensity at playing "keep-away" from the opposition, Vidic is the biggest reason why the Red Devils have only conceded six goals in five matches, despite having their backup goalkeeper in Anders Lindegaard in as the starter.
His ability to keep opposing forwards and midfielders away from the box will be sorely missed. I predict Dempsey will orchestrate an early attack that gets past Lindegaard and puts the away side up 1-0.
Wayne Rooney Earns the Start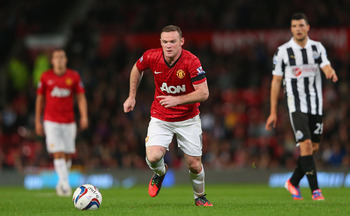 Alex Livesey/Getty Images
Rooney hasn't made a league appearance since suffering a gruesome leg injury against Fulham on August 25th, so another appearance—much less a start—a month later could be stretching it.
But if Rooney's performance against Newcastle United on Wednesday night in the third round of the Capital One Cup told us anything, it's that the 26-year-old is fully match-fit.
...and Equalizes Before Halftime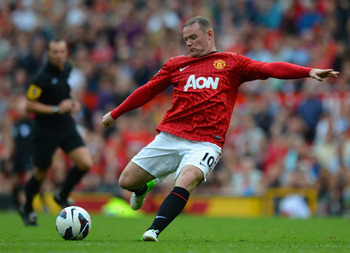 Shaun Botterill/Getty Images
This is Manchester United we're talking about. In front of a raucous crowd at Old Trafford, they'll finish the half drawn with visiting Tottenham and it'll be Rooney who does it.
Rooney looked every bit of rehabilitated from his leg injury on Wednesday night. If not for superb goalkeeping from Newcastle's Robert Elliot, the Red Devils striker would have put one in.
It'll be drawn 1-1 at halftime, with both teams believing they can pull out a victory. After halftime?
Jermain Defoe Scores in the Second Half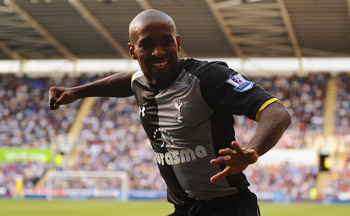 Mike Hewitt/Getty Images
Let's face it — Jermain Defoe is Tottenham's best chance at keeping pace with the potential onslaught of goals Manchester United will throw at the visiting side.
He's currently tied for second in the league with four goals through five weeks, but the Red Devils will be his first real test of the season.
Defoe's better than a lot of people (myself included) give him credit for. I predict it's not a matter of if the 29-year-old will score, but how many times he'll score.
...Twice!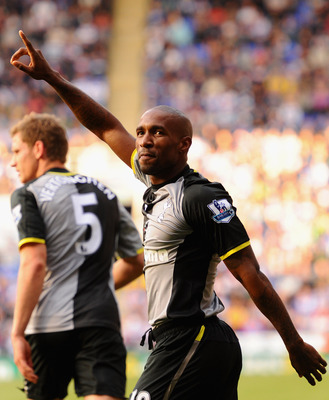 Mike Hewitt/Getty Images
Bold articles call for bold predictions, right?
As I said before, if anyone's going to put the pressure back on Manchester United and have a multi-goal game, it'll be Defoe. He did it against Reading and he nearly did it against Newcastle United and Queens Park Rangers.
The ball will bounce Spurs' way on Saturday and Defoe will put the North London team ahead 2-1 and then 3-1.
Tottenham Finishes with More Possession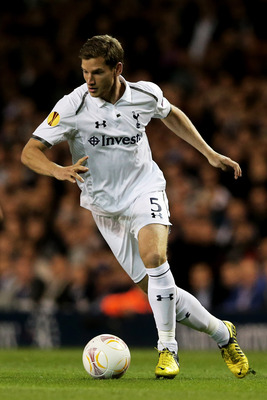 Scott Heavey/Getty Images
The Red Devils will certainly come back and make it interesting, making the score 3-2 before the final whistle, but Tottenham's midfield is finally gelling together and is ready to have a dominant match.
So why's an advantage in possession such a big deal? Because only three teams have held the ball for that long against Manchester United since last January—Liverpool, Manchester City and (you guessed it!) Tottenham Hotspur.
Spurs have improved players since their last meeting with the Red Devils last spring and I think they'll do it again on Saturday as a conservative Andre Villas-Boas tries to hold his lead late in the match.
Tottenham Wins 3-2 at Old Trafford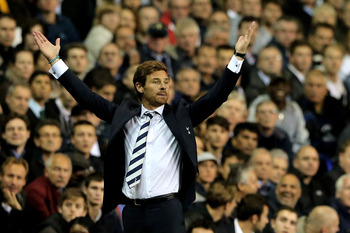 Scott Heavey/Getty Images
All bold predictions aside, earning three points against Manchester United at Old Trafford is an accomplishment—and something that only happened twice last season.
That's not to say it's impossible, though.
In the last two matches, Tottenham has shown themselves to be a team on the rise, outscoring Reading away and Queens Park Rangers at home by an aggregate score of 5-2.
Andre Villas-Boas will get his first away win in charge at Tottenham, and it'll be a victory that catapults his new-look Spurs to the top-tier of the league table.
This is what I think will happen when Tottenham visits Manchester United on Saturday. Comment below and let me know your thoughts!
Keep Reading

Tottenham Hotspur: Like this team?