MLB Trade Rumors: Each Team's Top Prospect They Refuse to Trade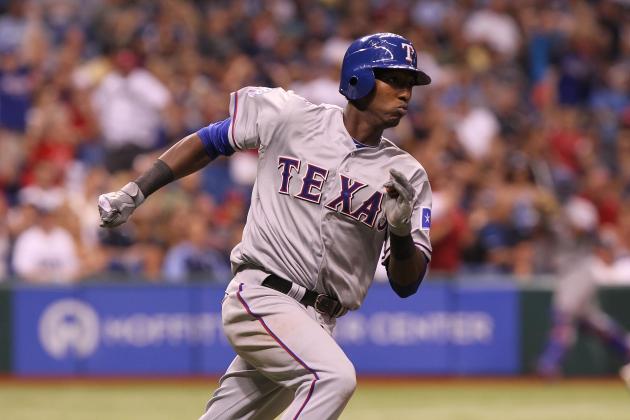 Kim Klement-US PRESSWIRE

As the MLB offseason approaches, discussions and debates will abound as to what fans believe their favorite teams should do to improve this winter.
Free agency will rule in the upcoming months, but many teams will also explore trade possibilities as well. With those trades comes the expectation that prospects will be included in many of the deals.
For any team to unload an impact player, they'll be looking for a return that takes into account the future. Prospects represent that future. It's not just about winning next year, but about building a contender for years to come.
So, as November approaches and the hot stove begins to heat up, we'll take a look at each MLB team and the prospects they will likely consider untouchable.
Note: All prospect rankings are courtesy of MLB.com.
Begin Slideshow

»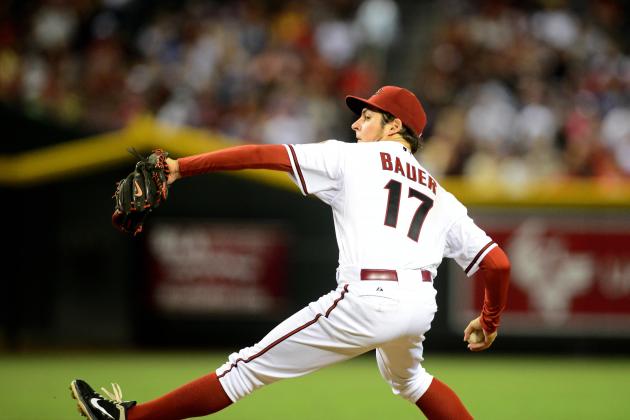 Mark J. Rebilas-US PRESSWIRE

Arizona Diamondbacks' No. 1 prospect Trevor Bauer got a taste of the big leagues earlier this year. While the results weren't quite what he wanted, Bauer nonetheless gave the D-Backs a look at the future.
Bauer posted a 6.06 ERA in four starts, but also walked 13 batters in 16.1 innings. Bauer shined in the minors, posting a 12-2 record and 2.42 ERA in 22 starts between Double-A and Triple-A.
The Diamondbacks look forward to a rotation that would feature Bauer, 21-year-old Tyler Skaggs and 23-year-old Patrick Corbin along with Ian Kennedy, Trevor Cahill and Daniel Hudson.
No way Bauer is going anywhere this winter.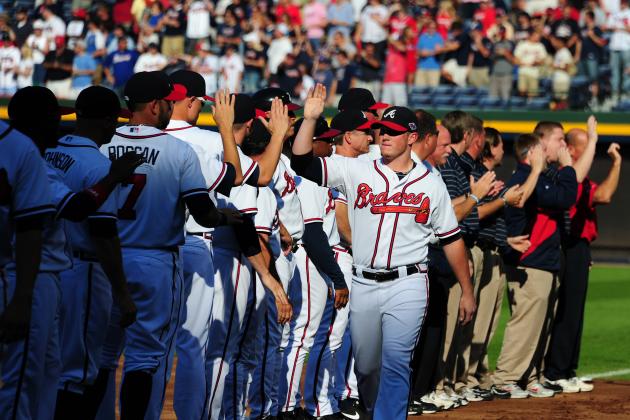 Scott Cunningham/Getty Images

Atlanta Braves No. 4 prospect J.R. Graham has already moved quickly up the minor league ranks in a short span of time.
Graham, selected in the fourth round of the 2011 MLB Draft by the Braves, had an impressive 2012 season. He posted a 12-2 record and 2.80 ERA in 26 starts between Advanced Single-A and Double-A ball.
Graham's efforts earned him Minor League Pitcher of the Year honors for the Braves, and his ability to command the strike zone—only 34 walks in 26 starts—could have him on the fast track.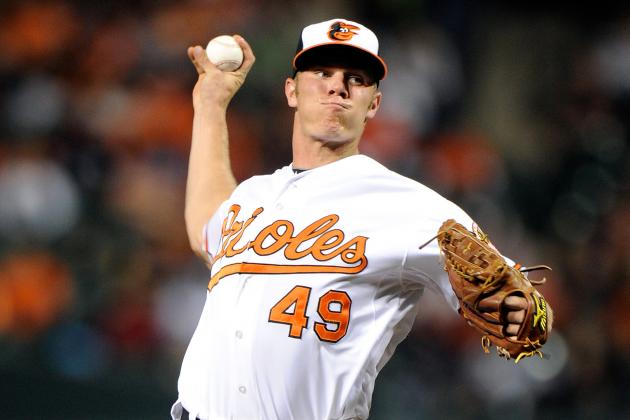 Greg Fiume/Getty Images

Since Manny Machado has already seemingly solidified a spot in the Orioles lineup, it's probably difficult to continue calling him a prospect at this point.
Dylan Bundy is now No. 1, and in 2012, he certainly pitched like one.
In 22 starts spanning Single-A, Advanced Single-A and Double-A ball, Bundy posted a 2.08 ERA, a 4.25 K/BB rate and 119 strikeouts in 103.2 innings.
Bundy made his major league debut on Sunday against the Boston Red Sox, retiring the only two batters he faced in the bottom of the eighth inning of a 2-1 loss. He followed up with a scoreless ninth inning on Tuesday night against the Toronto Blue Jays.
Bundy could get a couple more looks before season's end and will likely be competing for a spot on the roster next spring as well.
Unless the Los Angeles Dodgers offer up both Matt Kemp and Clayton Kershaw in a deal including Bundy, you can pretty much consider him as untouchable as it gets.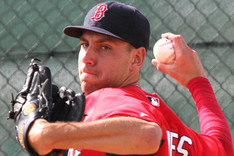 Photo courtesy mlblogs.com
The Boston Red Sox have developed a solid core of top prospects in their organization, including former University of Connecticut pitcher Matt Barnes.
Barnes put together an excellent first professional season. After dominating in the South Atlantic League (one earned run in 26.2 innings), Barnes earned a promotion to Advanced Single-A Salem. He wasn't too shabby there, either, posting a 5-5 record and 3.58 ERA in 20 starts.
Barnes struck out nearly a batter per inning in Salem and showed the ability to keep his velocity deep into starts.
Xander Bogaerts and Jackie Bradley could also be considered untouchable, but considering the Red Sox' sorry state in their starting rotation, Barnes gets the slight nod.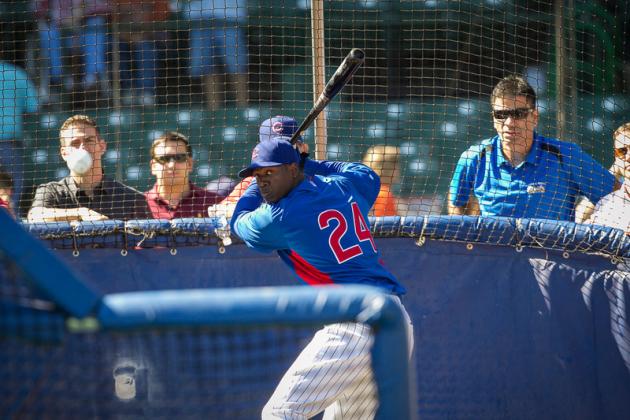 Photo courtesy mlblogs.com
Considering the nine-year, $30 million investment the Chicago Cubs made in acquiring Cuban outfield prospect Jorge Soler, he would clearly qualify as untouchable.
Soler put up impressive numbers at Single-A Peoria, hitting .338 in 20 games with three HR and 15 RBI. Soler possesses five-tool skills and already has a solid approach at the plate.
At 6'3" and 205 pounds, Soler clearly projects as a power-hitting corner outfielder who would give the Cubs a great trio, including Brett Jackson and fellow prospect Albert Almora.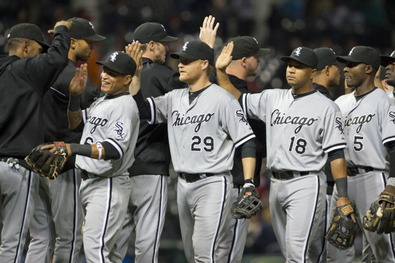 Jason Miller/Getty Images

The Chicago White Sox started the season with the worst farm system in the majors, bar none.
That was the opinion of ESPN.com's Keith Law, and you likely won't find many to argue that point.
The White Sox' system has indeed been largely ignored. In fact, not one of their prospects even ranks in the current MLB.com Top 100 Prospects list.
If there was any one player deemed close to untouchable, it would be their top prospect Trayce Thompson. Thompson swatted 25 home runs overall this year, 22 of them with Advanced Single-A Winston-Salem.
Thompson made it all the way to Triple-A Charlotte before the end of the year and will likely start there next spring. His plate discipline still needs work—166 strikeouts in 517 at-bats. However, his power is certainly a plus and he could profile as a power-hitting corner outfield in the future.
Untouchable, however? Not in this case.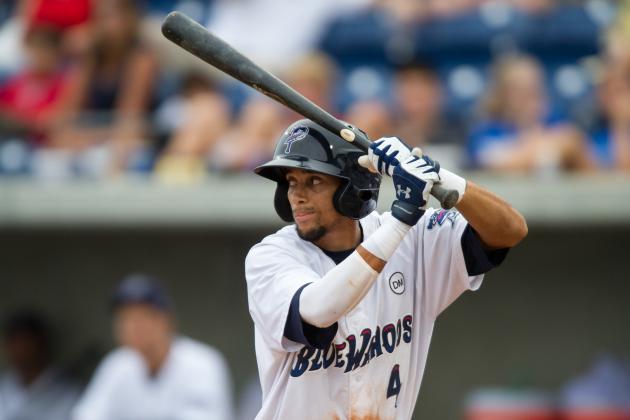 Michael Chang/Getty Images

Cincinnati Reds No. 1 prospect Billy Hamilton didn't just open up eyes with his record-setting 155 stolen bases, he opened up eyes with his improved plate discipline as well.
Hamilton put up an impressive .410 on-base percentage in 2012 between Advanced Single-A and Double-A ball. For a potential leadoff hitter, Hamilton's improvement in that area was a welcomed sign.
Hamilton displayed much more patience at the plate this year by drawing 86 walks. While the 155 thefts were indeed eye-popping, his ability to get on base often so he can be more of a threat is equally important.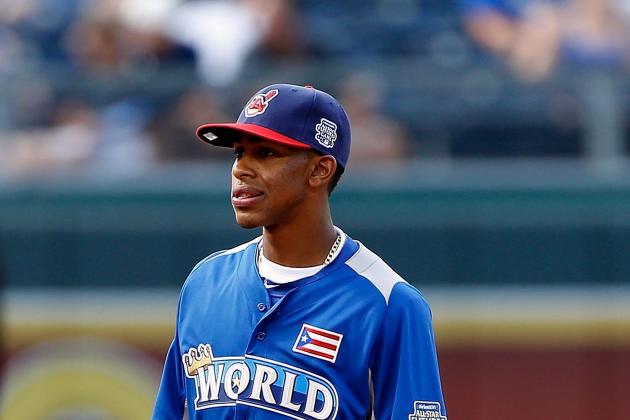 Jamie Squire/Getty Images

Cleveland Indians 18-year-old shortstop prospect Francisco Lindor isn't just their No. 1 prospect, he's the 13th highest ranked prospect in all of baseball.
Lindor showed why in his first professional season with Lake County. His defensive abilities are off the charts in terms of range and strength in his throwing arm, and he displayed solid discipline from both sides of the plate.
Lindor has all the tools to move up rapidly in the Indians' system, and GM Chris Antonetti would be considered certifiably insane if he dealt Lindor at this point.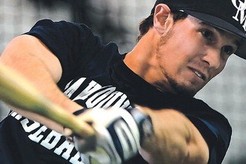 Photo courtesy mtrmedia.com
When the Colorado Rockies selected high school outfielder David Dahl with the 10th overall pick in this year's MLB Draft, he was touted for his hitting skills.
He certainly showed that and more during his first professional season.
Dahl was named the Rookie League Player of the Year by Baseball America earlier this month. Dahl hit .379 in 67 games for Grand Junction of the Pioneer League. Dahl also hit nine HR with 57 RBI, a .423 on-base percentage and 1.048 OPS.
Dahl's performance put him 96th on MLB.com's list of top 100 prospects. Dahl already has good plate discipline, the ability to hit to all fields and is solid defensively. While Rockies' top prospect Nolan Arenado could be special, Dahl's ability to hit gets him the nod here.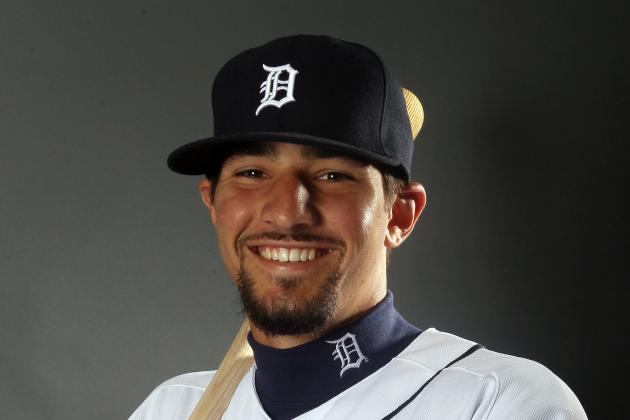 Elsa/Getty Images

The Detroit Tigers think so highly of prospect Nick Castellanos that they had him start working in the outfield this season.
With Miguel Cabrera seemingly entrenched at third base for the foreseeable future, it certainly made sense.
Castellanos tore it up in Lakeland, hitting .405 in 55 games before his promotion to Double-A Erie. A shortstop who transitioned to third when drafted in 2010, Castellanos could see a rapid ascent with his move to the outfield.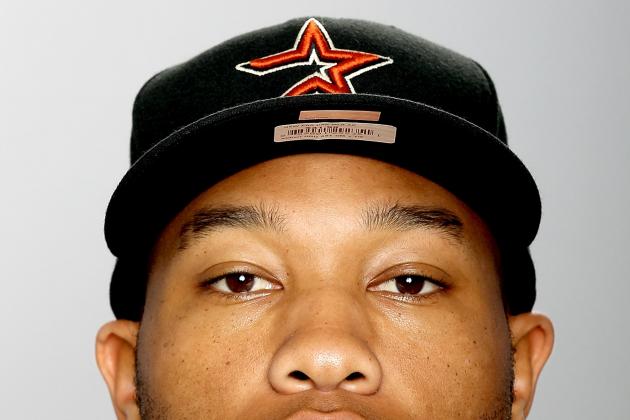 Matthew Stockman/Getty Images

The Philadelphia Phillies included top prospect Jonathan Singleton in a package sent to the Houston Astros for right fielder Hunter Pence last season. Singleton once again finds himself on top of the heap.
Singleton continued developing a solid power stroke at Double-A Corpus Christi, hitting .284 with 21 HR, 79 RBI and a solid .893 OPS. Singleton's power and solid approach at the plate at least make him a candidate for a spot on the Astros roster in 2013.
Astros outfielders have combined to hit .218 with a .304 on-base percentage thus far in 2012. Singleton isn't going anywhere.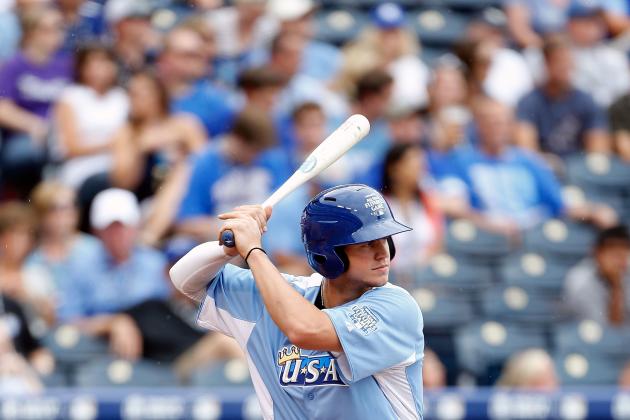 Jamie Squire/Getty Images

Kansas City Royals top hitting prospect Wil Myers was awarded Minor League Player of the Year honors by both Baseball America and USA Today. It's only the seventh time in history any player has been awarded both honors in the same season.
The Royals chose not to call Myers up on Sept. 1. This was partially due to Omaha participating in the Pacific Coast League playoffs and also the Royals wanting to possibly protect another prospect rather than subject him to this fall's Rule 5 draft.
Nonetheless, with a .314 average, 37 HR and 109 RBI, Myers is about as untouchable as it gets.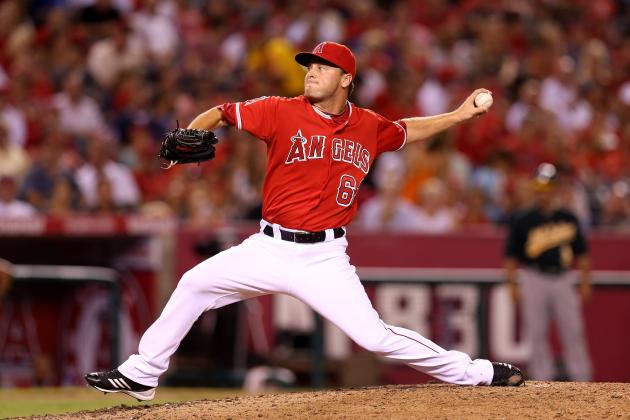 Stephen Dunn/Getty Images

Los Angeles Angels pitching prospect Nick Maronde may have found his niche in the big leagues.
Used primarily as a starter in the minors, Maronde earned a call-up in early September and has been lights out in the bullpen for the Angels. In eight appearances thus far, Maronde has not allowed a run, giving up only two hits and striking out six in 4.2 innings.
Considering the state of the Angels' bullpen and its inconsistency all year long, Maronde's strength might be as a lefty out of the 'pen. It's worked pretty well so far.
The Angels also have to great hitting prospects in C.J. Cron and Kole Calhoun, but their paths are blocked by Albert Pujols for Cron and by Mark Trumbo, Mike Trout and Peter Bourjos for Calhoun. They could be used to attract an impact player at the major league level.
Maronde, however, shouldn't go anywhere. The Angels need that arm.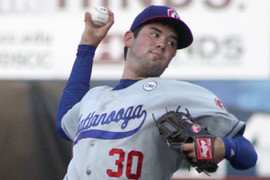 Photo courtesy mikesciosciastragicillness.com
Considering the Los Angeles Dodgers have already given up two top prospects, Allen Webster and Jerry Sands, in their trade with the Boston Red Sox, they can ill afford to give up any more.
Zach Lee has shown significant promise in his brief professional career. Lee was 6-6 with a 4.39 ERA in 25 starts between Advanced Single-A and Double-A ball. While those numbers may not look altogether impressive, Lee's outstanding four-pitch repertoire and ability to throw all of them for strikes at any time gives him an excellent chance to succeed at the major league level.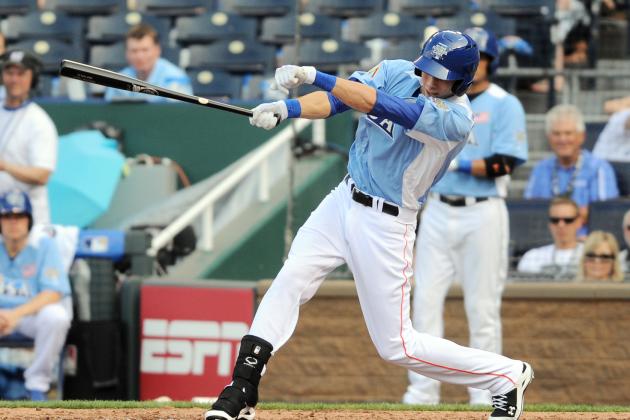 Denny Medley-US PRESSWIRE

The 17th-ranked prospect in all of baseball, outfielder Christian Yelich gives the Miami Marlins a whole lot of hope for the near future.
At just 20 years of age, Yelich handled the jump to Advanced Single-A ball just fine, hitting .330 with 12 HR, 48 RBI, a .404 on-base percentage and .922 OPS.
Yelich figures to be starring in the Marlins' outfield as early as 2014, and together with Giancarlo Stanton could certainly form a dynamic duo.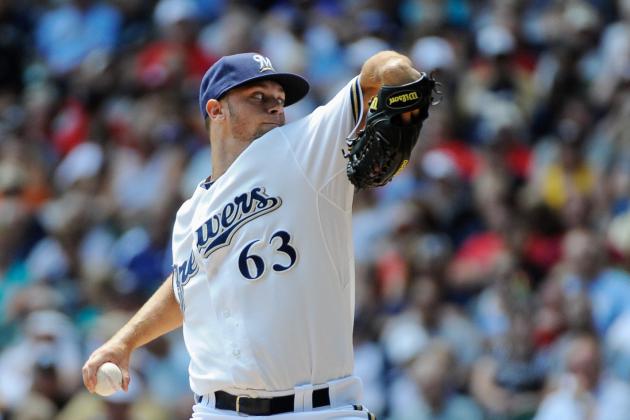 Benny Sieu-US PRESSWIRE

The Milwaukee Brewers may be ending their season in disappointment sometime this week, but they are buoyed by the fact that their pitching staff could be special for years to come.
Mike Fiers, Marco Estrada and Wily Peralta have already started to show ability at the major league level, and 23-year-old Tyler Thornburg shows considerable promise as well.
Thornburg, Taylor Jungmann, Jed Bradley, Peralta and Johnny Hellweg make up five of the top six prospects in the Brewers' organization, and all of them have the potential to impact this major league roster for years to come.
Are any of them untouchable? No, but having five pitchers who all show considerable promise should be thought about very carefully before including them in any deal this winter.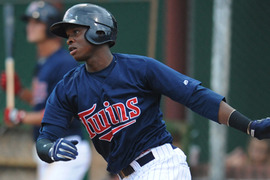 Photo courtesy nodaktwinsfan.com
There's a reason that 19-year-old Miguel Sano is already considered the No. 20 prospect in all of baseball—the kid can punish a baseball.
Sano hit 28 HR with 100 RBI at Single-A Beloit this season. While the one strikeout every 3.15 at-bats is still a concern, Sano also drew 80 walks with a .373 on-base percentage.
The raw power is there. The unique hand-to-eye coordination is clearly there as well. There's time to develop better plate discipline, and the Twins should realize that Sano could very well be the real deal.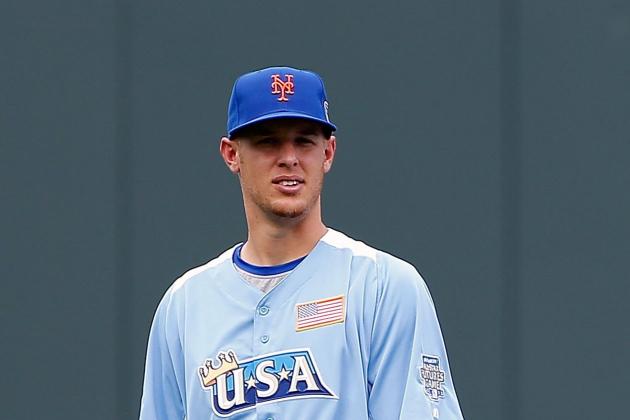 Jamie Squire/Getty Images

The New York Mets have already gotten an idea of how good Matt Harvey can be. Zack Wheeler could be even better.
Harvey has been impressive since making his debut in late July, posting a 2.73 ERA in 10 starts with 70 strikeouts in 59.1 innings.
Wheeler could be the next to impress at the major league level.
Wheeler was impressive at both the Double-A and Triple-A level, posting a combined 12-8 record and 3.26 ERA in 25 starts. With an equally stellar 8.9 K/9 rate and 1.168 WHIP, Wheeler could give the Mets a great righty-righty combination at the top of the rotation along with Harvey in the very near future.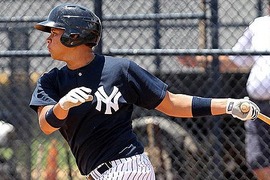 Photo courtesy itsaboutthemoney.net
New York Yankees top prospect Gary Sanchez is still a work in progress behind the plate, but his bat is a major plus.
Many people thought that Jorge Posada wouldn't be able to handle everyday catching duties at the major league level. We all saw how that turned out.
The Yankees already shipped out a top catching prospect in Jesus Montero. They should not be doing the same with Sanchez.
Photo courtesy throughthefencebaseball.com
At just 18 years of age, shortstop Addison Russell is already the third-ranked prospect in the Oakland A's organization and the 90th-ranked prospect in all of baseball.
After his first full professional season, it's easy to see why.
Russell hit .369 across three levels with a 1.027 OPS. The bat is special, and the power will continue to develop. Think Miguel Tejada but bigger.
Russell clearly has a future, and that future should be with the A's. Don't expect Billy Beane to even think about including him in any deal.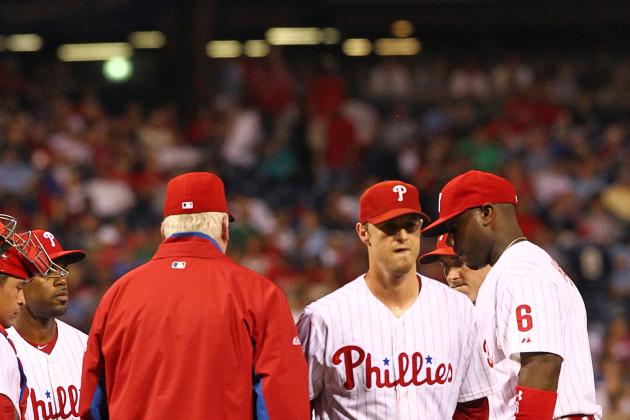 Hunter Martin/Getty Images

The Philadelphia Philles' farm system isn't loaded with top prospects except for No. 1 prospect Jesse Biddle who is the 76th top ranked prospect in all of baseball.
The Phillies gutted their system with the acquisitions of Hunter Pence and Roy Oswalt, so they can ill afford to lose any more in a deal.
Biddle shined at the Advanced Single-A level, posting a 10-6 record and 3.22 ERA in 26 starts with 151 strikeouts in 142.2 innings. He cut his BB/9 rate from 4.5 to 3.4 as well, but a bit more work is needed in the area of plate command. Still, at just 20 years of age, Biddle shows great promise.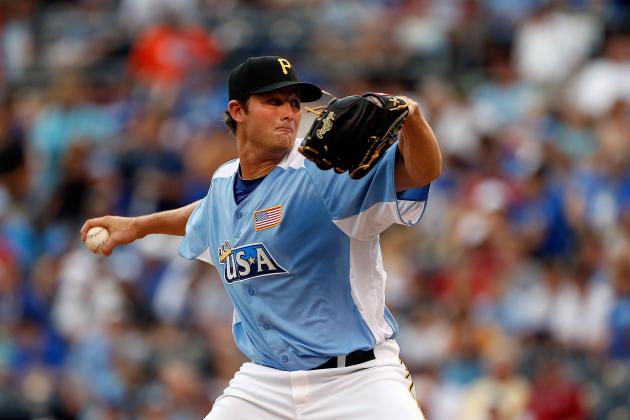 Jamie Squire/Getty Images

After watching him in his first full professional season, it's easy to see why Gerrit Cole was the No. 1 overall pick in the 2011 MLB Draft.
Cole posted a 2.80 ERA in 26 starts with a 3.02 K/BB rate, moving up three levels to help out Triple-A Indianapolis in the playoffs.
Cole could be seen in Pittsburgh sometime in 2013, and GM Neal Huntington would be vilified if he included Cole in any deal this winter.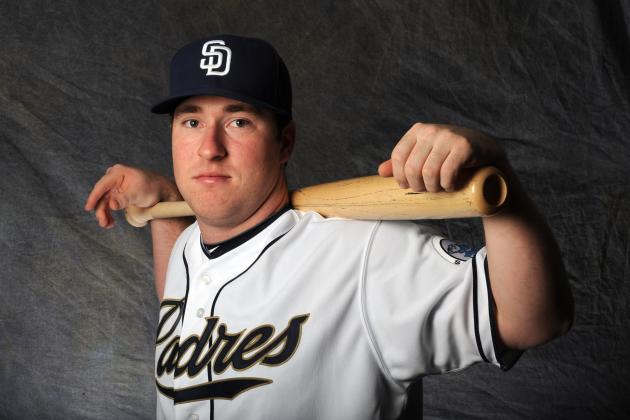 Rich Pilling/Getty Images

San Diego Padres prospect Jedd Gyorko showed how special his bat is following his promotion to Triple-A Tucson this year.
Gyorko hit .328 with 24 HR and 83 RBI in just 92 games at the Triple-A level. Gyorko also started learning the nuances of the second base position, giving rise to the possibility that the Padres intend on keeping Chase Headley and finding a spot for Gyorko's bat in the lineup.
Photo courtesy flickriver.com
San Francisco Giants top prospect Gary Brown took a bit of a step backwards offensively following his promotion to Double-A Richmond in 2012.
After hitting .336 for San Jose in the California League in 2011, Brown hit just .279 with seven homers and 42 RBI at Richmond. Still, the plus defense, potential speed at the top of the order and ability to spray the ball all over the field makes him a perfect candidate to be starring at AT&T Park in 2014.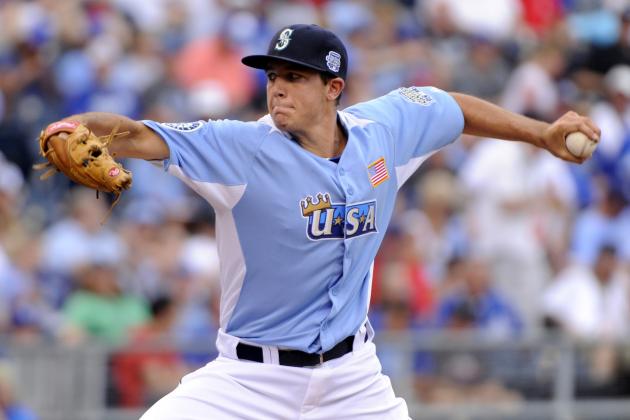 H. Darr Beiser-USA TODAY

Taken by the Seattle Mariners with the second-overall pick in the 2011 MLB draft, Danny Hultzen shined at the Double-A level before hitting a bit of a wall at Triple-A Tacoma.
After posting a stellar 1.19 ERA in 13 starts at Jackson, Hultzen found the skill level at Triple-A to be a bit more imposing. In 12 starts, Hultzen posted a 5.92 ERA and 1.89 WHIP.
Still, Hultzen's overall skill set and potential are such that if he can master Triple-A next season, he could be seen on the mound at Safeco Field sometime in the 2013 season. Hultzen is close to untouchable.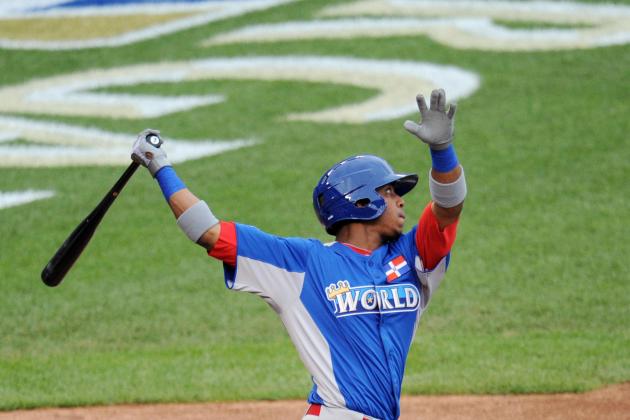 Peter G. Aiken-US PRESSWIRE

Just watching Oscar Taveras play baseball is an absolute joy. The youngster can just plain hit.
Taveras hit .321 with 23 HR and 94 RBI for Double-A Springfield this year. At just 20 years of age, Taveras already possesses major league-ready plate discipline, drawing 42 walks against just 56 strikeouts.
Taveras is almost there, and with Carlos Beltran signed for only one more season, the Cardinals may already have his replacement in mind.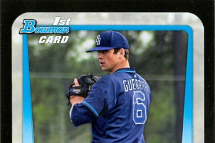 Photo courtesy baseballinstinct.com
The Tampa Bay Rays have taken with the development of 19-year-old Taylor Guerrieri, a trait the Rays are already well-known for.
However, once Guerrieri got his first taste of professional ball this season, the results were eye-popping.
In 12 starts at short-season Hudson Valley, Guerrieri posted a miniscule 1.04 ERA, issuing just five walks in 52 innings against 45 strikeouts.
A 0.769 WHIP, 9.00 K/BB rate and only 6.1 hits per nine innings round out a wildly successful first season for Guerrieri.
Guerrieri already features an outstanding fastball, sharp breaking ball and a biting cutter, and has started to develop a changeup as well.
Everything about this kid spells success thus far. Guerrieri would be a no-trade prospect if I were the GM for sure.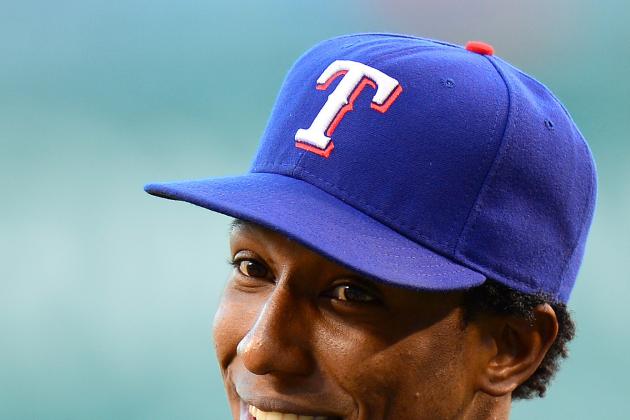 Jake Roth-US PRESSWIRE

Texas Rangers 19-year-old prospect Jurickson Profar has gotten a little taste of what baseball is really like at the major league level.
Called up in early September, Profar has appeared in eight games thus far, hitting .176, including his first major league home run in his very first at-bat.
It's hard to say where Profar's future lies with the Rangers, with Elvis Andrus standing in his way at shortstop and Ian Kinsler and Adrian Beltre both tied up long term.
One thing's certain—Profar isn't going anywhere. At least, not yet.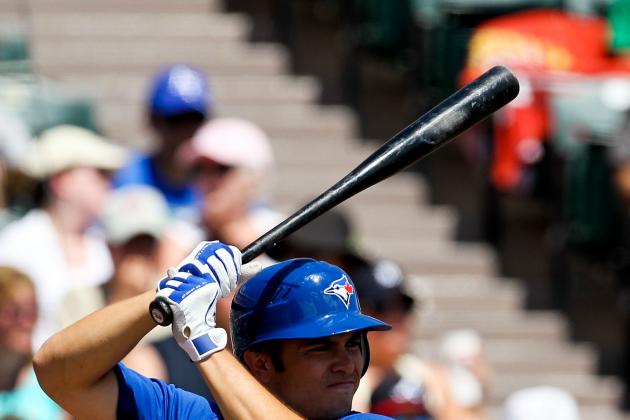 Daniel Shirey-US PRESSWIRE

Toronto Blue Jays catching prospect Travis D'Arnaud was tearing up the PCL bearing tearing his PCL, so to speak.
D'Arnaud tore the posterior cruciate ligament in his left knee in late June after hitting .333 with 16 HR and 52 RBI in 67 games.
The emergence of D'Arnaud gives the Jays a decision to make regarding the future. J.P. Arencibia can hit the long ball, but a .222 career average thus far in two-plus seasons is a disappointment.
D'Arnaud will not be going anywhere anytime soon.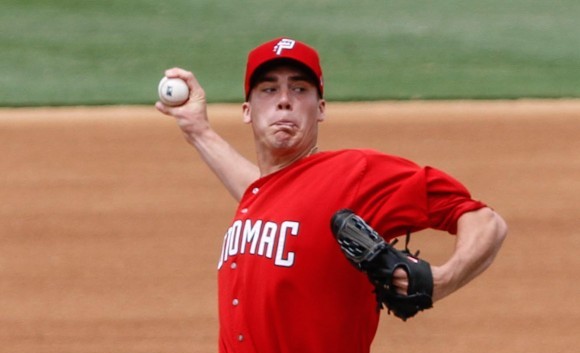 Fresh off his first professional season in baseball, pitching prospect Alex Meyer has to look back and be happy with the results.
The Washington Nationals have to be pretty happy as well.
Meyer excelled across two levels, posting a 2.86 ERA in 25 starts in Single-A and Advanced Single-A ball, striking out 139 batters in 129.0 innings, allowing just 97 hits and a 1.101 WHIP.
Displaying sharp command and an easy delivery with a mid-to-high-90s fastball, Meyer will likely see a move to Double-A next spring and could be seen in the nation's capital full time in 2014.

Doug Mead is a featured columnist with Bleacher Report. His work has been featured on the Seattle Post-Intelligencer, SF Gate, CBS Sports, the Los Angeles Times and the Houston Chronicle.