NFL Week 4 Upset Alert: Another Crazy Week in Store?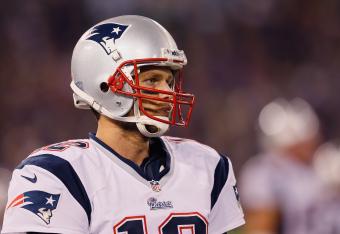 Rob Carr/Getty Images
Week 3 definitely had some memorable late-game stunners as well as upsets. At this point, it's anyone's guess as to which team stands out. There are a few teams that have put the NFL on notice. Teams like the Seahawks, the Cardinals and maybe even the Vikings, who are one field goal away from being undefeated.
On the other hand, there are some disappointments and surprise records: Patriots, Steelers, Packers, Panthers and Lions all 1-2, and the Saints 0-3. Week 4 is an important week, because one quarter of the season is over—hard to believe already. Now seems to be the time when teams emerge or submerge.
This week may not offer the playoff-caliber type matchups like last week, but there are several compelling games where most DirecTV NFL Sunday Ticket holders will have a tough time focusing on one game.
There are five games that jump out where an upset alert has been issued.
New England at Buffalo
Last week, the Bills hung on to beat the Browns, but they played better. New England is coming off an emotional Sunday night loss to the Ravens. On paper, this looks like a lock for the Patriots, but a deeper look shows the Bills have a real chance to pull the upset.
It was about a year ago when the Bills came back to defeat the Patriots 34-31, and playing in front of the home crowd will make it more difficult for Tom Brady to communicate with his offense—something that occurred Sunday night.
Also, the Bills present some matchup problems on the outside, and with C.J. Spiller and Tashard Choice making for a nice combination, the Bills can try to control the ball and keep Brady off the field.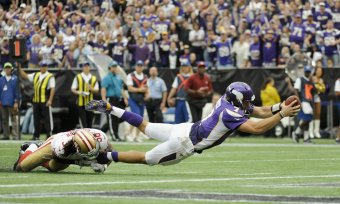 Hannah Foslien/Getty Images
Also, the Patriots blew a nine-point lead with five minutes left in Sunday night's game, and the Bills came back from a 21-point deficit last year. No doubt, if the Patriots are to avoid their first three-game losing streak in a decade, they will have to play all 60 minutes to avoid this upset.
Minnesota at Detroit
Vikings fans are excited, as last week's most improbable winner emerged not just with a win, but with a demonstrative, dominating victory. Ponder was practically flawless, and he will need another Herculean effort this week if the Vikings are to repeat last week's performance.
For the Lions, it was Heartbreak Hotel in Nashville, but seriously, the Lions didn't deserve the OT. They were saved by the Hail Mary. Locker absolutely shredded the Lions defense, and that was with Chris Johnson only having 24 yards on 14 carries. Johnson is no Adrian Peterson—sorry, Titans fans.
In Detroit, Minnesota has had its share of heartbreaks, but there are two sides to this coin. Detroit has not looked like the dynamic team that played last year, but they could turn it on this week and put away many doubters. On the other hand, this could be that flip game—a game where the Vikings say, "You'd better be looking at us," while the Lions take that step back.
Which Team Will Most Likely Pull Off the Upset?
Stafford is questionable, but I believe he will play this week, so Minnesota's secondary will be tested. The Lions can ill afford to lose a home game with two tough road games following their bye.
The key for the Vikings this week will be to repeat the dominating, aggressive, pounding-offense approach that stymied a very impressive San Francisco defense last week.
San Diego at Kansas City
Despite last week's home loss to the Falcons, the Chargers are still favored on the road. Kansas City comes off an exciting finishing victory on the road against a pretty desperate Saints team, so the question is: Can the Chiefs repeat that performance at home?
I say yes. The Chargers are an impressive team, but they have issues on the defensive side of the ball, and the Chiefs with so many weapons will look to exploit those weaknesses. Matt Cassel is still up and down, but he looks to have it together, and getting back some of his weapons only helps that recovery.
Dare I say it, but I think KC wins this game comfortably.
Washington at Tampa Bay
I don't know about you, but it's hard to believe the Redskins are underdogs despite being on the road. Clearly the Redskins have been the more impressive team, and that is why I think the Redskins go into Tampa and dispatch the Bucs.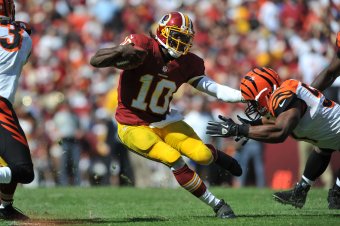 Larry French/Getty Images
In a tale of two quarterbacks, Freeman's arrow is pointing down, whereas
RGIII
's arrow is pointing up. Freeman was absolutely awful in Dallas last week, going 10-of-28 for 110 yards. I just don't get Freeman. At times he looks awesome, and at other times he looks like he's never attended a QB clinic.
Bucs fans will defend last week's loss as a strong effort on the road and that they beat up on Tony Romo. I think it's fair to say the Cowboys are not as good as some might think. Forget about the shellacking in Seattle. I expected the Cowboys to come home for their first game and make the Bucs road kill, but they looked average. The Bucs did have a strong showing, and maybe if Freeman had played better they would have won, but that is why I am sticking with the 'Skins, because it's all about the quarterback.
Chicago at Dallas
Da Bears are 3.5-point underdogs going into Dallas Monday night, but many people feel as though the Bears should be favored. Other than the Week 1 shocker at the Meadowlands, the Cowboys have looked uninspiring, but the Bears are not too far beyond that description either.
The Bears are 2-1 despite a beat-down at the hands of the Packers and a late-game surge with the Rams. The Bears were leading 10-6 going into the fourth quarter, but a Bradford INT for a Bears TD sealed the deal.
The Bears defense is stout and will need a strong performance against the Cowboys. On offense, protecting Cutler so he has time to target Brandon Marshall and Alshon Jeffery will be integral to their success.
For the Cowboys, it's the same for them as it is the Bears—keep Romo upright so he can target Dez Bryant and Miles Austin, and get pressure on Cutler. Did I say it's all about the quarterback?
I believe the Bears win this game on the road, pulling the mini-upset.
This article is
What is the duplicate article?
Why is this article offensive?
Where is this article plagiarized from?
Why is this article poorly edited?

Minnesota Vikings: Like this team?