Tennessee Titans: Stat Projections for Starters & Key Reserves vs Houston Texans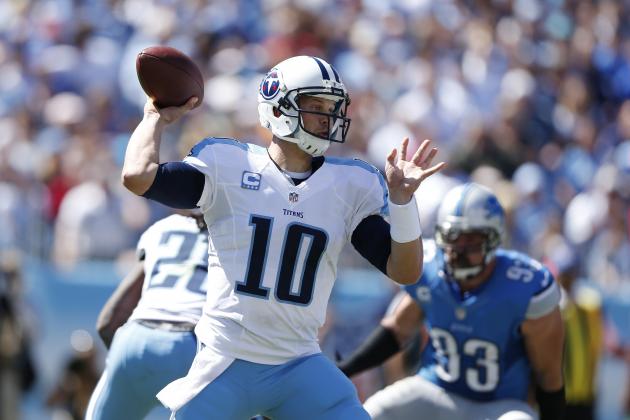 Joe Robbins/Getty Images

In all likelihood the Tennessee Titans saved their season by pulling off the thrilling upset over the Detroit Lions in Week 3.
The Titans will have to pull off an even bigger upset if they want to keep the Houston Texans from running away with the AFC South.
No one gave the Titans a chance at putting up big points against a respected Lions defense, and the Texans offense will present another hefty challenge for this young Titans offense.
On the other hand, the Titans defense will have their work cut out for them by figuring out a way to contain Arian Foster and Andre Johnson.
These two teams know each other very well as the AFC South division race heats up in Week 4, and strong numbers will have to be put up by key Titans starters.
Begin Slideshow

»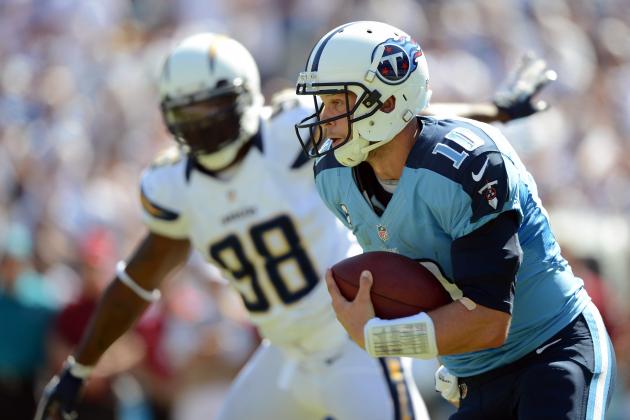 Harry How/Getty Images
Locker has thrown for nearly 800 yards through three games.
Jake Locker took a giant step in the right direction against the Detroit Lions by setting a career high in passing yards for a game with 378.
If Locker doesn't have the game of his short NFL career in Week 3, the Titans are sitting at 0-3 and virtually done for right now.
Now Locker will face a Texans defense that forced Peyton Manning into completing just 50 percent of his throws.
Blaine Gabbert, who has similar experience to that of Locker, was absolutely devoured by this Texans defense in Week 2 despite throwing for a short touchdown.
This is the game where the Titans run game really has to give Locker a break, because Locker will not be able to beat this vaunted defense on his own.
Balance is the only thing the Titans can do on offense to give themselves a chance.
Expectations for Locker's numbers against the Texans need to be reserved.
Stat Projection: 16/33, 195 yards, 1 TD, 1 INT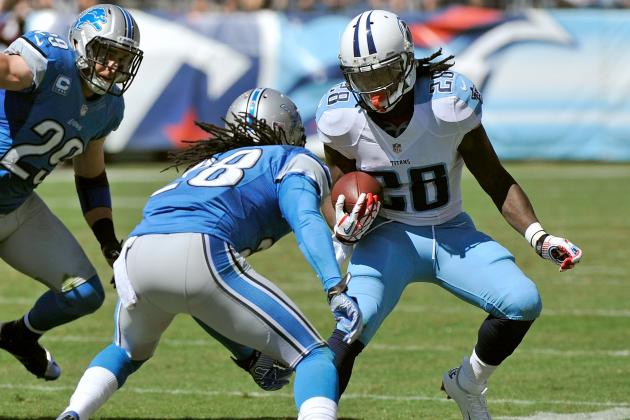 Frederick Breedon/Getty Images

Chris Johnson has shown modest, but steady improvement through each game this season.
His number of rushes also reached a season-high with 14 against the Lions.
It really comes down to the coaching staff figuring out a more effective way to use him, among other things.
If the passing game can continue to earn respect from opposing teams, then Johnson's numbers should start getting to a respectable level.
The Texans held Maurice Jones-Drew to just 60 yards in Week 2, and Willis McGahee managed just 36 yards last week.
This might be a case when Johnson may be more effective as a receiver out of the backfield more so than he is running between the tackles.
Just a couple big gains from Johnson will do wonders not only for his confidence, but for the entire offense's confidence as well.
The Titans need to establish the run early, and not abandon ship if Johnson gets a couple negative gains. Once again, the Titans can't afford to be one-dimensional this week.
Stat Projection: 15 rushes, 45 yards, 3 receptions, 20 yards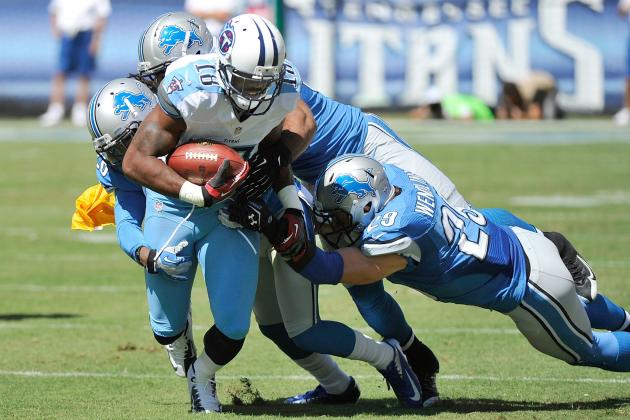 Frederick Breedon/Getty Images

The signs were very promising from Kenny Britt in his second game back from his injury that plagued him for most of 2011.
Britt averaged nearly ten yards per receptions on his way to 55 yards receiving. Those are modest numbers, but still promising for a guy that has the ability to be a star in the league.
Expect Britt to take another step forward this week and possibly find the end zone. Locker is going to look his way often, especially in the red zone.
It's only a matter of time before Britt gets his first touchdown of 2012. He seems to finally be at 100 percent.
Stat Projection: 5 receptions, 72 yards, 1 TD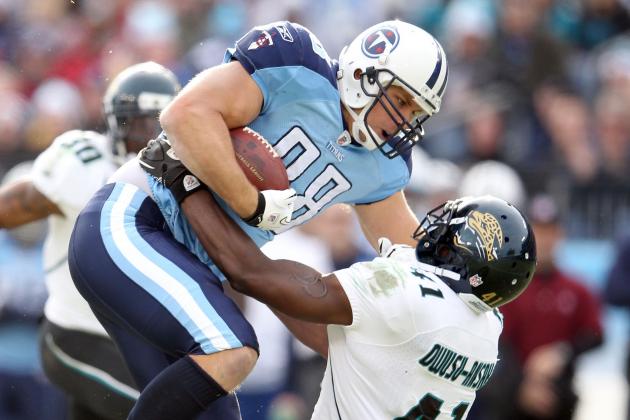 Andy Lyons/Getty Images

Craig Stevens was an unsung hero in the Titans' 44-41 overtime win over the Lions. He came in for an injured Jared Cook and finished with five receptions for 66 yards.
Stevens also got shafted by the infamous replacement officials on what was clearly a reception.
Cook is currently listed as questionable heading into the Texans game, so expect Stevens to have a major role in this game.
What Stevens provides is a huge target for Jake Locker down the middle of the field, but Stevens has really good hands for such a bulky player.
Stevens should receive his fair share of targets and make an impact on this game.
Stat Projection: 4 receptions, 45 yards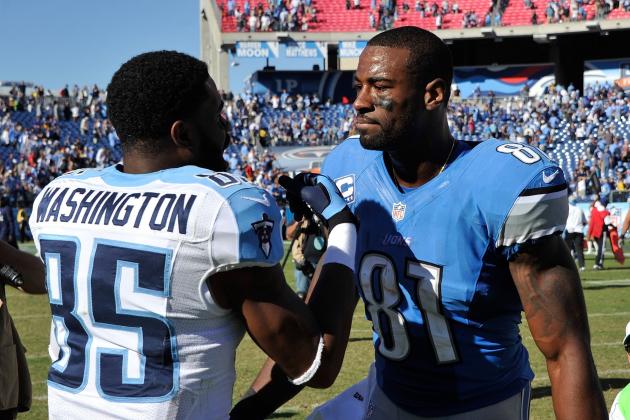 Frederick Breedon/Getty Images

We should start calling Nate Washington "Mr. Reliable". He shows up almost every week and puts up solid numbers.
Last week, Washington got in on the act of all of the big plays by the Titans by snagging an unbelievable 71-yard touchdown reception to make it 34-27 for the Titans.
Washington needs to once again put together a solid performance to slow down that Texans rush on Chris Johnson.
Until Kenny Britt returns to his old self, Washington will continue to be the most important receiver on this offense.
Finding the end zone will be difficult for any Titans receiver against the Texans, so Washington will have to make an impact by just being efficient on the targets he does receive.
Stat Projection: 4 receptions, 58 yards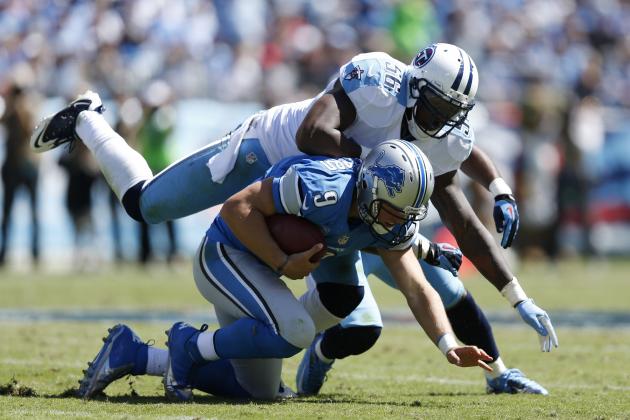 Joe Robbins/Getty Images

Akeem Ayers is finally starting to make an impact in the pass rush, which was desperately needed heading into this season.
Ayers joined Locker by having the game of his short NFL career against the Lions by posting 16 tackles and a sack.
The Titans need Ayers to be the anchor of this defense along with Colin McCarthy.
Ayers is going to have the task of containing Arian Foster while also playing solid pass coverage on tight end Owen Daniels, who has always played well against the Titans.
It will be a busy day for Ayers, and he should have another strong performance on the stat sheet.
Stat Projection: 13 tackles, 1 tackle for loss, 1 pass deflection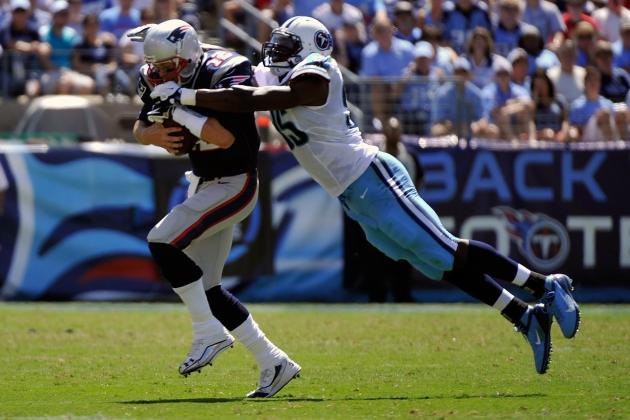 Frederick Breedon/Getty Images

One of the major reasons that the Texans dominated the Titans in that first meeting in 2011 was the fact that the Titans got very little pressure on Matt Schaub.
Kamerion Wimbley was brought in this offseason to help fix that problem, and he's done that so far in 2012.
The Texans offensive line is a bit in flux as they're rotating a lot of young guys, so the opportunity should be there for the Titans to get pressure on Schaub.
If Schaub is able to sit back in the pocket with no pressure, then he'll tear the secondary to shreds. It's that simple.
Wimbley should get plenty of opportunities to add to his 2012 sack total.
Stat Projection: 3 tackles, 1 sack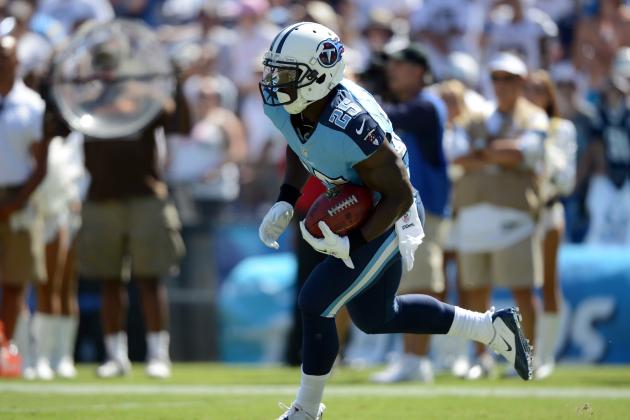 Harry How/Getty Images

Darius Reynaud has emerged as a big playmaker for this Titans offense.
He's primarily done his damage on special teams as he's made the most out of filling in for the injured Marc Mariani.
Reynaud has the ability to really jump start this offense and give them consistently good field position.
However, Reynaud needs to see more touches on offense. Obviously this guy can be deadly if he catches the ball in the flats or by way of a specially designed run.
You can't let Reynaud's talents go to waste. He can provide so much more than big special teams plays, which we saw against the Lions.
With Javon Ringer not 100 percent healthy, Reynaud will keep seeing limited opportunities on offense.
Quite frankly, Chris Johnson is having trouble seeing a consistent amount of touches, so Reynaud isn't going to see too much to speak about.
Stat Projection: 5 kick returns, 23.0 average, 2 punt returns, 10.0 average, 2 rushes, 5 yards