WWE Raw: 5 Negatives from Monday Night's Show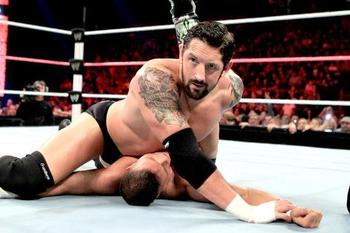 Photo courtesy of WWE.com
In a recent article, I analysed five of the positives to come from this week's episode of Monday Night Raw.
Therefore in this piece, I will be looking at the other side of the story: five of the negatives from the show.
However, as I felt that it was another entertaining display that the WWE put on this week, many of these points are somewhat minor details.
They were by no means significant enough to be of great detriment to the show, merely a few instances that could have been subtly altered or executed differently in order to further improve the show.
Of course, these points are just my opinion, so feel free to comment if you agree or disagree on the issues raised.
Paul Heyman's "Proposal" to AJ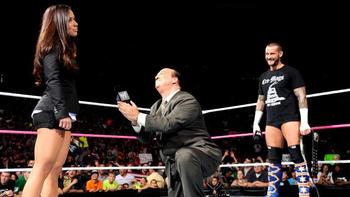 Photo courtesy of WWE.com
I'm a Paul Heyman guy.
On the mic, there are few who can rival him, and he has accomplished more than many in the professional wrestling industry.
However his promo with AJ this week was slightly odd.
While I remain convinced that his alignment with CM Punk will do wonders for the company, I found it difficult to identify with this particular segment.
His exchange with referee Brad Maddox was actually very good, as his reference to the NFL brought the WWE into the focus of the mainstream, something Vince McMahon has been seeking for years.
But his "proposal" to AJ was just plain odd. It didn't get the same reaction from the crowd as AJ's proposal to Punk did, and felt rather out of place.
Of course, this may lead to some future development, and I wouldn't be surprised to see it result in AJ abdicating her role of General Manager.
But with Survivor Series on the horizon, perhaps this could be the laying of the foundations of a Team Heyman vs. Team AJ feud, the culmination of which could see the two sides face off in the traditional elimination tag match.
Team "Rhodes Scholars"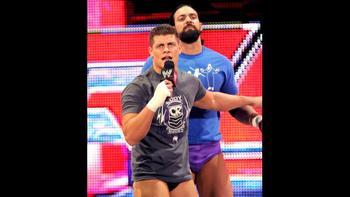 Photo courtesy of WWE.com
I'm also a huge fan of Cody Rhodes and Damien Sandow.
Rhodes is certainly overdue a decent run at the World Heavyweight Championship and Sandow also looks like a future world champion to me, albeit much later down the line.
Thus with such potential in the singles division for these two, having them team up seems like a strange call from the WWE.
Creative's ingenuity must be admired, and utilising the team name of "Rhodes Scholar" was a great move, but I can't help but feel that these two had a whole lot more to offer in singles competition in the WWE.
Furthermore, what does this mean for the other tag teams in the company?
After pushing the likes of the Primetime Players in recent months, will such talent be unceremoniously dropped in favour of a Team Hell No/Rhodes Scholars rivalry?
The resultant matches would be great, but it seems that the WWE were rebuilding a decent tag team division only to scrap such plans and choose to instead revolve the tag scene around Team Hell No and Rhodes Scholar.
The potential rivalry would by no means be a failure; I just feel that Rhodes and Sandow could have achieved great things individually, rather than forming a rushed tag team from out of the blue.
Use of Wade Barrett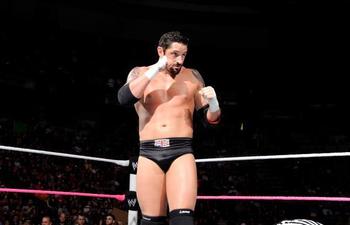 Photo courtesy of WWE.com
Perhaps being British myself makes me partially biased towards Wade Barrett, but nonetheless it is hard to argue against the fact that this guy is incredibly talented.
He achieved great success as the leader of the Nexus, and has the somewhat rare talent of being able to talk trash in a British accent without sounding uncomfortable and out of place.
But his new gimmick seems rather questionable.
It's good to see the WWE recognising the roots of current superstars rather than re-branding them completely. But giving Barrett a glorified Forearm Smash as a finisher puts him in the undesirable category of superstars with strangely powerful signature moves, along with the likes of WWE's class clown Santino Marella.
By all means, have Barrett keep the brawler/fist-fighter gimmick, but using the impressive Winds of Change manoeuvre as his primary method of finishing off opponents would make him seem more dominant.
If the return of the Barrett Barrage is to be taken seriously, I feel that the Englishman needs a more debilitating finisher that the "Souvenir" that he is currently utilising.
Its impact is believable against the likes of Tyson Kidd, but it will be difficult to make it appear so effective against main event-calibre opponents, which is who Barrett deserves to be facing.
No New WHC Challenger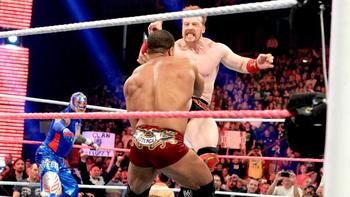 Photo courtesy of WWE.com
It hardly needs to be stated that Sheamus vs. Alberto Del Rio has grown particularly tiresome.
Many fans are fed up with the feud, but events on Raw suggested that this rivalry may yet continue for some time.
The introduction of David Otunga into the fray may have freshened the story up slightly, and it has certainly got the Brogue Kick over with fans, though perhaps this is simply because Otunga sells the move brilliantly.
But Sheamus vs. ADR has outstayed it's welcome on WWE TV.
I would have far preferred to have seen a new challenger unveiled on Raw, such as the aforementioned Wade Barrett or a returning Mark Henry perhaps.
Of course, the WWE could yet abandon this stale feud, but Raw seemed to hint at these two continuing to do battle. Perhaps they will settle their differences inside Hell in a Cell come October 28.
However, there could yet be a late twist in this one, particularly if Tuesday night's SmackDown taping in Buffalo, New York is anything to go by.
No CM Punk Match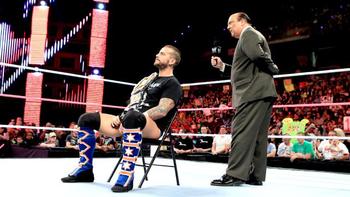 Photo courtesy of WWE.com
In the previous article, I praised CM Punk's performance on Raw despite his wrestling inactivity.
I also acknowledge that the standard of his mic work that night atoned for the lack of a match featuring the WWE Champion.
But that is not to say that the show wouldn't have been better had he featured in competition of some sort.
What made this all the more surprising was that John Cena, arguably the only man with greater star power on the full-time WWE roster, was unable to compete at all.
Thus I felt that it was inevitable that Punk would be in action against someone, even if it were just a match to fill the card rather than develop a new storyline or some sort.
But nonetheless, this absence was by no means a major qualm of mine, as I felt that Punk's performance on the mic justified the WWE's decision to refrain from booking the Champion in a match that night.
Conclusion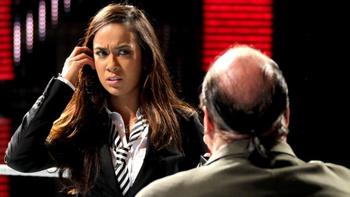 Photo courtesy of WWE.com
As I mentioned at the beginning of this piece, these issues were by no means drastic problems with Raw, merely some trivial points that could have been adjusted in order to further benefit the show.
Furthermore, instances such as Wade Barrett's new persona and the pairing of Rhodes and Sandow are not necessarily bad, merely cases that I personally feel could have been handled better.
And as for Heyman's promo with AJ, that also could serve as a catalyst for a new feud that may provide exciting viewing for weeks to come.
So my negatives from Raw this past Monday could in fact bring a number of positives to the show somewhere along the line, providing Creative handles these situations effectively.
But until then, don't forget to comment below with your thoughts on my points, and be sure to let me know whether you agree or disagree with the issues I've raised.
Keep Reading