NBA: Biggest Myths for the 2012-13 Season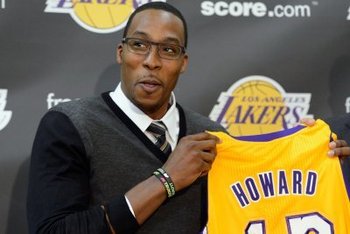 Getty Images/Kevork Djansezian
Through free agency and some blockbuster trades, there has been a lot of shuffling around this offseason. Many teams have improved, while others have taken steps towards rebuilding. This article will attempt to address common misconceptions about the upcoming season and what to look out for as the NBA season approaches.
Myth: Ray Allen Will Make a Big Impact for the Miami Heat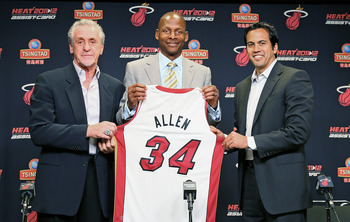 How will Ray Allen help the NBA Champion Miami Heat?
Mike Ehrmann/Getty Images
When Ray Allen announced that he would be leaving the Boston Celtics and joining their notorious Eastern Conference rival, the Miami Heat, it caused quite an uproar among fans. Many Celtics fans felt betrayed by such an action, and plenty of fans around the league saw it as the rich getting richer as the Heat continue to stockpile their team with offensive weapons.
But in reality, how much better does Allen make the Heat?
Well, based on the NBA playoffs, it appears that Miami will be incorporating smaller lineups with Chris Bosh lined up as the center. This will allow it to space the floor more and set up perimeter shooters with open looks, such as players like Shane Battier, Mario Chalmers and even Mike Miller were able to do against the Oklahoma City Thunder. Ray will give them yet another deep threat for their growing offensive arsenal.
So if it's a perfect fit, why is this a myth? Well, I do believe that Allen will be a viable asset to the Miami Heat, and I don't think there's any real debate there. However, I do question whether Allen will be able to stay healthy and if he can be more than just a spot-up shooter for the Heat.
Bone spurs limited Allen's action during the playoffs, and at 37 years of age, you wonder if he will be able to hold up for that three-year contract. It's also worth noting that his defense is declining, so he may be a liability on that end of the floor.
Overall, Ray Allen brings a new three-point threat to Miami, and he's going to have games throughout the year where he goes off, just like he has done throughout his entire career. But in a more limited role due to the depth that the Heat have, I'm not sure he will be able to duplicate the statistics he put up in Boston, and therefore, I'm not sure this free-agent signing will live up to the hype unless he torches his former team in the playoffs.
Myth: The Minnesota Timberwolves Can't Make the Playoffs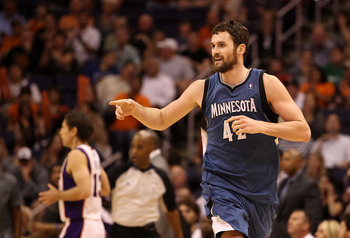 Kevin Love is ready to carry his team to the playoffs.
Christian Petersen/Getty Images
Don't look now, but the Minnesota Timberwolves are a vastly improved basketball team.
Hampered by injuries at the end of last season, the Timberwolves went from unlikely playoff contender to lottery-bound once again. Losing dynamic point guard Ricky Rubio to a torn ACL was devastating, as was losing Nikola Pekovic, a young center in the midst of a breakout campaign while quietly posting a 21.47 PER.
All-Star power forward Kevin Love averaged 26.0 PPG, 13.3 RPG and a PER of 25.41 over the course of last season. The three-point champion can stroke it from long range as well, shooting 37.2 percent from behind the arc for the season. A rebounding machine who can put up points and forces you to guard him on the perimeter is a lot to handle.
To top it off, his scoring, three-point percentage and field-goal percentage all improved after the All-Star break last season. Love is only getting better and is the perfect building block for this young Minnesota squad.
With Rubio and Pekovic back and the leadership of Kevin Love, this team will be tough to beat. The loss of Michael Beasley was their only real notable one, but they improved this offseason through trades and free agency, bringing Andrei Kirilenko back to the NBA after a stellar year overseas in Russia. They acquired Chase Budinger from the Houston Rockets, who is a productive small forward. They took a gamble on Brandon Roy, as he decided to come out of retirement, who, even if he is a shell of his former self, will be a worthwhile investment.
The acquisition of Greg Stiemsma, who averaged 5.3 blocks per 48 minutes, will add solid depth to their bench. Alexey Shved, their second Russian addition this offseason, can provide point guard depth with J.J. Barea and Luke Ridnour. To top it all off, Derrick Williams has been working this offseason to slim down and become more of a small forward to increase his roll instead of getting stuck behind Love in the depth chart.
If this team can avoid injuries, don't be surprised to see the Timberwolves sneak into the playoffs with a seven or eight seed.
Myth: The New-Look Nets Will Flourish and Win a Championship in 3 Years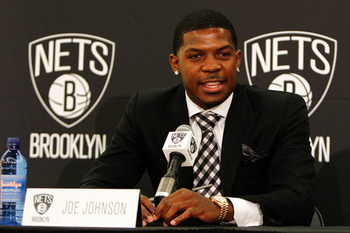 Will Joe Johnson help carry the Nets into contention?
Russian billionaire and Nets owner Mikhail Prokhorov certainly has high aspirations for his team, claiming that it will be hoisting a banner in the new Barclays Center within the next three years. After all, the Nets were one of the most active teams this year during free agency.
But after the dust settled, how much better did they really get?
After missing out on the Dwight Howard sweepstakes, the Nets re-signed point guard Deron Williams, center Brook Lopez and forwards Kris Humphries and Gerald Wallace. But just because all four of these players are making over $10 million and two of them just inked max contracts, are they really that good?
It's safe to say that Williams is the real deal based on his successful career so far. Lopez, the other max player, was only active for five games last year with a foot injury. I'm not convinced that Lopez is the answer because he is an ineffective rebounder, averaging 3.6 RPG in his five games last year and just 5.9 RPG the year before that. For a seven-footer, you would like to get some more production than that.
Luckily, Humphries, despite all of the Kardashian drama, was a double-double machine last year and proved to be an effective rebounder. Wallace used to be an elite defender, but at this point, is past his prime, and I have little faith that he lives up to the three-year monster deal he signed this offseason.
But what about all of their offseason acquisitions? The big one is clearly Joe Johnson, who averaged 18.8 PPG and posted an 18.50 PER. There are certainly questions about how he will mesh with Williams in the back-court, but I think he can remain productive in Brooklyn.
The Nets have a solid starting five. Not championship worthy, but solid. However, their lack of depth is concerning. Last year's starting shooting guard, MarShon Brooks, averaged 12.3 PPG as a rookie, though his rebound and assist statistics were unimpressive and his range from three was poor after the All-Star break.
Kansas rookie Tyshawn Taylor had a good summer league, but that does not necessarily mean it will translate to the next level (after all, Adam Morrison is coming off of a dominating summer league performance).
Their free-agent acquisitions are far from impressive, as it appears that Brooklyn has collected washed-up players such as Josh Childress and Jerry Stackhouse and unmotivated headcases like Andray Blatche. Former Clipper Reggie Evans, who averaged 1.9 PPG and 4.8 RPG, isn't exactly the answer either.
Overall, this team is playoff-caliber, maybe capable of reaching the second round if it gets a favorable matchup, but will never be much more than that. That makes two New York teams.
Myth: The Atlanta Hawks Will Be Worse Without Joe Johnson and Marvin Williams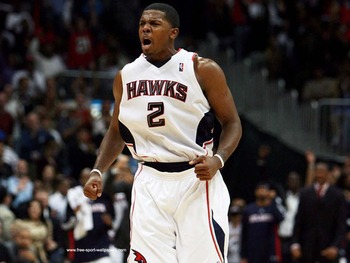 The Atlanta Hawks' new GM, Danny Ferry, traded two starters in Joe Johnson and Marvin Williams. So how can this team possibly improve?
Well, a healthy Al Horford is a great start. The young center only played 14 games last year, but the year before that, averaged 15.3 PPG with 9.4 RPG on 55.7 percent shooting. Combined with Josh Smith, the two will create a formidable frontcourt tandem.
And with so much focus on Horford and Smith, Atlanta can be patient and spread the floor and kick the ball out to perimeter shooters. It recently acquired sharpshooter Kyle Korver (43.2 percent from three last season), Anthony Morrow (41.3 percent last season) and rookie John Jenkins, who torched the SEC from long range during his time at Vanderbilt.
It also signed Lou Williams, who, despite being a defensive liability served a key role as the Philadelphia 76ers' sixth man last season, and acquired Devin Harris, an experienced point guard despite having a similar skill set to that of the incumbent Jeff Teague.
Despite a hole at small forward and not a lot of star power in the back court, this team will be fun to watch. If a few of their shooters are on, it can do some serious damage.
Myth: The Golden State Warriors Are Still in the Basement of the West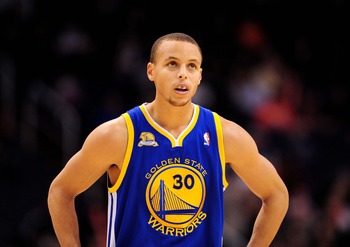 Jennifer Stewart-US PRESSWIRE
The Golden State Warriors have been pretty miserable since the Baron Davis era carried them to the playoffs and knocked off the Dallas Mavericks in the first round back in 2007. But now, they've got some serious talent if (and this is a big if) they can avoid injuries.
Last season, Stephen Curry was seriously limited due to his nagging ankle injuries, playing in just 26 games but still averaging 14.7 PPG, 5.3 APG, shot 49 percent from three and a 21.23 PER.
In the 2010-11 season, he averaged 18.6 PPG, 5.8 APG and shot 48 percent from long distance. Let's not forget that he averaged those statistics while Monta Ellis was hocking up shots and taking a lot of his touches.
David Lee is a proven power forward in this league, but just had surgery to repair a torn abdominal muscle. Andrew Bogut is a solid center capable of averaging a double-double but just had surgery on his left ankle.
But unlike last year, this year's Warriors have much more depth. Instead of relying on Andris Biedrins and Richard Jefferson, they now have Carl Landry, who will be a solid sixth man for Golden State, and lottery pick Harrison Barnes.
Twenty-two year old Klay Thompson is poised for a huge year. Jarrett Jack provides point guard depth in case Curry misses time. Brandon Rush is back. Rookies Draymond Green and Festus Ezeli can step in when needed as well.
Despite its setbacks in the past, Golden State is finally moving in the right direction, and don't be surprised if it finds itself on the bubble come playoff time.
Myth: Austin Rivers Can Play Point Guard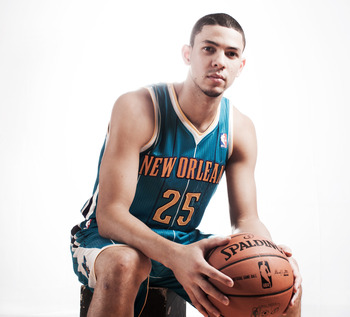 Nick Laham/Getty Images
This one is a big-time myth. I think the Hornets are setting themselves up for a lot of success in the future. They have a solid core of Eric Gordon, Anthony Davis, Ryan Anderson and Robin Lopez. However, I'm not quite sold on Austin Rivers as a point guard.
I think Rivers does have the confidence to succeed in the NBA, but I think that confidence may steer him off track. In summer league action, he struggled mightily to shoot the ball efficiently. His passing ability is questionable as well.
I think Rivers wants to be a star, and that mentality might get him there, but it also might make him a ball hog who throws up shots and takes possessions away from the promising stars he is surrounded by.
Most importantly, I'm not sure how he will mesh with Eric Gordon. I think on a mediocre team, Rivers could be a solid scoring point guard. However, when you have someone else in your backcourt who just signed a max contract, you have to spread the wealth.
We'll see how this develops, but for now, I'm not convinced.
Myth: Old Teams Can't Contend for a Championship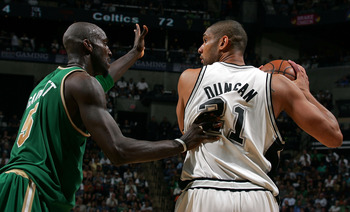 Ronald Martinez/Getty Images
This one's a myth seemingly every season. Teams like the Spurs and the Celtics are counted out because they have aging cores, but every year, they're back in the playoffs making a run at a championship.
San Antonio is pretty much the same team it was last year. That's the same team that carried a 20-game win streak into the Western Conference finals. Tony Parker had an unbelievable year. Manu Ginobili, despite battling injuries, was very successful. Tim Duncan was his normal self. It was just another year for the Spurs.
Their consistency over the years may start to pay off as the younger players on their team improve. Mixing the veteran presences of Boris Diaw, Matt Bonner and Stephen Jackson with young players like Kawhi Leonard, Danny Green, Tiago Splitter, Patty Mills and DaJuan Blair will allow these young role players to develop and eventually gain key roles for this Spurs team, as we saw last year with Leonard and Green.
The Celtics have quietly improved dramatically this offseason. Last year, a big problem for Boston was depth, as players such as Ray Allen, Avery Bradley, Jermaine O'Neal and Chris Wilcox went down with injuries and impacted the postseason. However, with the additions of Jason Terry and Courtney Lee, the Celtics backcourt looks formidable.
A veteran sixth man who can shoot threes in Terry along with a defensively-sound Lee who can also shoot from long range provide a solid pairing to complement Rajon Rondo and fill in for Avery Bradley at the beginning of this season. After undergoing heart surgery and missing an entire season, Jeff Green is also back and ready to contribute off the bench for Boston.
Both of these teams definitely should not be written off come playoff time.
Myth: The Miami Heat Will Cruise to the NBA Finals
Ronald Martinez/Getty Images
I want to preface this myth by saying that I do believe that the Heat will return to the Finals next year. However, many seem to think that because the Chicago Bulls will be without Derrick Rose for most of the season, Miami will stroll back to the big stage.
I have already talked about how the Boston Celtics can contend because of their added depth, especially in their backcourt.
Once Rose returns to the Bulls, they will be back in the title conversation as well.
Another team that could give the Heat some trouble down the stretch are the Indiana Pacers. Though they are not drastically different than last year, they are a year older, and thus, a year more experienced. If Roy Hibbert can live up to the massive contract he just signed and become a presence on both ends of the floor, he could give Miami some trouble because it doesn't really have a true center that could man up Hibbert.
Combined with Danny Granger, George Hill, Paul George, David West, Ian Mahinmi and D.J. Augustin, the Pacers could threaten the reigning champs.
The Philadelphia 76ers pose a similar matchup issue for the Heat. Now equipped with Andrew Bynum, the 76ers could exploit Miami's lack of a true center. In his first year without Kobe Bryant taking so many shots, Bynum could potentially break out as a go-to guy for Philadelphia this season if his knees can hold up again. Surrounded by Jrue Holiday, Evan Turner, Jason Richardson, Spencer Hawes, Thaddeus Young, Lavoy Allen and Nick Young, the 76ers could also do some damage down the stretch.
The Heat will, in all likelihood, return to the NBA Finals for a third straight year. However, they will certainly face some competition along the way.
Myth: A Team Needs a Dynamic Duo (or Trio) to Contend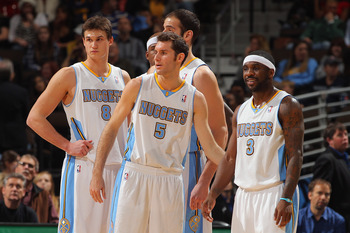 Doug Pensinger/Getty Images
Lately, teams have been shying away from deep teams and relying on a set of two, three or four players to carry the team to the playoffs. The Heat have LeBron James, Dywane Wade and Chris Bosh. The Thunder have Kevin Durant, Russell Westbrook, James Harden and Serge Ibaka. The Lakers have Kobe Bryant, Steve Nash, Dwight Howard and Pau Gasol. The Knicks have Carmelo Anthony, Tyson Chandler and Amare Stoudemire. The list goes on.
Although this tactic can be effective, it is by no means necessary to succeed. Just look at the Denver Nuggets. If any team is going to be the "new Thunder," this is it. Built primarily through the draft and trades, Denver has evolved into a core group of young, talented players.
The Carmelo trade did wonders for the Nuggets, as they acquired Danillo Gallinari , Timofey Mozgov and Wilson Chandler. They traded for underachieving JaVale McGee from the Washington Wizards, and since the trade, McGee has been turning it around, especially on the defensive end, and looks to be an important part of this team.
Trading for Ty Lawson on draft night with the Minnesota Timberwolves may have been the most significant of these moves, as Lawson's up-tempo style of play leads this high-power Denver offense.
Factor in the most recent trade acquisition of defensive stopper Andre Iguodala, and all of a sudden, the Carmelo Anthony era seems like a long time ago. This time around, they have a better all-around team contending for a title.
This deep team also includes veteran Andre Miller, Kosta Koufos, Rookie of the Year candidate Kenneth Faried, Corey Brewer and Anthony Randolph, who, if he earns significant minutes, could be poised for a breakout year.
Denver management knows what they're doing, and so does coach George Karl. This is not a team to sleep on despite its lack of household names.
Myth: By Signing Beasley, Dragic and Scola, the Suns Have Improved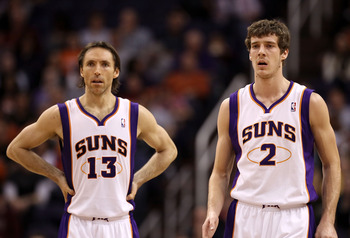 Christian Petersen/Getty Images
Clearly, the loss of Steve Nash is going to hurt the Phoenix Suns. But replacing Nash the way they did is not the way to rebuild.
Phoenix brought back Goran Dragic, signed Michael Beasley and claimed Louis Scola. Dragic had an impressive second half for the Houston Rockets last year when Kyle Lowry went down with an injury. Despite underachieving for most of his career, Beasley has shown flashes of brilliance, and maybe this could be the beginning of the player he was supposed to be. Scola will provide a veteran presence as well.
But for a team that just lost its franchise player, is this what it really wants to do? Sign a bunch of pretty good players and dig its hole even deeper? Nobody thinks this team is contending this year. In such a deep Western Conference, there's no way the Suns can compete with bubble teams like the Jazz and the Timberwolves.
So what's the point of signing these players? This just ensures their place in the NBA mediocrity: not good enough to earn a playoff spot, but not bad enough to net a top pick and rebuild for the future.
Maybe these additions will help lessen the impact of Nash's departure, but because of its approach, Phoenix won't be hosting playoff basketball for a long time.
Myth: Dwight Howard Makes the Lakers the Best in the West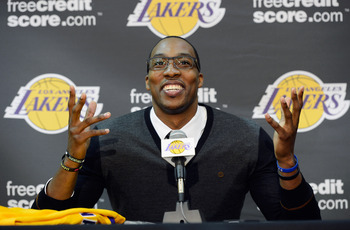 Kevork Djansezian/Getty Images
The Lakers could very well be the best in the west. After all, it's tough to argue with a team that boasts Kobe Bryant, Dwight Howard, Steve Nash and Pau Gasol in its starting lineup.
But this team is getting a lot of hype. It's as if people are forgetting that the Oklahoma City Thunder even made it to the finals. Although they may have the best starting lineup, and maybe they will have the best team, I'm not ready to write off the rest of the west just yet.
We all know how talented this starting five is. But how will they play together? Steve Nash and Kobe Bryant are both used to having the ball in their hands. Nash has proved that even at age 38, he can still pass and shoot threes despite his declining defense.
But believe it or not, Kobe is declining. At age 34, he had the worst shooting percentage (43.0 percent) since 1997-98, his second year in the NBA. Despite this decline in production, he averaged the second-most shot attempts (23.0) of his entire career. If the Lakers are going to succeed, Bryant needs to limit those bad looks and start feeding Gasol and Howard underneath.
It's also worth noting that Howard's back injury will limit his production at the beginning of the season, and he is likely to miss time after undergoing season-ending surgery last year. Though he will definitely be back by the postseason, it also means that this team will have less time to mesh together in preparation for the playoffs.
And what about the role players? Metta World Peace is not the defender he used to be, and his lateral movement has clearly lost a step. This was particularly evident in the playoffs when Kevin Durant could drive right by him, and there was nothing Metta could do.
Antwan Jamison rarely played defense last year and made only 40.3 percent of his shots, which is especially poor for a power forward. Jordan Hill can rebound and Jodie Meeks can shoot threes, but who else is there? Steve Blake? Josh McRoberts? Devin Ebanks?
I'm not sold on this Lakers team, at least not yet. They have plenty of star power, but we'll have to see how this star power works together before writing off the Thunder.
Keep Reading

Los Angeles Lakers: Like this team?