Big Ten Football: Predicting Where Each Program Will Be in 5 Years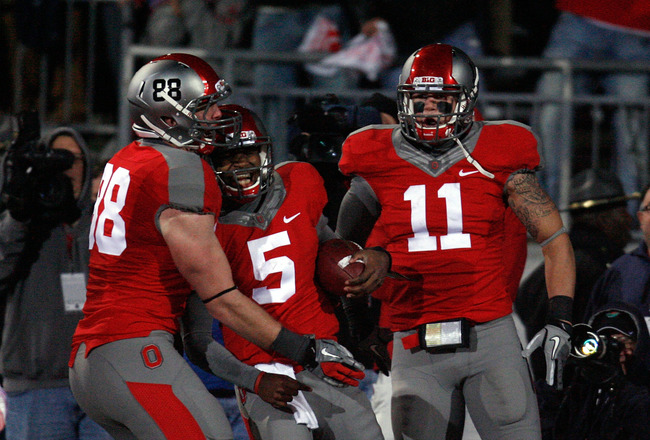 In 2017, all uniforms will be futuristic throwbacks. Did I just BLOW YOUR MIND?
Kirk Irwin/Getty Images
The Big Ten is in a substantial bit of flux these days, far more than we usually see from the conference. As a result, we've got no truly elite teams this year, and whether or not there'll be a BCS title contender in the near future is certainly a valid question.
So let's take a look ahead at the future and try to figure out if the Big Ten is d-u-m-e-d doomed or just in a brief lull. And if we decide the conference is forever flawed, you have our permission to run screaming to the Pac-12 or SEC or wherever. Nobody would blame you.
First, a couple stipulations—ones that may not end up being true, but provide a necessary framework to operate under in order to make all this work:
1) Football as we know it will stay the same: 85 scholarships per team, helmet and pads, 100 yards between the goal lines, Ohio State fans still obnoxious. Maybe concussion research leads us to a different place by 2017, but we don't know what that place will be, so let's assume things stay the same for now.
2) The Big Ten's membership will remain static. Yes, conference realignment is an ever-escalating arms race, it seems, but as things stand right now, we have a playoff coming in 2014 and new bowl agreements coming in place, so let's just stick with the landscape as we understand it for now.
Got all that? Good.
Onward!
Illinois: The Rise and Fall of Tim Beckman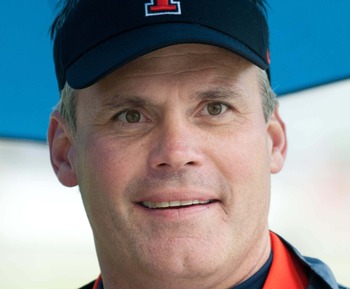 Bradley Leeb-US PRESSWIRE
Illinois swiftly takes advantage of a reeling Leaders Division and strings together a couple eight-win seasons under Tim Beckman, who proves himself to be one of the more dynamic coaches in the Big Ten. The narrative on Beckman starts to shift into him being a poor man's Urban Meyer, using many of the same motivational techniques to get his team focused on winning.
Illinois is that poor man, however, and frustrations eventually mount with both coaches and players as a deficit in facilities and recruiting both hamper Illinois' successes. And once graduation and simple bad luck lead to a 4-8 season in 2016, Beckman's tough love act wears thin on his disgruntled players.
2017 brings disinterest and discontent from the Illini, and another sluggish start means Beckman is one of the first coaches fired of the year. Luke Butkus is named interim head coach and is generally well-received by his players, but the Illini miss out on a bowl and find themselves back at square one five years from now.
Indiana: We Hardly Knew Ye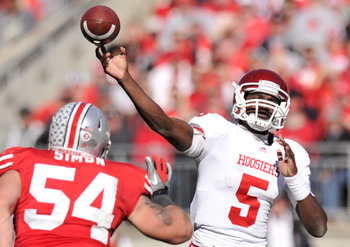 Jamie Sabau/Getty Images
Indiana gives Kevin Wilson a gift that every rebuilding football coach dreams of: patience. Sure, a lot of it is owed to fan apathy, as basketball still rules the world in Bloomington (especially with the Hoosiers resurgent on the hardwood), but still: It's exactly what Wilson needs.
The team eventually gets Tre Roberson back from his awful leg injury, and Roberson continues to mature into one of the Big Ten's best quarterbacks. Wilson's youth movement in the first couple years of his tenure pays off as those inexperienced, undersized freshmen grow into veteran leaders.
By 2015, fans are beginning to fill Memorial Stadium, and for good reason. Roberson is a senior and Indiana strings together one of its best seasons in decades, as the Hoosiers go 8-4 in the regular season, barely missing out on a Leaders Division title and a trip to Indianapolis for the Big Ten Championship. The Hoosiers end up in whatever bowl has the Outback Bowl's current rights by 2015 and come away with a victory and a spot in the Top 25 to finish the year.
It's all enough to thrill Oklahoma, where Wilson coached as an assistant, as the Sooners are looking to replace a retiring Bob Stoops. And sure enough, Wilson trades one crimson shirt for another and heads back to Norman, happy with what he accomplished at a program with a ceiling as low as Indiana's.
Hoosier fans are dismayed but not surprised, and are at least buoyed by the fact that established head coach Tommy Tuberville is willing to spend the twilight years of his coaching career with the Hoosiers. He wouldn't have taken that call five years ago, after all. But it's still Tommy Tuberville, and the losses begin again shortly.
Eventually, 2017's season brings one moment of joy for Hoosier fans: the start of basketball season in November. And all is as it was.
Iowa: Sports Royalty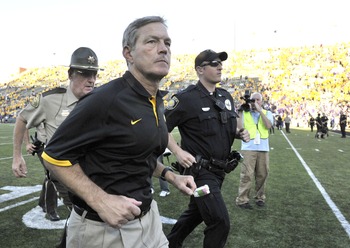 US PRESSWIRE
Kirk Ferentz is under contract for quite a few more years (through 2019, in fact), and he knows it. As such, his increasingly cantankerous personality toward anything not purely football-related rubs people the wrong way. But he's under none of the quasi-political pressure most coaches have to deal with as faces of their program, so it's not really his concern.
That being said, Ferentz does still care about his football team, and he remains a fairly successful coach at Iowa for the next few years. Gone are the days of 11-win seasons, but Iowa contends for New Year's Day bowls regularly, and all remains well in Iowa City.
That said, offensive coordinator Greg Davis never catches on, especially as his tactics don't prove enormously successful when you can't recruit like Texas. And make no mistake, Ferentz doesn't recruit like Texas.
Davis is eventually let go in 2016, and Ferentz decides to promote from within. Specifically, he names son, Brian Ferentz, already the offensive line coach, to the coordinator position. Brian is a hot commodity in the coaching world, having already coached under Bill Belichick before the age of 30, and if his name were Brian Foster there'd be little resistance to Kirk's decision.
But Brian's last name is Ferentz, and despite AD Gary Barta's insistence that Brian's promotion followed all the rules and regulations, Iowa fans become increasingly irritated with the insular nature of the Ferentz regime—especially as rumors begin trickling out that Kirk is grooming Brian to ascend into the head coaching role by the time Kirk wants to retire.
It's royalty, this sense of birthright, and Americans don't handle royalty very well.
The football remains well above .500, and eventually fans are forced to admit placing Brian Ferentz at offensive coordinator was shrewd, but the magic of Iowa football is now gone and attendance begins to dip. And as the years begin to tick down on Kirk Ferentz's contract in 2017, the one question everyone's got for Barta is this: When the time comes, will you promise to consider outside candidates for Ferentz's job?
Michigan: The Morris Supremacy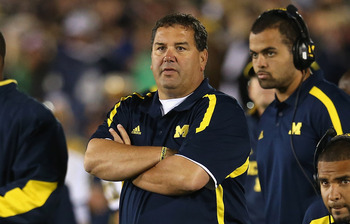 Jonathan Daniel/Getty Images
The thrill of the Brady Hoke era quickly departs over the next couple years, as Denard Robinson's senior season turns into a five-loss affair and Russell Bellomy proves only middling as a starting quarterback in 2013.
And then Shane Morris happens.
Michigan's universally lauded 5-star QB recruit of the 2013 class assumes the starting role as a redshirt freshman and never looks back, leading the Wolverines to double-digit wins in his first three seasons as a starter. The strong recruiting classes turn into strong teams, and Michigan reestablishes dominance in the Legends Division.
Morris is widely regarded as a late first-round pick after his junior year, so Michigan fans are thrilled when, after a Fiesta Bowl defeat, Morris announces that he wants one more shot at a national championship and he's coming back to Michigan to make it happen.
Sure enough, the Wolverines run the table in the 2017 regular season, buoyed by a lack of Notre Dame on the slate. A convincing 31-20 win over Ohio State in the regular season finale is made even more intriguing when OSU still manages to make the Big Ten Championship Game. It's the first time Michigan and Ohio State make it a rematch with Pasadena on the line.
But here, there's a playoff berth on the line for Michigan, and the Wolverines get all they can handle from an upstart Buckeye team who's in no mood to make it two losses in a row.
And sure enough, Ohio State knocks through a late field goal with 1:53 remaining to push its lead to 37-31. In his finest hour, Morris guides Michigan down the field, and with four seconds left, Michigan faces a fourth down at the Ohio State 12.
Morris takes the snap, drops back and fires...
(to be continued)
Michigan State: Regression to the Mean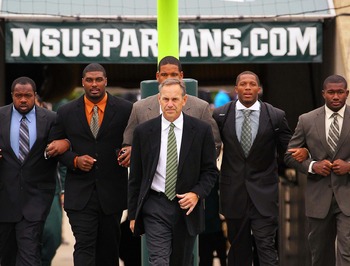 Mike Carter-US PRESSWIRE
What originally seemed like a seismic shift in the Big Ten landscape at the turn of the decade quickly dissipates as Michigan State comes back to earth. The offensive attack continues to struggle with its big-play ability, then the process of rebuilding the offensive line takes the Spartans out of Big Ten title contention for the next couple years.
All told, though, the Spartan fanbase—one that's exquisitely familiar with badly-coached teams and utter failure and misery—knows that Mark Dantonio is still putting out a quality product and a team that works hard, even if the stars aren't aligned for another 11-win season any time soon.
As such, his fan support only grows, especially as he nears the decade mark of his time atop the Michigan State program.
Still, as the 2017 season draws to a close, questions about Dantonio's future abound. He's a 61-year-old heart attack survivor and one of the oldest coaches in the conference. He may be beloved, but he's also in a sport where guys in their 60s don't usually stick around long.
Michigan State has him under contract through 2022 for recruiting purposes, but the general sense in East Lansing is that a new sheriff will be in town 12 months from then.
Minnesota: Faster, Jerry Kill! Kill!
Jesse Johnson-US PRESSWIRE
Few coaches in the Big Ten are more beloved than Minnesota's Jerry Kill, but no matter how well he coaches this team, recruiting and luck never seem to be on his side.
A successful 2012 season quickly fades back into mediocrity and Christmases spent at home over the next few years, leaving fans grumbling and wondering why Minnesota just can't seem to find and keep a successful coach.
And yet nobody wants Kill fired. Too many fans look at him and see themselves: just a goofy-looking, regular-talking Midwestern guy who's trying to make the best of what he has against the slick sharks of the world. If Kill can't get more than five years to try to turn Minnesota around, the common thought goes, what hope do the rest of us have in this world?
But 2016 comes and goes with Minnesota's win total stuck on four at the end of the year, dropping its last three games when bowl eligibility was still technically possible. And sad thoughts start to creep into the heads of Gopher fans everywhere.
After all, the integral key to the allure of the everyman hero is that he (or she) eventually succeeds. Rudy doesn't get made if Daniel Ruettiger doesn't ever get to play (or get his sack) (spoiler alert...Also, Santa's not real).
People don't wistfully watch highlights of Appalachian State taking on LSU in 2008 and losing 41-13. And Gophers fans don't want to see Jerry Kill try to coach in a sport where, as it becomes increasingly clear, guys like him aren't the ones that get ahead.
So Kill resigns after the 2016 season, bumming a lot of people out—himself certainly included. He was supposed to be the coach that does things the right way, the way everyone should do things. But it just didn't work.
In comes some square-jawed young guy who was an assistant coach at a big-named program in years past. His name isn't even important. He forcefully asserts that Minnesota is on its way back and that it's time to get on board now. Minnesota athletic director Norwood Teague is pleased. Gopher fans sigh sadly, knowing they've heard all this before.
Nebraska: Bo Knows Nostalgia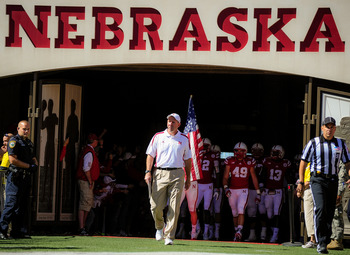 Eric Francis/Getty Images
It's 2017. Bo Pelini is about to wrap up his 10th season as head coach of the Nebraska Cornhuskers, and life is supposed to be pretty good. He's taken his team to a Rose Bowl. Lost another conference championship somewhere in there too. There's no question that Nebraska can hang with the Big Ten now.
And every now and then, Jim Delany will slap Pelini on the shoulder and wonder aloud what the Big Ten ever did without Nebraska.
He'll feel all this, now a 10-year-veteran with at least 10 more years at the helm waiting for him and a promise from new athletic director Trev Alberts (look, just roll with it) that Pelini has a de facto lifetime contract.
And it still won't feel right.
He misses his brother, Carl, who just took the head job at Colorado State in 2015, certainly a step up from Florida Atlantic and a major step up from being Bo's defensive coordinator. But it was fun having his brother there to coach with. No offense to John Papuchis, who knows what he's doing. But he's no Carl.
He misses Tom Osborne, the legendary athletic director who retired on New Year's Day of 2013, the very same day Nebraska won the Capital One Bowl over Georgia in convincing fashion. He wishes he could have spent that day in Pasadena instead, but tiebreakers, man. What can you do?
He misses the Big 12. He's not sad Nebraska stuck it to a league that was selling itself out for Texas, of course. He still hates Texas.
But that's just it: He still hates Texas. He doesn't hate Michigan or Wisconsin. He enjoys beating Iowa in the annual Heroes Game and does so quite regularly. But he wants to see Texas destroyed on the gridiron, destroyed by a marauding army in white helmets.
He won't quit. That's not Bo Pelini, not at all. He's got Pasadena to shoot for, and his players yearn and burn for it. So he does too.
But 2009 sure was nice.
Northwestern: Standing Pat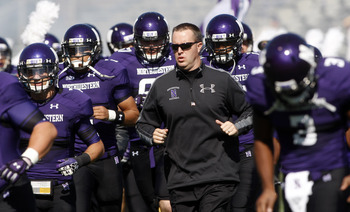 US PRESSWIRE
2017 was supposed to be right about the time that Pat Fitzgerald was taking over the Northwestern football team. Like, for the first time.
He had been pegged as the program's eventual successor by head coach Randy Walker back in the early oughts, but Walker was barely in his 50s at the time, and he looked about 10 years younger than that. Plus, Fitzgerald was only 31 coming into the 2006 season. 31-year-olds don't coach major college ball.
Well, we know what happened after that. Walker passed away from a heart attack and Northwestern honored his request. And it has worked out surprisingly well.
It keeps working out well for Northwestern in the years to come. The Wildcats get their bowl win in 2013 at the hands of Northern Illinois. Whatever...it counts. The doormat days are over, and every year, teams are terrified at the prospect of facing Northwestern in November—especially in the dreary Evanston afternoons, where the disappointment of a road loss is painted perfectly against a gray, wet sky.
But soon a ceiling becomes evident. For as great a coach and guy as Fitzgerald is, everyone knows 12-0 isn't happening for the Wildcats. The talent's not there. If the offensive line gets dinged up and the quarterback's not new, 4-8 is totally on the table. That's just how it is at Northwestern—especially in a deep conference like the Big Ten.
So Pasadena's never in the hearts of Wildcat fans by Halloween, not yet. Fitzgerald's not there in 2017.
But he was never supposed to be. Randy Walker was supposed to be. And now that Fitzgerald's going to be over a decade into his head coaching career by 2017 with many, many years to come and an administration behind him that wants to give him whatever he needs, perhaps that trip to the Rose Bowl comes by 2022. Or even 2027. But he'll get them there. He knows it.
Ohio State: War of the Roses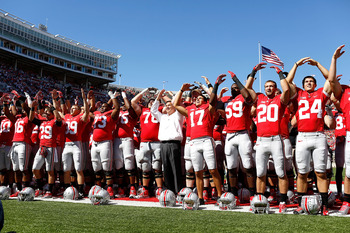 Kirk Irwin/Getty Images
The Urban Meyer hiring proves to be a home run. Of course it does. He's abiding by his family's wishes, he still looks healthy, Florida fans are as irate as ever at him—especially as the Will Muschamp era peters out ineffectually in 2015.
And Ohio State? Lots of winning going on at Ohio State.
Meyer takes the team to a pair of Rose Bowls in his first few years at Columbus, and he barely misses out on BCS playoff eligibility in 2015 after the Buckeyes can't overcome a Week 3 loss at Virginia Tech.
But it's 2017 now, and Ohio State's in another dogfight—this time against Michigan. Finally, both teams are in Indianapolis to face each other for the Big Ten title, which was the only reason Jim Delany didn't want them in the same division to begin with. Days like these. Moments like these.
Meyer's grumpy, though. There's just 1:53 left in the game. With a chance to put the Wolverines away for good and avenge a regular season loss—and, more importantly, to keep dirty, hated Michigan out of the BCS playoffs—Ohio State was forced to kick a field goal on 4th-and-9. Phantom hold call. Ref's probably from that state up north.
And now Shane Morris is driving the Wolverines down the field. Of course he is. But he needs a touchdown, because it's 37-31. And Michigan can have all the yards it wants—it's not getting in that end zone.
Finally, four seconds are left. The Wolverines are on the Ohio State 12. No need for a prevent, no Hail Mary coming. Michigan can just run a normal pass play, so it's up to the Buckeyes to play normal pass coverage.
Morris drops back. He scans, he plants his foot and he throws.
Touchdown, as the last second ticks off. Nickel man bit on a double move, safety couldn't step up to stop the slant in time.
The confetti falls from the Lucas Oil Stadium ceiling right as the game-winning extra point sails through the uprights.
A pit forms in Urban Meyer's stomach as he watches Michigan's players and coaches stream out onto the field in jubilation. It's a pit he knows all too well.
The war has just begun.
Penn State: In the Light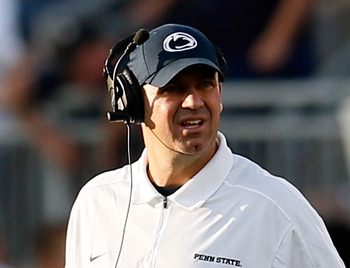 Rob Carr/Getty Images
2017? Penn State fans wish it was 2017.
They wish they could just close their eyes really tight, spin around in a circle for 10 seconds and make it be 2017. That's when the sanctions will have passed, when Penn State can go to a bowl, offer 25 scholarships and not have to deal with the fallout of bad deeds of bad men long since gone from Happy Valley.
That's a good wish to have, because the next five years are going to be brutal.
Bill O'Brien is a serious man, and he's not sugarcoating anything for his players or fans. But he's also a motivated man, and he wants to see this Penn State team not only keep playing but keep winning through the lean years. And as long as Christian Hackenberg still shows up and has Adam Breneman to throw to, the fears of 0-12 years are probably unfounded.
Fears of 3-9, though? Founded. Especially when Penn State's fielding 65 scholarship players and unable to recruit the caliber of player we're accustomed to seeing in Happy Valley. It leaves the team especially prone to injury (see: the running back situation already in 2012), and there's no way around it.
But O'Brien's the perfect guy to see the Penn State program through, and by 2017, he'll be beloved in Happy Valley. The wins might not come back, not immediately. But they'll be back, and in 2017 we'll be able to see that seed of success germinating and growing.
Purdue: Hope Sinks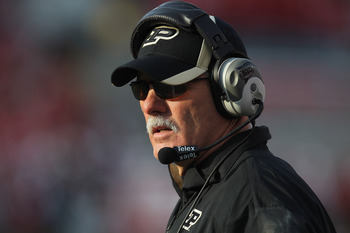 Jonathan Daniel/Getty Images
Purdue's as well-positioned as anybody in the Leaders Division to go to Indianapolis for the Big Ten Championship in 2012. That says more about the Big Ten than Purdue, sadly, but there are no "yeah buts" in the record book. If Purdue's playing for the Big Ten Championship, that's something the program can hang its hat on no matter what.
And it's nice that Purdue's in position to work for that opportunity this year, because it's not happening again for a while. Ohio State's in position to have a monster 2013. Wisconsin isn't blowing up the structure of its program, a structure it knows works. And Purdue underestimates Kevin Wilson and Indiana over the next three years at its own peril.
All of which is to say Danny Hope is squarely in the crosshairs of the Big Ten this year and beyond, and the gruff-looking head man isn't likely to keep his job for another five years. Not when he's already got a losing record and there's no indication that, structurally, Purdue can hang with the big dogs of the division (or the entire conference, for that matter).
Wisconsin: Rip Bro Winkle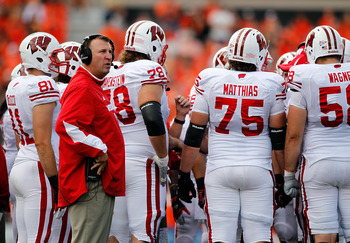 Jonathan Ferrey/Getty Images
Bro. Bro! Hey, it's Bret. Where are we?
Madison? OK, whew. I know Madison. But this is a pretty nice house. I don't know this house.
What do you mean it's my house? Did I just buy it? Me and my...I'm married?
Hold on, back up. Tell me everything. Wait, what do you mean it's 2017? When we went out for beers it was 2010! No, seriously, I don't remember anything since then. So you're telling me I've been on a seven-year blackout bender? Epic, bro. Epic.
So, first all...still the coach at Wisconsin? OK, cool. Good. Things are going well. I kind of don't believe that, to be honest.
Oh, all I do is run the ball and mash everyone with giant offensive linemen? That...that sounds like me. I would believe that. And we've been doing pretty good, I take it? Oh, Rose Bowls, nice. I like that. And one just a few years back, that's even better.
Oh sweet, the sports page. 8-2, one game back in the Leaders Division? Wait, what the heck kind of name is that? WHAT DO YOU MEAN NEBRASKA'S IN THE CONFERENCE NOW? No, I told you, I don't remember any of that! Ugh.
Wait. It's Saturday. Is there a game today?
Jeez, Indiana? Don't tell me they're good. OK, whew. So this is the real world. Wait—the game starts in 15 minutes? We gotta go! Run, run, run! We'll figure out the coaching part when we get there!
(Wisconsin would win this game 54-13.)
Keep Reading