Auburn Football: 5 Reasons Why the Tigers Must Cut Ties with Gene Chizik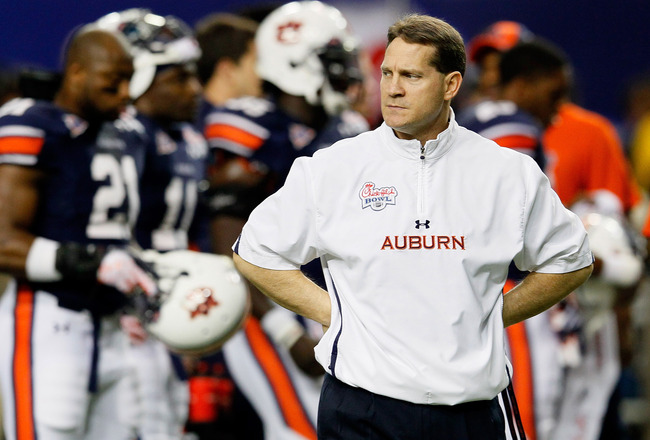 Kevin C. Cox/Getty Images
Gene Chizik on the hot seat?
Believe it!
The notion was brought up on ESPN's College Gameday and it has hit the twitter stratosphere with vengeance.
This is the same head coach that recently won the BCS National Championship in the 2010-2011 college football season, and yet, its time for Chizik to split.
After Auburn's loss to LSU, can we blame the chatter about Chizik's job status? Some called it an encouraging loss, but who are we kidding?
A loss is a loss.
Fact: Auburn is 1-3 heading into their October 6 showdown against the Arkansas Razorbacks.
Yes, the Razorbacks are reeling, in large part because of their ineptitude on defense, but don't be surprised if they upset Auburn.
The writing is on the wall. Auburn will soon have to cut ties with Chizik.
The question is when?
Run Defense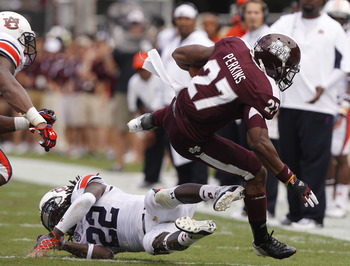 Butch Dill/Getty Images
When you can't tackle, your troubles are only beginning, and this rings true for this Tigers defense.
Simply put, they can't stop the run.
Auburn is ranked dead last in the SEC against the run; Nationally, the Tigers are ranked 101st.
The problem?
They can't get penetration from their interior linemen. More often than not, the defensive tackles struggle to fill their gaps.
The linebackers also struggle to get off blocks, as they lack the strength and technique to shed blocks. It's embarrassing at times to watch.
This leads to another issue...
Coordinator Chairs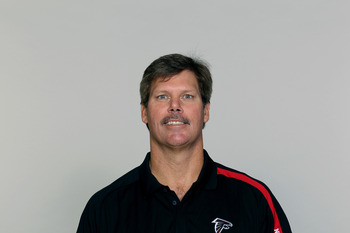 Handout/Getty Images
Brian VanGorder? Scot Loeffler?
Coach Gene Chizik signed his pink slip when he brought these fellas on board.
Lets start with VanGorder.
Before arriving at Auburn, VanGorder served as the Atlanta Falcons defensive coordinator.
He had the tough task of turning this Auburn defense around and so far, VanGorder is likely just making things worse.
The LSU game was somewhat encouraging, but it seems VanGorder's past deficiencies are coming to focus once again.
With the Falcons, VanGorder played far too much in the nickel defense, and he continues to employ the same strategy with Auburn.
What this means?
More defensive backs, and not enough linebackers to help against opposing teams' run offenses. No wonder the Falcons decided to replace VanGorder with Mike Nolan.
Loeffler, on the other hand, was brought in to help the Auburn aerial attack. How has that worked?
The Tigers are ranked near the bottom in almost every major offensive category.
Coach Chizik really screwed the pooch on this hire.
Offense Struggling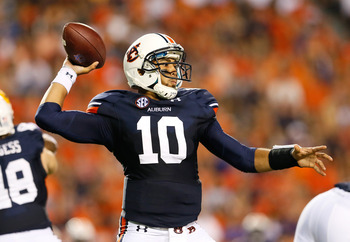 Kevin C. Cox/Getty Images
Quarterback play has been a joke for the Auburn Tigers, but this is an offensive attack that struggles to both run and pass.
I can understand if you are weak at one spot, but the Tigers have been terrible in both areas. More so, the struggles have begun with their aerial attack.
The Tigers have constantly put themselves in 3rd-and-long situations, thus, nationally, Auburn is ranked 115th in passing offense.
Since the departure of Cam Newton, this offense has fallen from its once high perch. It makes you wonder if Coach Chizik was riding the coattails of the great Cam Newton.
Turnovers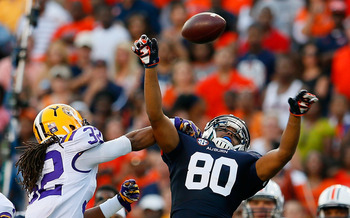 Kevin C. Cox/Getty Images
More than anything, this shows that a team lacks discipline. This directly falls under coach Chizik's direction and ability to lead.
Auburn has one of the worst turnover margins in Division I football, as mistakes continue to plague this team, especially early on in the season.
This may be the most telling sign of Chizik's departure.
Special Teams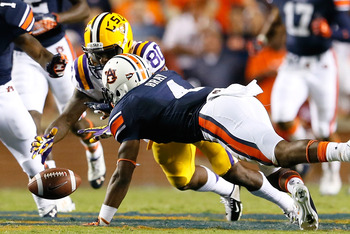 Kevin C. Cox/Getty Images
Not only are the offense and defense struggling, but Chizik can't even say his special teams are playing up to par.
As much as everyone wants to disregard the impact of special teams, knowledgeable fans and analysts understand how crucial this aspect of football can be.
Punting helps with field position, and it directly correlates with the performance of your defense, who relies on special teams to give them a shorter field.
Steven Clark is struggling.
His performance in 2011 was admirable but Clark's 2012 struggles have hurt this team.
Chizik doesn't seem like he has a great hold on this team. He lacks the talent that once was abundant for the Tigers in the 2010-2011 season, despite successful recruiting classes.
Its only a matter of time before Chizik and Auburn divorce.
Keep Reading

Auburn Football: Like this team?