New York Jets: Stat Projections for Starters and Key Reserves vs. SF 49ers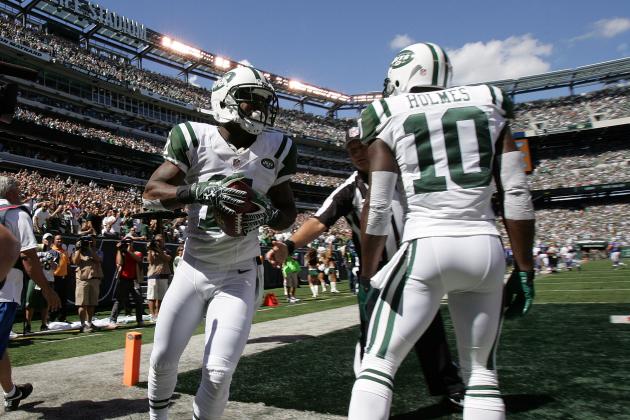 Rich Schultz/Getty Images

These New York Jets are not the team that Rex Ryan thought he was building. They are not effective at running the ball, and they are not stopping their opponents when on defense. Plain and simple, they are not the most talented team Rex has had here in New York regardless of what he claims.
However, after an inconsistent offensive showing in Miami, one thing has been a pleasant surprise, thus far. On a team that was said to have zero playmakers at the receiver position and a very troubled offensive line, both units have stepped up.
Austin Howard has been more than any Jets fan could ask for, solidifying an offensive line that already boasts three Pro Bowlers from last season. With the extra time in the pocket, Sanchez has thrown the ball downfield noticeably more this season, and at times, it has paid off big.
Jeremy Kerley seems to be reaping the benefits of this, showing he may be the big-play spark the Jets have needed in recent years. This past week, Holmes finally showed glimpses of the playmaker he was in his first season when he teamed with Sanchez.
There has been a lot of optimism in the passing game, and that's without Sanchez's favorite receiver, Dustin Keller, who is expected to return to the lineup this weekend against San Francisco.
Continue reading to see continued analysis and statistic projections for the Jets offense this week against a stout San Francisco 49ers defense.
Begin Slideshow

»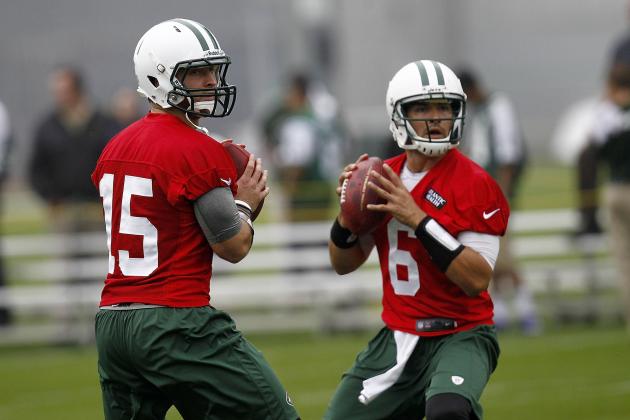 Jeff Zelevansky/Getty Images

Everyone seems to have their own interpretation of how well Sanchez has been playing this year, uncertain if you can blame his inconsistency on him, his offensive line, his receivers or a lack of run game.
It has become evident that Sanchez has been less hesitant to throw downfield, and it is reflected in his stats, having already thrown for 300 yards in one game and leading an offense that scored 34 points in another.
Look for Sparano to get the ball out of Sanchez's hands quickly this week and hope to let Kerley and Holmes make some plays after the catch.
Similar to the Dolphins last week, the 49ers are exceptional at defending the run and may cause Sparano to desert the run game yet again. Most Jets fans would acknowledge Sanchez is best when throwing off play-action, a plan that is only effective when the run game is successful.
On the other hand, Tim Tebow has been a non-factor except for one fake punt last week that resulted in a first down. It is becoming increasingly difficult to label Tebow with a position, now that he has officially split out as a receiver numerous times this year.
Going up against, perhaps, the best defense in the league this week, you may see some more Tebow on the field using misdirection in the attempt to slow down the aggressive 49ers.
Projections:
Sanchez: 19-of-40 for 245 yards, 2 TD and 2 INT
Tebow: 1-of-1 for 8 yards; 4 rushes for 16 yards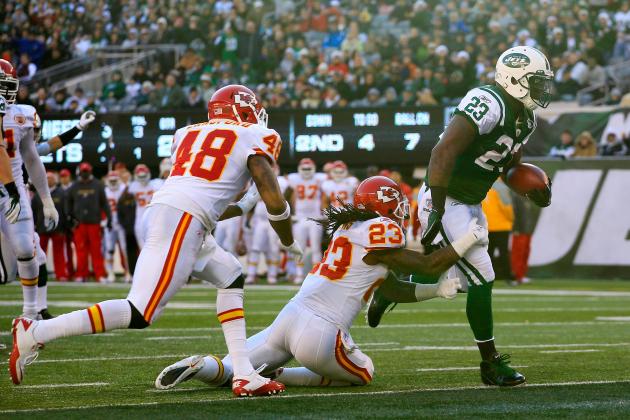 Chris Trotman/Getty Images

This unit was supposed to be the identity of this offense under new coordinator Tony Sparano and Rex Ryan's "ground-and-pound" mentality.
Sparano came into this year looking to simplify the offense for Mark Sanchez as well as the offensive line which has changed its blocking schemes from zone blocking to more of a power scheme.
So far, the run game has been nearly non-existent with Shonn Greene averaging under three YPC (yards per carry) and Joe McKnight getting limited chances with the ball in his hands.
Bilal Powell has received more and more touches as the season progresses and wouldn't be surprised if this trend continues. He has had more success than Greene and showed some life catching the ball out of the backfield.
Powell runs a little lighter on his feet, compared to Greene, and it led Rex Ryan to say he would consider giving Powell more touches in the beginning of the game. This could push Greene back to the role he inherited behind Thomas Jones in past years where he would come in later in the game and wear down fatigued defenses.
Regardless of who is getting a bulk of the carries, this week will be a tall order against one of the premiere run defenses in the league.
Projections:
Greene: 14 rushes for 37 yards; 2 receptions for 9 yards
Powell: 11 rushes for 34 yards; 3 receptions for 24 yards
McKnight: 1 rush for 5 yards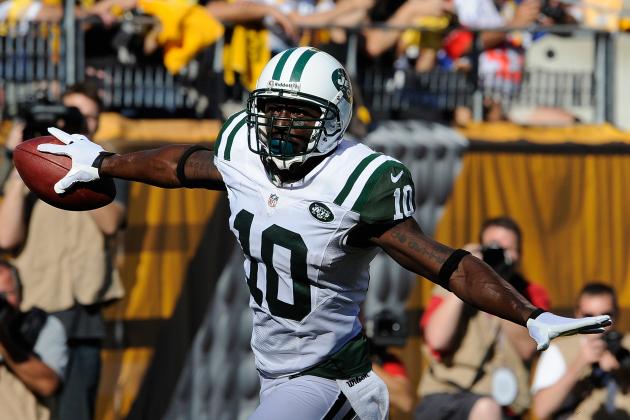 Joe Sargent/Getty Images

This Jets group still yet has to prove their identity. Each of the players has shown breakout potential, but none of which seem to do it consistently.
Santonio Holmes ended last season in poor fashion. This year, he has been inconsistent with multiple drops in PIT followed by a massive game in MIA. He must be a leader for this unit, and his body language still needs work.
Jeremy Kerley had received criticism from Rex Ryan in camp for not coming out as prepared as he would have hoped. However, since the regular season started, Kerley seems to be the only player on the roster capable of making big plays both on special teams and offense. He is very dangerous in the open field, and that is something this team has been lacking.
Stephen Hill came up limping in back-to-back plays last week due to hamstring issues and is questionable for the game this week. Look for Chaz Schilens or re-acquired Patrick Turner to step in and take his reps.
The 49ers will get after Mark Sanchez when he drops back. The WRs must communicate with him once they are at the line of scrimmage and be ready for changes on the fly.
Projections:
Holmes: 6 receptions for 74 yards, 1 TD
Kerley: 3 receptions for 51 yards
Schilens: 1 reception for 22 yards, 1 TD
Turner: 0 receptions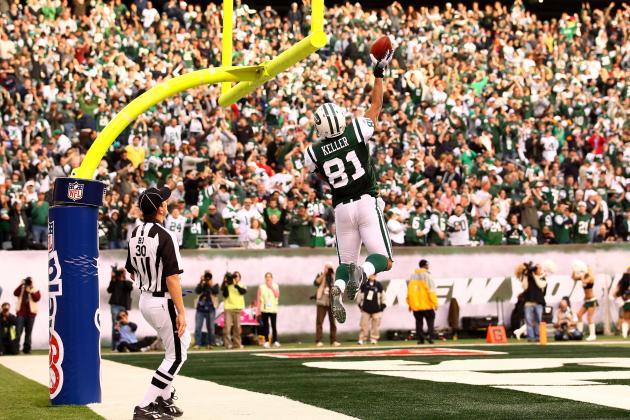 Al Bello/Getty Images

Sanchez has been without his favorite target through the first three weeks of the regular season as Dustin Keller had suffered some setbacks with his hamstring injury sustained during the preseason. It is believed Keller will make his season debut this week, and it should help boost Sanchez's completion percentage with another familiar receiver on the field.
Cumberland hasn't played convincingly well in Keller's absence and has shown his lack of chemistry with Sanchez during crucial miscommunications. In the face of a Pittsburgh blitz, Cumberland clearly didn't recognize that he was the hot receiver, and Sanchez threw the pass right past him as he was completely unaware.
Facing a defense like the 49ers, it is very important everyone be on the same page because there will be numerous downs when Sanchez must get the ball out of hands quicker then normal. Both pass-catching tight ends, don't be surprised to see Sparano use both Cumberland and Keller on the field at the same time in some sets.
Projections:
Keller: 4 receptions for 65 yards
Cumberland: 0 receptions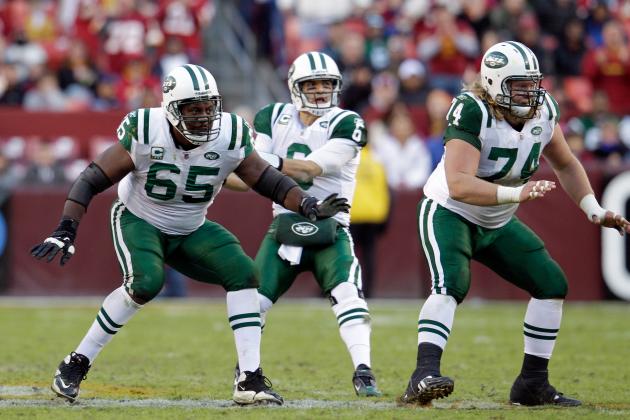 Rob Carr/Getty Images

The Jets offensive line became one of the most watched units in the National Football League as Wayne Hunter was put under the microscope in the preseason for his poor play.
Although it has only been three weeks of football, it seems as though the answer for their problems was Austin Howard, a player off their practice squad.
He has stepped in and played better than anyone could have hoped against some of the best pass-rushers and defenses in the league. Sanchez has had very good pass protection resulting in only three sacks through three weeks.
The lack of running success has been a definite cause for concern, however, no one truly knows where to put the blame. It's no secret that Shonn Greene has trouble making people miss.
Perhaps, the blame should be shared with the offensive line too. With three Pro Bowlers on the line and the best center in the NFL, the Jets should find a way to average over three YPC (yards per carry).
Projections:
Sacks allowed: 2
QB hits: 2
Hurries: 4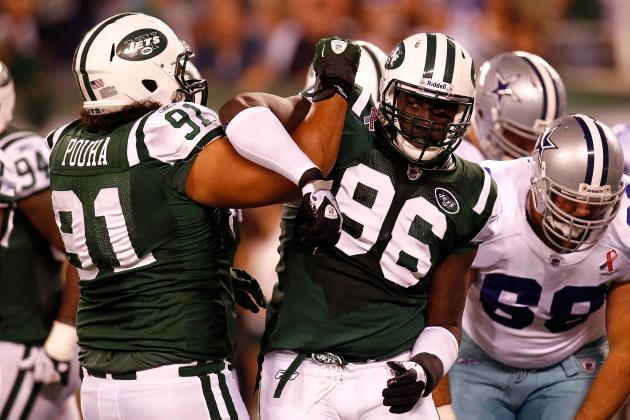 Jeff Zelevansky/Getty Images

The team certainly injected some youth in to their defensive line in recent years, and they are shaping up to be a very formidable unit. In past years, they have been among the best in stopping the run and clogging up the interior.
This year, it has been much different. Opponents have run wild on the defensive unit, and had it not been for a Reggie Bush injury last game, the Dolphins looked primed to do the same. Some would say it is a result of aging linebackers filling the gaps a step slower, and that may be a fair point.
This group absolutely needs to stop the run better if the Jets plan on beating the 49ers this weekend. The team has generated very little pass rush with their front four, and if they are going to be weak at pass-rushing, they must be very good at run-stopping.
Projections:
Muhammad Wilkerson: 4 tackles, 2 tackles for loss
Quinton Coples: 1 sack
Mike Devito: 1 tackle, 1 tackle for loss
Sione Pouha: 3 tackles
Kenrick Ellis: 3 tackles, 1 tackle for loss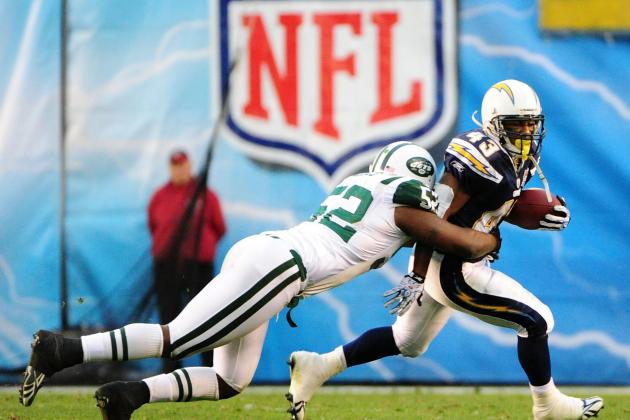 Robert Laberge/Getty Images

When Rex Ryan first joined the Jets, this unit was his strength and made this defense very flexible in terms of blitz packages and coverage options. Unfortunately, it seems as though those days may have come and gone.
Bart Scott has shown flashes, but overall, has lost a step in coverage and the run game. Calvin Pace received big money from the Jets a few years back as an elite pass-rusher, but he has not delivered the big numbers.
Last year when Bryan Thomas went out with injury, the defense showed it had problems containing the run. This theme has continued into this season.
Aaron Maybin seems to be the only pass-rusher in the unit, and even he is not elite. Many of his sacks last year were due to excellent coverage downfield and second-effort plays by Maybin.
David Harris is still very reliable and solid in the middle of the field. He has sound tackling skills, but even he seems a bit slow to cover receivers and tight ends across the middle.
Vernon Davis, one of the most athletic players in the league, will certainly pose matchup problems for the Jets' LB core. Look for Davis to have a big day.
Projections:
Harris: 9 tackles, 1 sack
Pace: 4 tackles
Thomas: 3 tackles
Scott: 4 tackles, 2 tackles for loss
Maybin: 0 tackles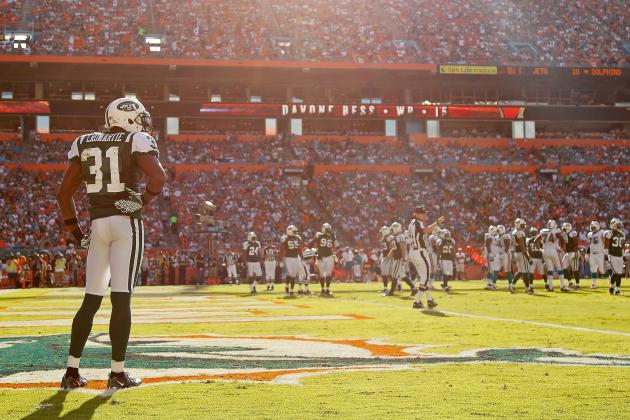 Mike Ehrmann/Getty Images

This group has the most to prove in the upcoming weeks, showing that they can still be trusted going man-to-man against receivers without Pro Bowler Darrelle Revis to help.
Cromartie has shown he can be one of the elite corners in the league at times and a pure ball hawk when the ball is in the air. Now that he is the top corner, I would have to think he will not be seeing opportunities to get the ball in special teams or as a WR, he is just too valuable.
Kyle Wilson is a first-round talent whom Rex Ryan selected out of Boise State. He has been buried in the depth chart between the dynamic duo of Revis and Cromartie.
Now is Wilson's time to get serious playing time outside the numbers on the perimeter on a every-down basis. Sometimes, Wilson struggles to look back and find the ball on some deeper routes. If he can work on that, he has shown he can be serviceable.
Look for Ellis Lankster to work as the third corner and probably get picked on covering Michael Crabtree/Mario Manningham.
Additionally, Rex mentioned (via Jane McManus of ESPN) RB Joe McKnight will be receiving some substantial time as a corner in the wake of losing Darrelle Revis. Mcknight has had some success in the past blitzing in Rex's schemes and has often been called one of the best athletes on the team.
He has become a jack of all trades for Rex, as Mcknight has returned punts, kicks, played RB, WR and CB in his tenure with the Jets.
Projections:
Cromartie: 5 catches for 75 yards allowed
Wilson: 6 catches for 68 yards allowed; 1 TD allowed
Lankster: 7 catches for 80 yards allowed
Joe Sargent/Getty Images

With two new safeties added to the defense this year, the Jets will face their first dynamic tight end of the year and hope the upgrade will stop their defensive woes covering that position.
At a position where the Jets lacked athleticism last year, the two additions of Yeremiah Bell and Laron Landry has added a physical presence in the middle of the field that has been lacking. Bell has been quiet but certainly an upgrade from the position last year. Sparano spoke volumes on his leadership skills, and it has been a pretty seamless transition.
Laron Landry, when healthy, is a top-three safety in the league, and that is precisely what he is playing like the past three games. He could be the most physical player in the entire league when playing at this level.
He has also done a good job in coverage. He draws his first tough assignment this week against Vernon Davis, and it will be a good measuring stick for him to see how far he has come with his coverage skills. The Jets hope he does well, as they brought him in to cover the likes of Rob Gronkowski and other big-name tight ends they had struggled with covering in the past.
Projections:
Landry: 6 tackles, 4 receptions allowed for 40 yards, 1 INT
Bell: 4 tackles, 2 receptions allowed for 15 yards
Marc Serota/Getty Images

Special teams has been a strength under coordinator Mike Westhoff, and they have performed rather well this year. If both defenses hold up, this could be a field-position battle, and every field-goal attempt will be crucial.
Both the field-goal unit and the punting unit have held up for the Jets, thus far, and look to be consistent moving forward. We saw a Tim Tebow wrinkle last week when they successfully faked a punt for a first-down run. I would be surprised to see this two weeks in a row, but it is something you should keep an eye out for.
The Jets hope to get McKnight rolling in the return game. He has been serviceable but not as spectacular as last year when he led the league in return yards. Kerley is shifty during punts and has done fine, as long as he concentrates on securing the ball.
Projections:
Folk: 2-of-2, 45 yards, 35 yards
Malone: 3 punts, avg 45.0 yards