Bellator Boss Calls Dana White's Statements 'Very, Very Hypocritical'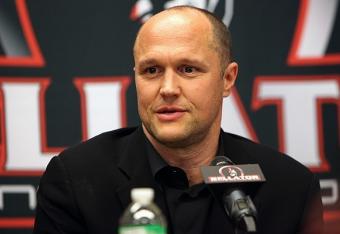 source: MMA Convert

Bjorn Rebney, chief executive of Bellator Fighting Championships, has responded to Dana White's vicious attack against his fight promotion, calling the UFC president's statements "very, very hypocritical" (via MMAFighting.com).
White pulled no punches when he described a "matching rights" clause in Bellator's fighters' contracts as, "dirty, grimy and despicable."
The row centres on contracts for two ex-Bellator fighters, Tyson Nam and Roger Hollett, who were both released by the promotion.
In August, bantamweight Nam knocked out Bellator champion Eduardo Dantas in the first round at Shooto Brazil 33: Fight For BOPE. The win reportedly generated interest from other promotions to sign him but Bellator, who had already released the fighter, had other plans.
Bellator argued that their matching rights clause obligates a fighter to re-sign if they're able to match a competitor's offer. However, Nam's trainer Phil Claud said that the fighter had never been given the opportunity to fight in previous Bellator tournaments, and the promotion basically wanted to "sit on Tyson" to prevent him going to another promotion.
Similarly, Roger Hollett, who recently lost to Matt Hamill at UFC 152, complained that Bellator's legal team had tried to prevent his move to the UFC even though he had been released from their contract.
Dana White, in his post-fight media scrum after UFC 152, had choice words for Bellator regarding both disputes (via MMAFighting.com):
I don't talk much about Bellator, but what they do is one of the dirtiest things you can do in the business. Of course I have the right to match, but once I cut a guy and let him go and somebody else tries to sign him, I don't come back and say, "Oh, you're breaking the contract. I have matching rights." You made the decision to cut him. You cut him. That's one of the scummiest, dirtiest things you can do.
Dana White attacks Bellator
Rebney had a chance to respond on Ariel Helwani's MMA Hour on Monday, when he said:
We had to go through the exact same process with Zuffa when we signed "King Mo" (Mohammed Lawal). Zuffa released King Mo Lawal on March 27, 2012. They went public with their release, they put it up on their own website, on UFC.com, Dana confirmed the release of King Mo to the media on the exact same day, and then in April, when Bellator looked to sign King Mo, we had to submit our full contract to Zuffa. We sent it certified mail to their attorneys. Then we had to wait 14 full business days, which is typically 20-to-21 days in total, for them to decide if they were going to match or not going to match - which thankfully they didn't, and we ended up with one of the most exciting and entertaining light heavyweights in the world - but, this is, to the letter, the exact same process... So it's one thing to call somebody out on doing something, but when you follow the exact same process, the veracity of the comments have to be taken in context with what the real world dictates.
Rebney argued that the matching rights clause was not detrimental to the fighters but allowed promotions to protect their own investment.
Part of that is investment, and part of that investment is in the fighters. So, are we going to continue to follow a process that's been pretty well documented and that the other large organisation in this space follows? We may.
Khurram Aziz is a Featured Columnist for Bleacher Report. Follow him on Twitter: Follow @khurramaziz1981
This article is
What is the duplicate article?
Why is this article offensive?
Where is this article plagiarized from?
Why is this article poorly edited?