Fantasy Football Week 4: Predicting Fantasy MVP of Each Matchup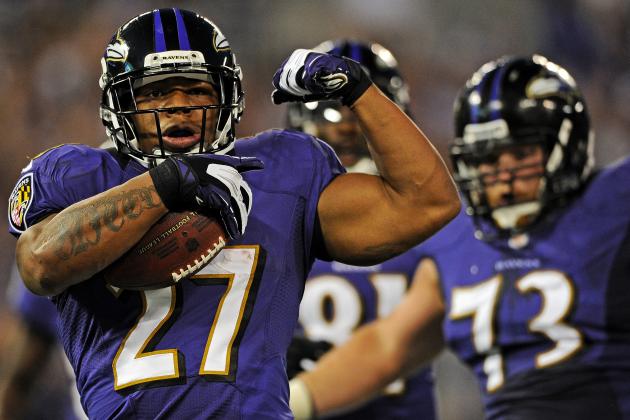 Patrick Smith/Getty Images

You know those players that have massive games during the fantasy football season? The players that deserve a game ball from their fantasy owners for their dynamic performances?
Those players never get a fantasy game ball because, well, there are no game balls used in fantasy football.
Nonetheless, in every NFL contest this week, there's a chance for a guy to make his fantasy owners want to give him an imaginary game ball.
Read on to discover who they might be.
Begin Slideshow

»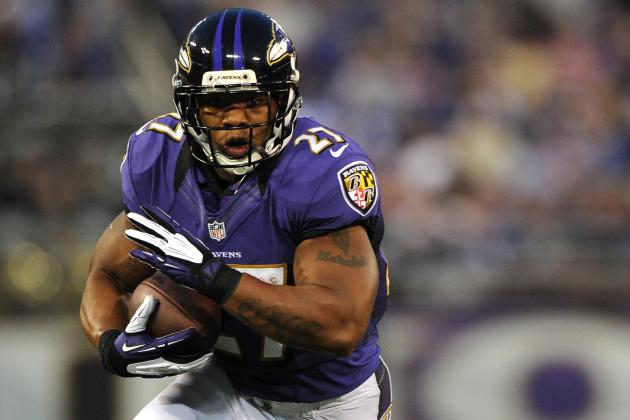 Patrick Smith/Getty Images

Ray Rice, RB (Baltimore Ravens)
I get the feeling that the Ravens were letting Rice get revved up for the season instead of letting him hit the ground running. Following his contract dispute, it might have been a point of emphasis not to throw him into games too heavily.
That way, they limit his injury risk in the 2012 season.
Rice received 10 carries in Week 1, 16 in Week 2 and 20 in Week 3. His yards per carry have dipped from 6.8 to 6.2, then to 5.1.
But his yardage has increased, as well: 68 rushing yards in Week 1, 99 in Week 2 and 101 in Week 3.
Meanwhile, Rice's yards-per-reception number has climbed steadily.
Now, Rice gets Cleveland to come meet him in Baltimore. He has owned the Browns in recent confrontations.
In two 2011 meetings, Rice took 52 handoffs for 291 yards. He added five catches for 58 yards and scored two total touchdowns.
He's primed to go off in Week 4.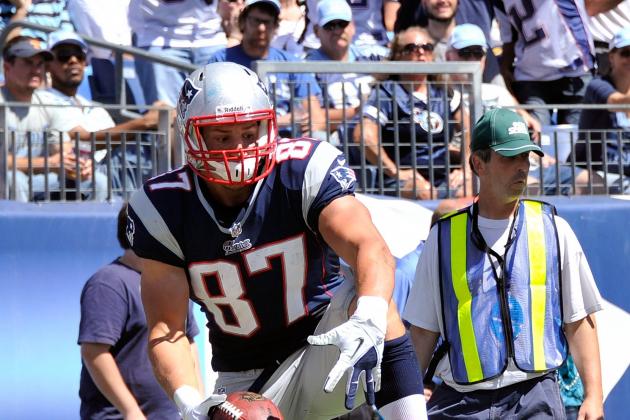 Frederick Breedon/Getty Images

Rob Gronkowski, TE (New England Patriots)
Gronkowski has a favorable past with the Buffalo Bills. He's seen the team four times, and he's never failed to score a touchdown against it.
Three of the four times they've played, Gronkowski set up camp in the end zone twice.
The last two times he faced Buffalo, he also had over 100 receiving yards.
After the Patriots and Bills clash concludes, three words should describe a certain owner in your fantasy league: Gronk owner happy.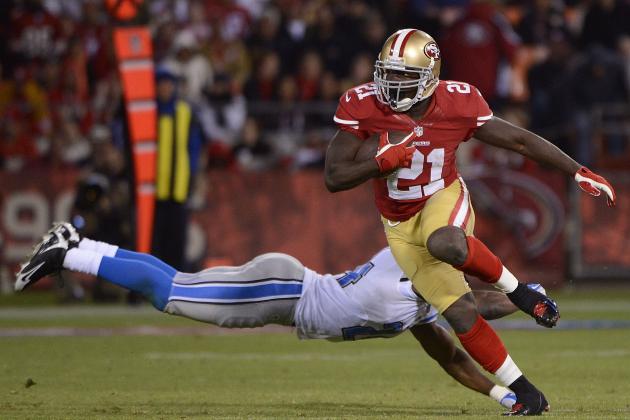 Thearon W. Henderson/Getty Images

Frank Gore, RB (San Francisco 49ers)
Gore's production has declined in each of the past two weeks, but he's still the 11th-best fantasy running back right now and has a nice matchup.
The Jets have given up over 180 yards to running backs on the ground twice already this season. They have also allowed at least one rushing touchdown each week.
Gore gets the majority of the carries for San Francisco and is averaging 5.9 yards per carry. The Jets are allowing 4.7 yards per carry, which is not exactly impressive.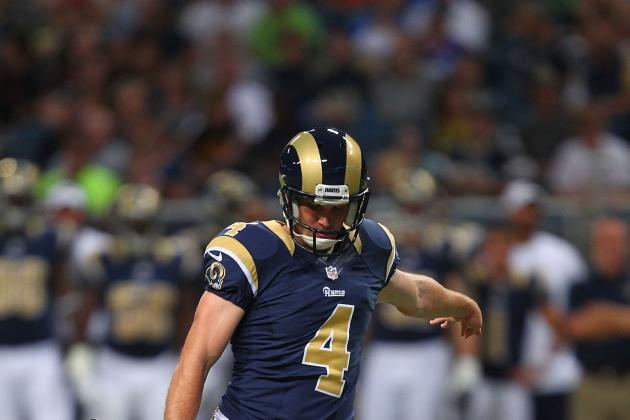 Dilip Vishwanat/Getty Images

Greg Zuerlein, K (St. Louis Rams)
There aren't very many legitimate fantasy options in this game. Of course, you've got the running backs (Steven Jackson and Marshawn Lynch), but one is hurt and the other is on the road.
Yes, that matters.
Marshawn Lynch took 27 carries against the Rams (and their woeful run defense) in 2011 at St. Louis. You'd expect that to translate into a huge game, right?
Nope.
He scored a touchdown, but he only gained 89 total yards (88 rushing) with a fumble.
A case could be made for the Seahawks defense to be the MVP of this game, but I'm going to go with the kicker.
Greg Zuerlein's my pick.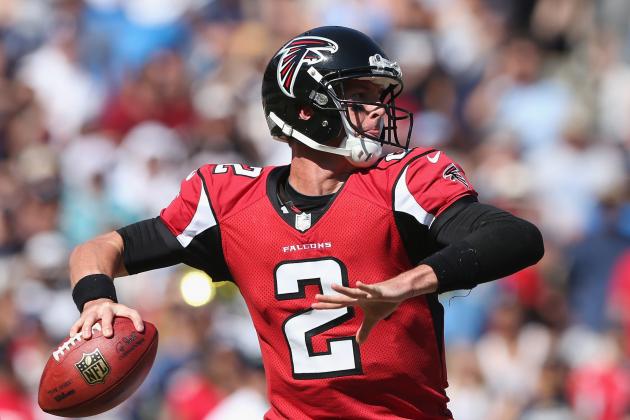 Jeff Gross/Getty Images

Matt Ryan, QB (Atlanta Falcons)
The Falcons scored 31 points on the Panthers in each game last season. One game featured Matt Ryan throwing 22 times and completing 14 passes for 163 yards and a touchdown.
In the second, Ryan threw 38 times, completing 22 for 320 yards and four touchdowns.
One more note on the two games: Julio Jones played in one and missed the other. Guess which one he played?
Jones will be around in Week 4.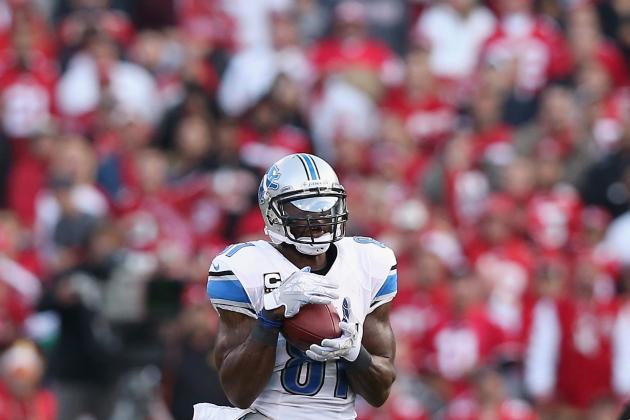 Ezra Shaw/Getty Images

Calvin Johnson, WR (Detroit Lions)
Megatron finally got on the scoreboard in Week 3 against the Titans, and it took him all game to do it. Now, he should revisit the end zone.
Whether Matthew Stafford or Shaun Hill plays at quarterback for the Lions, Johnson should make a major impact against the Vikings in Week 4.
The first time Johnson faced Minnesota in 2011, he finished the game with seven grabs for 108 yards and two touchdowns.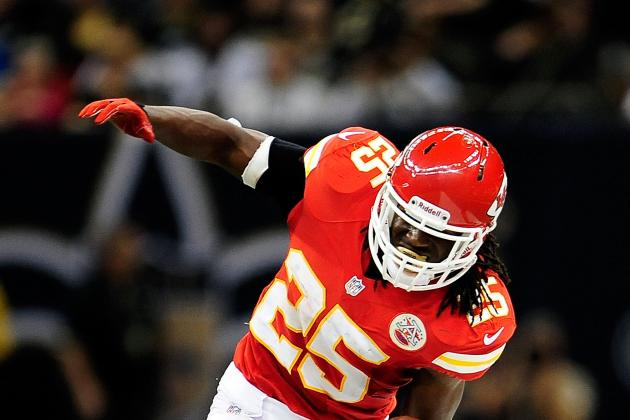 Stacy Revere/Getty Images

Jamaal Charles, RB (Kansas City Chiefs)
In Week 3, Charles flashed the speed and yards-per-carry average that made him a top fantasy running back in 2010 before he shredded his knee at the beginning of last year.
He had 33 carries against the Saints, suggesting that the Chiefs trust him to handle a full workload.
For one game, he experienced fantastic success, gaining 233 yards, which included a vintage long touchdown.
The Chargers forced the Oakland Raiders' Carson Palmer to check down to Darren McFadden, not allowing the dynamic running back to run free on handoffs or in the passing game in Week 1.
In Week 2, they kept the incomparable Chris Johnson in check.
But in Week 3, with the Atlanta Falcons playing with a lead all game, the Chargers surrendered a 4.6 yards-per-carry average to their running backs.
Whether the Chiefs spend Sunday playing with a lead remains to be seen, but Charles will be relied upon in Week 4 to help them move the ball regardless.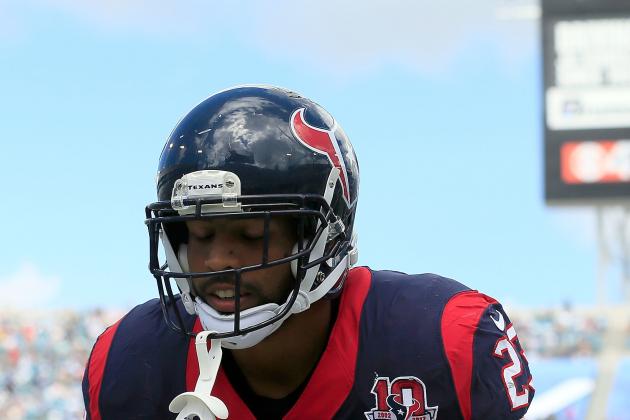 Sam Greenwood/Getty Images

Arian Foster, RB (Houston Texans)
The No. 1 overall pick in many fantasy drafts should surprise no one as an MVP candidate for his Week 4 game.
Foster has received at least 25 carries in each game he's played this season, and the Titans have struggled to stop opposing running backs.
The last time Foster faced the Titans, he absolutely owned them.
The Texans won the game 41-7 behind Foster's 234 yards from scrimmage and three touchdowns on 30 touches.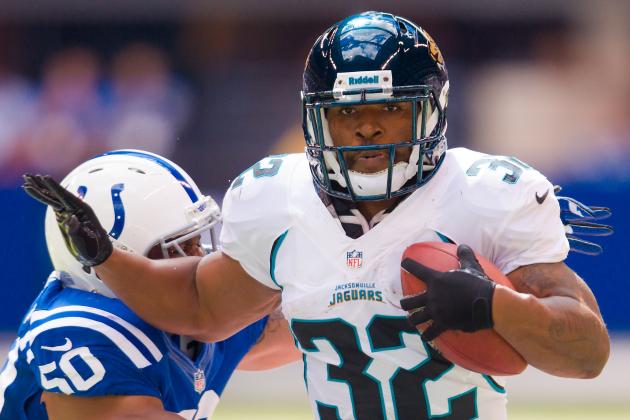 Michael Hickey/Getty Images

Maurice Jones-Drew, RB (Jacksonville Jaguars)
Like Ray Rice, it seemed as though the Jaguars were holding MJD back for the first couple of weeks while he got his legs under him.
He was forced into extended duty when Rashad Jennings went down in the overtime game Week 1 against the Vikings. Jones-Drew got 19 carries that game, but just 12 the next week.
In Week 3, he got a whopping 28 and took them for 177 yards and a touchdown, adding 16 receiving yards on two catches.
He's back, and just in time to face a Bengals team that has allowed more than 5.0 yards per carry to running backs in each game this season.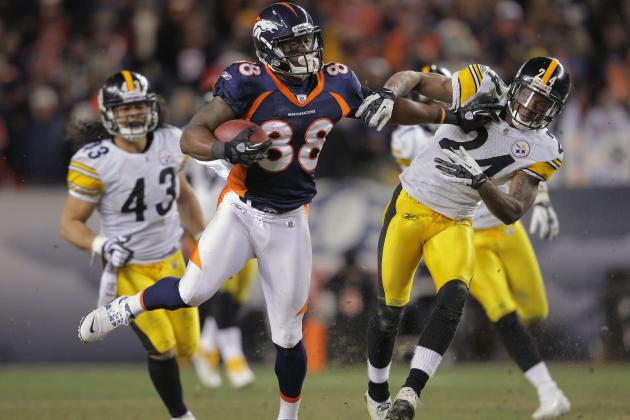 Doug Pensinger/Getty Images

Demaryius Thomas, WR (Denver Broncos)
Thomas had a couple of good games against the Pittsburgh Steelers and Atlanta Falcons in the first two weeks.
The games were so good that Thomas was fantasy's No. 1 wide receiver in that span.
Against Houston in Week 3, Thomas was held in check by Johnathan Joseph and Co., gaining just 34 yards on three catches.
The Oakland Raiders don't have Johnathan Joseph.
Nnamdi Asomugha is gone. Thomas should physically dominate his matchup, and with Peyton Manning getting him the ball, he should have a huge game.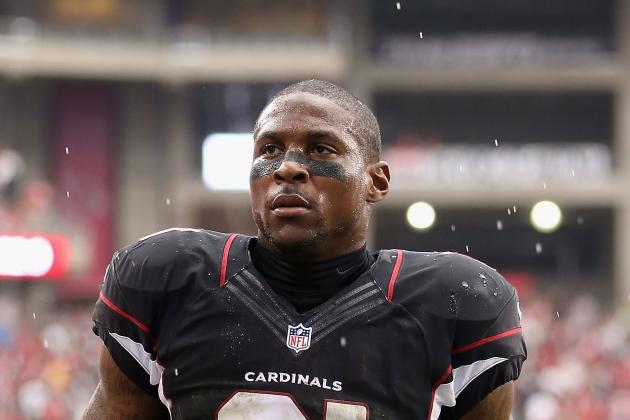 Christian Petersen/Getty Images

Cardinals D/ST, DST (Arizona Cardinals)
I don't want to start the quarterbacks in this matchup. The running backs are banged up.
Larry Fitzgerald hasn't been consistently involved in the Cardinals offense.
I don't want to start any receiver from Miami. I've already picked a kicker as an MVP.
And the Cardinals defense is balling.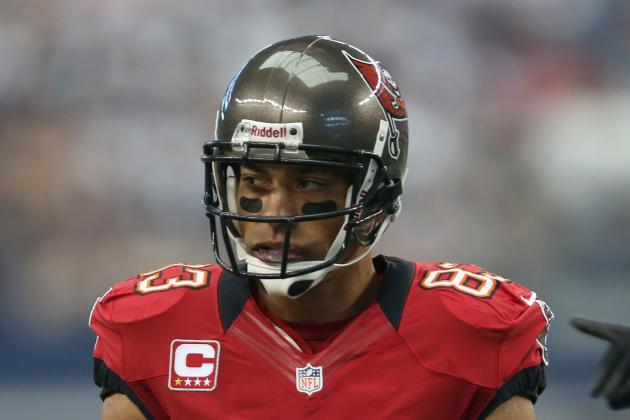 Ronald Martinez/Getty Images

Vincent Jackson, WR (Tampa Bay Buccaneers)

Jackson has 27 targets on the season, but he's only caught 10 balls. And yet, he has 204 receiving yards on the season.
That's a 20.4 yards-per-catch average: also known as big-play potential.
The Redskins got lit up by big plays in Week 3 against the Cincinnati Bengals. Wideouts caught only 14 passes in that game, going for 312 yards and three touchdowns.
That's 22.3 yards per catch.
Without Brian Orakpo in the lineup, Bucs quarterback Josh Freeman should be able to find time to get the ball to Jackson.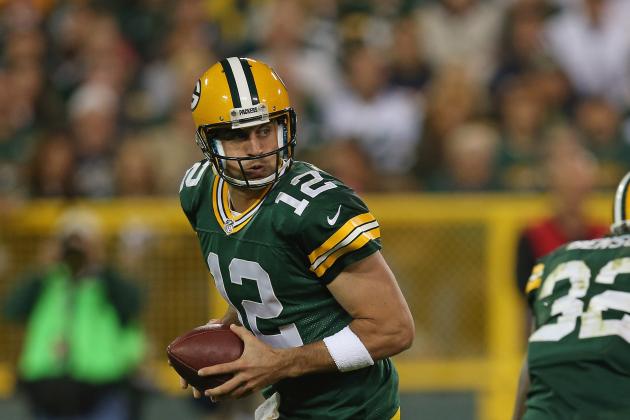 Jonathan Daniel/Getty Images

Aaron Rodgers, QB (Green Bay Packers)

Rodgers hasn't had that game this season just yet. He hasn't had the type of game that should earn him a fantasy game ball.
He cut down on his turnovers in the wild Monday Night Football game in Seattle during Week 3. Now it's time for him to blow up the stat sheet.
The Packers are going to be seething in their Week 4 matchup and will take it out on the Saints, who were presumably angry themselves following the offseason bounty scandal.
It will be a battle of wills, and even without the added fire, Rodgers has gotten the better of the Saints.
He played against New Orleans to open the season in 2011. The Packers QB finished with 312 yards and three touchdowns with no interceptions.
I have a feeling that Green Bay will take its aggression out on the Saints. I wouldn't be in the least bit surprised to see Rodgers throw five touchdowns passes in the process.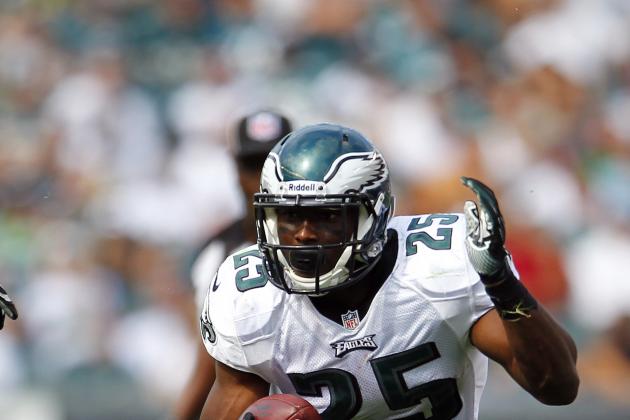 Rich Schultz/Getty Images

LeSean McCoy, RB (Philadelphia Eagles)
Speaking of another game that got personal: LeSean McCoy has taken to Twitter to call Giants defensive end Osi Umenyiora a ballerina.
To back up that talk, McCoy will be the one who needs to do the dancing around Giants defenders on Sunday night.
He had two appearances against the Giants in 2011.
In those games, McCoy totaled 47 carries for 241 yards and a touchdown, adding six catches for 15 more yards.
The Eagles need to focus on getting him the ball in this matchup. He's averaging 4.5 yards per carry despite facing the Ravens and Cardinals in 2012.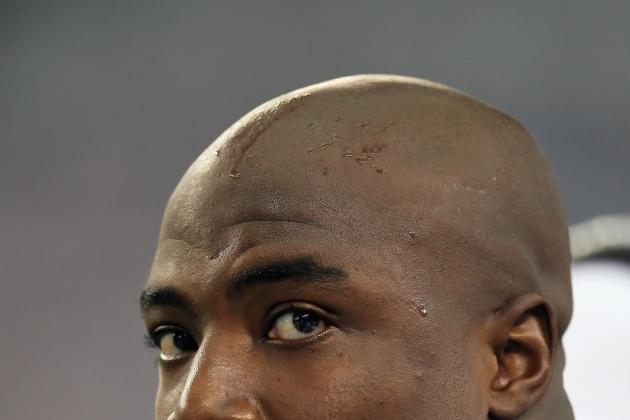 Jeff Gross/Getty Images

Cowboys D/ST, DST (Dallas Cowboys)
This game, with all of its offensive talent, might wind up being a battle of the defenses.
The Chicago Bears have been a legitimate defense for years. The Cowboys were more a collection of talent with a missing piece of the puzzle.
When Dallas revamped its secondary in the offseason, it became a much more attractive NFL defense and fantasy defense.
These guys should be able to take Brandon Marshall out of the game in a similar fashion that the Packers did in Week 2.
They will also be able to get after Jay Cutler as DeMarcus Ware terrorizes the Chicago offensive line.