Ohio State Football: Grading the Buckeyes' Positional Units at 1st-Quarter Mark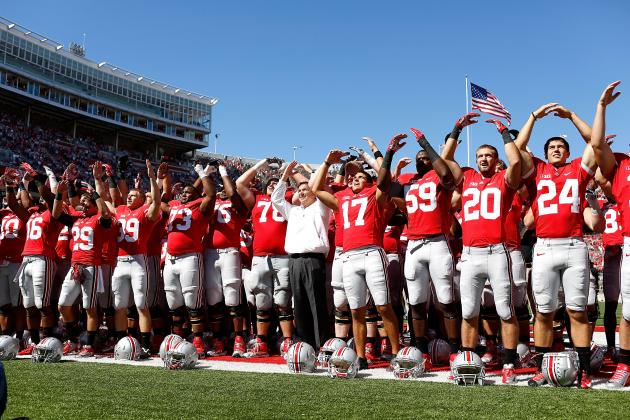 Kirk Irwin/Getty Images

Four games into the 2012 season, and so far, so good—for the most part—for head coach Urban Meyer's Ohio State Buckeyes.
The Buckeyes have been inconsistent throughout the year, but when they are on, they are really good.
Ohio State hasn't really played many good teams and, in a way, is still dealing with old problems. But it is certainly a much-improved team from last year's 6-7 disaster in many ways, ways that most fans don't quite recognize just yet.
Here are the positional grades for the team's first four games of the season.
Begin Slideshow

»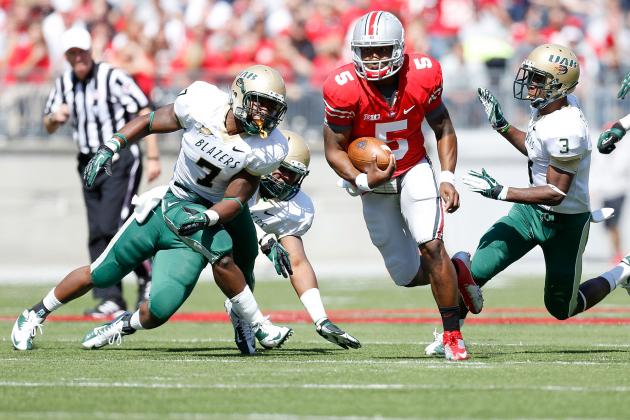 Kirk Irwin/Getty Images

Braxton Miller has firmly thrust his name into the Heisman Trophy discussion after just four games of football.
Miller and Meyer seemed like a perfect match from the start, and Miller has grown quickly from the player he was a year ago.
He has thrown for 744 yards, rushed for 441 and scored seven touchdowns, both on the ground and through the air, while only throwing two interceptions.
Miller's ceiling is still very high, and it's still scary to imagine that he can, and likely will, get better.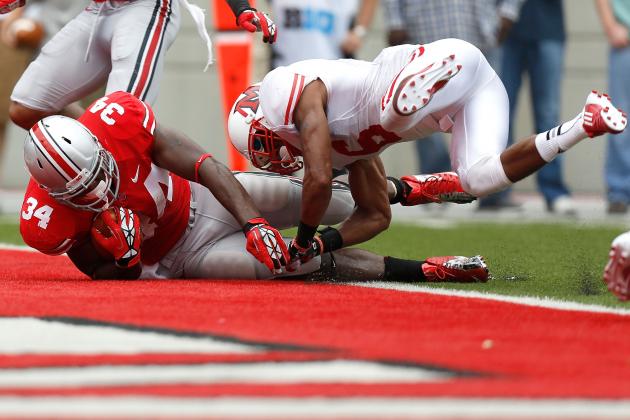 Kirk Irwin/Getty Images

Saturday's trip to Michigan State may be the first time this season we get to see a backfield with both Carlos Hyde and Jordan Hall in it.
In their two games each in the lineup, we see what the running game will look like: Hyde is the power back who can rip eight or nine yards at a time in one burst, and Hall is as crafty at running between the tackles as he is running the option.
Each has been pretty good in two games apiece, with Hall rushing for just under 200 yards in his first two games back from injury and Hyde scoring two touchdowns on the ground.
The OSU backfield still lacks a pure burner, but Hall and Hyde have each been good enough to start this season.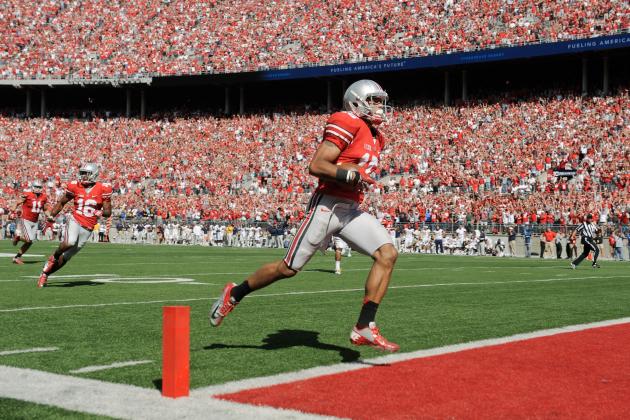 Jamie Sabau/Getty Images

All offseason, we heard about how much Ohio State's WRs had to step up and play big roles in the offense.
Four games in, and already two players, Philly Brown and Devin Smith, have eclipsed the season high of receptions from a year ago (14).
Brown leads the team with 20 receptions for 233 yards, and Smith has 17 catches for a team-high 272 yards.
In general, the Buckeyes' entire passing game looks a lot smoother than it was last year, which isn't saying much, after they finished at No. 114 a year ago.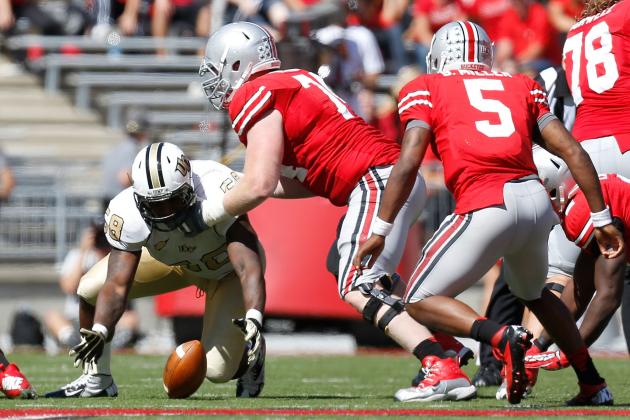 Kirk Irwin/Getty Images

Last year's offensive line was absolutely dreadful, making life miserable for Braxton Miller.
What a difference a year makes.
New offensive line coach Ed Warriner has shaken up the front line, and so far it has produced very positive results, leaving Miller largely untouched through four games.
We will know more about this group when it plays tougher defenses in the weeks to come, especially with games against Michigan State and Nebraska coming up in the next two weeks.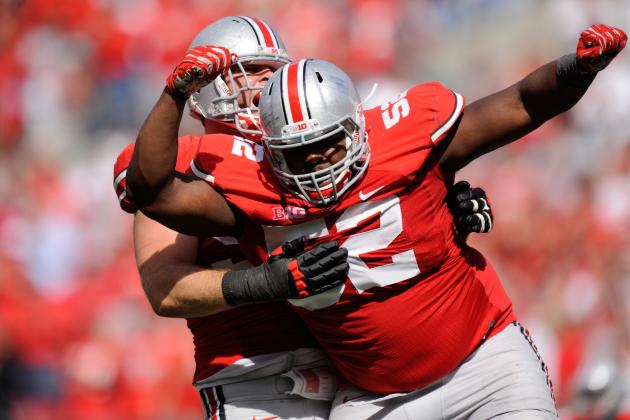 Jamie Sabau/Getty Images

Johnathan Hankins has proven that he should be a first-round draft pick, whether it be in next year's NFL draft or the 2014 draft. He has been a disruptive force and a playmaker in the defensive line, continuing to build off of two very good years to start his Buckeye career.
John Simon has been good as well, with others like Garrett Goebel and Nathan Williams chipping in as well.
Freshmen Noah Spence and Adolphus Washington have had some decent amounts of playing time, with the latter having a little more of an impact in the first few weeks.
The key for this group will be to continue to fine-tune a rotation, especially with Williams' health being a constant concern.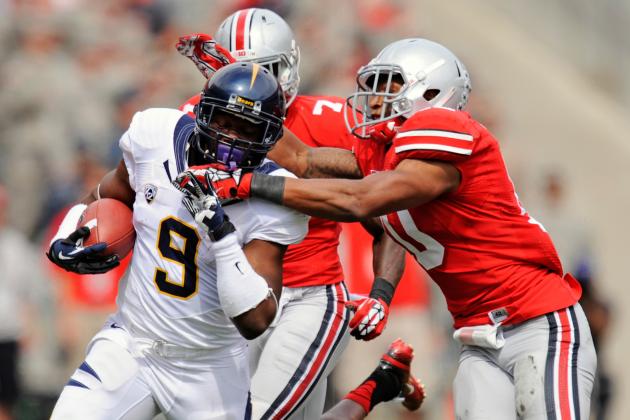 Jamie Sabau/Getty Images

Etienne Sabino's red-hot start to his senior season boosts this grade up because of the pleasant surprise it has been.
Sabino is starting to look like a more dependable linebacker, finally playing more like the blue-chip linebacker that he was recruited as.
On the other side, Ryan Shazier is still working out some inconsistency issues. But he is continuing to make plays and tackles, which is always a plus from arguably the best linebacker on the roster.
The major question mark is the gap in middle linebacker position, which Curtis Grant has yet to fill. He hasn't yet looked comfortable or made any difference in the middle.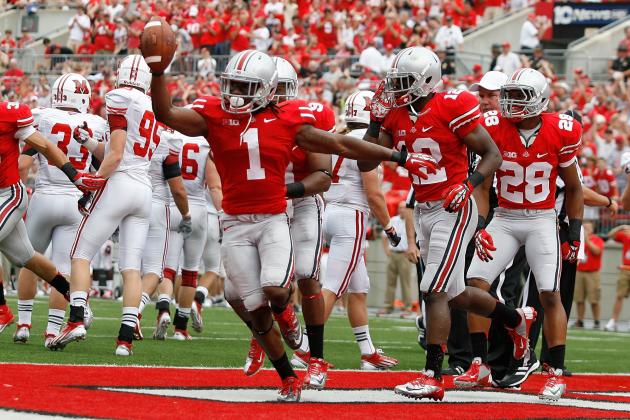 Kirk Irwin/Getty Images

The situation at corner and safety couldn't be more different for the Buckeyes to start the season.
Bradley Roby has shown he is quickly growing into a No. 1 corner and becoming the main shutdown guy in the secondary. Travis Howard has made a couple of key interceptions early on, but Doran Grant's big debut against UAB with two takeaways may create some competition to keep an eye on for the rest of the season.
The safety position, however, is very dicey and quickly becoming the biggest worry for Buckeye fans.
C.J. Barnett has not improved much from his outstanding debut in 2010, which was cut short due to injury, and Christian Bryant is struggling after moving from corner to safety.
Orhian Johnson has made some decent plays, but he has yet to distinguish himself.
What's worse is there really is no one else at the safety position with enough experience to step in.
Follow me on Twitter @bielik_tim for the latest college football news and updates.