WWE: Top 5 Moments of Tension Between Alberto Del Rio and Sin Cara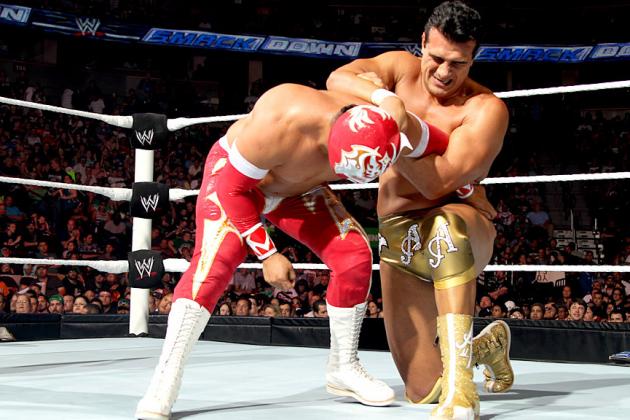 image via wwe.com
Earlier this week during Monday Night Raw, Mexican superstars Sin Cara and Alberto Del Rio were involved in a wrestling match that saw Del Rio remove Sin Cara's mask.
The act was agreed to have been accidental, but some wondered if the previous "heat" between the two men had prompted Del Rio to take off Sin Cara's mask—a grave insult, given the context of the situation and both men's Lucha Libre background.
Sin Cara and Alberto Del Rio have known each other for years, having both been occasional tag team partners and opponents in Mexico, where they wrestled under the names of Mistico and Dos Caras Jr., respectively, for the country's oldest wrestling promotion CMLL.
Despite whatever backstage politics might be involved that has created some heat between the two men, Del Rio and Sin Cara usually have good chemistry in the ring.
Their matches in Mexico are exciting (and show why both men were top stars in the country), while their WWE matches still broadcast some of their previous talent.
Begin Slideshow

»
During the October 7, 2011 taping of SmackDown, Sin Cara and Alberto Del Rio had their first match in the WWE. The match was orchestrated to be a set up for a later storyline involving two Sin Caras, but was nonetheless a pretty interesting (though extremely short) match between the two men.
The match would see Del Rio as the dominant wrestler in the ring, giving Sin Cara one of his first losses in his WWE career.
In an interesting reversal of roles, Sin Cara now found his former CMLL colleague a bigger star than he was.
Matches in Mexico's historic Arena Mexico are known for their explosiveness.
Luchadores who perform here are expected to put on a high quality match every time, and Sin Cara (then known as Mistico) and Del Rio (still masked at this point in his career and known as Dos Caras Jr.) did just that.
Alberto Del Rio and Sin Cara's interaction with each other is minimal, but, nonetheless, when the two men are together they piece together an interesting set of moves.
2009 was the year that first saw Alberto Del Rio as a rudo (or heel) in Mexico. The move had been deliberate as Del Rio was expected to jump ship from CMLL to the WWE.
Donning a skin-tight spandex suit, Del Rio acts as a high-dominant heel (at one point he presses Sin Cara with one hand).
Sin Cara, himself, begins to show his dominance by ending the match with a high display of athleticism.
Begging the question, what ever happened to these two competitors?
Earlier this year, Sin Cara and Alberto Del Rio went at it again, but this time, however, their match was over before it began.
Quick to jump the gun, Del Rio attacks Sin Cara before the bell had even rung.
Doing the 'j.o.b.' is a dirty thing, and Sin Cara had yet to defeat the man he once saw as an inferior in his native land.
In the latest bout between the two men, Alberto Del Rio once again showed Sin Cara who is the bigger dog in the WWE.
Now a two-time WWE champion, one has to wonder why Sin Cara's ego is still allegedly high in the WWE locker room.
What ever the circumstances were in Mexico, they no longer seem to apply here. For better or worse, Alberto Del Rio has thumped Sin Cara—"accidentally" taking his mask off was just the icing on the cake,
Luis invites you to be part of his journey as a sports writer by following him on Twitter:https://twitter.com/luchalibrelife or via Facebook subscription:https://www.facebook.com/lcampos1990