2012 MLB Playoffs: 6 Hitters Catching Fire Heading into the Postseason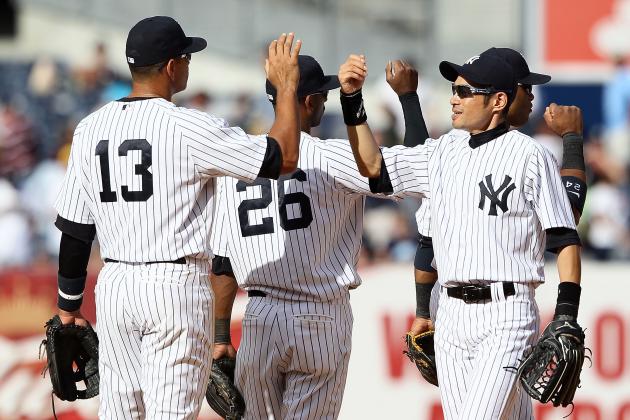 Alex Trautwig/Getty Images
The Yankees have a few bats heating up just at the right time
There are less than a week's worth of games remaining in the 2012 MLB regular season. With baseball adopting a second wild card this year, plenty of teams remain in the running for the 10 playoff spots spots league wide.
Many times in baseball, the playoffs seem like a crapshoot. People feel this way because the "best" team doesn't always win. In reality, playoff results are less due to randomness then they are to teams and players getting hot. A few hot bats can carry a team into World Series contention.
There are at least 14 teams who can claim they are in the running, or have already clinched a playoff spot. The following five hitters are doing their best to ensure their team plays meaningful October baseball. Some of these guys you would expect to be performing when it counts; others you may have to look up.
Begin Slideshow

»
When Ichiro came over to the Yankees in a midseason trade with the Mariners, it was supposed to rejuvenate his career. He would be inserted into a stacked lineup where he would no longer feel the pressure of a franchise weighing down on him. Hitting lower in the lineup with a short porch in right field would allow him to unveil the power that he often showcases in batting practice.
Things didn't start off so well for Ichiro, as he had a lot of one-hit games and didn't show anything resembling power. The calendar turned to September, and Ichiro's numbers started changing for the better.
Since the start of the month, Ichiro has a triple slash of .397/.423/.559. He's clocked two homers this month and has gotten the wheels going to the tune of eight steals (including four in one game against Toronto).
The Yankees have moved Ichiro up in the order to capitalize on his production. If Ichiro and Derek Jeter (who's also been having a fine September) can continue to cause problems for opposing pitchers, the Yankees should have an easier time holding off the Orioles and Rays for the division lead.
Michael Young has been enamored by Rangers and baseball fans alike for his leadership, work ethic and apparent enthusiasm for the game.
In 2012, the critics came out of the woodwork to attack his unusually poor season. Not even being a die-hard Rangers fan, it pained me to see headlines such as "Michael Young: Worst Player in Baseball."
I'm as big a fan of stats like WAR and VORP as the next guy, and the former has Michael Young's 2012 season as below replacement level. Rangers Manager Ron Washington continued to trot Young out there on a daily basis, and left a lot of sabermetric types wondering, why?
Maybe Michael Young read the headlines and got amped up, who knows. But in September, he's keeping pace with Josh Hamilton's onslaught, and has posted a.318/.366/.482 line of his own. If his manager is going to keep playing him, it only helps the Rangers' playoff chances if he's scorching at the plate.
The Washington Nationals are going to the playoffs this year, bringing postseason baseball to the nation's capital for the first time since 1933. Having said that, they don't appear particularly strong in any area and wouldn't be many baseball people's pick to be the National League representative in the World Series.
The team has obvious youth, recently shut down their ace pitcher Steven Strasburg for the season and has a lot of players with minimal playoff experience. They do have a constant in first baseman Adam LaRoche, who is a bonafide professional with experience playing October baseball (he even had a few postseason dingers with the Braves).
LaRoche has been steady all season, but his September batting line of .326/.383/.698 shows he means business. The 32-year-old has nine homers this month and hopes to continue hitting bombs when the Nationals face playoff competition.
Buster Posey's back, and he's not messing around. A serious NL MVP candidate, Posey has had a September where he's hit a ridiculous .354/.407/.585 with no sign of slowing down.
The last time the FSU product was healthy for a postseason, his Giants won a World Series. He's going to have to put the offense on his back this year, as once again, the Giants trot out a less-than-stellar offense. With Melky Cabrera shelved for doping, it will be up to Posey to provide the punch.
Whether or not you believe in the RBI statistic, Buster has show the ability to hit with men on base (18 RBI this month). His leadership, game-calling and defensive work will also be needed if the Giants are to advance past the divisional round.
I don't imagine you can limp into winning the Triple Crown, and Detroit's Miguel Cabrera certainly is doing no limping.
The Tigers can smell blood, White Sox blood, and Miguel is leading the sniffing. During September, he has crushed the ball at a .329/.404/.718 clip, including nine bombs.
There are plenty of bad things you can say about Cabrera, what with the defensive liability he presents and his off-field issues. At the plate though, he hes working his way toward becoming a Hall of Fame candidate (if he's not already in the discussion).
It's been 45 years since Carl Yastrzemski won the Triple Crown, and 28 since the Tigers last won the World Series. If both of these accomplishments can be met, it could be a great offseason in Detroit.
Saved the best for last. Pete Kozma has been playing shortstop for the Cardinals recently, and has been doing it quite well. During September, he has helped the Redbirds jump way up in the wild-card race, blowing past the Pirates, Dodgers and anyone else who was trying to stake claim in the second wild-card spot.
Here's Kozma's line in September: .306/.364/.612. The Cardinals thought they were getting momentum with Chris Carpenter coming back. Little did they know it would be a minor league call-up doing the ring-leading.
It's not like Kozma has came out of nowhere. He's a former first-round pick, though Cardinal fans often get queasy when they think they could have had Rick Porcello over him. Maybe they will change their tune if Pete can carry his hot-hitting ways into October.