Missouri vs UCF Football: Complete Game Preview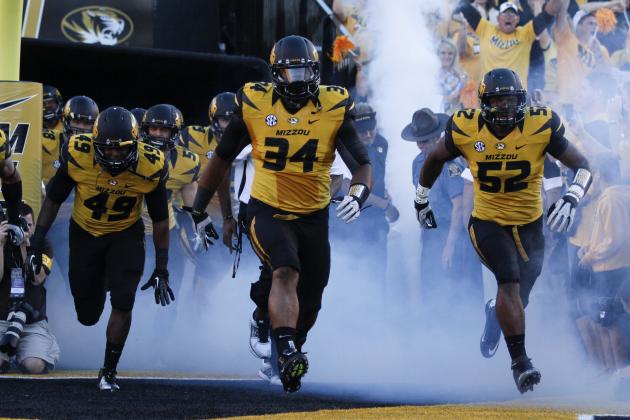 Ed Zurga/Getty Images

On Saturday, the Missouri Tigers will be looking to recover from a tough loss to the South Carolina Gamecocks which dropped them to 0-2 in SEC play. The task will not be easy for Mizzou, though. Their opponent, the UCF Knights, are 2-1 with their only loss coming in a tough fight against Ohio State.
Missouri will have to bring their best game down to Florida this weekend if they want to leave with a 3-2 record, because the Knights are known as a team that can play spoiler if you do not bring your best game to the field.
Here is a complete breakdown of Saturday's clash between Missouri and UCF.
Begin Slideshow

»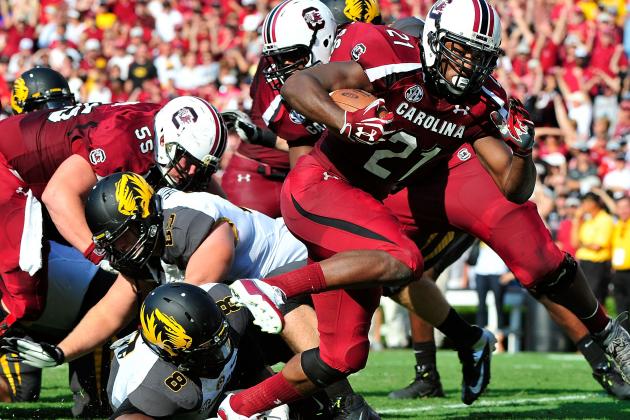 Grant Halverson/Getty Images

Missouri was absolutely thrashed in their first SEC road game on Saturday. The Tigers fell to South Carolina 31-10 and were nearly held without a touchdown in a game for the first time since 2005.
South Carolina quarterback Connor Shaw completely had his way with the Mizzou secondary, completing 20 of 21 passes, including 20 in a row at one point.
The Gamecocks also had their way defensively with the Tigers. Missouri quarterback James Franklin only threw for 92 yards and was sacked three times during the game.
The strength of the South Carolina defense and the efficiency of the Gamecock offense was simply too much for the Tigers to handle. With the Tigers recent struggles against Georgia and now South Carolina, the SEC is making a statement to the entire country that not just anybody can come down and play football in the southeast.
Many fans are beginning to wonder if the Tigers can compete.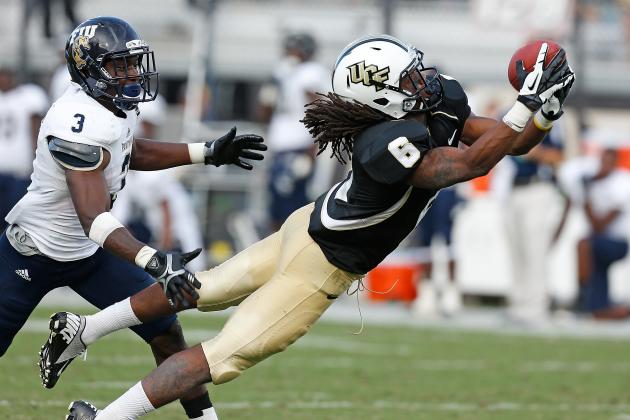 J. Meric/Getty Images

UCF enjoyed a bye week last week after knocking off Florida International two weeks ago to improve to 2-1 on the season. The Knights have proved so far this year that they are not a team that is going to be walked over by schools from the power conferences, and this could be troublesome for Missouri.
The Knights dominated the first half of their win over the Golden Panthers two weeks ago, jumping out to a 23-0 lead at halftime before holding on to win 33-20. The offense is very balanced, with their passing attack ranking 60th in college football and the rushing attack ranking 68th in college football.
The Knights have showed an ability to put points on the board in a hurry, but they can also slug it out with a team defensively if need be.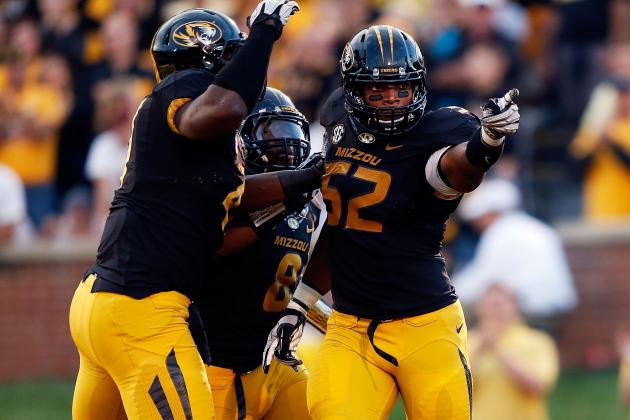 Jamie Squire/Getty Images

So far the Tigers have had a rude welcoming into the SEC. They have started off 0-2 in conference play and are in danger of falling under .500 if they do not win this weekend against the Knights.
Obviously, the Tigers and their fans believe that they belong in the SEC, and most people would agree with that. The Tigers simply just ran into two of the best teams in college football in Georgia and South Carolina and were unable to beat them in their first two SEC games.
Now Missouri needs to regroup.
Three of the Tigers next four games are very winnable, with the only exception being an October 13 matchup against Alabama. The Tigers need to go at least 3-1 in their next four games and get their record to 5-3. After that, they have a tough four-game stretch to close the season, which will show us how good this Missouri team is.
Needless to say, Mizzou can not afford to lose this game on Saturday.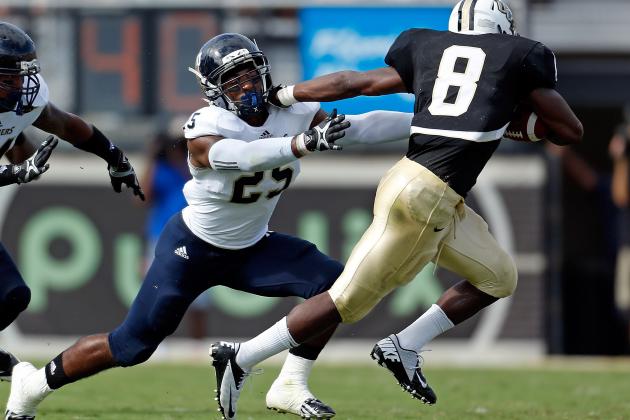 J. Meric/Getty Images

Saturday is the Knights' final game before they begin Conference USA play next week against East Carolina. So far, the Knights have looked very good in their first three non-conference games of the season and a win over an SEC team would certainly help boost their confidence moving into conference play.
Even if UCF does not win the game though, it is not the end of the world for them like it could be for the Tigers. UCF fans should just be looking for a strong showing this week. Missouri will obviously be fired up and ready to get a win after dropping two SEC games that they would have loved to have.
Saturday will be a very difficult test for UCF, but if they play tough like they did against Ohio State, it will prove that this team is ready to compete for the Conference USA title.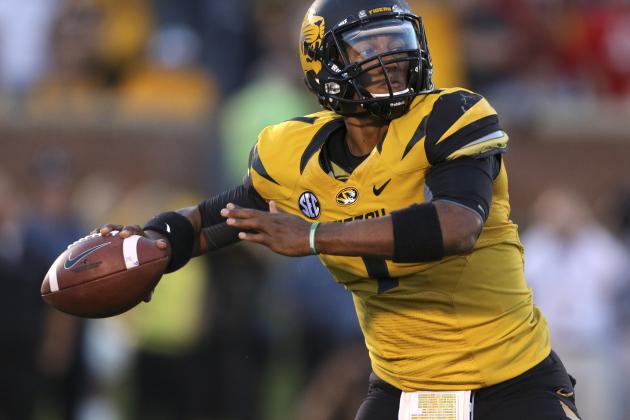 Ed Zurga/Getty Images

Quarterback James Franklin has to step up right now for the Missouri Tigers. Franklin has all the talent in the world at the quarterback position, but has not shown it so far this season.
The biggest problem Franklin has had so far this year, is that he is unwilling to try to make tough throws. Franklin is going through his reads to quickly and then quickly going to his check down receiver. This strategy is just simply not going to help the Tigers win any games this year.
Franklin has only thrown one interception this year, and that is very good considering the Tigers have played against two of the top defenses in college football.
But the biggest reason Franklin has gone without an interception is because he did not take any chances.
This weekend, Franklin needs to exhibit more confidence in himself. He needs to let the plays fully develop and believe that if there is a tough throw that needs to be made, he can make it. If he can start doing this, and continue to take care of the football, James Franklin could quickly become a very dangerous collegiate quarterback.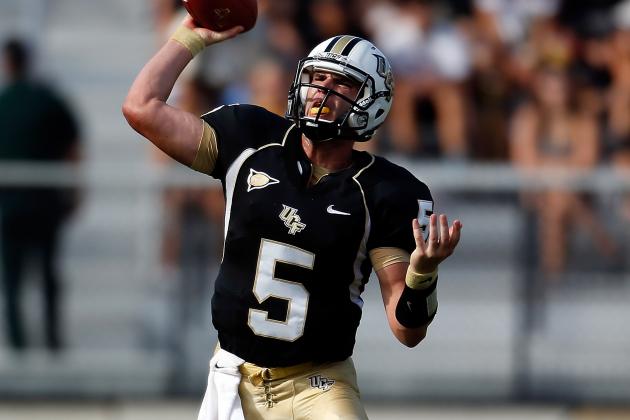 J. Meric/Getty Images

Unlike James Franklin, UCF quarterback Blake Bortles is not afraid to let the ball fly.
Bortles has thrown for 668 yards so far in three games this season and has seven touchdowns and five interceptions.
The Missouri secondary allowed 20 straight completions last week against South Carolina, so expect Bortles to launch the ball early and often Saturday to try and exploit the Tigers' secondary.
If Bortles can throw a couple long touchdown passes early and cause Missouri to play from behind, the Knights will have an excellent chance of pulling off the upset. Conversely though, if Bortles is picked off early because he is not making smart passes, it could be a very long day for UCF.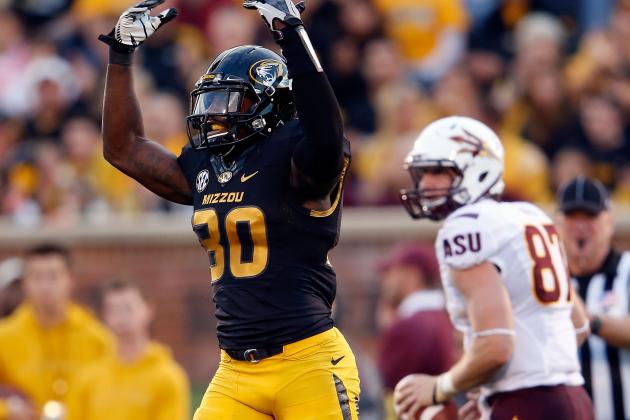 Jamie Squire/Getty Images

Missouri will win if their secondary shuts down the long ball.
Cornerbacks Kip Edwards and E.J. Gaines are an outstanding duo in the Missouri secondary and they were completely awful last week against the Gamecocks. Both cornerbacks need to a much better job this week against the Knights.
Press the receivers tight at the line of scrimmage like you did not do at all last week, and make Bortles go deep to his receivers.
If the Tigers can force Bortles to make impossible throws down the field, standout safety Kenronte Walker will have no trouble picking off a couple passes deep, helping the Tigers secure a victory.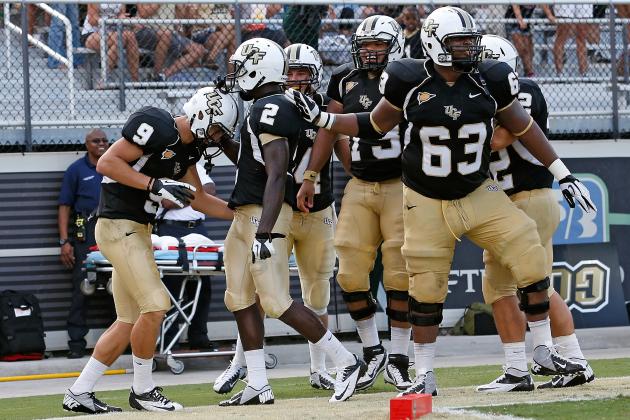 J. Meric/Getty Images

UCF will win if they can make James Franklin uncomfortable in the pocket.
Franklin is already throwing to his check down receivers too quickly and is not giving all the plays the proper time to develop. He appears to be uncomfortable on the field to begin with and so far has refused to even attempt to make big time throws.
UCF needs to exploit Franklin's nervousness early in the game. Throw a couple blitzes at him right from the start. Bring linebackers to the inside and force the Missouri offensive line to guard people coming inside the A and B gaps, which they have struggled to do so far this season. After that, rush the outside with some cornerbacks to throw things off even more for the Tigers.
If UCF can continue to bring pressure to Franklin all day and force him to continue to get even more uncomfortable in the pocket than he already is, they will win this game.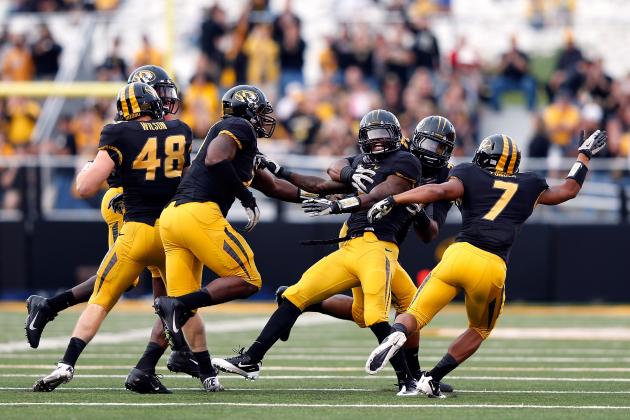 Jamie Squire/Getty Images

The Tigers may struggle a little bit in the early going in this one, but when Missouri plays against teams outside of the six power conferences, they usually take care of business.
Look for Franklin to step up and have a very big game for Missouri. He has all the tools around him to be successful and on Saturday he will fully utilize them all.
The Missouri defense will also secure three turnovers during the course of the game. That will set the Missouri offense up with excellent field position, and give them easy opportunities to cash in for points.
Saturday will be a big win for the Tigers and will help them build up some confidence before heading into their SEC showdown with Vanderbilt next week.