Prime Time Players Are NOT Stereotypes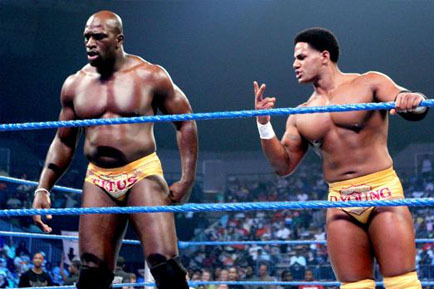 One thing I hate to see on this site is people constantly whining about racism. People, let me explain something to you. WWE is a scripted combat sport where certain traits are amplified to help distinguish people's identities. Just a little heads up.
With that said, I'd like to take this time to explain to some of you (you know who you are) that Darren Young's and Titus O'Neil's antics and language do not make them stereotypes.
I'm going to take a look at many of the traits people say make Young and O'Neil stereotypes and explain, beyond a shadow of a doubt, that The Prime Time Players are not stereotypes. They are just funny characters who are there to entertain.
Begin Slideshow

»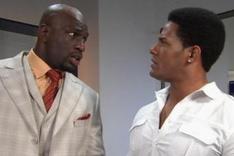 Most times I see people complaining about stereotypes of the Prime Time Players, someone always mentions Darren Young's Afro pick. They mention it as if the use of that grooming tool is a stereotype because only black people are capable of growing their hair into the style known as an Afro.
You know, it's not like Darren doesn't have a reason to carry it around. An afro pick is the instrument suited to caring for Young's hair.
Wouldn't it be odd to just see him carrying a brush or a comb? As a person in a sport where athletes try to separate themselves from the pack, it makes sense for Darren to carry something useful.
It's not like he's carrying it around for no reason. That would be stereotypical. The pick serves a purpose.
For the life of me, I can't even understand how anyone sees this as stereotypical. Titus O'Neil is a member of the Omega Psi Phi fraternity, and one of their traditions (albeit an unofficial one) is the bark, which may or may not stem from the fact that one of the nicknames for members of the fraternity is "Q-Dog."
Seriously, I don't think I've ever run into too many people barking for no apparent reason (save for this one boy at my school who used to bark like a dog because he thought it was funny, though it was more of a yelping noise he made...people at my high school were easily amused.)
People, this is going to be short and sweet, but it's a simple fact. People love money. Black people, white people, Asians, Indians, Native Americans, Irish, Scottish, etc. That green stuff makes the world go round.
Furthermore, is it unbelievable to think there's some white guy yelling "Millions of dollars!" in this world? Or is it more believable to think that most black people do this?
Honestly, don't you want millions of dollars? Doesn't the thought of having that much money make you excited? Enough to dance, maybe?
Honestly, nothing about this screams "stereotype" to me. Don't you see people swaying in bars all the time? (I wouldn't know, because I don't drink and don't generally barhop.) Don't people usually do it when they're happy or drunk?
Unless Titus and Darren are meant to be drunk all the time—therefore implying that black people are always drunk—I think it's fine, because neither of those is the case.
So, the next time you see The Prime Time Players—"Mr. No Days Off" Darren Young and "The Real Deal" Titus O'Neil—and you want to label them as another stereotype like Cryme Tyme, do me a favor and just let the thought pass. It'll be fine.