New England Patriots: Biggest Strengths and Weaknesses Through First 3 Games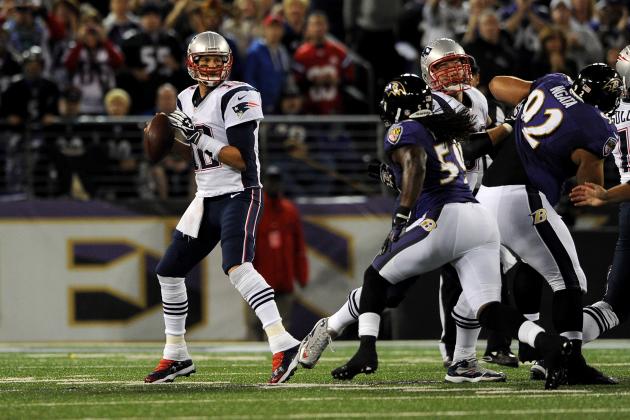 Patrick Smith/Getty Images

Bill Belichick, Tom Brady and the rest of the New England Patriots would not agree with the premise of identifying a team's biggest strengths and weaknesses after just three games. They say it all the time, through one cliche or another: The season's a marathon, not a sprint. There's a long way to go. There's still plenty of room for improvement. So on and so on.
And they're right. What we've seen from the Patriots, so far, isn't what we'll be seeing in December, January and—dream the big dream—February.
But the Patriots have shown enough to make an impression. We're getting a sense for what they can do, and we're starting to see what they can't—or, at least, what they haven't been able to yet.
Through three games, the 2012 Patriots have started to take form. Their struggles and assets are coming into focus. Here's what we've seen, so far.
Begin Slideshow

»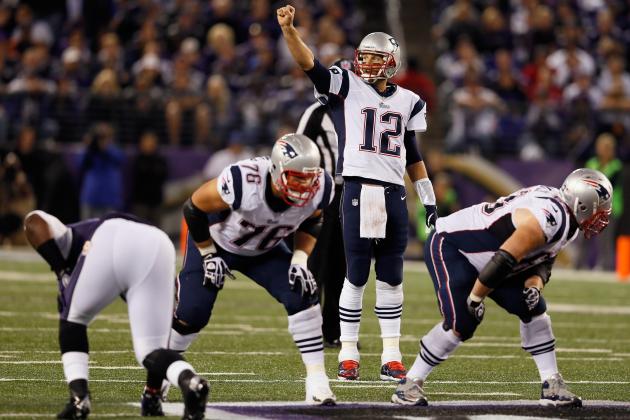 Rob Carr/Getty Images

If you're giving the Patriots' passing offense low marks after the first three games of the season, you're a pretty tough grader. Too much so, in fact. Don't go into teaching.
Yes, yes, it hasn't been perfect—there's the Wes Welker playing-time fiasco, Tom Brady has yet to hit Brandon Lloyd deep, Rob Gronkowski isn't on pace for 20 touchdowns, etc.—but this team is still remarkably potent and efficient through the air.
The Brady-to-Lloyd connection has improved, and the value the wideout brings to this offense is becoming clear. Brady looked more comfortable Sunday than he ever has against the Ravens defense, and the comfort of knowing that he had a receiver on the outside who he could trust to be in the right place likely helped.
The Welker question is a legitimate one, but he's quietly on pace for an 85-catch, 1,339-yard season. He's been very productive; his time on the field has just been the issue.
A catch is that Rob Gronkowski's been quieter, so far, than many expected. But, he did lose his tight end compadre in Aaron Hernandez in Week 2, which has made it easier for defenses to key in on him. It'll be interesting to see how the coverage changes with Lloyd and Welker having finally asserted themselves.
Brady's been accurate and his decision-making has been top notch. He has only one pick off a deflection, and he was able to put a dud against Arizona behind him quickly. It was great to see this unit execute so sharply in a big-game atmosphere in Baltimore.
Rob Carr/Getty Images

I'll leave the passing defense in general alone because some big highly respected names, including Mike Reiss at ESPN and Greg Bedard of the Boston Globe, have said that the Patriots' coverage was actually solid against the Ravens. So, we'll give it the benefit of the doubt and see how the next few weeks go.
The defense in late-game situations, however, gets no such break.
Nobody the Patriots would face in a big game fears this defense. If Joe Flacco can't wait to face you while trailing in the final minutes, you've got a problem.
The defense seems to have improved as a whole, but when the game gets down to its crunch-time possessions, the Patriots have found a way to fold each and every time.
The two games against the Giants last year are memorable examples, but the Patriots have reverted to form this year as well. Sunday night against Baltimore was a debacle, as New England had a nine-point lead with 7:29 to go and allowed a touchdown and game-winning field goal on the Ravens' final possessions, never offering much resistance along the way.
The Patriots had an issue that was overshadowed against Arizona as well. After scoring a touchdown to make it 20-18, New England kicked off to the Cardinals needing to force a three-and-out to get the ball back with enough time to start another drive.
Even though it was an obvious running situation, the to-that-point sturdy Patriots run defense faltered, allowing the Cardinals to pick up a first down on the ground. It would have meant the game, had Ryan Williams not fumbled the ball three plays later.
The defense, Brandon Spikes specifically, deserves credit for forcing the fumble, but it was still another example of the unit coming up small when it had to produce. Unless the Patriots develop an ability to come through in a do-or-die situation, they'll find it hard to keep playing football deep into January.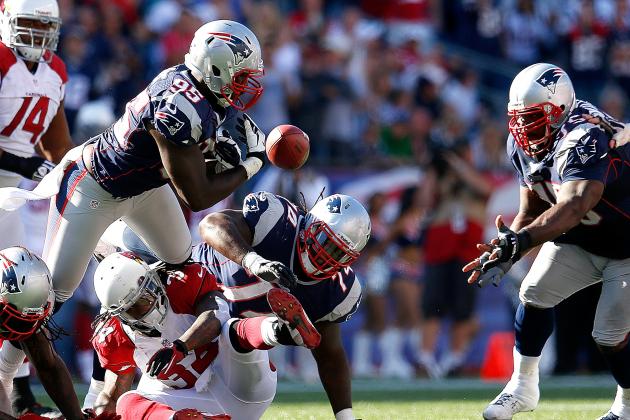 Jim Rogash/Getty Images

The Patriots' run defense took a step back last week, allowing Ray Rice to run for 101 yards, but this has been a solid unit, so far.
Until the Ravens game, the Patriots, with Vince Wilfork and Kyle Love plugging the middle and Brandon Spikes and Jerod Mayo providing help, had defended the ground game as well as everyone.
They were terrific in stopping Beanie Wells and Chris Johnson (though everyone's been stopping Johnson these days), and they currently rank in the top seven in the league in yards allowed, both overall and per rush.
It's early, of course, but this should be the part of the defense Bill Belichick has to worry the least about.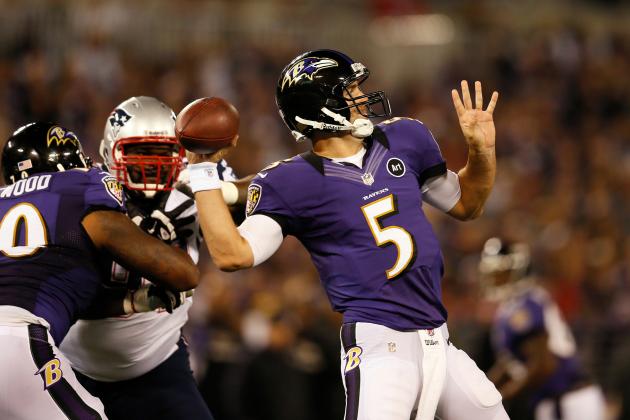 Rob Carr/Getty Images

Chandler Jones can sit this one out.
The rest of the Patriots pass-rushers, however, just haven't gotten the job done. New England has three sacks on the season, getting two of Jake Locker, one of Kevin Kolb and none of Joe Flacco. Flacco wasn't even hit. In a passing league like the NFL has become, that's not even close to productive enough.
Jones has been a bright spot, as he recorded a sack in his first game and has consistently been New England's best at getting into the backfield, even while going up against the opponent's best blockers.
The rest of the rushers, however, must improve. That includes Rob Ninkovich, Jerod Mayo, Dont'a Hightower, Jermaine Cunningham and Trevor Scott. If New England can't get its hands on the quarterback, it'll have a tough time fixing its coverage woes.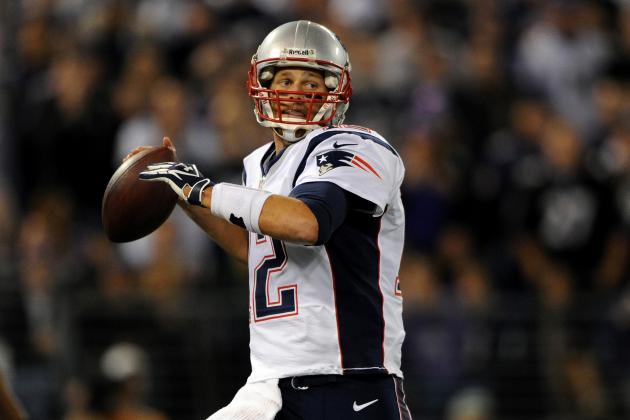 Patrick Smith/Getty Images

No fumbles. One interception from Tom Brady—on a deflection. No throws into triple coverage. No bad decisions.
That's what Bill Belichick wants to hear. The Patriots are taking care of the football, which has always been a staple with Brady under center.
Protecting the football doesn't always lead to wins, but being careless with it often results in losses. If the running backs are fumbling and the quarterback is racking up interceptions, it doesn't matter how good the execution is overall. Those mistakes are too much to overcome.
So far, the Patriots have been sparkling. With only one turnover, New England has given itself a chance to win every game so far.
As long as the Patriots continue to take care of the football, they'll be fine going forward.
Rob Carr/Getty Images

Josh McDaniels was at it again Sunday.
The Patriots were rolling, looking at a first down near midfield with less than 10 minutes to go until the half. After a four-yard run by Danny Woodhead (more on him later) brought the ball to the Baltimore 49-yard line, McDaniels decided a bizarre play was in order.
The snap went not to Brady but to Woodhead, who got the ball to Julian Edelman on a reverse. The only problem was that rookie linebacker Courtney Upshaw saw the play all the way and blew it up for a 13-yard loss.
New England had to punt, and Baltimore went down the field on the next possession and scored to take a 14-13 lead.
After two similar plays that were met with similar results against the Cardinals, it's fair to say that McDaniels is trying to do too much at times. He tries to re-invent the game on plays, summed up in this tweet from the Boston Globe's Chad Finn.
McDaniels has Tom Brady as his quarterback again. He doesn't have to make this offense. It's already made. McDaniels only has to best utilize its assets, which is putting the ball in Brady's hands and setting his receivers up with routes that get them open.
The calls have been suspect, but the personnel choices have been as well. The decision to play Edelman over Wes Welker has been widely discussed, but the Patriots also showed an interest in running Woodhead, not Stevan Ridley, as the main back against the Ravens.
It was a curious decision, to say the least. Ridley has been one of the fastest-starting backs in the league this year and averages 4.5 yards per carry. His slashing style and mix of strength and speed makes him a dangerous presence in the backfield.
Woodhead, meanwhile, is a good third-down back but far too short and small to be the No. 1 option. And he's the one running up the gut against the Ravens?
The simpler, the better with this offense. It just needs the best players on the field and plays that get them the ball. No need to make it any harder than that.