Tennessee vs. Georgia: Complete Game Preview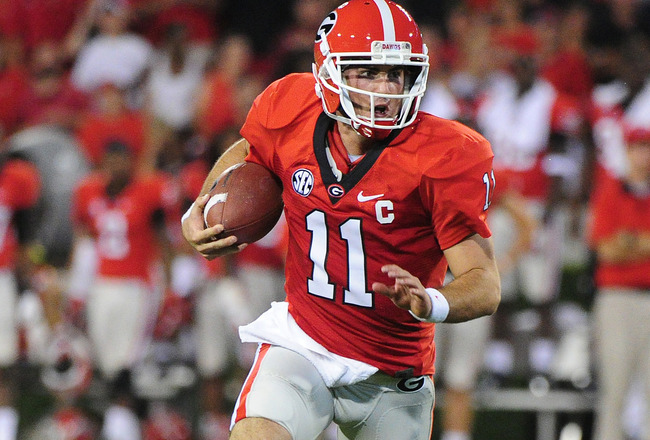 Scott Cunningham/Getty Images
Rocky Top will travel to Athens this weekend as Tennessee faces Georgia at Sanford Stadium. The Vols are looking for revenge as Georgia picked up a 20-12 win last year. In the last four years, the Bulldogs have won three of the four contests against Tennessee in a series that dates back as far as 1899.
It will be the third SEC game for the Bulldogs, and they hope to keep the momentum going. The Vols will be looking for their first SEC win of the year after losing to Florida two weeks ago. Like it always has been, it should be another interesting contest between these two SEC East rivals.
Who: Tennessee vs. Georgia
When: Saturday 3:30 p.m. ET
Where: Sanford Stadium (92,746)
TV: CBS
Radio: ESPN Radio, Sirius 91, XM 91
Internet: GTV at Georgiadogs.com
Depth Chart for Georgia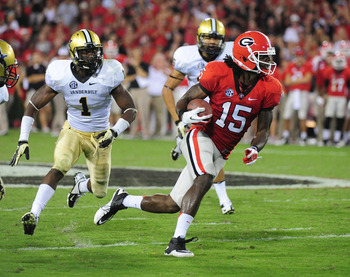 Scott Cunningham/Getty Images
QB: Aaron Murray, Hutson Mason, Christian LeMay
RB: Todd Gurley, Ken Malcome, Keith Marshall
FB: Merritt Hall, Richard Samuel
FLK: Tavarres King, Rantavious Wooten, Chris Conley
SE: Marlon Brown, Michael Bennett, Malcolm Mitchell
TE: Arthur Lynch, Jay Rome
LT: Kenarious Gates, Mark Beard, Austin Long
LG: Dallas Lee, Ben Reynolds
C: David Andrews, Chris Burnette
RG: Chris Burnette, Greg Pyke
RT: John Theus, Watts Danztler
DE: Abry Jones, Garrison Smith
NT: John Jenkins, Kwame Geathers
DE: Cornelius Washington, Ray Drew, Mike Thornton
OLB: Ramik Wilson, Chase Vasser, Josh Dawson
OLB: Jarvis Jones, Jordan Jenkins, T.J. Stripling
ILB: Michael Gilliard, Amarlo Herrera
ILB: Alec Ogletree, Christian Robinson
CB: Malcolm Mitchell, Sanders Commings, Devin Bowman
CB: Branden Smith, Damian Swann
SS: Shawn Williams, Corey Moore, Josh Harvey Clemons
FS: Bacarri Rambo, Connor Norman
P: Colin Barber, Adam Erickson
PK: Marshall Morgan, Jamie Lindley
PR: Branden Smith, Damian Swann
KR: Branden Smith, Todd Gurley, Malcolm Mitchell
Depth Chart for Tennessee
John Sommers II/Getty Images
QB: Tyler Bray, Justin Worley
TB: Rajion Neal, Devrin Young
FB: Ben Bartholomew, Justin King
Z: Cordarrelle Patterson, Zach Rogers
X: Justin Hunter, Cody Blanc
TE: Mychal Rivera, Ben Bartholomew
LT: Antonio Richardson, Alan Posey
LG: Dallas Thomas, Marcus Jackson
C: James Stone, Mack Crowder
RG: Zach Fulton, Alex Bullard
RT: Ja'Wuan James, Kyler Kerbyson
DE: Corey Miller, Darrington Sentimore
NG: Steven Fowlkes, Daniel McCullers, Daniel Hood
DE: Maurice Couch, Marlon Wall
JACK: Jacques Smith, Jordan Williams
SLB: Curt Maggitt, Willie Bohannon
WLB: Dontavis Sapp, Herman Lathers
LCB: Justin Coleman, Marsalis Teague
FS: Byron Moore, Rod Wilks
SS: Brent Brewer, LaDarrell McNeil
RCB: Prentiss Waggner, Eric Gordon
P: Matt Darr, Michael Palardy
PK: Derrick Brodus, Michael Palardy
KR: Devrin Young, Cordarrelle Patterson
PR: Devrin Young, Justin Hunter
What Happened to the Bulldogs Last Week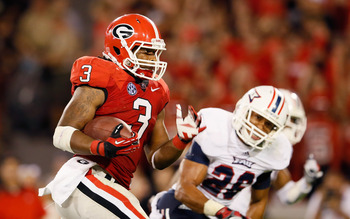 Kevin C. Cox/Getty Images
Georgia dominated from start to finish against Vanderbilt last week, winning 48-3.
Aaron Murray went 18-of-24 for 250 yards and three total touchdowns. He threw the ball to nine different receivers including Marlon Brown, who led all receivers with five catches, 114 yards and one touchdown.
The running game was also efficient. Todd Gurley, who was named SEC Freshman of the Week on Monday, rushed for 130 yards and two touchdowns. Keith Marshall also had a big game, rushing for 82 yards and two scores.
Defensively, Jarvis Jones led the attack with seven tackles, three tackles for a loss and one sack.
With Georgia's win against Vanderbilt, the Bulldogs improve to 4-0, which is the first time they have done that since 2008.
What Happened to the Volunteers Last Week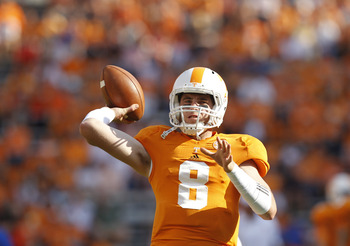 John Sommers II/Getty Images
It looked like Akron was going to pull off a serious upset, as they were tied with the Volunteers 23-23 at halftime. But Tyler Bray and Co. pulled away in the second half to secure a 47-26 win over the Zips.
Bray had a big night for the Vols, completing 27 of 42 passes for 401 yards and four touchdowns. The main target was Justin Hunter, who caught eight passes for 115 yards and one touchdown.
The running game, which has not been consistent all year, got going against the Zips thanks to Rajion Neal. The running back from Georgia rushed for 151 yards on 22 carries. As a team, the Vols rushed for 232 yards.
With that win, Tennessee improved to 3-1, which is the best start for the Vols since 2006.
What It Means to Both Teams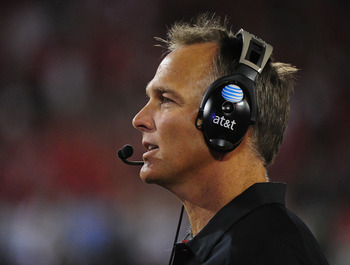 Scott Cunningham/Getty Images
This is a game that is big for both teams on different levels.
For the Bulldogs, they are looking to go 5-0 for the first time since 2006. But they also want to prove a point.
Many people are wondering if the Bulldogs are the real deal. If they put a number on the Vols before heading to South Carolina, that will open some more eyes. Fans who didn't believe in this team before will start believing in this team after a dominating performance against an improving Tennessee team.
The Vols would love nothing more than to steal one from the Bulldogs in Athens to win their fourth game of the year.
A win against the Bulldogs would not only put them in the thick of the SEC East race, it would prove that head coach Derek Dooley is doing something right in Knoxville and that the Vols are on their way back to the top.
Key Player for the Bulldogs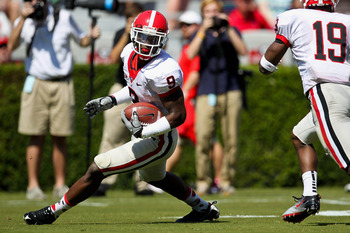 Daniel Shirey-US PRESSWIRE
There are actually two players to watch for the Bulldogs on Saturday. Alec Ogletree and Bacarri Rambo could return after four-game suspensions, which would put the defense at full strength.
It's unknown if both players will start, but they should see a lot of time on the field, because Tyler Bray is a guy who can pick a team apart if the coverage is weak.
The defense was playing solid without the two, but having them come back right in the start of the Bulldogs' SEC schedule will pay dividends down the road.
Key Player for the Volunteers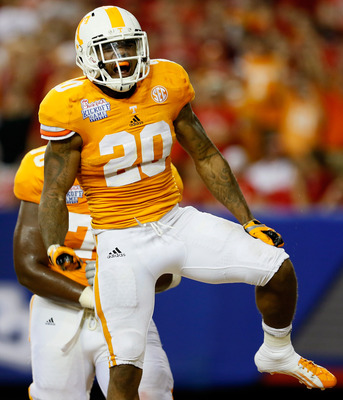 Kevin C. Cox/Getty Images
Tyler Bray is the Vols' best offensive weapon, but running back Rajion Neal will have to have a big game in order for Tennessee to upset the Bulldogs.
Neal was able to go off against Akron, but he's going up against a different beast in the Bulldogs defense. He does come into the game with a lot of confidence because he's the first Tennessee player to rush for over 100 yards this season.
Expect the Vols offensive line to try to get a hat on a hat against the Bulldogs so Neal will have an easier time hitting the holes.
The Bulldogs Will Win If...
Scott Cunningham/Getty Images
The Bulldogs will win the game if they keep doing what they do on offense, defense and special teams.
The game last week was a perfect example of how the Bulldogs should play the rest of the season. The running game got going, which led to Murray making plays with his arm. The defense was able to shut down Vandy running back Zac Stacy, which led to forcing Jordan Rodgers to make more plays with his arm.
Bray is by far a better quarterback than Rodgers and will make some plays and score some points. But if the Bulldogs stop the run, they will increase their chances of forcing Bray to make mistakes.
The Bulldogs should have no problems moving the ball on the Vols defense, which surrenders 24 points per game. If the offense doesn't turn the ball over, they should be able to score 35 points on Saturday.
The Volunteers Will Win If...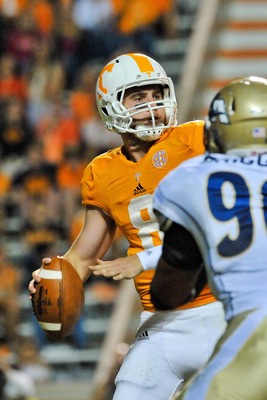 Jim Brown-US PRESSWIRE
Tennessee will win if it can run the ball well and force turnovers. The Vols will use a lot of Neal. If he's successful, Bray should have an easier time making plays downfield.
The Bulldogs have surrendered over 350 yards per game, so the Vols, who are ranked second in the SEC in total offense, have a good chance of moving the ball on a consistent basis.
The Vols defense will have a tough task of slowing down the Bulldogs offense and their 47 points per game. What they have to do is try to shut down the running game if possible and hope Murray will force throws so the Vols defensive backs can make a play on them.
Prediction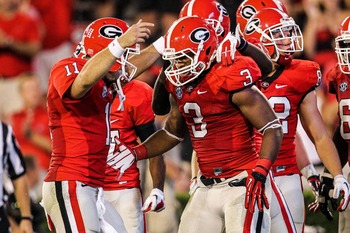 Daniel Shirey-US PRESSWIRE
Tennessee is a much-improved team from last year and it has the ability to go on a run for the SEC East title. This is a huge game for Dooley's bunch, because this game is a measuring stick in terms of where they are as a program.
The Bulldogs look at this game as another opportunity to make a name for themselves.
With Rambo and Ogletree returning, it will give the defense a boost, so expect them to play inspired football. As for the offense, they may not score 47 points, but they will put up enough points to make sure the Vols don't have a chance to come back.
At the end of the day, Tennessee is a good team, but the Vols are not at the level where the Bulldogs are.
FINAL SCORE: Georgia 38, Tennessee 20
Keep Reading

Georgia Bulldogs Football: Like this team?