Ohio State vs. Michigan State: Complete Game Preview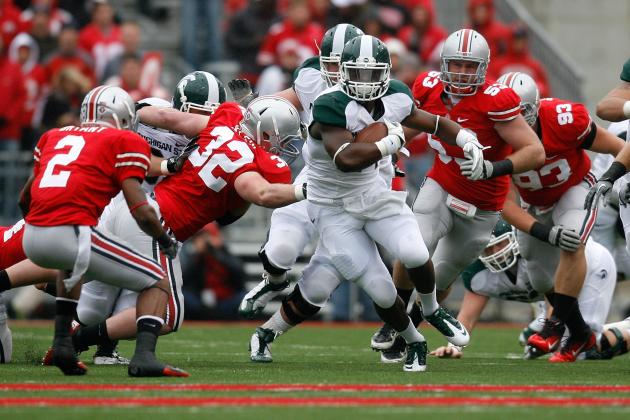 Kirk Irwin/Getty Images

The No. 14 Ohio State Buckeyes (4-0) hit the road for the first time this season to play the No. 20 Michigan State Spartans (3-1) this Saturday in East Lansing.
This Big Ten opener features the conference's two highest-ranked teams and will be the site for ESPN's College GameDay pregame show.

The Buckeyes face Michigan State for the first time in East Lansing since routing the Spartans 45-7 back in 2008. That game marked Ohio State's seventh straight victory over Michigan State, but the Spartans got the best of the Buckeyes last year in Columbus with a sluggish 10-7 victory.

What are the storylines heading into this year's matchup? Find out with this complete game preview.
Begin Slideshow

»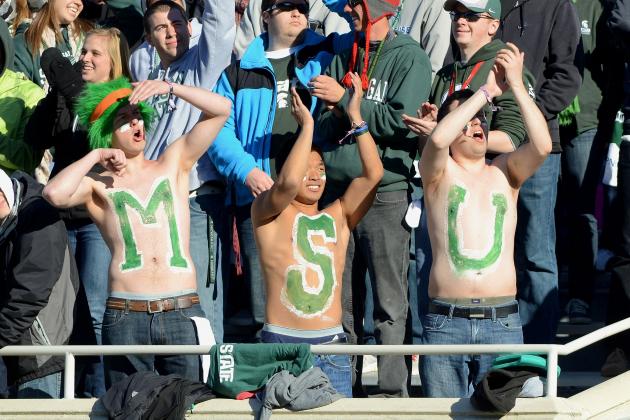 Mark A. Cunningham/Getty Images

Who
Ohio State vs. Michigan State
When
Saturday, 3:30 p.m (ET)
Where
East Lansing, Michigan
Stadium
Spartan Stadium (75,005)
TV
The game will be televised nationally by ABC.
Radio
Ohio: Akron - 1590 AM | Cincinnati - 1480 AM | Cleveland - 850 AM | Columbus - 1460 AM | Columbus - 97.1 FM | Toledo - 1470 AM | Youngstown - 1390 AM

Michigan: Ann Arbor - 1290 AM | Battle Creek - 95.3 FM | Detroit - 760 AM | Flint - 1570 AM | Grand Rapids - 107.3 FM | Lansing - 1240 AM | Midland - 100.9 FM | Port Huron - 1380 AM | Saginaw - 1250 AM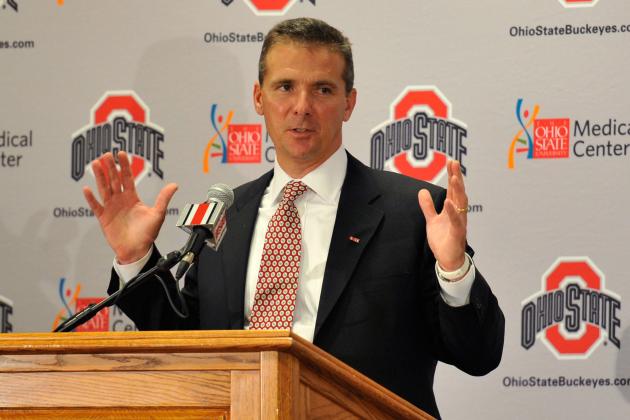 Jamie Sabau/Getty Images

Quarterback
Braxton Miller | Kenny Guiton
Running Back
Jordan Hall | Rod Smith
Fullback
Zach Boren | Adam Homan
Wide Receiver (H)
Jake Stoneburner | Chris Fields
Wide Receiver (X)
Devin Smith | Michael Thomas
Wide Receiver (Z)
Corey Brown | Evan Spencer
Left Tackle
Jack Mewhort | Darryl Baldwin
Left Guard
Andrew Norwell | Antonio Underwood
Center
Corey Linsley | Jacoby Boren
Right Guard
Marcus Hall | Chase Farris
Right Tackle
Reid Fragel | Taylor Decker
Tight End
Nick Vannett OR Jeff Heuerman
Defensive End (LEO)
John Simon | Steve Miller OR Noah Spence
Nose Tackle
Garrett Goebel | Joel Hale
Defensive Tackle
Johnathan Hankins | Adolphus Washington OR Tommy Schutt
Defensive End
J.T. Moore | Nathan Williams
Outside Linebacker
Ryan Shazier | Conner Crowell
Middle Linebacker
Curtis Grant | Storm Klein
Outside Linebacker
Etienne Sabino | Joshua Perry
Cornerback
Bradley Roby | Doran Grant
Safety
Christian Bryant | Orhian Johnson
Safety
C.J. Barnett | Corey Brown
Cornerback
Travis Howard | Adam Griffin
Kicker
Drew Basil | Kyle Clinton
Punter
Ben Buchanan | Drew Basil
Punt Returner
Corey Brown | Devin Smith
Kick Returner
Corey Brown | Bri'onte Dunn
Gregory Shamus/Getty Images

Quarterback
ANDREW MAXWELL | Connor Cook
Running Back
LE'VEON BELL | Larry Caper
Fullback
NIKO PALAZETI | Lawrence Thomas
Wide Receiver (X)
TONY LIPPETT | Aaron Burbridge
Wide Receiver (Z)
KEITH MUMPHERY | DeAnthony Arnett
Wide Receiver (F)
BENNIE FOWLER | Andre Sims Jr.
Left Tackle
DAN FRANCE | Michael Dennis
Left Guard
JACK ALLEN OR BLAKE TREADWELL
Center
TRAVIS JACKSON | Ethan Ruhland
Right Guard
CHRIS MCDONALD | Nate Klatt
Right Tackle
SKYLER BURKLAND | Michael Dennis
Tight End
DION SIMS | Andrew Gleichert
Defensive End
MARCUS RUSH | Shilique Calhoun
Nose Tackle
ANTHONY RASHAD WHITE OR JAMES KITTREDGE
Defensive Tackle
MICAJAH REYNOLDS OR TYLER HOOVER
Defensive End
WILLIAM GHOLSTON | Joel Heath
Outside Linebacker
CHRIS NORMAN | Taiwan Jones
Middle Linebacker
MAX BULLOUGH | Kyler Elsworth
Outside Linebacker
DENICOS ALLEN | Ed Davis
Cornerback
DARQUEZE DENNARD | Mitchell White
Safety
JAIRUS JONES OR KURTIS DRUMMOND
Safety
ISAIAH LEWIS | RJ Williamson
Cornerback
JOHNNY ADAMS | Arjen Colquhoun
Kicker
KEVIN MUMA OR DAN CONROY
Punter
MIKE SADLER | Kevin Muma
Punt Returner
NICK HILL OR LE'VEON BELL
Kick Returner
NICK HILL OR LARRY CAPER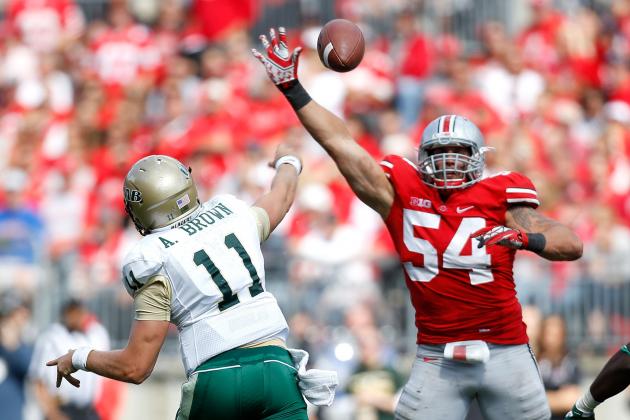 Kirk Irwin/Getty Images

The Buckeyes got a surprising fight from the UAB Blazers (0-3) and needed all four quarters to pull away for a 29-15 victory.

Ohio State struggled against one of the worst defenses in the country, piling up just 347 yards of offense against the Blazers.
The Buckeyes had four very effective scoring drives Saturday, but in Ohio State's other seven possessions, they averaged just 15 yards per drive.

The defense didn't play much better. The Buckeyes came into the game needing a confidence-building performance before conference play, but giving up 403 yards to the Blazers was a punch in the gut to the unit.

Ohio State continued to struggle with tackling and defending the short, perimeter passes, a trend that has been consistent throughout the year.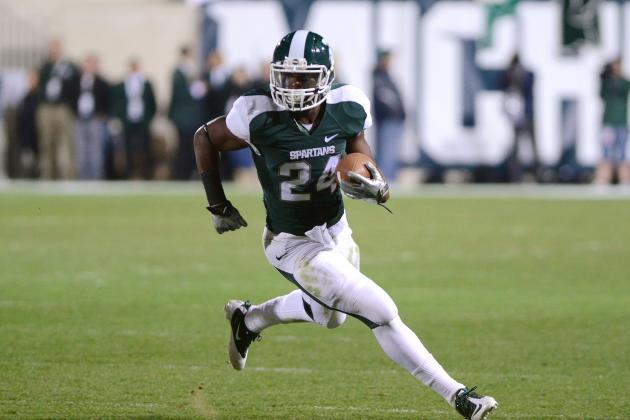 Mark Cunningham/Getty Images

Like the Buckeyes, Michigan State also struggled to score points against an overmatched team.
Also like the Buckeyes, the Spartans were able to squeeze out a victory in the fourth quarter, beating Eastern Michigan 23-7 in East Lansing.
Michigan State's passing woes continued last week as Andrew Maxwell completed just 55 percent of his passes (16-of-29) for 159 yards. Le'Veon Bell became the workhorse, carrying the ball 36 times for 253 yards and a touchdown.
Michigan State was anemic in the first half, scoring just three points against one of the worst defenses in the country. In fact, the Spartans didn't get into the end zone against Eastern Michigan until the fourth quarter.
You can't be too upset with the game, even if you're a Michigan State fan, because it produced this beauty of a post-game presser.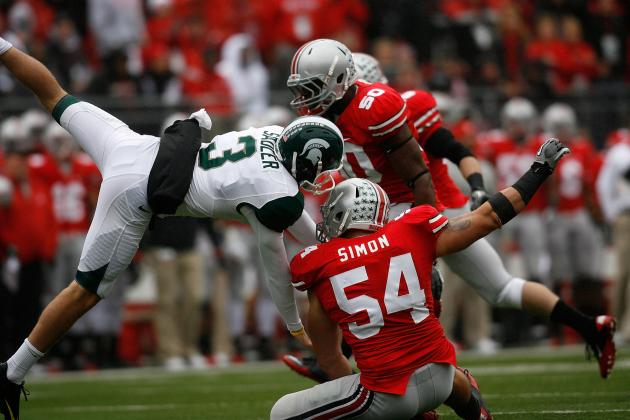 Kirk Irwin/Getty Images

For Ohio State
A victory over the favored Spartans would be huge for Urban Meyer and the Buckeyes.
Not only would it establish Ohio State as the best team in the conference, it would give the Buckeyes a huge boost toward winning the Leaders division.
Although Michigan State plays in the Legends division, starting 0-1 in the conference would be damaging to Ohio State's chances for a division title. The Buckeyes' conference schedule is front-loaded with Nebraska coming to Columbus next week, so getting a victory in what might be Ohio State's toughest game of the year this early would be huge.
For Michigan State
A victory over Ohio State would further validate Michigan State as a true power in the conference.
When people talk about traditional powers in the Big Ten, Ohio State and Michigan are the first teams mentioned. Penn State, Nebraska and Wisconsin comprise the second tier, while Michigan State is largely dismissed.
But as every season passes for Michigan State, that notion loses validity. The Spartans have claimed 11 victories in back-to-back seasons, and Dantonio has done a terrific job turning Michigan State into an annual contender in the conference. The Spartans shared a conference championship with Wisconsin in 2010 and played in the conference championship last year.
A win over the Buckeyes would put Michigan State in the driver's seat toward another trip to Indianapolis this year.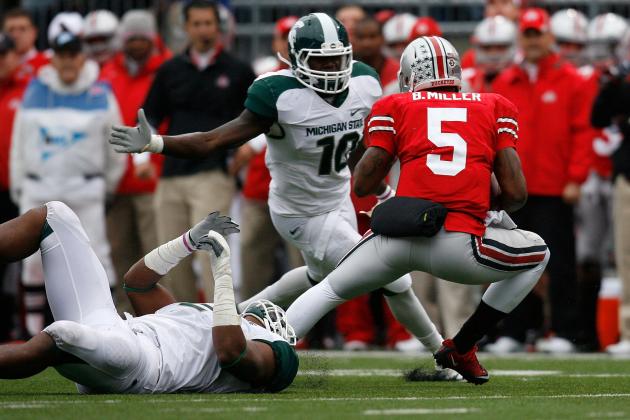 Kirk Irwin/Getty Images

Braxton Miller, QB
It's no secret that Ohio State will go only as far as Braxton Miller takes them on offense.
With no big-play threat at running back, Miller is the only legitimate home-run hitter in Ohio State's backfield.
Against the best defense in the conference, Miller will have to be at his best for the Buckeyes to win.
That might mean throwing the ball a bit more than we're used to seeing, because Michigan State has a front seven geared toward stopping the run. The Spartans rank 10th in the country in rush defense, giving up just under 70 yards per game on the ground.
Of course, they're almost equally stout defending the pass—they rank 13th in pass defense, allowing teams to throw for 164 yards per game so far.
Last year against the Spartans, Miller struggled. He completed just five of his 10 passes for 56 yards and actually lost 27 yards on nine carries—although that was mainly because Michigan State blitzed without shame almost every play.
That game was Miller's second career start, so the Spartans will obviously face a much better quarterback Saturday.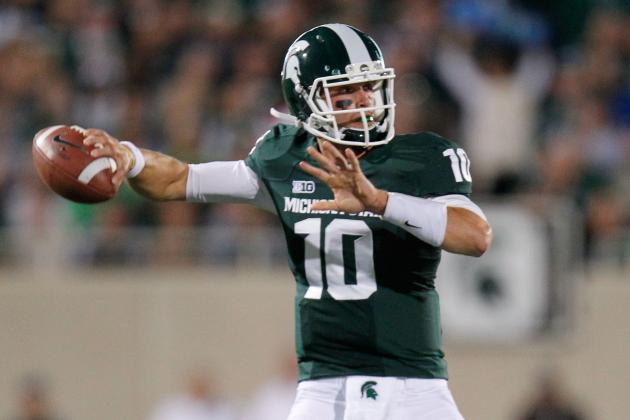 Gregory Shamus/Getty Images

Andrew Maxwell, QB
Some would argue for Le'Veon Bell here, but the running lanes will be close to nonexistent if Maxwell can't keep Ohio State honest with the passing game.
Ohio State has struggled on defense this year, but their biggest trouble has come against teams that attacked the perimeter.
Michigan State does the exact opposite on offense. The Spartans want to line up and go right at you with the running game, and Ohio State's defense looks to be built toward shutting down that type of attack.
Maxwell will need to play the best game of his career to keep Ohio State from putting more than seven in the box and teeing off against Le'Veon Bell every play. Accuracy on play-action passes, misdirection and roll-outs will go a long way in keeping the Buckeyes on their heels, and if Maxwell can't do that, things could get ugly in East Lansing.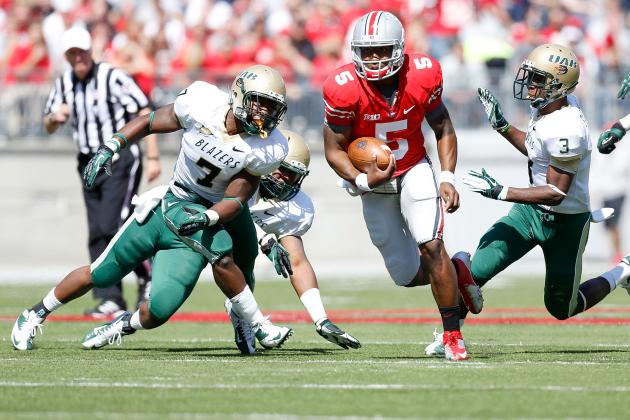 Kirk Irwin/Getty Images

The Buckeyes will win if Braxton Miller gets the best of Michigan State's defense.
The sophomore quarterback will need to play a superb game on the road to get the win. Michigan State doesn't have the kind of offense that would bury Ohio State in a big hole early, so Braxton should have every opportunity to take control of this game.
If he does, Urban Meyer and the Buckeyes will be 5-0.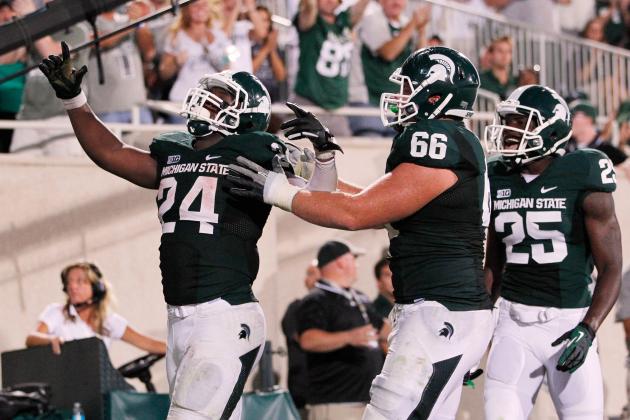 Gregory Shamus/Getty Images

The Spartans will win if they contain Braxton Miller on defense while Andrew Maxwell throws the ball well and avoids turnovers on the other side of the ball.
Michigan State's No. 1 goal should be keeping Miller in the pocket and limiting his big plays. If the Spartans control field position and play turnover-free football, the home crowd should be able to carry them to a victory.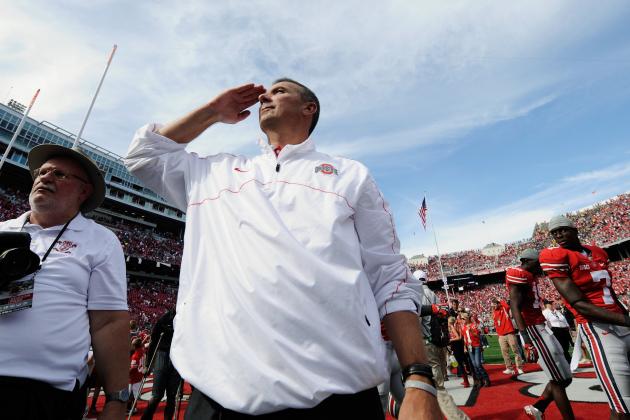 Jamie Sabau/Getty Images

Urban Meyer squeezes just enough offense from Braxton Miller, and the Buckeyes escape a hard-fought game with a three-point victory.
Ohio State 20, Michigan State 17