NFL Power Rankings (Week 4)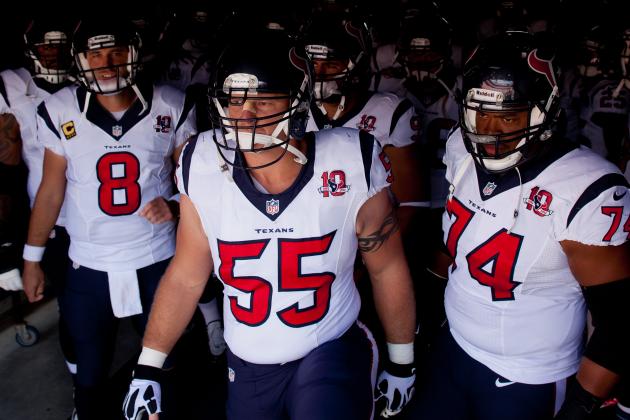 Justin Edmonds/Getty Images

The first three weeks of the 2012 season have been at times surprising, entertaining and frustrating. And all of that is BEFORE you add in the drama that the NFL's replacement officials have added. Here are a few facts I doubt anyone would have predicted coming into the season:
Only two teams have a worse record than the Green Bay Packers after three games—everyone else is either also at 1-2 or better.
The New Orleans Saints are already three games behind in their division. They sit winless at 0-3, and the Falcons have gone 3-0.
The Buffalo Bills, Minnesota Vikings and Arizona Cardinals are all either in first place or tied for first place in their divisions.
Tennessee Titans running back Chris Johnson, who rushed for more than 2,000 yards in 2009, has yet to break 50 yards. He has started all three games.
The Kansas City Chiefs have more offensive yards than any other team.
The Green Bay Packers pass defense, which was the worst in the league in 2011, is currently No. 1. They have given up just 125.3 yards per game, compared to 299.8 last season.
We will see just how many of these things hold up throughout the course of the season, but for now they are interesting.
Begin Slideshow

»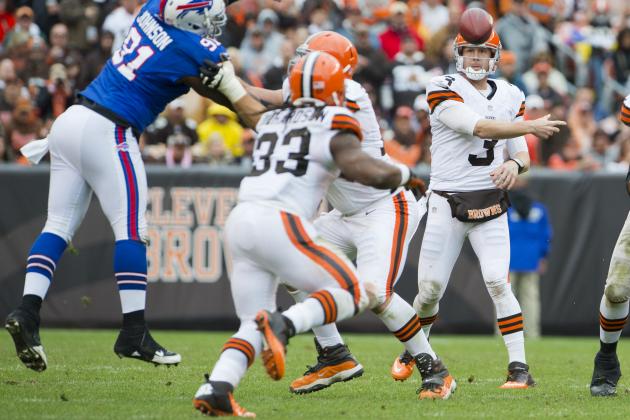 Jason Miller/Getty Images

So it has come to this. I have been forced to name my Browns the worst team in the league.
I will say this—with Joe Haden, this team would not be winless. Give them credit, though, they have been in every game.
Trent Richardson couldn't find much room against the Bills on Sunday, but he still managed to impress by eluding a defender or breaking a tackle on nearly every touch.
Brandon Weeden's fourth-quarter performances so far are cause for concern, as he seems to lose his poise and force his throws. Hopefully he is just adjusting to the NFL.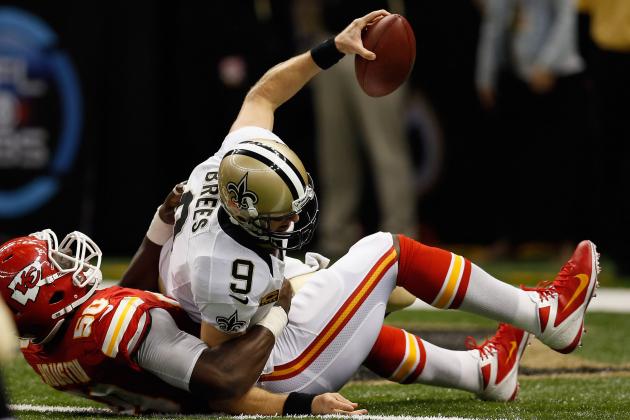 Chris Graythen/Getty Images

One of two 0-3 teams in the NFL, the Saints have struggled more than expected in the aftermath of Bountygate.
While many of their struggles can be (and have been) attributed to the worst defense in the league, Drew Brees has already thrown five interceptions, which is on pace for the highest total of his career.
His accuracy has also plummeted, as he is completing just 54.7 percent of his passes compared to 71.2 percent last season.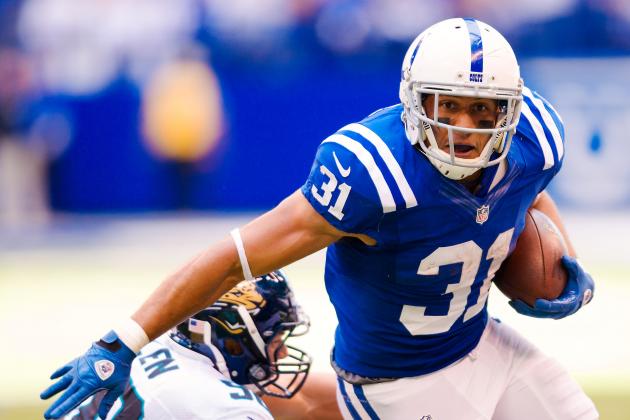 Michael Hickey/Getty Images

The Colts' win over the Vikings would have looked a lot more impressive this week if they could have taken care of business against the Jaguars.
For now, it appears they may have just gotten lucky.
They have a week off to prepare for the Packers, so we will see what types of adjustments they make.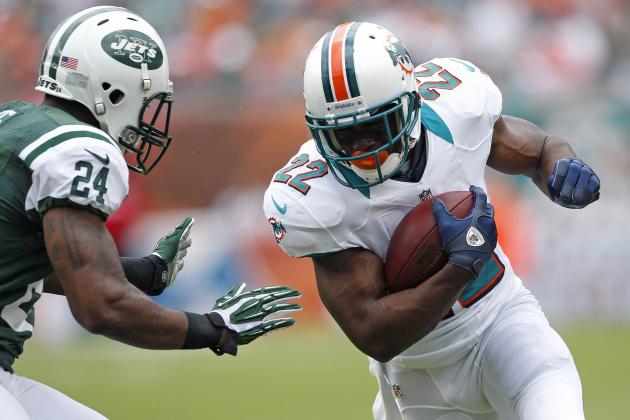 Joel Auerbach/Getty Images

The Dolphins were almost able to pull off a win against the Jets, and if Reggie Bush hadn't gotten injured, they may have done it.
The NFL's rushing leader coming into the game, Bush ended up exiting after injuring his knee early in the second half.
Bush or no Bush, Ryan Tannehill will need to improve upon his completion percentage, which was below 45 percent in Week 3.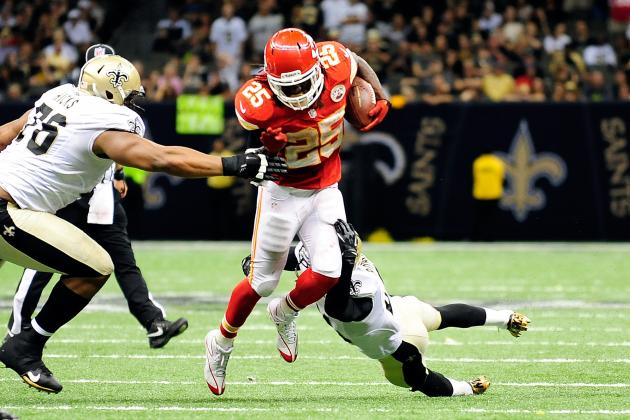 Stacy Revere/Getty Images

They had to take the now 0-3 Saints to overtime to do it, but the Chiefs were able to come up with their first win of the season.
Jamaal Charles ran for 233 yards and a score, and aside from one big Darren Sproles run, they shut down New Orleans' rushing attack.
Matt Cassel still has yet to put together a good game this year, but he did enough this time.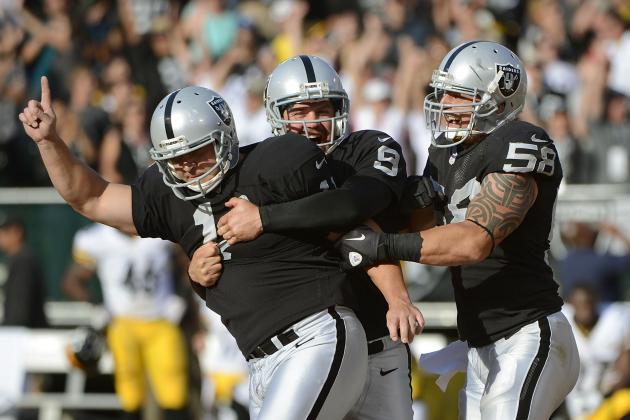 Thearon W. Henderson/Getty Images

Darren McFadden had more than 100 yards on the ground, Carson Palmer threw for three touchdowns and the defense allowed the Steelers next to nothing in the running game.
They did allow 384 yards and four touchdowns through the air, but that was good enough.
Sebastian Janikowski hit the game-winner as time expired, and the Raiders moved to 1-2, just a game back of the AFC West lead.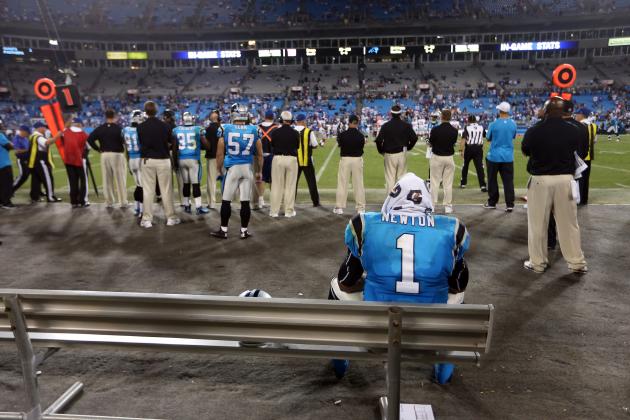 Streeter Lecka/Getty Images

This was supposed to be the year the Panthers worked their way back into playoff contention, behind 2010 rookie phenom Cam Newton.
So far, however, they are far from playoff form. Cam Newton continues to struggle to avoid turnovers, throwing three interceptions against the Giants on Thursday night.
Newton sulked on the sidelines, drawing criticism from veteran receiver Steve Smith. The last thing a football team needs is immaturity at its most important position, but that is what the Panthers are getting right now.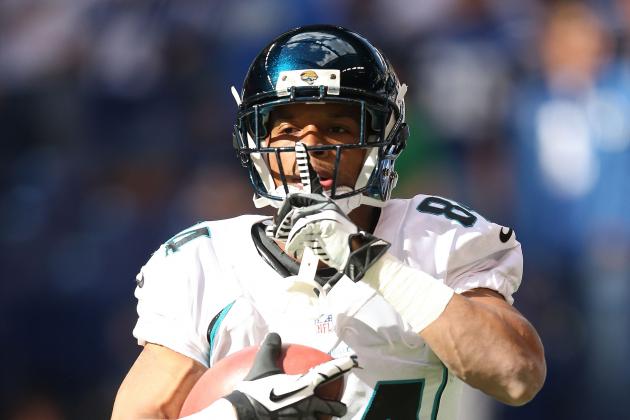 Andy Lyons/Getty Images

It took a last-minute effort, but the Jaguars were able to pull off a victory over the Colts on Sunday.
Maurice Jones-Drew had 177 yards, but they will need better performances from QB Blaine Gabbert if they are going to progress as a team.
Gabbert had just nine completions for 75 yards before the 80-yard touchdown strike to Cecil Shorts.
The defense played well in giving up only three second-half points, allowing the Jaguars to pull off their first win.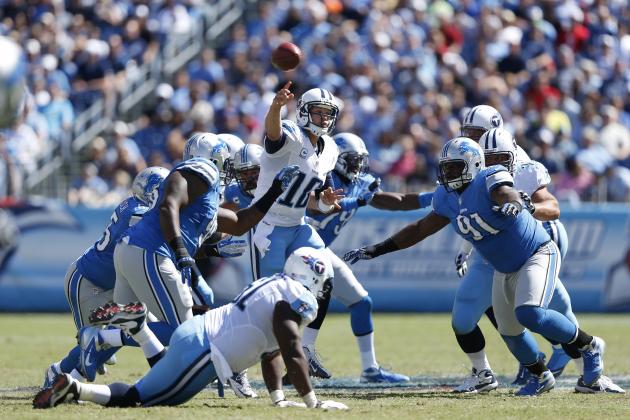 Joe Robbins/Getty Images

The Titans have yet to get running back Chris Johnson going, but they were still able to pull off the win over the Lions in an overtime thriller.
Second-year QB Jake Locker passed for 378 yards and two touchdowns, and added another 45 yards on the ground.
They nearly blew the game at the end, giving up the final 14 points in regulation, but they were able to hold Detroit in overtime.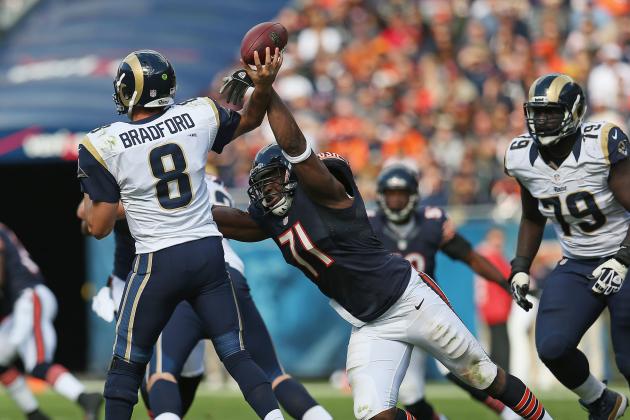 Jonathan Daniel/Getty Images

The offense could not get going against Chicago, as Stephen Jackson could only muster 2.6 yards per carry.
Sam Bradford had just 152 yards on 35 pass attempts, and he threw two interceptions, one of which was returned for a score.
A 10-3 halftime deficit would be too much to overcome, and the Bears put the game out of reach in the fourth quarter.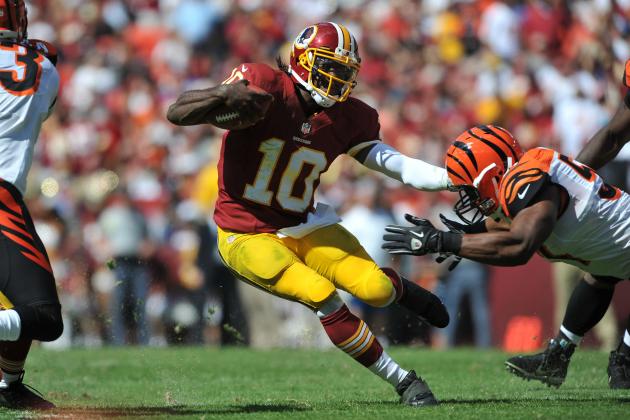 Larry French/Getty Images

That win over the Saints in Week 1 looks less and less impressive, and they have not been able to add another tally to the win column.
Give the defense credit for holding BenJarvus Green-Ellis to just 38 yards, but they were not able to contain the pass, as Andy Dalton had 328 yards (183 of them to AJ Green) and three TDs.
RG3 continues to run the ball well and has been a decent passer, but the rookie hasn't been able to do enough to get that second win.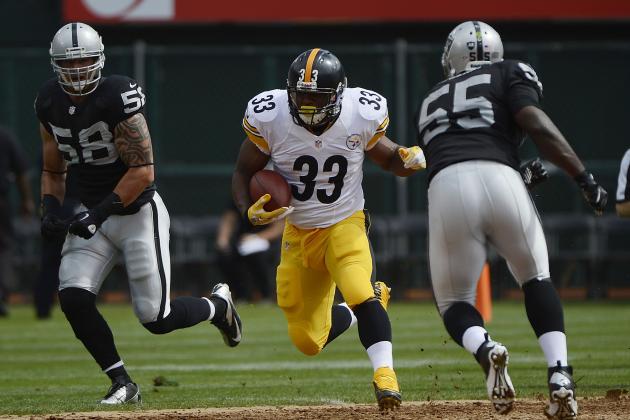 Thearon W. Henderson/Getty Images

The Steelers lost to the previously 32nd-ranked Oakland Raiders as their early-season struggles continue.
Rashard Mendenhall has been sorely missed in their rushing offense, as Isaac Redman has struggled to replace him.
The true story here, though, is the poor play of the normally stingy Pittsburgh defense. Opposing teams have already put up more than 30 points twice, which is already as many 30-plus point games as they allowed in 2011 and 2010 COMBINED.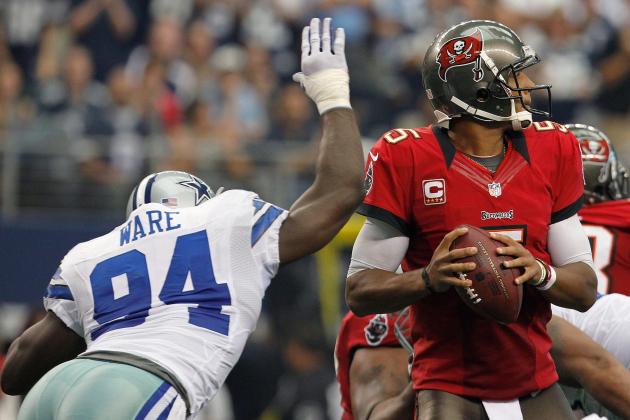 Tom Pennington/Getty Images

Josh Freeman continues to play poorly, as he completed just 35.7 percent of his passes against the Cowboys, and now has compiled just a 51.3 completion percentage for the 2012 season.
Still, even with Freeman's struggles, the Bucs have been competitive in both of their losses.
A pass defense that gave up more than 500 yards to Eli Manning managed to hold Tony Romo to 283 yards and no scores. Not great, but an improvement.
Rookie running back Doug Martin gained just 53 yards on 19 carries, as the entire offense struggled.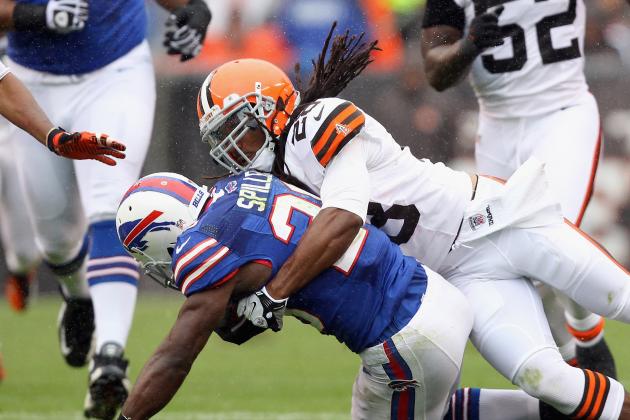 Matt Sullivan/Getty Images

After getting mauled by the Jets in Week 1, the Bills have responded with wins against the Chiefs and the Browns.
While neither victory was particularly impressive, the Bills currently sit at 2-1 and are ahead of the Patriots in the AFC East.
The Bills have lost running backs Fred Jackson and CJ Spiller to injury and our down to third-string Tashard Choice.
Ryan Fitzpatrick hasn't been particularly impressive so far, so it wouldn't be surprising to see their offense struggle against better teams. New England, San Francisco and Arizona are the next three games on the schedule, and how they emerge from that stretch will give us a good idea of whether or not they have playoff potential.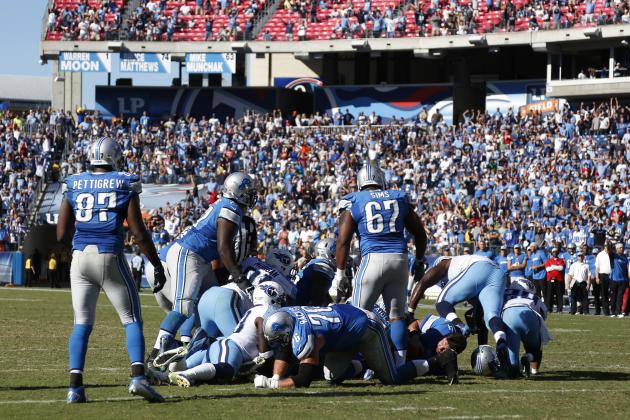 Joe Robbins/Getty Images

The loss to San Francisco was expected, but to the Titans?
Lions fans are going to be upset by this ranking, but so far this season they have struggled against the Rams and now have a loss to the Titans. Tell me anyone anticipated THAT out of them this season.
To make matters worse, the Vikings have looked better to this point. If the Lions don't get back on track soon, they may reclaim that spot in the NFC North basement they worked so hard to climb out of (and yes, I realize they may have won had Stafford been able to finish the game, but it never should have come to that in the first place).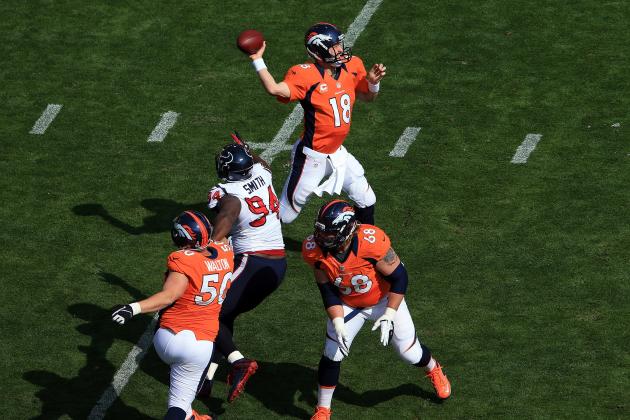 Doug Pensinger/Getty Images

They put up a good fight against what appears to be the best team in the NFC in Week 2, and they put up another fight against possibly the best team in the NFL in Week 3.
Peyton Manning was able to avoid the interceptions that plagued him against Atlanta, but he managed to complete only half of his passes against Houston.
The Broncos have shown that they are not among the NFL's elite, but they will prove they are a tough out in the playoff race at season's end.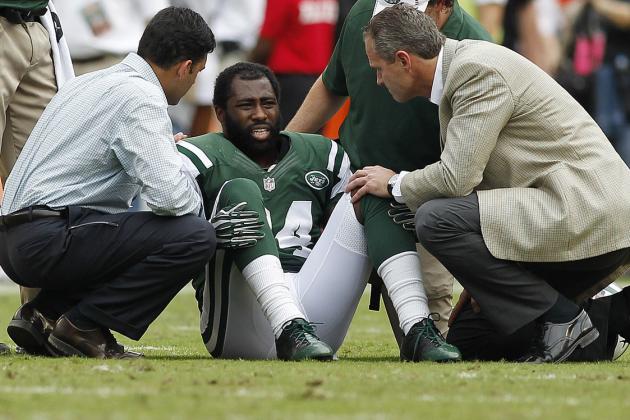 Robert Mayer-US PRESSWIRE

After looking so good in Week 1, the Jets have struggled the last couple games.
After dropping one to Pittsburgh in Week 2, they were able to maintain a winning record. The bad news is that they had to take the Dolphins into overtime to do it.
They also lost star cornerback Darrelle Revis and have the 49ers and Texans coming up. It would be a surprise if they were able to stay above .500 after Week 5.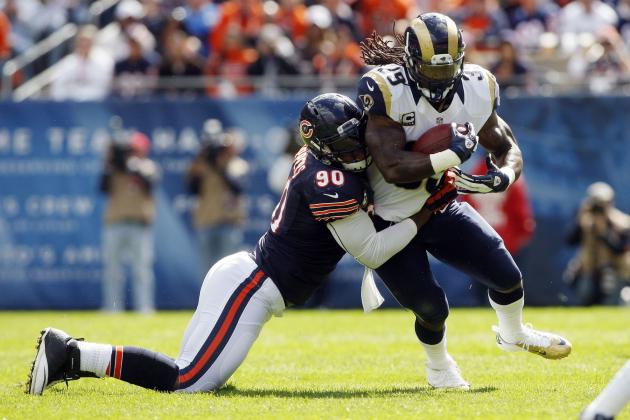 US PRESSWIRE

After a poor showing against Green Bay, the Bears were able to bounce back and get the win against the Rams.
The defense played great in allowing just six points, and held Sam Bradford to just 152 yards and Stephen Jackson to 29.
Jay Cutler remains a concern, completing just over half of his passes and throwing an interception. It is still too early to know what to make of this team, but Cutler will need to be much better if they are to go anywhere.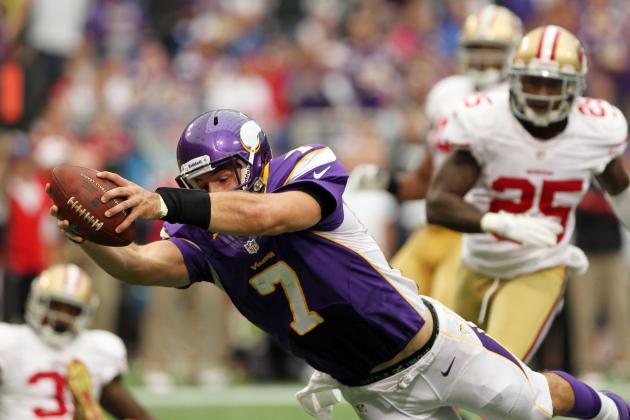 Brace Hemmelgarn-US PRESSWIRE

The Vikings now sit at 2-1, coming off of an impressive victory over a San Francisco team many had pegged as the best in the league heading into Week 3.
Christian Ponder is still making some head-scratching decisions. For instance, on one play near the goal line he had Adrian Peterson wide open for the touchdown, but he forced it to a receiver who had to make a tough catch over a 49ers defensive back.
The result was still six points, but you'd like to see him make the higher-percentage throw in that situation.
Aside from that, the Vikings played well, forcing Alex Smith to try to beat them with the pass. The strategy worked, and they ended up being the first team to intercept Smith since last Thanksgiving.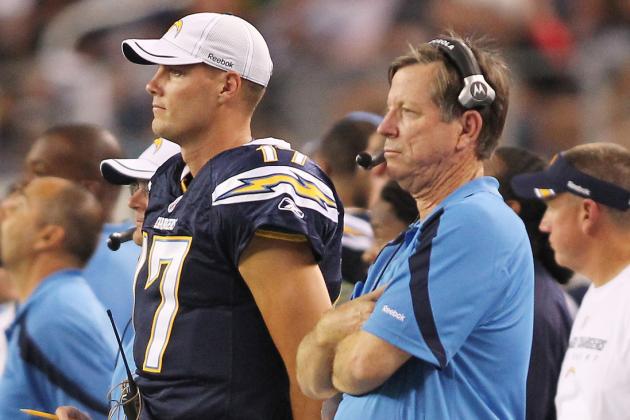 Tim Heitman-US PRESSWIRE

They were beaten for the first time this season by the very impressive Atlanta Falcons, and they couldn't muster up much of an offensive attack.
Phillip Rivers threw two interceptions and wasn't able to do much to keep up with the Falcons.
They have two wins against seemingly weak opponents, and now a bad loss to a very good opponent, so it is difficult to gauge where this team really stands.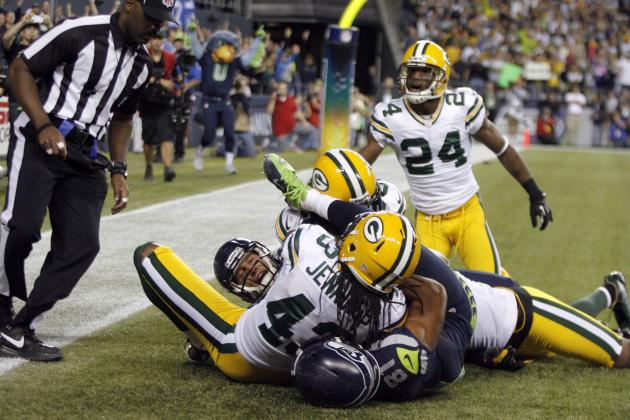 Joe Nicholson-US PRESSWIRE

Forget the shroud of controversy surrounding their game against Green Bay for a second and ask yourself this: "Did I really think the Seahawks/Packers game would come down to the last play?"
For most people, I think that answer would have been no, but the Seahawks were able to fight throughout and make it a game.
Regardless of whether Golden Tate caught that ball or it was intercepted, the Seahawks have looked a lot better than anyone expected.
With that said, I think it is time to try out Matt Flynn. Russell Wilson just has not done a good enough job of helping out that defense. I understand a 2-1 team doesn't make a change at quarterback, but if they find a way to get the offense going, this team might be one of the season's biggest surprises.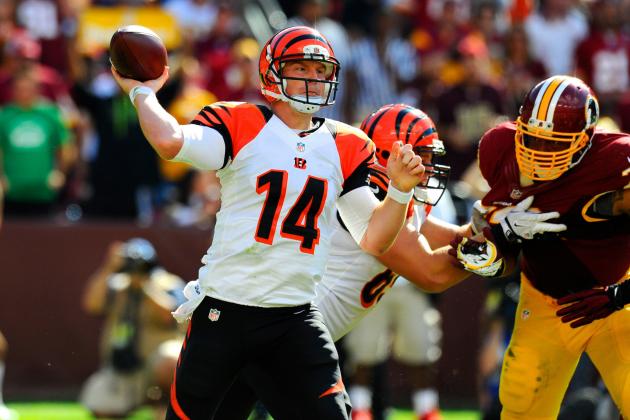 Dale Zanine-US PRESSWIRE

With their win over the Redskins, they positioned themselves to stay competitive in the AFC North race, especially with a Steelers loss.
Their receivers have been brilliant so far, finding ways to score from all over the field (with some help from Andy Dalton).
The concern here is their running game, as it has not shown the improvement the team was expecting thus far.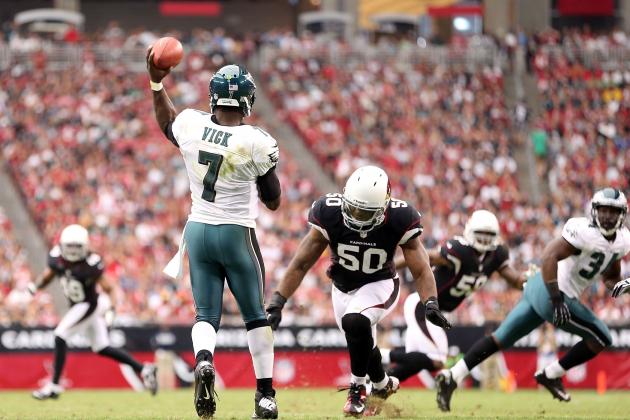 Christian Petersen/Getty Images

The Eagles beat both the Browns (ranked 32) and Ravens (ranked 4) by a point, and they lost badly to the Cardinals.
Anyone else know what to make of this team?
One thing has been clear thus far: Michael Vick absolutely has to stop turning the ball over.
That offense should be a lot better with the weapons they have, so it wouldn't shock me if they made a change if Vick doesn't improve in the next few weeks.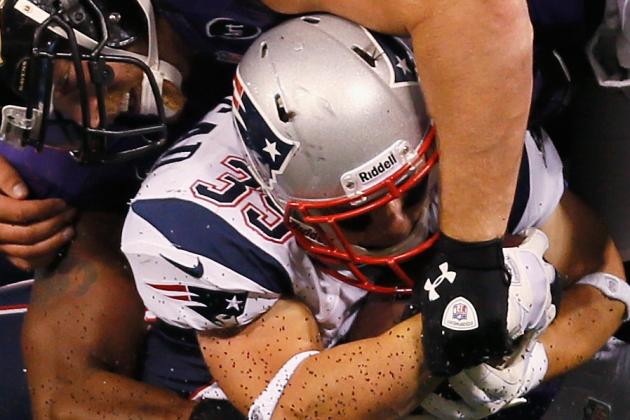 Rob Carr/Getty Images

They have lost twice, but each loss was on a field goal to a team that is in the top eight on this list.
Most recently they lost to the Ravens, on a field goal that was very, very close to being missed.
Still, a few flaws have been exposed lately. One such flaw is their inability to close out games, as they failed to convert a game-winning field-goal attempt in Week 2, and then in Week 3 were unable to maintain a two-possession lead in the fourth quarter.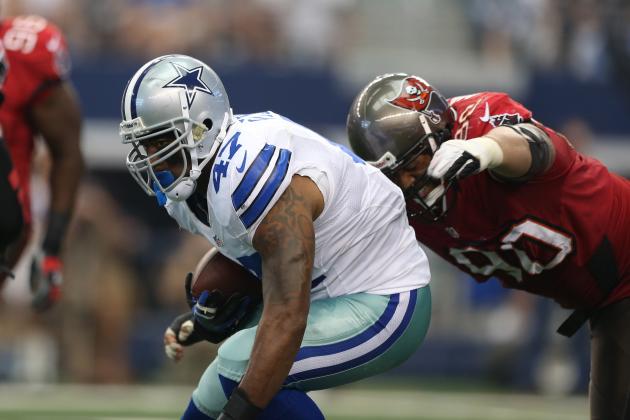 Matthew Emmons-US PRESSWIRE

At 2-1, the Cowboys remain the only team to have beaten the defending champion New York Giants.
The loss to Seattle doesn't look like as much of a letdown now, and the trouble they had in beating Tampa Bay was similar to the trouble the Giants had.
The NFC East is already looking like it will once again go down to the wire, and the Cowboys have their sights set on winning this time around.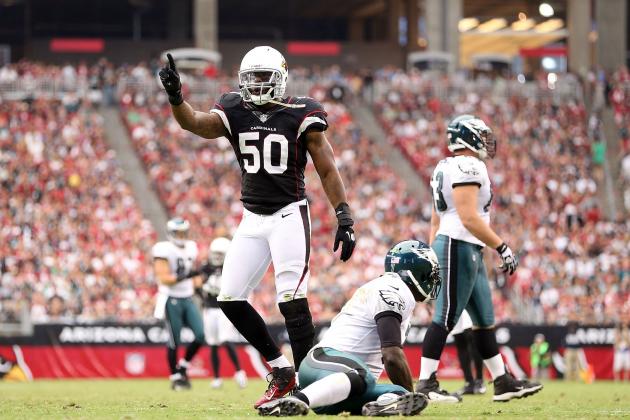 Christian Petersen/Getty Images

If it weren't for the drama with the replacement referees, the biggest topic in the NFL right now would be whether or not the 3-0 Cardinals are for real.
Last year, the Buffalo Bills started the season 3-0 on their way to a 6-12 record, and for now my money is on the Cardinals falling apart in similar fashion.
I still have to give credit where it is due, and that defense has been outstanding so far, holding high-powered offenses like the Patriots and Eagles.
The quarterback position, and the offense in general, are still a concern. Kevin Kolb has done a decent enough job of managing the game, but when he has to make plays, will he be able to do it?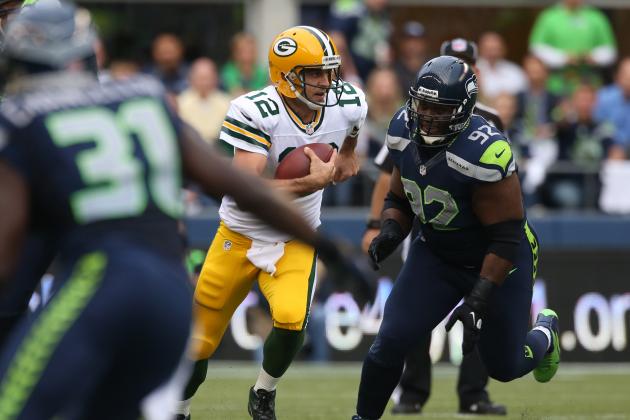 Otto Greule Jr/Getty Images

This may be the highest a team with a losing record has ever been ranked, but their loss* to the Seahawks was—well, the asterisk says it all.
Still, the offensive line allowed eight sacks in the first half, preventing Aaron Rodgers and company from moving the football.
They did much better in the second half—enough to win, in fact—but...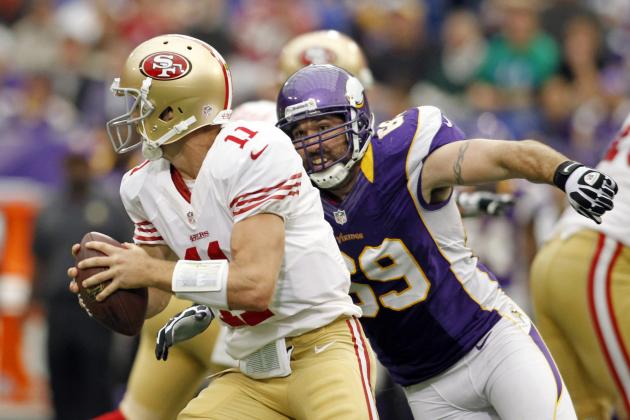 Bruce Kluckhohn-US PRESSWIRE

Niners fans were brutal last week after I didn't rank them as the best in the league.
I was called an idiot, a hater, told I knew nothing about football and that I was the only idiot who didn't have them ranked No. 1.
I doubt any of them will be back to apologize this week after losing to the Vikings. Their defense is still very good, but the Vikings have a lot of talent and found a way to use it.
I wondered if Alex Smith could put the team on his back when needed, but he has yet to do so. That is still my No. 1 concern about this team.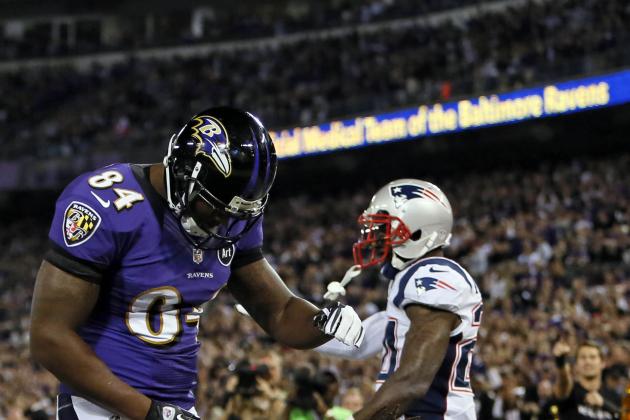 Mitch Stringer-US PRESSWIRE

They showed what they were made of in New England, coming back from a two-possession deficit in the fourth quarter to win the game.
Joe Flacco continues to look good, and Ray Rice is in midseason form.
I can't finish this slide without mentioning receiver Torrey Smith, who had the game of a lifetime so soon after a family tragedy. Whether you like the Ravens or hate them, it was a touching moment where you couldn't help but feel happy for his performance.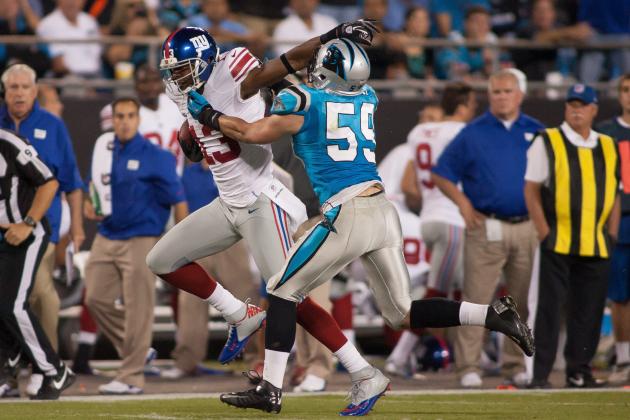 Jeremy Brevard-US PRESSWIRE

They absolutely dominated their Thursday night game against Carolina.
Offensively they moved the ball with ease, defensively they held up on nearly every drive.
In my mind, an elite quarterback is at his best in crunch time (Eli Manning has done that), and can create plays no matter the situation around him.
This means that no matter who is lined up at receiver, he can make a star out of them. Eli did that last season with UDFA Victor Cruz, and he did the same on Thursday night with Ramses Barden. In my mind, Eli is officially elite.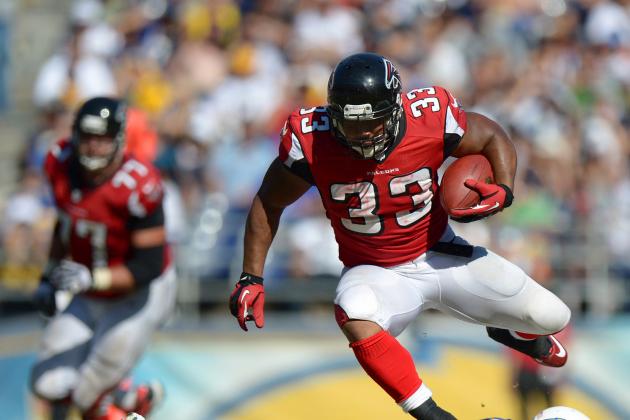 Jake Roth-US PRESSWIRE

Their offense is rolling, their defense is creating turnovers and they are just playing good football.
Matt Ryan played very well against San Diego, completing 75 percent of his passes for three touchdowns.
Michael Turner ran well against his former team, showing no ill effects stemming from his recent trouble with the law.
The big story from Atlanta's Week 3 win, however, is the defense. The three points they allowed was the fewest for San Diego at home since 1999.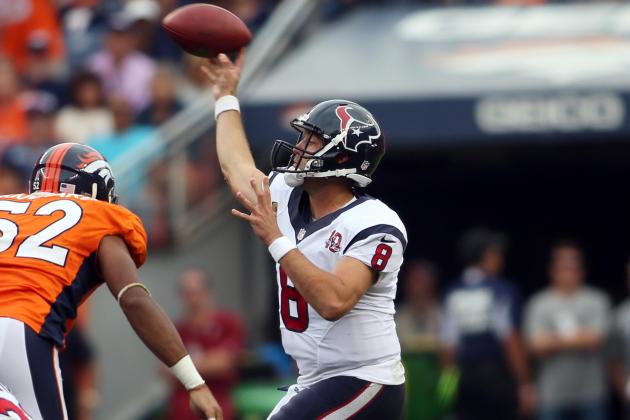 Chris Humphreys-US PRESSWIRE

They went out and took care of business for another week against Denver, their biggest challenge to date.
Matt Schaub has been playing well, and they may have the best running back tandem in the league in Arian Foster and Ben Tate.
Their defense isn't half bad, either, allowing Willis McGahee just 36 rushing yards and holding Peyton Manning to just a 50-percent completion rate.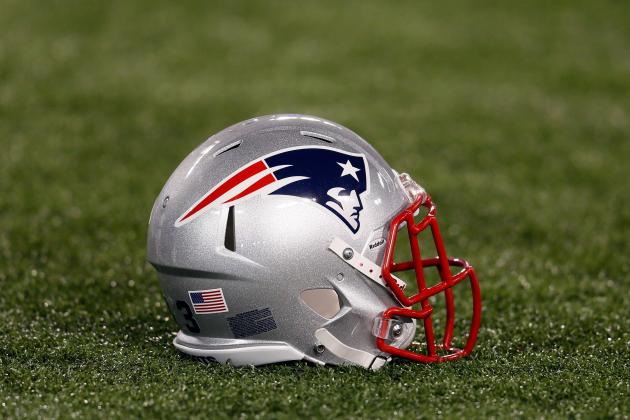 Rob Carr/Getty Images

Thank you for reading another week of my Power Rankings.
Comments are appreciated, positive or negative. Just be sure to keep them civil. If you disagree with where your team was placed, give reasons why and try to keep name-calling to a minimum.
You can follow me on Twitter @deg4