New York Jets: 5 Players That Need to Be Targeted at the Trade Deadline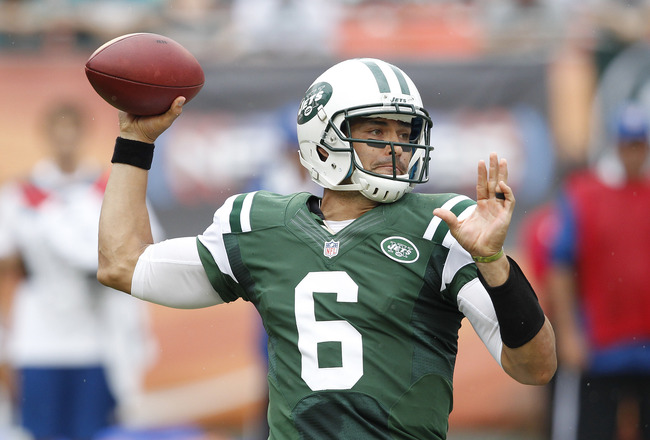 Joel Auerbach/Getty Images
When Darrelle Revis was placed on Injured Reserve (IR) earlier this week, I immediately thought, "How is the team going to replace him?"
I searched through the great depths of free agency, researched in an attempt to find any possibly cap-saving cuts, and I looked to see if Ty Law wanted to come back, but no success. I then looked to the trade market.
The trade market is very rich this season; multiple teams are learning the hard way that expensive contract extensions don't always produce championships. The Jets, although cash-strapped, may somehow shell out all of the money to take in one or two of these guys.
But more than just a nice cornerback or two being dealt at the deadline, many skill players whom the Jets need may be shipped out in a few weeks. A team as desperate as the Jets should be looking at every available player.
Obviously, the Jets would need to clear a lot of money for these guys, and some of them may bolt after the season, but the Jets have a lot of needs, and the team is at the point where they want to win now.
So with that in mind, let's take a look at some possible fix-ins for the New York Jets.
1. Chris Ivory, RB, New Orleans Saints
Joe Murphy/Getty Images
Let's start off with the most likely acquisition. Chris Ivory was a healthy inactive for the first two weeks of the season. He is currently the team's fourth running back. It's troubling to know that on a passing team like the Saints, the fourth-string running back could easily enter the starting lineup of a so-called "ground-and-pound" team.
Ivory is currently in the New Orleans doghouse after he started showing symptoms of "fumble-itis." While he is a very tough, in-between-the-tackles guy, the Jets could utilize him for one quality that is completely invisible in their offense: his speed. While not incredible, he did run a 4.50 40-yard dash at the Scouting Combine a few years ago.
On top of all this, he is a proven commodity, rushing for more than 700 yards and five yards per carry just two seasons ago. Tannenbaum would likely have to give a minimum package to receive Ivory, something that the Jets should definitely go for.
The Deal: New York Jets send a seventh-round pick to New Orleans Saints for RB Chris Ivory.
2. LeGarrette Blount, RB, Tampa Bay Buccaneers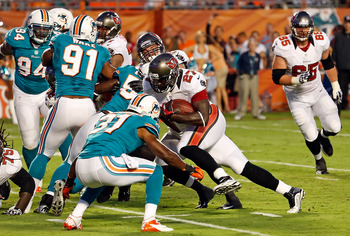 J. Meric/Getty Images
He caught the world's eye on a Halloween football game when he played acrobatically against the Cardinals. From there, he took over the Buccaneers' running back position and continued to shock America with his hard-nosed style of play. In 2011-2012, he was projected to have an amazing season as he'd be the "go-to guy" on offense.
However, more so than his ability to plow defenders, he showed his weak grasp of knowledge and showcased his low football IQ. The Buccaneers are so hell-bent on shying away from him that they traded back into the first round to take Doug Martin. So far, Blount has been a limited contributor (not even 10 carries in three games).
He looks to be fading away more and more by the week. I think his asking price might be a little higher, as he should generate strong league interest from running back-deprived teams like the Detroit Lions, Green Bay Packers, Tennessee Titans, Denver Broncos and others.
Most likely, I see the Buccaneers hauling in a conditional fifth-round pick for Blount, who could be a workhorse back for multiple teams.
The Deal: New York Jets send a sixth-round, conditional fifth-round pick for LeGarrette Blount.
3. Osi Umenyiora, DE/OLB, New York Giants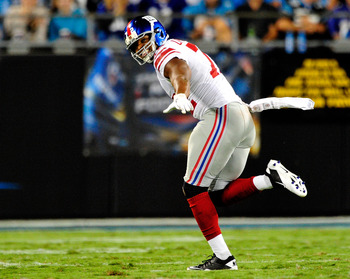 Grant Halverson/Getty Images
One of the better-known defensive players of the New York Giants, Umenyiora's work ethic has been called into question multiple times over the years, especially in 2011-2012, when he was complaining (for the third time in his career) for a new contract.
Why would the Jets want him? Sure, he carries a decent sum of money in his current contract ($6 million per year), but the Jets could plant him at outside linebacker across from Garrett McIntyre in order to apply pressure.
Even though he is more comfortable as a 4-3 defensive end, the Jets would have him play in the two-point stance, where he has one job: wreak havoc in the backfield. His asking price, if he does wind up on the block, would be incredibly steep—likely too much for the Jets' liking.
The Deal: New York Jets send a fourth-round, conditional third-round pick for DE Osi Umenyiora.
4. Mike Jenkins, CB, Dallas Cowboys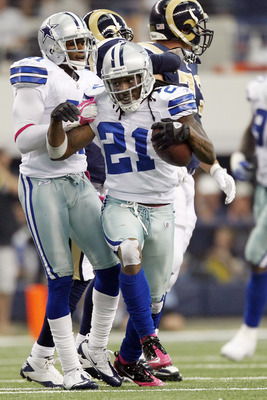 Layne Murdoch/Getty Images
Possibly the biggest name on the market, the Jets would be foolish not to look in his direction. He's still on his rookie deal, where he isn't even making $3 million. In a contract year, he may have more incentive to go 110 percent like LaRon Landry.
He has good coverage skills and is rarely burned. (For more information on Mike Jenkins as a player, see Matt Miller's NFL-wide cornerback rankings.)
The Jets could trade for him and throw him in as the nickelback to start. Hopefully in a few weeks he transitions from one Ryan defense to the other and starts across from Antonio Cromartie. It would definitely be costly, but in his contract year and not likely to be re-signed, the Jets have a little more leverage.
The Deal: New York Jets send a fourth-round pick and a sixth-round pick for CB Mike Jenkins.
5. Greg Jennings, WR, Green Bay Packers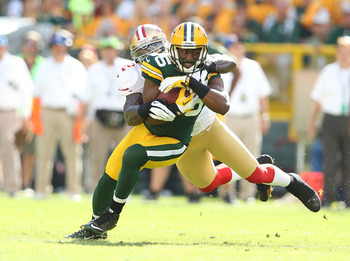 Andy Lyons/Getty Images
Here's the least likely option for the Jets, but it'd be the most tempting for sure and could possibly salvage the Jets offense.
Definitely the best wide receiver to possibly be available at this point, Jennings needs no introduction. He's had five consecutive 900-receiving-yard seasons, and out of those five years, he's had 46 TDs (9.2 per season).
If the Jets could somehow get their hands on him, there would be absolutely no reason to further bolster their receiving crew. The only problem is that his contract expires at season's end, so if he wants to win another Super Bowl ring or take in more money, he may want to leave at season's end.
Another problem is how pretty of a penny it might cost the Jets to take him. In my predictions, it'd take a starter and a high draft pick for him.
The (Unlikely) Deal: New York Jets send Mo Wilkerson and a third-round pick for Greg Jennings.
So what do you guys think? Should the Jets lose valuable draft picks for some expensive, talented stars? Or should they play it conservatively and call it a season? Leave a comment with your thoughts!
Keep Reading

New York Jets: Like this team?