SEC Football: 10 Things We Have Learned in the SEC Through September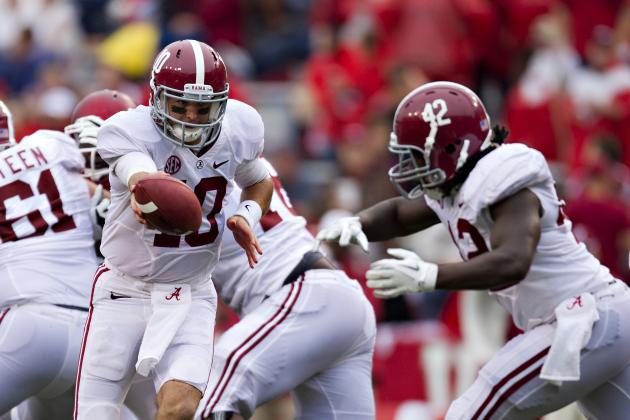 Wesley Hitt/Getty Images
AJ McCarron and the Crimson Tide are No. 1... for now
After a month of football in the greatest conference in all the land, some things have changed and others have remained the same. One thing we do know is that, as of right now, Alabama is the cream of the crop.
As experience has taught us, however, Alabama could suddenly tank and wind up 6-6. Such is the way of the land of the Southeastern Conference. On the other hand, the Tide could run the table and win it all again.
But for all that is unknown, we have learned quite a bit about teams, players, coaches and even fanbases. Let's count 'em down, Bleacher Report style!
Begin Slideshow

»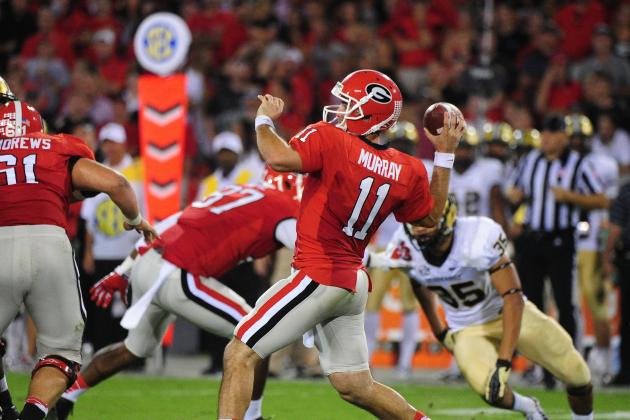 Scott Cunningham/Getty Images
Aaron Murray is the pick of the litter of SEC QBs.
Who said the SEC can't sling it around?
Not anybody with very much football knowledge, obviously, because as of right now, there are five quarterbacks in the SEC that appear to have bright NFL futures. For some of them, it may be next year. For others, they have a year or two more in college to further develop themselves.
Let's start with Tyler Wilson of Arkansas. The Razorbacks may have already lost their bowl hopes, but that doesn't mean Wilson is anything less than a stud. It wasn't his fault that Arkansas' defense gave up 35 points to a Big East team (a decent one, I'll admit) or 34 to Louisiana Monroe, including a 4th-and-1 where the defense completely broke down and allowed ULM QB Kolton Browning to go 16 yards for the winning TD. That's not to mention what happened against Alabama.
No, Wilson is a true NFL-style QB who just doesn't have any talent around him. He's got the arm, the patience and the football IQ. Wait and see, he will get his shot in the NFL.
Next, let's look at Aaron Murray of Georgia. He's probably the most NFL-ready of all the QBs in the SEC, maybe even the most in the nation. He's got a great arm, makes very smart decisions and can move a little bit with his legs. In addition, he's usually very level-headed and always keeps his cool. I would be stunned if he isn't one of the first few QBs taken this April.
Onto Tennessee and Tyler Bray. When things aren't going well, you never know what you're going to get. But when things are going well, look out. He has pinpoint control of his passes, and it doesn't hurt that he can get the ball there quickly, either. True, he has lots of talent at wide receiver, but this is a solid overall QB who I would take in the second or third round this spring.
Now we move on to by far the best dual-threat QB in the SEC, and maybe in the nation. Yes, Denard Robinson, there's somebody who's just as good if not better than you, and he resides in Gainesville. Will Muschamp wanted to turn his team into an Alabama style team in every fashion, including the QB spot—a smart, game-managing QB who can make a huge play or two when he needs to.
So far, Jeff Driskel has made those plays, and then some. He can beat you with his speedy legs or his rifle arm. He has done a superb job of controlling the ball—one turnover in four games—plus clutch plays that late in the game to get Florida off to a 4-0 start. He's only a sophomore, so he's got a ways to go, but I definitely see this kid being a first-round pick if he continues to mature at this rate.
Finally, we go to Alabama, where AJ McCarron is quietly running the Crimson Tide like only a true leader could. He's basically a slightly less athletic version of Driskel with more experience. Like Driskel, he takes care of the ball, controls the game, and every now and then makes a huge play with his legs or his arm. He may not jump out at teams, but for a defense-first team like Pittsburgh or Baltimore, he may be drafted in the middle rounds to one day replace the current starter.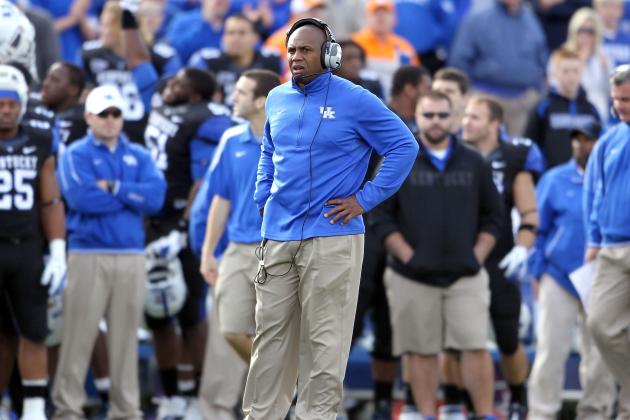 Andy Lyons/Getty Images
Joker Phillips has the hottest seat in the SEC, and Gene Chizik is right behind him.
It's pretty clear that Kentucky is going nowhere fast with Joker Phillips. The Wildcats are 1-3 this year after a 5-7 2011 season. That's bad enough. Even worse, however, is that only one of Kentucky's three losses was to an SEC opponent.
It doesn't get any easier for the Cats, either. They have to play South Carolina this week, Mississippi State next week, a desperate Arkansas team the week after and then Georgia. That's not good news for what may be the worst team in the SEC.
It's not that the Wildcats are so bad. It's just that they have trouble with non-AQ teams, can barely stay with the Big East and it's a miracle if they can cross midfield on Florida, let alone score a single point (which they didn't do). Joker needs to get this team back on the right track and win at least one of the next four games or he'll be fired by season's end.
Right behind him is Auburn head coach Gene Chizik. The Tigers played a very hard-fought game against LSU... but they lost. That's the bottom line. Whether by two points or 102, a loss is a loss, and right now the Tigers have three of them against only one win. That's right, the mighty Auburn Tigers, the national champions of just two years ago, are 1-3, and right now, that ugly record of Chizik's at Iowa State is starting to look more and more realistic and foreboding.
Like Kentucky, Auburn's schedule does them no favors. If the Tigers don't win both of their next two games (against Arkansas and Mississippi) and right the ship at 3-3, you better believe you're going to start hearing it from the Auburn fans, because after that, it goes like this: at Vanderbilt, Texas A&M, a cupcake (New Mexico State), Georgia, another cupcake (Alabama A&M) and then the Iron Bowl against Alabama. If the Tigers don't make a bowl game, Chizik is in trouble.
I'll just throw this stat out there: the Tigers don't even average 150 passing yards per game. This just gives Auburn fans more reason to believe that Gene Chizik is nothing without Cam Newton. The rest of the nation is starting to think that, too.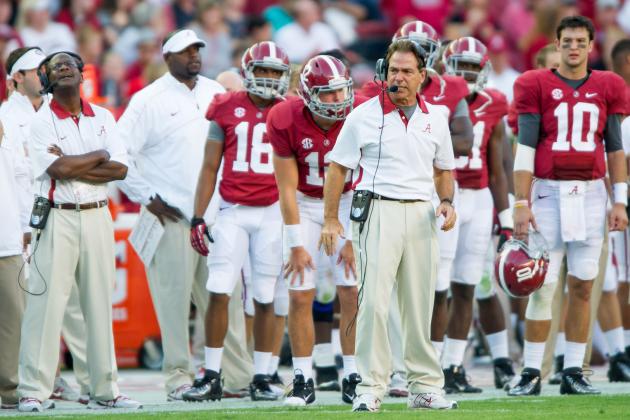 Michael Chang/Getty Images
Nick Saban's Crimson Tide is still the team to beat.
It's only been a month, but it's safe to say that through that month, Alabama is the pick of the litter in the SEC. LSU was once in that same statement as the co-best, but I'm not buying it right now. LSU simply appears to be slowly slipping behind. It's not even because of the dismissal of the Honey Badger—the defense is ferocious as ever—but Alabama's offense just seems to be a step or two ahead of LSU's.
Zach Mettenberger was supposed to launch the Tigers' offense to new heights. Instead, his unit is still in the same cellar it was in last year with Jordan Jefferson and Jarrett Lee. The one strength of this offense is its running ability. This deep stable of backs, featuring Alfred Blue and Kenny Hilliard, is a unit to fear. But the lack of a passing threat makes LSU very vulnerable against great defenses like Florida, Georgia, South Carolina and, of course, Alabama.
Meanwhile, Eddie Lacy and TJ Yeldon have silently replaced Trent Richardson in the running game and so far have done excellent jobs at it (Alabama averages over 200 yards per game on the ground), and of course, McCarron has resumed picking defenses apart and controlling the game. The balance in this offense is what appears to give Alabama the edge right now over LSU.
Obviously, there's two-thirds of the season to go. Alabama plays Ole Miss this week, then it has a bye. LSU has a breather next week against Towson, and then all-knowing SEC fans know what they have to do next—they have to go down to the Swamp for an enormous test. The teams play each other on November 3, on CBS at 8 p.m.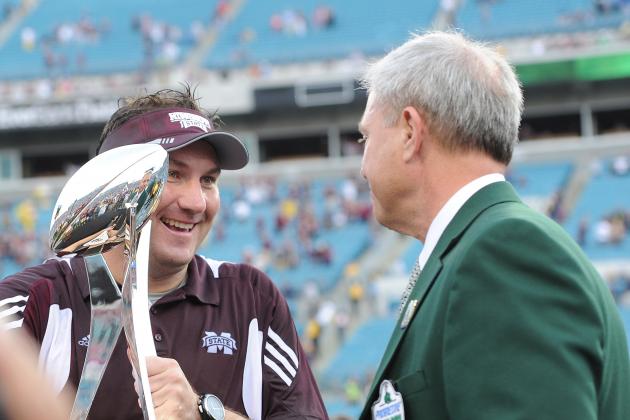 Rick Dole/Getty Images
Dan Mullen may have some trouble with "The School Up North."
This could be some Egg Bowl. Finally, the two SEC teams in the Magnolia State are legit. Yes, it's only been four weeks, but through those four weeks, the two teams are 7-1. Now, that could be because the two teams have only played one combined SEC opponent so far.
But there's just something about the new culture at these two programs. When Mississippi State beat Auburn, the Bulldogs were happy because the win avenged two heartbreaking losses in a row, but they also expected to beat the Tigers. Dan Mullen has created a winning attitude around Starkville in his three seasons there and has the Bulldogs at 4-0, 1-0 in the SEC.
This team could easily have 10 wins by season's end: The Bulldogs can lose to LSU and Alabama, but if they go 6-1 against Kentucky, Tennessee, Middle Tennessee, Texas A&M, Arkansas, Ole Miss and a bowl game opponent, there they are.
Under Dan Mullen, the Bulldogs have established themselves as a run-the-ball-down-your-throat type of team, much more of a Nick Saban team than an Urban Meyer team. Vick Ballard has been replaced by LaDarius Perkins, who has done great so far. The defense has been solid so far, (though they didn't play their best against Troy) and could really give SEC offenses fits.
Meanwhile, the Rebels' SEC East slate is slightly harder. They draw Georgia and Vanderbilt. Still, with a 3-1 start, it's easy to see this team make it to a bowl game. LSU and Alabama will probably result in losses, but if they split the other six games—against UGA and Vandy, as well as the rest of the SEC West—they will be 6-6 and bowl eligible.
It's hard to really judge the Rebels. They looked really good against Tulane, UTEP and Central Arkansas, and while their offense did its job against Texas, the defense completely blew to pieces, allowing 66 points. Needless to say, this cannot happen once SEC play starts.
So needless to say, the Egg Bowl could potentially have huge prizes at stake for both teams. Ole Miss could be fighting for bowl eligibility, something it hasn't done since 2009, and thus the first step back towards SEC relevance.
Mississippi State could be playing for as much as a share of the SEC West (I could see the Bulldogs upsetting either LSU or Alabama, but not both. I would say it would more likely be LSU, for the record) and a possible SEC Championship Game or BCS bowl berth.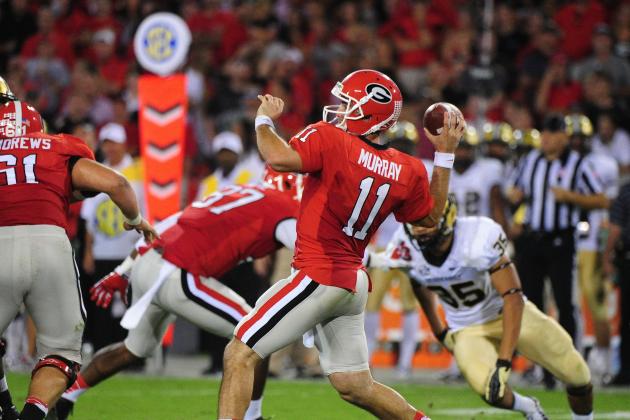 Scott Cunningham/Getty Images
QB Aaron Murray leads an explosive UGA offense.
At the beginning of the year, all we heard about Georgia was Georgia's defense this, Georgia's defense that, and then have you heard about how nasty Georgia's defense is?
After watching the Bulldogs for four games, I'm convinced that it's no better than it was last year. I would be willing to bet that South Carolina and Florida would both maul the Georgia... if it weren't for a surprisingly explosive offense.
We knew Aaron Murray was a stud QB. We knew he had a few reliable targets to throw to. We didn't know that freshman running backs Todd Gurley and Keith Marshall would provide such instantaneous and clutch contributions.
Michael Bennett and Tavarres King have made some big plays in the passing game, no doubt. But Georgia's ability to run the football with Gurley and Marshall gives it another dimension few people thought it had at the start of the season. It takes pressure off Murray and makes him have to do less, which is never a bad thing.
The one knock on Georgia so far is that the competition has been weak—Buffalo, Missouri, Florida Atlantic and Vanderbilt. Let's see how well the Bulldogs can move the football against the likes of the Gamecocks and Gators.
The defense, even against this weak row of opponents, has been very shaky. Of course the Bulldogs had a boatload of starters suspended for those games but still, allowing Buffalo, a mid-level MAC team, to put up 23 points is not a good sign. Nor is allowing a bottom of the barrel team from the Sun Belt (FAU) to put up 20. The Bulldogs' defense appeared to clean up a little bit in a 48-3 rout of Vanderbilt, but even with James Franklin, Vanderbilt isn't exactly an SEC power.
So don't worry, Georgia fans, your team is just fine. It's just that the offense is carrying the defense, not vice versa.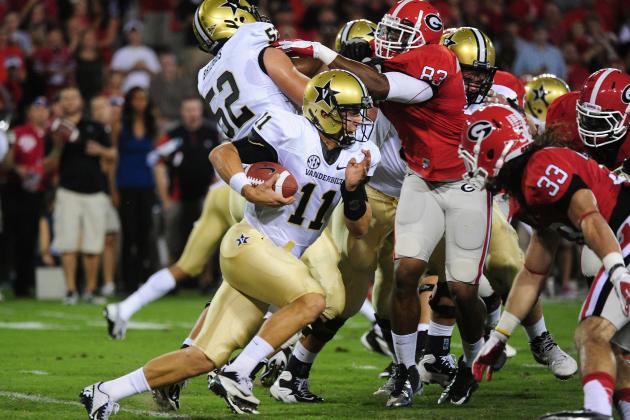 Scott Cunningham/Getty Images
Jordan Rodgers couldn't do much against Georgia.
New culture, same results.
Vanderbilt is still the same old Vanderbilt.
Maybe the Commodores got a charge out of James Franklin coming to town. But at the end of the first month, Vanderbilt is sporting a pretty typical Vanderbilt record: 1-3.
It seems to me that Vanderbilt's loss to South Carolina pretty much blew all the air out of its tires, because since going down with dignity to the Gamecocks in Week 1, the Dores have lost to Northwestern, beaten Presbyterian and been demolished by Georgia. That's not exactly the type of fire James Franklin wants to see.
Throw out the Presbyterian game, and Vanderbilt has been outscored 88-29 by the Gamecocks, Wildcats and Bulldogs. It's not just that Vanderbilt loses that makes it seem so outclassed; it's that the Dores break their fans' hearts along the way. In his second year at the helm, James Franklin's Commodore club has been left heartbroken against Arkansas, Florida, Tennessee, Georgia, South Carolina and in the Liberty Bowl against Cincinnati.
If the Commodores want to turn it around and make a bowl game, they'd better do something quick. They have winnable games against Missouri, Auburn, Massachusetts, Kentucky, Tennessee, Mississippi and Wake Forest. They will probably not beat Florida, so throw that game out and then look at the remaining seven games. Their goal needs to be to go 5-2, which is certainly achievable with those games. But they cannot afford to let the loss to Georgia become another loss and then another.
So far, the Commodores have not shown me that they are ready for that next step under Franklin. They need a big signature win to really get the nation's attention. They'll get one more chance on October 13, when Florida comes to town.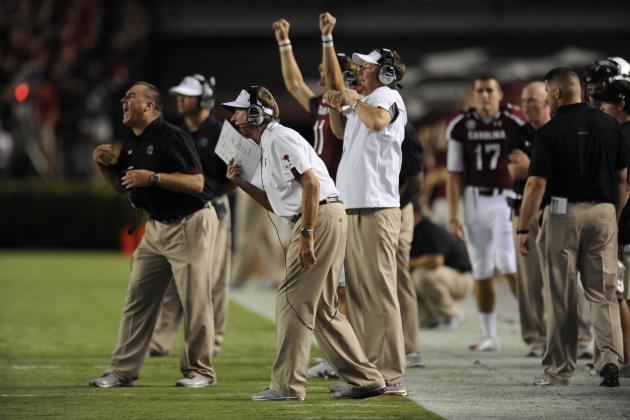 Mary Ann Chastain/Getty Images
Steve Spurrier's Gamecocks are one of three powerful SEC East teams.
This isn't so much of a slap in the face to Alabama and LSU as much as it is to their Thanksgiving rivals, or even to the rest of the division. No, the SEC East has suddenly announced its presence to the nation, reminding people all over the country that the SEC has more than one division.
Alabama and LSU are probably one and two in the nation. But the SEC East now has a trio of teams that could give either of them a run for their money, and probably beat everybody else in the division as well.
The league's divisional power swings backs and forth every few years. The last few years, Alabama, LSU and Arkansas dominated everybody. Before that, Florida, Georgia and Tennessee owned the league for a few years. When one division goes down, the other division evens it up and then takes the title as the dominant division.
It appears now that the West's reign is beginning to wind down. LSU looked less than perfect and more than frightful in an ugly 12-10 win over Auburn. Then again, Alabama looked equally atrocious against Tennessee three years ago... and won the BCS championship.
But LSU has some holes that the best teams from the East can exploit. In particular, its passing game is either god awful or simply non-existent. The Tigers can get by with their power running game against bad teams; let's see what Florida and Alabama do against them.
Team by team, (No. 1 from the East vs No. 1 from the West, No. 2 from the East vs No. 2 from the West, etc.) even if LSU just had a bad day and is truly a championship contender, I would be stunned if the East couldn't win at least three out of seven.
I guess we'll find out more when the teams play inter-division games.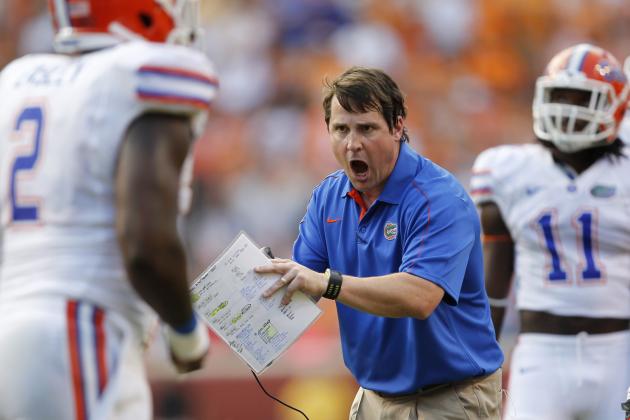 John Sommers II/Getty Images
Will Muschamp has himself a feisty, blue-collar team.
Each of the last two years, the Gators started out 4-0 only to watch the season fade toward a third tier bowl game. The team had lots of problems, everywhere you looked, and they were hidden by the fact that the Gators were winning.
This time around, however, I believe they are for real.
The 4-0 starts of 2011 and 2010 were largely due to the fact that the Gators played two cupcakes, Tennessee and Kentucky and three of the four games were at home. In 2012, on the other hand, one of those home cupcakes was swapped for a road trip to Texas A&M, and Tennessee was much improved. Don't misunderstand, Neyland Stadium is rocking when the Vols are good.
But it's more than just the wins and losses. The Gators appear to have a solid football team all around.
The offensive line, a tremendous weakness a year ago, has been upgraded to respectable status around the SEC. The defense, criticized for its lack of turnovers last year, has generated seven turnovers through four games—already half of the production they got through 13 games last year. Jeff Driskel, once considered by some the backup to Jacoby Brissett, has matured into a genuine SEC QB.
And of course, who can forget about the best running back in the SEC to this point, Mike Gillislee? He's averaged over 100 yards per game on the ground, and he's made it clear that he wants 1,500 by season's end.
The defense is still ferocious—it always was, even last year—but this year it seems to have a swagger behind it. Even without Ronald Powell and Jelani Jenkins, this group has been lights out so far in the second half. Especially the fourth quarter—the Gators have not given up a fourth quarter point yet. If the Gators can take the lead at the end of three, the odds don't look very good for the opponent.
Watch out for the Gators to seriously challenge Georgia and South Carolina for the SEC East. This year, Florida is for real.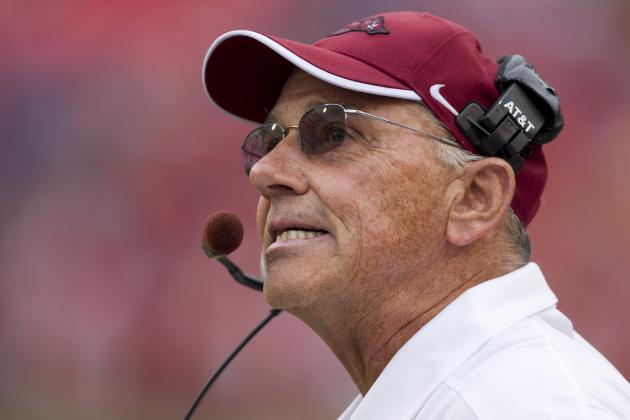 Wesley Hitt/Getty Images
It's been a rough year in the Ozarks.
There's just no other way to say it.
The preseason No. 10 team in the nation is one big sloppy pigsty.
The Razorbacks went from looking suspicious against Jacksonville State to awful against Louisiana Monroe to comically bad against Alabama and finally hit rock bottom against a mediocre Rutgers team.
John L. Smith is not fully to blame. Bobby Petrino never really recruited defense, with the notable exception of Jerry Franklin. But he's gone now, and in his place is a defense that has surrendered 36 points per game over four games—and only one of those games was against an SEC opponent.
But having said that, it's clear that neither Smith nor Tyler Wilson can get this team motivated enough to play a full four quarters. Don't misunderstand, this team has serious talent. You could make the case that the Razorbacks have the best QB and the best running back (Knile Davis) in the nation on the same team. They just don't get any help from their defense, and defense wins championships.
It's also become very obvious that this team is in deep trouble, not just for this year's bowl outlook but for the future. The month of September was a disaster recruiting-wise. Any 1-3 start is a huge turn off for recruits, but when two of those losses come against teams from awful conferences and the third is a 52-0 blowout, it makes recruits run away like the stadium is on fire.
As for this year, though, the Razorbacks really need to make a bowl game to save their brand name for the future. The schedule doesn't do them any favors—with Mississippi State, South Carolina and LSU still left to play all in the last three weeks of the season—the Hogs better win five straight and sit at 6-3. And winning five straight is no sure bet, not with road trips to Texas A&M and Auburn looming.
It will be very interesting to see if Tyler Wilson can pull this worn-out team together.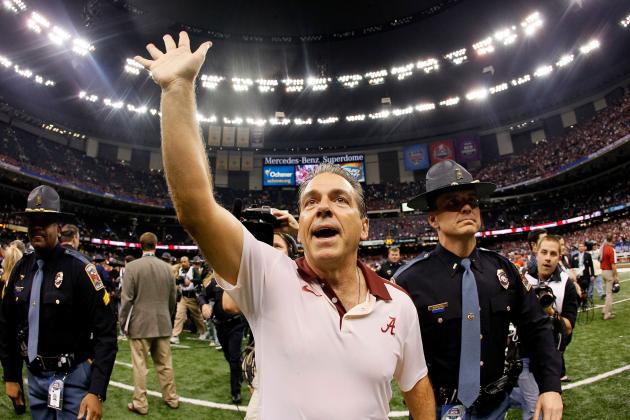 Kevin C. Cox/Getty Images
Nick Saban's Tide leads the SEC pack.
Maybe it won't be another all-SEC fest in the championship game in Miami, but you'd better believe that the SEC will place at least one team in Sun Life Stadium based on what we've seen so far.
This was supposed to be the year the SEC finally fell, the year a non-SEC team won it all. Instead, it's the non-SEC teams that are falling, one by one. The country labeled five teams as legitimate title contenders to knock off the SEC's best: USC, Oklahoma, Michigan, Florida State and Oregon.
After only one month, three of those five teams have already lost (No. 1 USC, No. 4 Oklahoma and No. 8 Michigan). If that isn't bad enough for SEC haters, three other teams from the SEC East have joined the title conversation: No. 5 Georgia, No. 6 South Carolina and No. 11 Florida. Even No. 23 Mississippi State has a legitimate mathematical shot. True, Arkansas tanked, but replacing one BCS candidate with three only makes the SEC haters feel sicker.
These six SEC teams all play a similar type of game: They have great defenses and like to run the ball down their opponent's throat and wear them out. That's the formula for championships in the SEC, and that's what has worked for the SEC Champions from 2006-2010 and for Alabama last year in the BCS championship game.
The other disturbing fact for SEC haters is that they've run out of chances to knock the big boys down in the regular season before they have a chance to get to the BCS championship. The way I see it, non-SEC schools have two more legitimate chances: Florida State vs. Florida and Clemson vs. South Carolina. They had a big chance with Michigan vs. Alabama and Michigan blew it.
But in any case, the bottom line is: The SEC is still supreme until it goes three years without winning a national championship.