5 Elite Recruits Almost Certain to Be Redshirted as Freshmen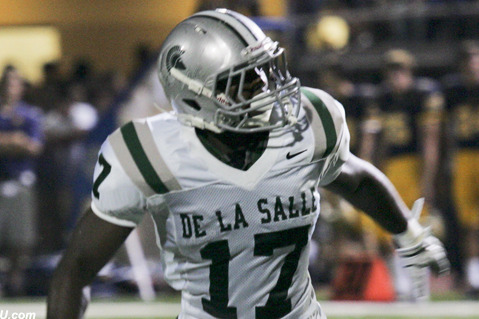 247Sports.com
Each and every high school recruit probably would prefer to play immediately. Some recruits won't go on record admitting it, but they do look at each school's depth chart and project their chances for early playing time.
Playing early as a recruit is also determined by whether they are physically ready as a player. Some recruits need to develop by spending a year adding more strength and bulk to their frame.
Combining both of these thoughts, this read is set to give you five recruits from the 2013 class that are probably going to be redshirted as freshmen. Redshirting is not a bad thing at all, despite what you may believe, and it usually serves the recruit well in the long run.
Begin Slideshow

»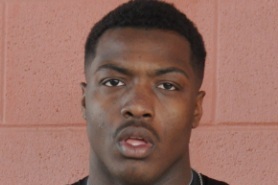 247Sports.com
Beckwith is from Louisiana and stands 6'2", 225 pounds. He lines up a lot as a dual threat QB right now, but his future projects best probably as a DE or OLB in college.
A redshirt year would be good for him because wherever he plays, he'll need technique work. Beckwith will need to learn how to use his hands if he plays end, or should he play linebacker, reading his keys will need to be learned.
I expect him to sign with LSU or Alabama.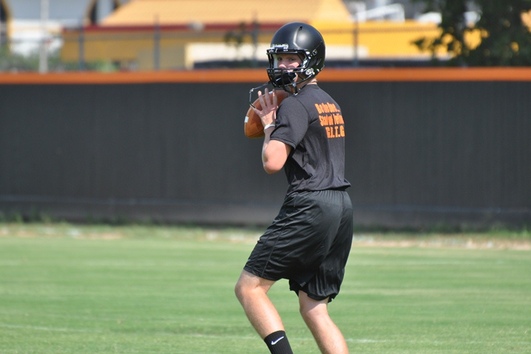 247Sports.com
Stewart is headed to Texas A&M, and the depth chart will be stacked against him. The Aggies already have Johnny Manziel starting as a redshirt freshman, plus Matt Davis is on the roster among other QBs.
Stewart, a 6'2", 195-pound signal-caller from Houston, has great field vision and release quickness. He plays with good moxie and has great instincts from the quarterback position.
Look for Kevin Sumlin to redshirt him in year one.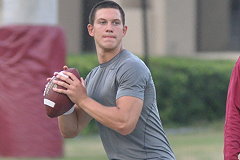 247Sports.com
From Virginia, Burns is one of the top-tier QB prospects in the country. He has great size at 6'5", 220 pounds and great physical tools to be an upper-echelon college starter.
Burns sees the field well and has good arm strength to make all the throws. He is an agile athlete that can get to the edges of the pocket to make throws on the run.
Committed to Stanford, Burns probably will be redshirted due to the system and depth chart. Josh Nunes will be back as a starter next year, plus Evan Crower and Kevin Hogan are on The Farm.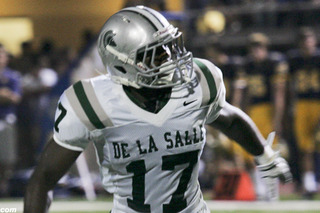 Hutchings has the skills to play the Sam linebacker spot in a 4-3 defense early in college. At 6'1" and just over 210 pounds, he is an athletic and rangy defender with great instincts.
With more reps, he can quickly learn the nuances of covering tight ends and running backs out of the backfield. The only problem is Hutchings is committed to USC, where the Trojans have a stable of talented linebackers.
With Dion Bailey, Hayes Pullard, Lamar Dawson, Scott Starr, Jabari Ruffin and Anthony Sarao all coming next year, Hutchings is probably headed for a redshirt year as a freshman.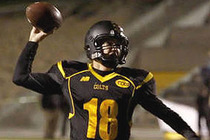 Scout.com
AJ McCarron is set to be back next year for Alabama, along with Alec Morris and Phillip Ely. So that alone likely means a redshirt year is in store for Bateman, but there is another reason.
Bateman will need time to adjust to the speed of the game, as he struggled some at The Opening for this reason. He plays fine against competition in Utah, but Utah's nothing like what he will be facing in the SEC.
Working on hurrying up his drops, mechanics and decision-making will be good points to work on as he redshirts during his freshman season. Bateman has the potential to be the most talented QB Nick Saban has had in Tuscaloosa.
Edwin Weathersby has worked in scouting/player personnel departments for three professional football teams, including the New York Giants, Cleveland Browns and the Las Vegas Gladiators of the Arena League. He spent a year evaluating prep prospects & writing specific recruiting and scouting content articles for Student Sports Football (now ESPN Rise-HS). A syndicated scout and writer, he's also contributed to WeAreSC.com, GatorBait.net and Diamonds in the Rough Inc., a College Football and NFL Draft magazine.