Tennis Players Get Airborne for Maximum Serving Power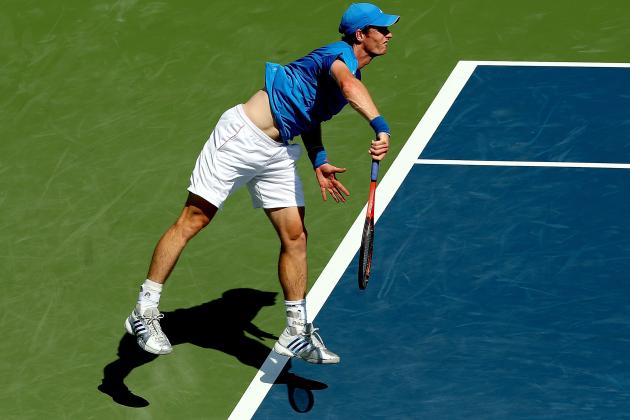 Matthew Stockman/Getty Images
Murray gets off the ground to blast a serve.
Professional tennis is now being played with more explosive power than ever, but sometimes simple improvements in technique and athleticism—and not only space-age advances in racquet and string technology—are making the difference.
In the case of the serve, players are making greater use of their legs to achieve more extension and racquet-head speed and get more bang for their Babolat or Wilson buck.
In the following slides, I'll show how players in recent decades have steadily been inching more and more skyward in their search for a bigger weapon.
Begin Slideshow

»
Jack Kramer, as shown here (see 0:21 in particular) in the 1947 Wimbledon final against fellow American Tom Brown, had a smooth and powerful service motion, but he was limited by rules in place at that time.
Prior to 1961, the International Lawn Tennis Federation prohibited players from having both feet off the ground while serving. The rule obviously restricted their extension and racquet-head speed because they could not tap into the full potential of their legs.
Some players remarkably managed to rack up big ace counts despite that limitation, with Ellsworth Vines famously hitting 30 aces in just 12 service games in the 1932 Wimbledon final against Bunny Austin.
Vines's serving prowess inspired Bunyan-esque tall tales, including the following exchange cited by Palm Beach Life magazine:
Umpire: "Go ahead and serve, Mr. Vines."

Vines: "I already did."

Umpire (to Vines's opponent): "Did Mr. Vines serve?"

Opponent: "I don't know. I wasn't listening."
Vines was the Babe Ruth of tennis, blasting aces when few others could, but the brief Kramer/Brown highlights above, or these from the 1934 Wimbledon final, indicate it was rare prior to 1961 for the serve to be a devastating weapon.
As for Vines, I'm skeptical that the same serve whizzing past the 5'9" Austin would be untouchable by bigger athletes like Roger Federer or Novak Djokovic.
Stan Smith and Ilie Nastase are shown here playing 11 years after the rule change in the Wimbledon final, yet neither player is springing up into the serve as much as he could.
Smith, in particular, was tall for a tennis player, standing at 6'4". Yet if you freeze the video (at 22:23, for example), his contact point on the serve is that of a 6'0" player today.
His serve was good enough to give him an advantage in the point and get to the net—and win the 1972 Wimbledon, of course—but it was nowhere near the weapon it could have been.
Advances in racquet technology brought big changes to tennis between 1972 and 1988.
Jimmy Connors used the steel-framed Wilson T2000 in the 1970s and early 1980s, and by the mid-1980s everyone had made the switch to graphite.
Although the new sticks surely had a big impact on the serve, players also were learning to use their legs more and more for that extra elevation, extension and racquet-head speed, as exemplified here (see, for example, at 15:20) in the 1988 US Open final between Mats Wilander and Ivan Lendl.
Nearly a quarter-century after that Wilander/Lendl final, tennis has seen further advances in racquet technology, while hi-tech polyester strings are allowing players to swing away like never before, confident that extreme spin will keep the ball in the court.
Advances in the serve, as players began launching themselves higher and higher off the ground, produced some yawn-inducing serve fests at Wimbledon between players like Pete Sampras and Goran Ivanisevic.
Less attention has been given to the serve in recent years, as slower surfaces and great defense have turned several recent Grand Slam finals into interminable wars of attrition.
But as this video of Roger Federer and Novak Djokovic at the 2012 Wimbledon shows, tennis is at its all-time peak in terms of players using their legs for maximum power and the highest possible contact point.
How much higher can they go?
I suspect the tennis player of the future will be like an NBA Slam Dunk Contest champion with a 40" vertical leap and Jordan- or LeBron-like hang time.
Servers have come a long way since 1961, but there's no reason to think the biggest weapon in tennis can't become even more devastating.