20 Fighters with the Potential to Wear UFC Gold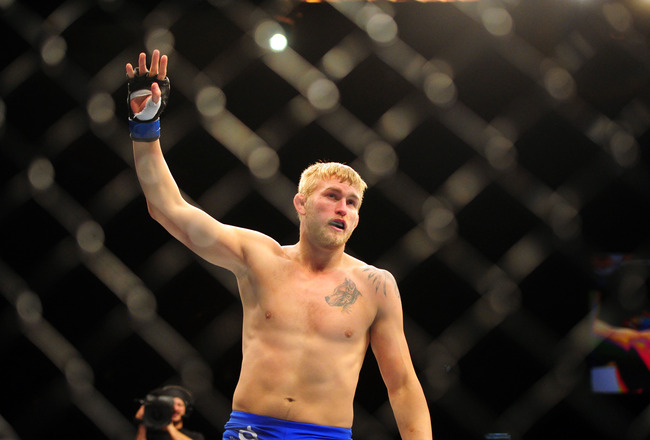 Mark J. Rebilas-US PRESSWIRE
For the most part, this list is comprised of younger fighters that have the potential to develop into UFC champions. That's because I've weighted the likelihood of a fighter winning a title 10 years from now in equal measure to the likelihood of their winning one tomorrow.
Additionally, fighters on the precipice of competing for a UFC title have been given the right of way over those farther removed from the opportunity.
Consequently, perennial contenders like Chael Sonnen and Jon Fitch have not been included. Not because they aren't serious title threats, but because they have less opportunity than some of the younger guys I've given preference to.
That isn't to say no veterans have found their way onto the list. On the contrary, you'll see some faces very much indigenous to the UFC title scene.
The only strict rules I've put in place are that no current or former UFC champions are eligible, and only fighters currently in the UFC were considered.
For each inclusion I've classified the likelihood of attaining UFC gold by including a "Very High," "High," "Moderate," "Low" or "Very Low" rating. "Very High" express greater probability than "Very Low."
Now that we're through all the rules and such, on to the list!
Joseph Benavidez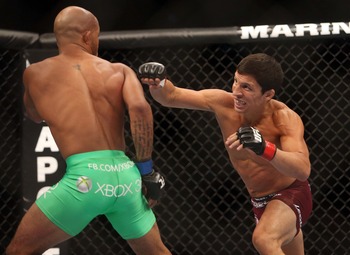 Tom Szczerbowski-US PRESSWIRE
I, like many others, believed that Benavidez would walk out of the Air Canada Centre a champion after UFC 152.
Like those many others, I was wrong.
I do remain convinced, however, that Benavidez has the makings of a champion and will one day get the UFC flyweight strap. Sooner rather than later, too.
Benavidez has firmly established himself as the No. 2 flyweight in the world and it shouldn't be long before he works his way back into a title fight. When that day comes there will be a very real possibility that he wins.
Potential to Wear UFC Gold: High
Alan Belcher
Joe Camporeale-US PRESSWIRE
Belcher is a guy that has flown under the radar for a long time, but is starting to come into his own and is gaining recognition for it.
The middleweight title picture is pretty obscured these days, but if you examine it closely enough, you'll see a bloated effigy of Johnny Cash bobbing around. And though Belcher may not be as closer to a title shot as guys like Michael Bisping, Tim Boetsch or Chris Weidman, he isn't all that far behind.
Belcher is poised to take on Yushin Okami this December. A win in that match would put him no more than a single victory from a title shot.
But even then there is still that Anderson Silva guy to deal with.
Potential to Wear UFC Gold: Low
Michael Bisping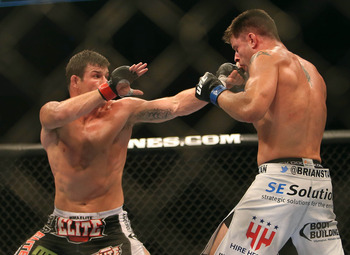 Tom Szczerbowski-US PRESSWIRE
It took over six years, but at UFC 152, Bisping finally scored a win over a consensus top-10 middleweight.
This most recent victory puts Bisping very much in the thick of the UFC middleweight title hunt, perhaps even establishing him as the front-runner to challenge for the strap.
He still may have to contend with the likes of Chris Weidman, Tim Boetsch and Alan Belcher, but if any one middleweight were to be given a title shot tomorrow, it would almost certainly be the Count.
Still, there is that other guy Bisping will have to deal with the earn his UFC gold. You know, Anderson Silva.
The Birt may be the one of the best 185 pound fighters out there right now, but that doesn't mean he'll be able to waltz into a championship win.
In any other division his chances would be better, but with Silva dominating the weight class and Weidman his heir apparent, Bisping may have peaked in the wrong place at the wrong time.
Potential to Wear UFC Gold: Moderate/Low
Tim Boetsch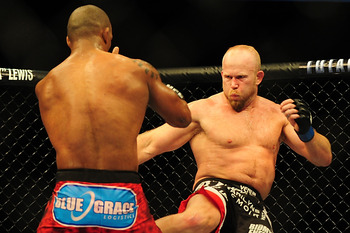 Anne-Marie Sorvin-US PRESSWIRE
That most of the UFC's middleweight title contenders have surnames beginning with the letter B is a convenient thing for an alphabetical list.
From Belcher to Bisping, here we arrive at Boetsch.
The Barbarian has his fair share of skeptics—I count myself among them—but he continues to prove them (me) wrong.
With a four-fight win streak comprised of victories over Kendall Grove, Nick Ring, Yushin Okami and Hector Lombard, Boetsch is very much a legitimate title player. If he is able to pull out just one more upset—this time over Chris Weidman—he may very well get to test Anderson Silva in 2013.
Given his position in the middleweight title picture and what he has accomplished of late, Boetsch's omission from this list would be inexcusable.
So, here he is. Included begrudgingly, but included all the same.
Potential to Wear UFC Gold: Very Low
Travis Browne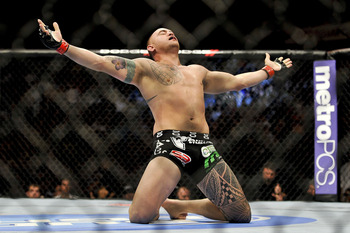 Paul Abell-US PRESSWIRE
After debuting to so-so results in the UFC—a draw opposite Cheick Kongo—Browne has reeled off three consecutive wins, looking every bit the part of a legitimate contender along the way.
The 30-year-old Hawaiian is a deadly striker who showed a wrinkle to his game by submitting Chad Griggs earlier this spring.
He'll need to put all his tools to good use when he fights Antonio Silva this October, in a match that will either halt Browne's surge, or springboard him ever closer to a heavyweight title shot.
The main obstacle to Browne winning UFC gold is that he possesses a similar skill set to current champion Junior Dos Santos, though one probably not quite so refined.
Potential to Wear UFC Gold: Low
Jussier Da Silva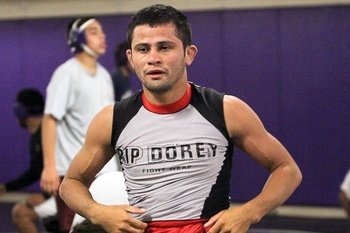 Photo by cagepotato.com
Da Silva has looked outstanding as a flyweight, but as we've learned more than once over the years, it's difficult to project how a fighter will do in the UFC regardless of how they've look in other promotions.
That's why I include Formiga on this list with the attached disclaimer of "caution."
The Brazilian is set to make his UFC debut against rising star John Dodson, in what has the distinct feel of a title eliminator, even if it has not officially been termed as such.
The fight is set for October 5, so it won't be long before we know just where the newcomer fits into his new promotion.
Potential to Wear UFC Gold: Moderate
Phil Davis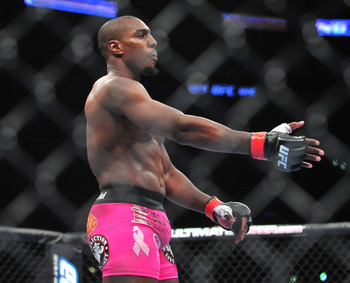 Gary A. Vasquez-US PRESSWIRE
Since being exposed by Rashad Evans and threatened by Wagner Prado in an injury-shortened no contest, it seems that a lot of MMA fans have soured on Davis. The former "next big thing" has begun fading into the light heavyweight mass, becoming more of a middling presence than a threat to dethrone Jon Jones.
While some of the criticism surrounding Davis is fair, let's not forget that he is still young in the sport and possesses the athletic gifts to overcome the deficiencies in his game, if given the time to work out the kinks.
While some of the luster has dissipated for Mr. Wonderful, he is still a top wrestler and skilled submission artist at 205 pounds, and could conceivably reassert himself as a future contender with a strong showing this October 13, at UFC 153.
On the other hand, as long as Jon Jones is ruling the light heavyweight roost, how good of a chance does anyone really have of winning UFC gold?
Potential to Wear UFC Gold: Low
Nate Diaz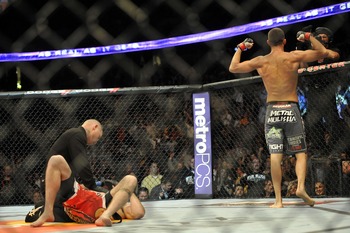 Joe Camporeale-US PRESSWIRE
The star of the younger Diaz brother has officially eclipse the elder's, now that Nate finds himself on the precipice of becoming a UFC champion.
Diaz is set to take on incumbent lightweight champ Ben Henderson at UFC on FOX 5, which is set to go down from Seattle, Washington, this December 8.
The submission specialist turned boxing nightmare has steamrolled competition of late, blasting through Takanori Gomi, Donald Cerrone and Jim Miller in due succession.
Now, determining his odds of one day adorning UFC gold is as simple as deciding whether or not you believe he'll be able to handle Henderson later this year.
Potential to Wear UFC Gold: High
John Dodson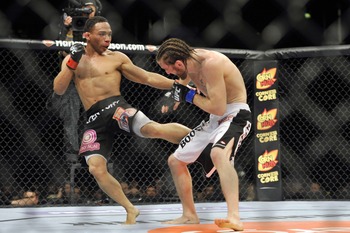 Joe Camporeale-US PRESSWIRE
With a mundane professional record of 13-5, it takes more than a cursory glance to see that Dodson is indeed a legitimate candidate to become a UFC champion.
The Magician's next bout will come against fellow title-hopeful, Jussier Da Silva, in a UFC on FX 5 match that will likely determine who newly crowned flyweight champion Demetrious Johnson's first title defense is against.
Dodson has looked outstanding throughout his UFC tenure, which encompasses a pair of official victories and an Ultimate Fighter tournament win.
Potential to Wear UFC Gold: Moderate
Alexander Gustafsson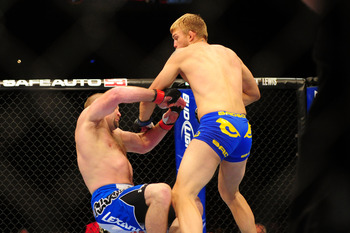 Mark J. Rebilas-US PRESSWIRE
Since falling prey to Phil Davis back in April of 2010, Gustafsson has reeled off five straight wins in a crowed UFC light heavyweight division.
His streak has earned him a step up in competition, and he will now face former champion Mauricio "Shogun" Rua this December. Many wonder whether or not a victory over Rua will vault Gustafsson into a title shot.
While that remains uncertain, win or lose, Gustafsson's chances for a UFC title are not entirely tied into his bout with Rua. On the contrary, the young Swede will have ample time afterwards to continue his pursuit. At just 25-years-old, Gustafsson is only beginning to reach the heights he will soar for the next several years.
But despite the bright future lying in wait for the Mauler, Gustafsson is in a similar position as Phil Davis—talented as Hell, but not on the level of the division's current, equally youthful overlord.
Potential to Wear UFC Gold: Moderate/Low
Erik Koch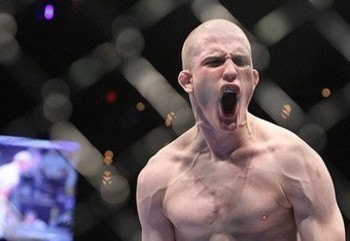 Photo by mmaweekly.com
Just 23-years-old, Koch already won his way into a title fight, but had to bow out because of an injury.
That setback should prove to be of the temporary sort as the youngster is as talented as they come, and is really only getting his career underway.
Koch, known to most for his strong wrestling and submissions, has shown vastly improved striking over his past couple contests and has the makings of a champion.
Unfortunately, his task is not made any easier by the presence of Jose Aldo and Frankie Edgar jamming up the featherweight division. Still, in time, Koch may very well rise to the level of those juggernauts.
Potential to Wear UFC Gold: High/Moderate
Hector Lombard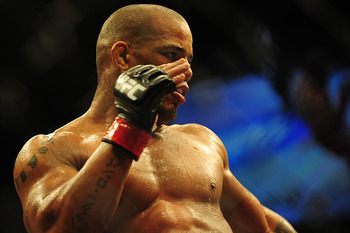 Anne-Marie Sorvin-US PRESSWIRE
Before his ghastly UFC debut, Lombard was considered a top threat to Anderson Silva's middleweight dominance.
Now, many view him as another over-hyped fighter good enough to dominate the smaller shows, but not good enough to hack it in the big times.
Lombard's loss to Tim Boetsch cannot be ignored, but let's not totally write him off just yet. In a perfect world he will rebound, remind us why we were excited to hear that he signed on with Zuffa, and make a serious title run.
The world is, of course, far from perfect, but you never know. Let's keep Lombard in the loop at least until he squanders the chance to redeem himself.
Potential to Wear UFC Gold: Very Low
Rory MacDonald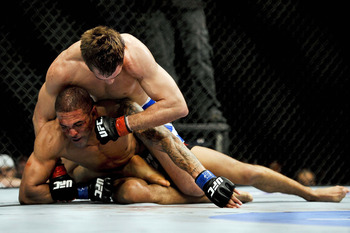 Paul Abell-US PRESSWIRE
MacDonald is an undeniable talent, the type that only comes along once every few years. His mix of striking, wrestling, grappling, endurance and maturity add up to make him a viable championship contender in every way.
However, so long as Georges St-Pierre, MacDonald's friend, holds the welterweight strap, the younger fighter's title aspirations may have to be put on hold. At least at welterweight. But MacDonald is young and will likely be in his prime as GSP's career is winding down.
So whether it happens next year or seven or eight years down the road, the chances are pretty strong MacDonald will one day be a UFC champ.
Potential to Wear UFC Gold: Very High
Gray Maynard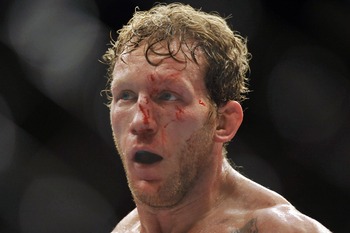 Joe Camporeale-US PRESSWIRE
Gray has come about as close as you can get to a UFC title without actually winning it. Twice.
But missed opportunities do not signify the elimination of future ones, nor suggest failure to grasp opportunities will be a continued trend for Maynard.
Maynard is still a top fighter in a talent-rich division and is constantly given the chance to prove himself against the best. That privilege is a double-edged sword, but one useful for separating the elite from those just a fraction below.
In non-title fights, Maynard is 11-0. Considering the competition he's fought, that seems pretty elite to me.
He'll get another chance at UFC gold, and when he does, he might just make good on it.
Potential to Wear UFC Gold: Moderate
Michael McDonald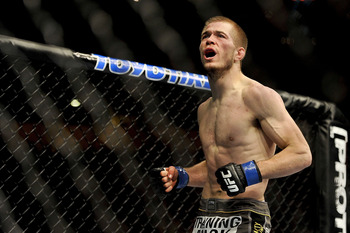 Paul Abell-US PRESSWIRE
At just 21-years-old, McDonald has more time to work with than anyone on this list. He might have more talent too.
Mayday is an explosive striker who has established himself as a top-tier UFC bantamweight and already factors into the division's title picture. His recent slaughter of Miguel Torres marked a successful step up in competition, one paving the way to greater heights.
The UFC's 135-pound weight class is very competitive and only getting better, so no-one is ensured the title. But McDonald is as close as you can get.
He'll have to deal with Dominick Cruz and Renan Barao over the next several years, but again, he's 21, and the luxury of time really amplifies his already considerable chances of landing a title.
Potential to Wear UFC Gold: High/Very High
Stipe Miocic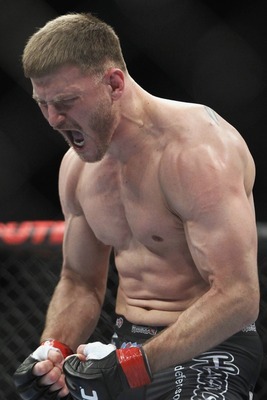 Matt Ryerson-US PRESSWIRE
Knockout power is an essential attribute for any high level heavyweight mixed martial artist. Miocic has it. He also has sufficient technique to make that knockout power count.
In addition to sporting some dangerous hands, Miocic is an accomplished collegiate wrestler who has used his craft to put foes on the mat when need be. Recently, he exhibited this talent against fellow up-and-comer Shane Del Rosario.
Miocic is quickly scaling the heavyweight ranks and is looking to further his progression this September 29, when he battles Stefan Struve.
Potential to Wear UFC Gold: Moderate
Erick Silva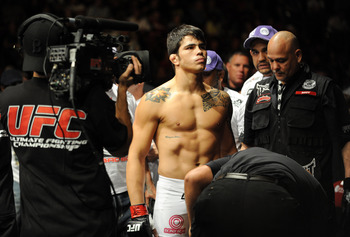 Steve Mitchell-US PRESSWIRE
Silva has looked as good as a three fight UFC sample size can possible make a fighter look. Granted, his most impressive win came over floundering welterweight competitor Charlie Brenneman, but a middling strength of schedule is not something that can be blamed on Silva himself.
Though most UFC fans know him for a knockout specialist, Silva's bread and butter is his submission game. Combined with the explosive power he has shown during his UFC tenure, Silva's complete skill set makes him an offensive devastator.
Still, Silva finds himself competing at an inopportune time. Current champion Georges St-Pierre is as dominant as they come, and heir-apparent Rory MacDonald is waiting in the wings. Whether he is able to sneak in and usurp the spoken for title remains to be seen, but doing so will be no easy task.
The most important—and most telling—bout of Silva's career will go down on October 13, when he takes on Jon Fitch at UFC 153.
Potential to Wear UFC Gold: Moderate/Low
Stefan Struve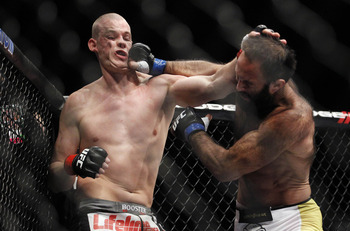 Matt Ryerson-US PRESSWIRE
Though just 24-years-old, Struve is already a seasoned UFC veteran with 11 fights under his belt. Since 2009 he has compiled an 8-3 record with the promotion, vaulting himself into the upper-echelons of the heavyweight division.
The Dutch submission specialist will have the opportunity to further his title run when he takes on Stipe Miocic this September 29, at UFC on Fuel TV 5. His opponent, though, is not exactly one that will easily be persuaded to put his own title aspirations on hold.
Struve's three UFC losses have all come against big punchers that have been able to penetrate the exterior of his extensive range and blast away from the inside. Miocic fits that mold and will embody a test Struve must overcome if he hope to don UFC gold before he calls it quits.
Potential to Wear UFC Gold: Low/Very Low
Chan Sung Jung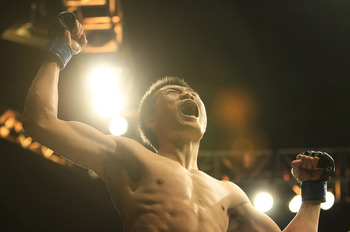 Tom Szczerbowski-US PRESSWIRE
After gaining notoriety in the WEC for his ability to walk through punches, Sung Jung has developed into a legitimate star in the UFC.
In three fights with the promotion, Sung Jung has scored three wins—and three finishes—over good, veteran fighters.
The Korean Zombie's status is in limbo right now, but he can't be too far from earning a title shot, having just recently won a quasi No. 1 contender bout against Dustin Poirier this May.
Though you probably won't be able to find many people willing to back Sung Jung in a fight against Jose Aldo or Frankie Edgar, he remains a top featherweight fighter, and one worthy of consideration as a future champion.
Potential to Wear UFC Gold: Low
Chris Weidman
Kyle Terada-US PRESSWIRE
Formerly a middleweight prospect, Weidman now stands as a full-fledged middleweight contender, one many people believe is a UFC champion in the making.
Weidman has looked unstoppable during his rapid ascent up the 185-pound ladder, going 5-0 with the promotion, defeating two title contenders along the way.
Weidman's next test will come in the form of Tim Boetsch, who he will face at UFC 155. The bout is not an official title eliminator, but an impressive performance might be enough to garner Weidman a shot at Anderson Silva's strap.
Whether it comes in the near future or sometime further down the road, Weidman will compete for a UFC title, and chances are he will win it. The only real question is whether or not that day comes when Silva is still at the top of the heap.
Potential to Wear UFC Gold: Very High
Keep Reading