LSU vs. Towson: Complete Game Preview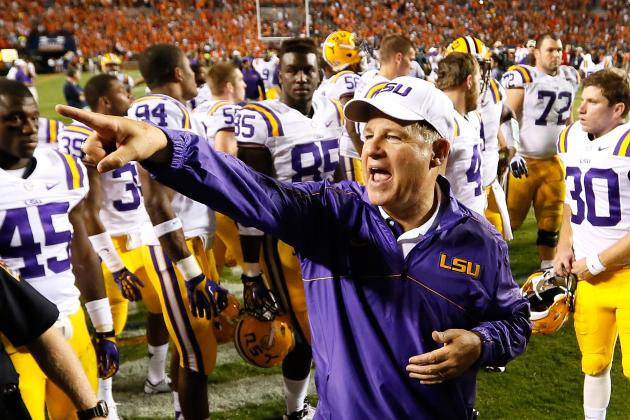 Kevin C. Cox/Getty Images

Les Miles and the LSU Tigers escaped Auburn with a close 12-10 win this past Saturday.
Chances are that this Saturday's tilt against Towson won't be quite as nerve-racking for LSU fans and alumni.
The 3-0 Tigers will host Towson in what should be a tune-up game before the team's much-anticipated SEC clash with Florida the following week.
But knowing Les Miles and this LSU coaching staff, you can bet that LSU will not be looking past this game and will have their sights set on beating a Towson team that is off to a respectable 2-1 start this season.
With that said, let's go ahead and provide a complete game preview to get you ready for this Saturday's matchup between LSU and Towson.
Bleacher Report Style!
Begin Slideshow

»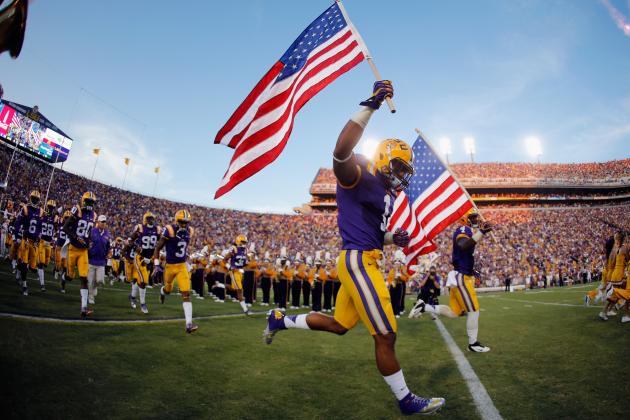 Who: LSU vs. Towson
When: Saturday, Sept. 29, at 7 p.m. (EDT)
Where: Baton Rouge, La.
Stadium: Tiger Stadium
TV: ESPNU
Live Stream: WatchESPN
Radio: Eagle 98.1 WDGL (LSU)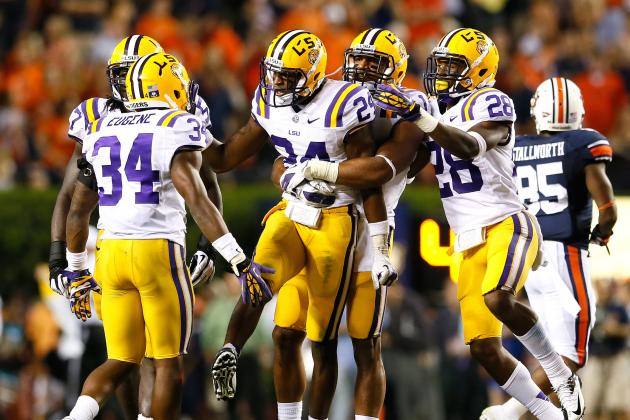 Kevin C. Cox/Getty Images

Offense
QB 8 Zach Mettenberger
17 Steven Rivers
RB 27 Kenny Hilliard
42 Michael Ford
11 Spencer Ware
FB 44 J.C. Copeland
43 Connor Neighbors
X 82 James Wright
86 Kadron Boone
Z 3 Odell Beckham Jr.
10 Russell Shepard
3-Wide 80 Jarvis Landry
LT 68 Josh Dworaczyk
RT 72 Alex Hurst
LG 70 La'el Collins
RG 74 Josh Williford
C P.J. Lonergan
Defense
LE 49 Barkevious Mingo
LT 77 Josh Downs
RT 18 Bennie Logan
90 Anthony Johnson
RE 99 Sam Montgomery
LB 52 Luke Muncie
LB 46 Kevin Minter
LB 57 Lamin Barrow
CB 32 Jalen Collins
28 Jalen Mills
CB 24 Tharold Simon
FS 1 Eric Reid
SS 6 Craig Loston -or- 26 Ronald Martin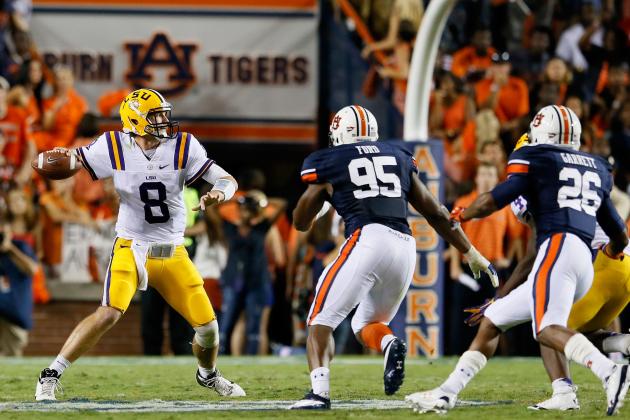 Kevin C. Cox/Getty Images

LSU had a hard-fought win over Auburn in the Tigers' 2012 SEC opener Saturday night.
It was a defensive slugfest from start to finish as LSU forced three turnovers and a first-quarter safety, which proved to be the difference in the final score.
On the offensive side of the ball, the Tigers were paced by that solid rushing attack. As a team, LSU totaled 182 yards on the ground, led by junior running back Spencer Ware's 90 yards on just 16 carries. His fellow backfield mate, Michael Ford, added 41 yards and the lone touchdown for the Tigers in the game.
Zach Mettenberger was rather average in this one, completing 15-of-27 passes for 169 yards. He didn't throw a touchdown pass but also didn't throw an interception. He did, however, have two first-half fumbles in the game.
All-in-all, it wasn't pretty, but a win is a win, and this one helped LSU remain undefeated on the young season.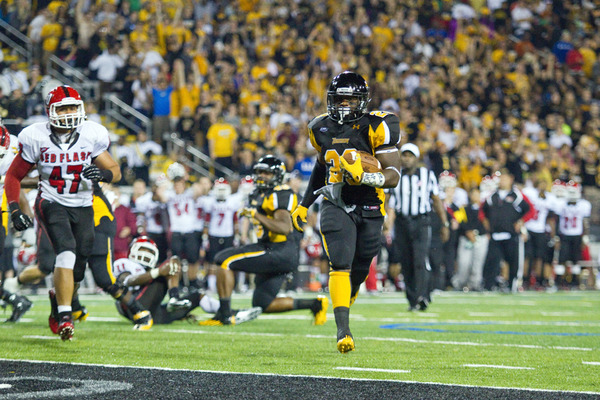 Towson put on an offensive clinic last weekend in a 46-17 route over St. Francis (PA).
Sophomore running back Terrance West had a breakout game for Towson, rushing for three touchdowns, which broke the school's career rushing touchdown record.
As a team, Towson totaled 262 yards on the ground in the blowout win. A total of three players rushed for 60-or-more yards on the day.
Senior quarterback Grant Enders looked sharp as well, completing 14-of-18 passes for 179 yards and two touchdowns for Towson.
The win helped Towson improve to 2-1 on the season, heading into this matchup against No. 3-ranked LSU.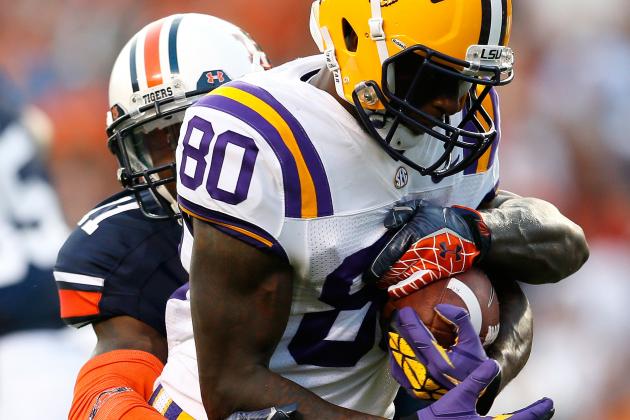 Kevin C. Cox/Getty Images

For LSU, this game serves as a tune-up to get ready for next week's SEC clash against Florida.
As I said before, Les Miles and his coaching staff will have LSU ready and focused for this game against Towson, make no mistake about it. But in reality, I, as well as probably everyone else who watches college football, would be shocked if this thing is even remotely close.
Towson has wins over the likes of St. Francis and William & Mary, while LSU has notched wins over Auburn and a blowout victory over Washington, thus far.
For Towson, this is a chance to compete against top-notch competition and maybe make a highlight on ESPN.
As far as the score, if it was within 40 points, I would be shocked.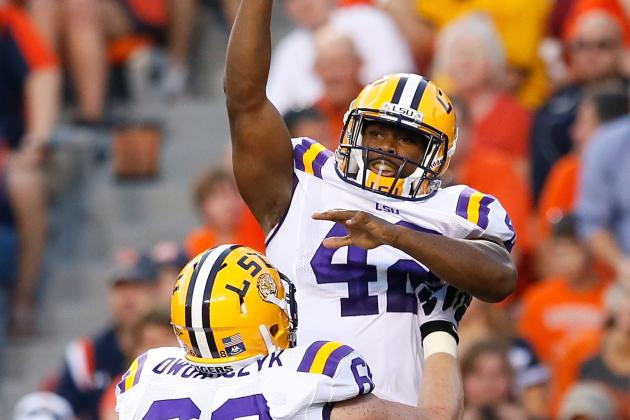 Kevin C. Cox/Getty Images

We have seen Alfred Blue break out before getting hurt last week against Idaho.
We have seen Kenny Hilliard break out as well and lead this Tigers team in rushing this season.
Last week, we saw a big game from Spencer Ware, leading the Tigers in rushing with 90 yards on 16 carries.
But where has Michael Ford been during all of this?
Ford, who led the Tigers in rushing last season, has yet to have that big breakout game in 2012.
Through four games this season, Ford has totaled just 148 yards and one touchdown, which came last weekend against Auburn.
LSU needs to have Ford get back to his old ways and have a breakout game this week in preparation for the heart of the SEC schedule quickly approaching.
Look for him to get back on track this weekend against Towson.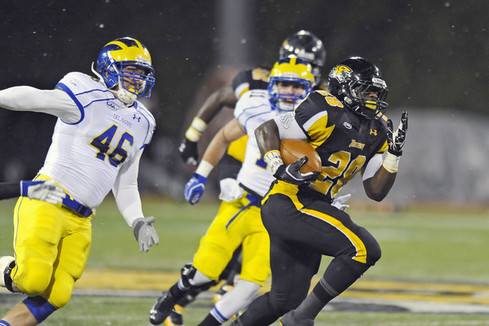 Photo compliments of the Baltimore Sun Newspaper
This is a no-brainier here.
Sophomore running back Terrance West is the engine that makes this Towson offense go.
Through three games this season, West has rushed for just under 250 yards and five touchdowns for Towson.
In fact, this past week, West set the school's career rushing touchdown record, and remember, he's just a sophomore.
As a team, LSU has been pretty stout against the run this season, so if they can contain West and this Towson rushing attack, then this one should be well in hand by the second half.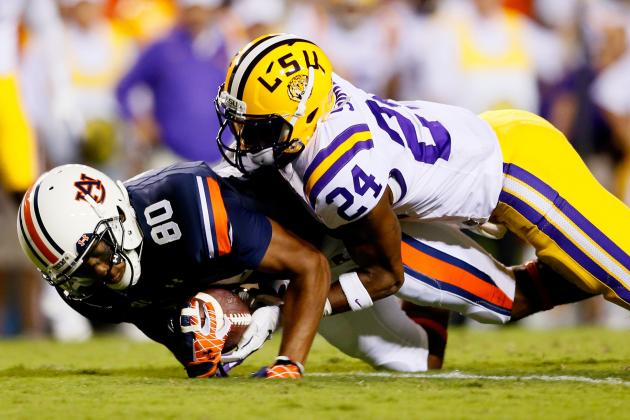 Kevin C. Cox/Getty Images

LSU will win if...they don't show up to the game all hungover.
No, in all seriousness, LSU should win this game in a rout. And of course, that's no disrespect to a Towson team that is 2-1 on the season, but the SEC is simply a different animal than the CAA.
Look for Zach Mettenberger to have a solid outing in this one, which is a good thing as he prepares to enter the thick of the SEC season after this in his first year as LSU's starting signal caller.
LSU will win by at least 40 points if they are able to dominate the ground game and contain Towson's ground game, led by sophomore back Terrance West.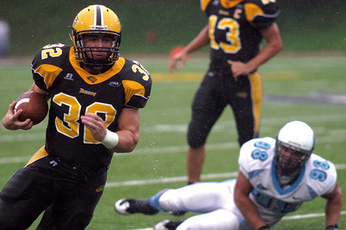 Towson will win if....a miracle happens.
If Towson were to beat LSU, that would arguably top Appalachian State beating Michigan for the top upset in college football over the past decade.
Towson would need Terrance West to rush for 200-plus yards and quarterback Grant Enders to have a career day if this offense is going to put up points against LSU's dominant defense.
So your saying there's a chance....
Not so much.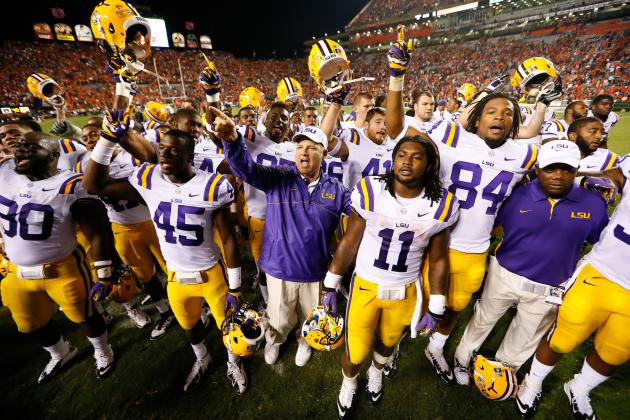 Kevin C. Cox/Getty Images

LSU should come out strong and firing on all cylinders after that close call last week against Auburn.
The Tigers will continue to rely on a dominant rush attack and a suffocating defense in this one.
Look for Michael Ford to finally have that breakout game and for Zach Mettenberger to manage the offense to near-perfection in this game.
LSU should control the clock, control the line of scrimmage and have their way with a Towson team that will be simply outmatched in this contest.
LSU rolls.
Make it: LSU 63, Towson 10