Start 'Em, Sit 'Em Week 4: Smart Matchup Plays, Sleepers and More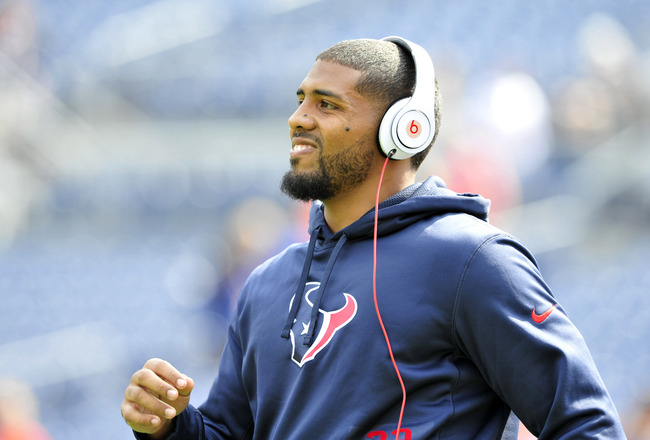 Ron Chenoy-US PRESSWIRE
Fantasy football is only getting more intense.
With October coming up quickly, the fantasy postseason race will begin shortly, and Week 4 is one crucial turning point each year.
This is the game capable of changing the course of your season and gaining momentum. The same can certainly be said about real football.
Houston Texans running back Arian Foster is just one stud to keep an eye on this week. Although the Texans are 3-0, Houston has to keep rolling if it wants another AFC South title and to contend for a No. 1 seed.
Along with Foster, though, we have some duds and sleepers among others as well. So let's get to it and check out what's in store for this week.
Favorable Matchup: Michael Turner, RB (Falcons) vs. Panthers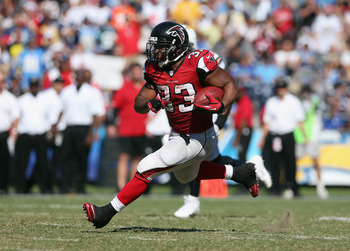 Jeff Gross/Getty Images
Michael Turner may be 30 years old, but the man is a force between the tackles.
Week 4 brings Turner a favorable matchup in the Carolina Panthers.
Through three contests in 2012, the Panthers have allowed an average of 139.3 rushing yards per game and the pass defense isn't much better. Well because of Matt Ryan and Co. around Turner, Carolina will have to put more emphasis at honoring the Atlanta Falcons' passing game.
Every receiving target on the Falcons is capable of beating man coverage at a consistent rate, so the linebackers won't be entirely focused at stopping the run. Therefore, Turner sees fewer defenders in the box and slightly wider running lanes on first- and second-down situations.
Favorable Matchup: Vernon Davis, TE (49ers) at Jets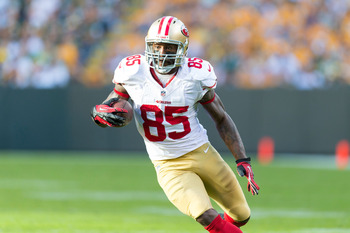 Jeff Hanisch-US PRESSWIRE
Don't lose faith in the San Francisco 49ers' passing game just yet.
The Minnesota Vikings had a strong game plan to isolate Alex Smith's targets in coverage, and it also doesn't help that Frank Gore was given just 12 carries.
The Week 4 matchup for Vernon Davis, though, won't be as difficult as expected. Per Rich Cimini of ESPN New York:
New York Jets star Darrelle Revis, widely regarded as the best cornerback in the NFL, tore the ACL in his left knee and will require season-ending surgery.

A Monday morning MRI exam confirmed the Jets' worst fears, leaving their struggling defense without its best player.
Definitely a tough break for the Jets, and it only makes defending San Francisco more difficult. Expect Smith to dish the ball around, because play-action will become more relevant against Gang Green.
Favorable Matchup: Seahawks (Defense) at Rams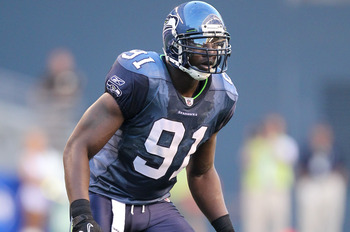 Otto Greule Jr/Getty Images
Monday night madness aside, the Seattle Seahawks defense is quite legit.
In holding the Green Bay Packers to just 12 points, the Seahawks sacked Aaron Rodgers eight times and totaled 12 quarterback hits.
Additionally, the Packers only managed 268 total yards despite possessing the ball for 33 minutes and 39 seconds. And this is an offense that's supposed to be one of the NFL's most explosive.
In Week 4, the Seahawks face the St. Louis Rams, who are coming off a six-point, 160 total-yard performance against the Chicago Bears. St. Louis still lacks consistent pass protection and doesn't present much outside of running back Steven Jackson.
This game could get ugly fast.
Sleeper: Christian Ponder, QB (Vikings) at Lions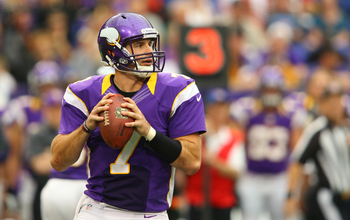 Adam Bettcher/Getty Images
Christian Ponder has gradually developed nicely.
And his performance versus the San Francisco 49ers has created more fantasy football appeal.
Ponder accounted for 231 total yards and all three of the Minnesota Vikings' touchdowns on Sunday, and he faces a vulnerable defense in Week 4. Coming to the Twin Cities are the Detroit Lions, who just gave up 44 points and 437 total yards to the Tennessee Titans.
Backed by a reliable running game in Adrian Peterson, Ponder has the potential to dice up Detroit even more than San Francisco. If anything, the second-year gunslinger has definitely displayed more confidence under center, and Minnesota's offense has become more potent.
Sleeper: Ryan Williams, RB (Cardinals) vs. Dolphins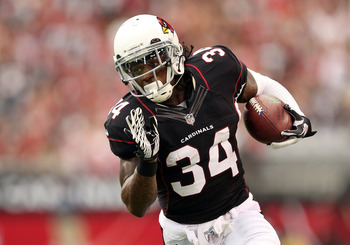 Christian Petersen/Getty Images
The Miami Dolphins may have a sound run defense, but not so much against the pass.
Therefore, entering Week 4, the Arizona Cardinals should just air it out all day, right?
Well, not totally.
Because of how vulnerable the Dolphins are against the pass, the Cardinals have to anticipate Miami preparing even more to limit the production of Larry Fitzgerald and Co.
Now yes, Arizona still must stick to its strengths and gets Miami on its heels early.
Nonetheless, running back Ryan Williams responded well in Week 3 with 95 total yards and averaging 6.4 yards per carry. Not to mention that was against the Philadelphia Eagles, who still present a solid defense across the board.
In short, the Cards' passing threat will prevent Miami from stacking the box. So, utilizing Williams earlier will pay dividends at setting up play-action.
Sleeper: Cecil Shorts, WR (Jaguars) vs. Bengals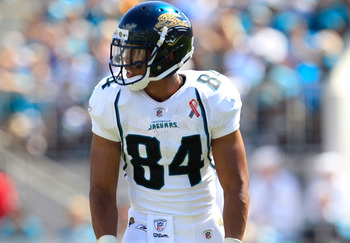 Sam Greenwood/Getty Images
Cecil Shorts may have only made one catch in Week 3, but he took it 80 yards for a touchdown.
He's a quick, explosive receiver capable of burning anyone in man coverage, and this week Shorts and the Jacksonville Jaguars host the Cincinnati Bengals.
Although the Bengals were well-versed defensively in 2011, this has not been the case in 2012. Thus far, Cincy has given up an average of 261 passing yards per game, and Jacksonville is certainly better than last season.
The Bengals also have to gear more attention in shutting down Maurice Jones-Drew, so Shorts will get plenty of man coverage. At that point, it's simply a matter of getting favorable position and, when facing zone, settling between the soft spots.
His acceleration alone will get yards after the catch.
Dud: DeMarco Murray, RB (Cowboys) vs. Bears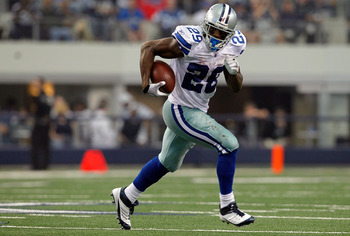 Tom Pennington/Getty Images
The Dallas Cowboys remain inconsistent offensively.
After one impressive performance on the road against the New York Giants, Dallas hasn't lived up to its explosive standards in Week 2 or 3.
That said, the Chicago Bears are anything but a cakewalk. The Bears have allowed an average of only 279 total yards per contest through three games, and had it not been for Jay Cutler's four interceptions against Green Bay, Chicago may have upset the Packers in Week 2.
Nevertheless, Dallas hasn't been able to run the rock with much success, as DeMarco Murray has amassed just 82 yards the past two games. The Bears' front seven is equally as stellar as Tampa Bay and Seattle, if not better, and will zero in on limiting Murray's numbers.
Include the potential pass rush Chicago can apply to Tony Romo, and Murray will see a reduction in carries as well.
Dud: Steve Smith, WR (Panthers) at Falcons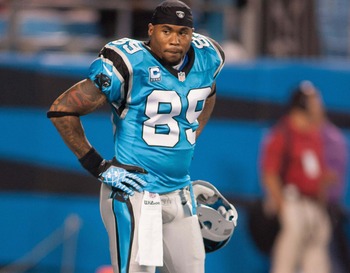 Jeremy Brevard-US PRESSWIRE
Week 3 was about as bad as it could get for the Carolina Panthers offense.
Week 4 only presents a more difficult challenge in the undefeated Atlanta Falcons.
Cam Newton started 2012 off rather decent, but he unfortunately took a nosedive with three interceptions and a 53.3 completion percentage against the New York Giants. The Falcons are significantly improved on defense, and Newton will be under much duress.
Lest we forget that Atlanta got three interceptions of Peyton Manning in Week 2 and held the San Diego Chargers to three points on Sunday. Here, No. 1 receiver Steve Smith gets blanketed in coverage, and the Dirty Birds will force many ill-advised throws.
The Panthers have lacked the firepower against disciplined defenses, and Atlanta's pass rush alone will limit Smith's time in developing routes.
Dud: Ryan Mathews, RB (Chargers) at Chiefs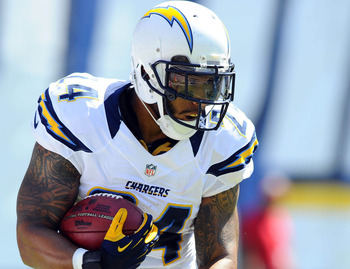 Christopher Hanewinckel-US PRESSWIRE
The Kansas City Chiefs are susceptible against the run, but don't anticipate much from Ryan Mathews this week.
Last weekend, the San Diego Chargers faced their first legit defense and got entirely shut down.
Combine that with the Chiefs scoring 21 unanswered points to upset the New Orleans Saints, and K.C. is confident. Defensively, Romeo Crennel's crew limited New Orleans to only 288 total yards and sacked Drew Brees four times.
It's also important to note that with Jamaal Charles' breakout game of the season, Kansas City will look to run the ball and control the tempo. In turn, not only will Mathews' carries get restricted from a lack of possessions, but also because of the Chiefs' front seven.
Short-yard situations are more Jackie Battle's forte and San Diego still must rely on Philip Rivers to spread the field.
Stud: Arian Foster, RB (Texans) vs. Titans
Al Messerschmidt/Getty Images
Arian Foster has arguably the best matchup of Week 4.
The Tennessee Titans have yet to prove they can stop the run or the pass, so the Houston Texans won't have any issues accumulating first downs and points.
Facing a stronger Denver Broncos defense in his last game, Foster compiled 105 rushing yards and averaged 4.2 yards per attempt.
The Tennessee defense against the Detroit Lions allowed 141 rushing yards total.
And the Lions aren't a run-first offense.
Just from all of Houston's talent around Foster alone, the Titans won't be able to slow the Texans down. Expect a big game from Foster and an easy win from Houston.
Stud: Aaron Rodgers, QB (Packers) vs. Saints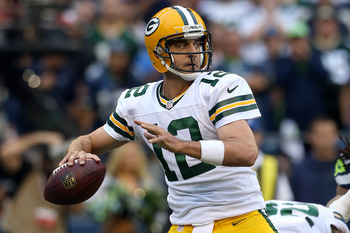 Otto Greule Jr/Getty Images
Don't lose confidence in Aaron Rodgers just yet.
For one, he is the NFL's reigning MVP, and the Green Bay Packers still have the explosiveness to burn up a scoreboard.
Also, Monday night against Seattle can act as additional motivation to perform better. After all, Rodgers was sacked eight times and only threw for 223 yards. On the bright side, Week 4 against the Saints won't be as much of a contest.
New Orleans was weak against the pass in 2011 and in 2012 has allowed an average of 477.3 total yards per game. Rodgers still possesses the ability to spread the field and buy time in the pocket, so expect a big day from Mike McCarthy's offense this week.
Stud: A.J. Green, WR (Bengals) at Jaguars
Doug Pensinger/Getty Images
A.J. Green is coming off one insane performance.
His matchup this week, the Jacksonville Jaguars, certainly have their hands full in slowing down Cincinnati's passing game.
With 183 yards on nine catches and one touchdown against the Washington Redskins, Green will see double-coverage from the Jaguars.
Still, Jacksonville doesn't have an elite pass rush, and Andy Dalton's field awareness is capable of picking Mel Tucker's defense apart.
The Bengals also have to push the pace for increased odds at winning. Maurice Jones-Drew getting carries is a big edge to Jacksonville, so creating a shootout is to Cincinnati's advantage. Green won't flirt with 200 yards like in Week 3, but he'll put on another impressive show.
Follow John Rozum on Twitter.
Keep Reading