Power Ranking the 6 Eligible Cities to Host Playoff Championship
Chris Graythen/Getty Images
We all know the BCS only has a couple more years left before we finally get to enjoy a college football playoff. But while the majority of the groundwork has been laid down, there are still a few things that must be ironed out before we can get the party started.
One of the topics that remains up for discussion is where the college football championship will be played.
With many great cities and stadiums to host the event, the top six cities were recently released (Via ESPN), giving us a general idea of where the big game is heading. A final decision is expected sometime early next year.
Would you like to see the first playoff national championship be played down south or out west?
Let's breakdown these six cities and see which one is the most deserving of hosting the national championship in 2015.
6. Arlington, Texas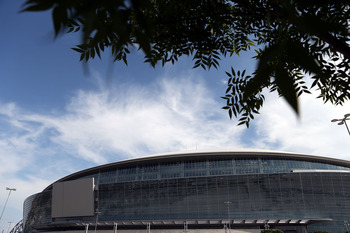 Ronald Martinez/Getty Images
Population: 365,438
Average January Temp: High of 57 degrees, low of 35 degrees

Arlington is the seventh-most populous city in the state of Texas and is really in serious consideration because the game would be played in Jerry's World.
You know, the stadium that cost over $1 billion to build, has been known to hold over 100,000 people and holds a television that stretches between the 20-yard lines.
Arlington is a great city with a lot to do, such as head over to Six Flags Texas, check out other sporting events or check out one of the largest community theaters around, Theatre Arlington.
I get the hype of Cowboys Stadium, but some of the other cities that are in the running are going to be tough to beat. Still, this is an attraction that will eventually receive a bid to host the big game.
5. Glendale, Arizona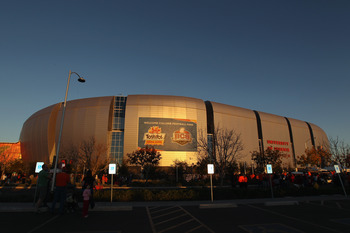 Christian Petersen/Getty Images
Population: 226,721
Average January Temp: High of 65 degrees, low of 42 degrees

Glendale may be one of the more underrated cities on this list. It may not be as big or popular as some of the others, but the University of Phoenix Stadium is one of the nicer venues in the NFL.
Because of the way it is built, it can really provide a hectic atmosphere for a great college football game.
The weather out there is just priceless, and the city itself is very peaceful. You can check out many historic ranches during your visit or explore some of the southwestern scenes just by riding around town.
Arizona is one of the more beautiful states in the country. If you're really digging the state, you could stay a couple more weeks and wait for the Glendale Chocolate Festival that begins in February.
4. Pasadena, California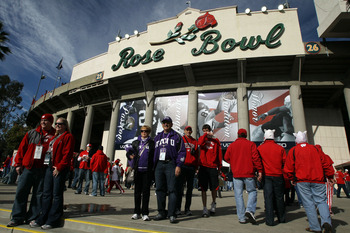 Stephen Dunn/Getty Images
Population: 137,122
Average January Temp: High of 68 degrees, low of 48 degrees
Why should a national championship be played in Pasadena? Um, it's California. Would you like another reason? It's California!
Seriously though, you probably can't name anywhere else you would like to be weather-wise, as there is not much of a chance that your trip would be ruined by a horrible downpour.
As for things to do, there are many museums, galleries and art shows to keep you occupied. You would also be able to check out the Tournament of Roses Parade if you arrive early enough.
And if we are talking about stadiums, college football doesn't offer many venues better than the Rose Bowl.
3. Atlanta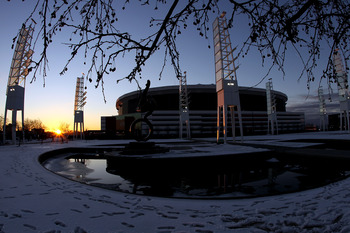 Streeter Lecka/Getty Images
Population: 420,003
Average January Temp: High of 52 degrees, low of 34 degrees

There is a reason Atlanta is the seventh-most visited city in the US, as it has a ton of history and many fun things to do.
You can visit the Atlanta Zoo, the Georgia Aquarium (Which is the largest aquarium in the world), World of Coca-Cola or just relax at one of the hundreds of parks the city has to offer. The sports scene is also about as busy in this city as anywhere in the world.
Did I mention that the game would be played in the Georgia Dome? It is one of the more historic stadiums in the country and has done wonderfully with college football in the past.
2. Miami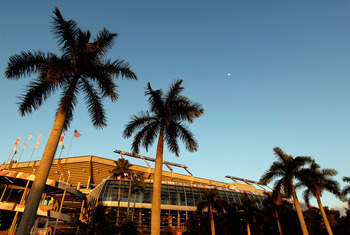 Streeter Lecka/Getty Images
Population: 408,568
Average January Temp: High of 74 degrees, low of 61 degrees

The only main difference between Miami and Pasadena is that you have a better chance of getting rained on when you take a trip down to South Florida.
Still, I'm not sure there is any place like Miami, as the diversity amongst the people is truly unparalleled. You have a combination of everything when you visit South Beach, which really provides an experience you have likely never had before. (Just ask Will Smith)
You also have some of the best beaches in the world, which feature a large quantity of eye candy. I'm not a big fan of Sun Life Stadium, but the overall experience of Miami makes everything so much more attractive than what many of these other cities have to offer.
1. New Orleans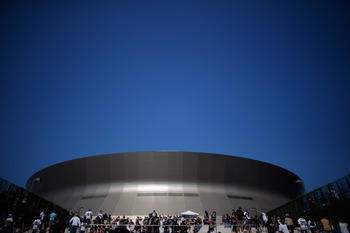 Chris Graythen/Getty Images
Population: 360,740
Average January Temp: High of 63 degrees, low of 45 degrees
New Orleans is No. 1 on the list because of everything the city has to offer. The mixture of history, food, music and the Superdome make this a tough city to pass up.
We know this city knows how to party, as it is home to Mardi Gras every year. Being able to enjoy foods such as Gumbo and Jambalaya is also something you simply can't get anywhere else.
And of course, having the game being played in the Superdome, which provides one of the loudest atmospheres in football, is a major plus.
Every city on this list is deserving, but New Orleans should be considered the favorite for the first year of the college football playoff.
Keep Reading