9 Most Impressive Debuts in MLB History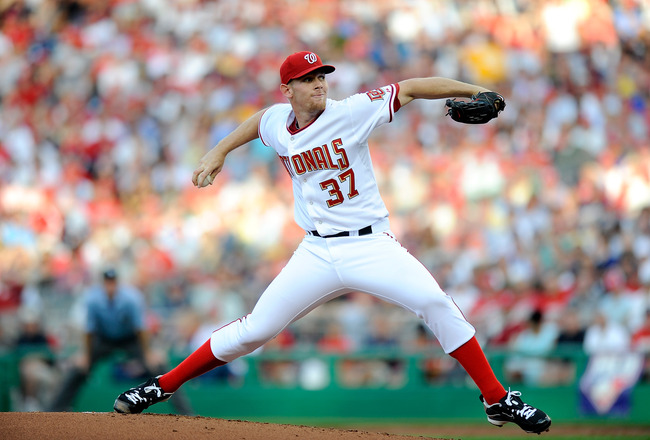 Strasburg makes the list in his debut against the Pirates
Greg Fiume/Getty Images
The MLB debut is a special moment for every major league player. It is a moment they will remember for the rest of their lives.
The days of self-narrating the bottom of the ninth, two outs, full count and bases-loaded scenario in the backyard are over.
Now, nerves are high. Sweat is pouring. All they can hope for is a successful first appearance.
For some players, their big-league debut clicks on all cylinders and they play like they've been in the league for years.
Here are nine players who exceeded expectations from the start.
9. Bert Campaneris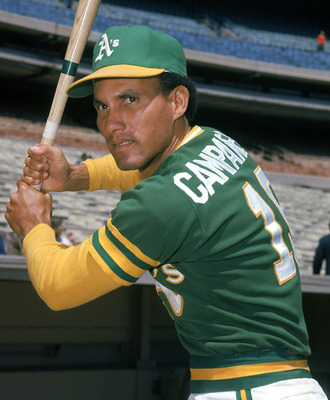 Photo courtesy of sikids.com
3 for 4, 2 HR, 3 RBI, 2 R, BB, SB
Campaneris was a 5'10'', 160 pound, Cuban-born player who debuted with the Kansas City Athletics on July 23, 1964.
On the first pitch he saw from pitcher Jim Kaat, Campaneris drove it over the wall for his first home run of the game. After he hit his second dinger, he became just the second player in MLB history, at the time, to hit two home runs in his debut. The first to do it was Bob Nieman in 1951.
The shortstop would continue to play 18 more MLB seasons before retiring in 1983.
8. Jason Heyward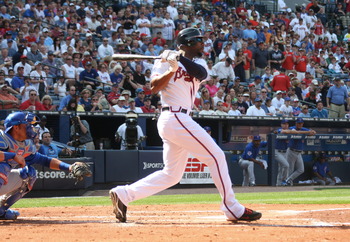 There's that home-run swing by Heyward
Scott Cunningham/Getty Images
2 for 5, HR, 4 RBI
This list was not compiled necessarily of the best debuts, but rather of the most impressive debuts.
With 60 friends and family members at Turner Field in Atlanta, highly regarded prospect Jason Heyward wanted to make a good first impression.
In his first major league at-bat with two men on and a 2-0 count, Heyward launched a Carlos Zambrano fastball 414 feet into the right-field bullpen.
His three-run shot was a bomb that caused mayhem in the stadium that did not settle down until the half inning was over. The home run put the Braves up 6-0 as they went on to win 16-5.
The excitement was clearly overwhelming for Heyward, as witnessed by how quickly he raced around the base paths after his home run.
7. Stephen Strasburg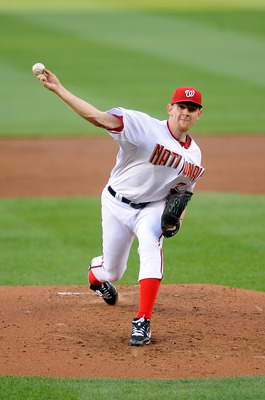 Strasburg was dazzling in his debut
Greg Fiume/Getty Images
W, 7.0 IP, 4 H, 2 ER, 14 K
In one of the most anticipated pitching debuts ever, 21-year-old Stephen Strasburg certainly delivered.
In his dominant performance that resulted in a 5-2 Washington Nationals victory, Strasburg struck out 14 Pittsburgh Pirates batters in just seven innings. He walked none and allowed no fly-ball outs.
One of the most impressive aspects of Strasburg's debut and young career is the label associated with his name.
As Jayson Stark of ESPN said, "And every pitch he throws, he does it with an imaginary billboard over his head that reads: THE GREATEST PITCHING PROSPECT EVER. Remember that."
With his 14 strikeouts, Strasburg set the Nationals' record for most strikeouts in a game.
You don't think that's impressive since the team that has only been around since 2005?
Well how about this? It was the most strikeouts by a pitcher playing for any Washington team since 1962.
There's some food for thought.
6. J.P. Arencibia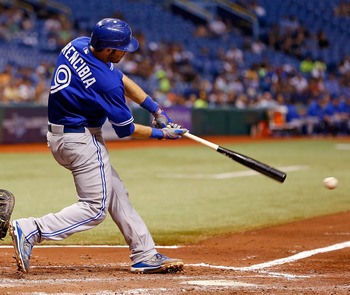 Arencibia has been the Blue Jays starting catcher since his debut
J. Meric/Getty Images
4 for 5, 2 HR, 1 2B, 3 RBI, 3 RS
Nearly lost in a game featuring 28 total runs from both teams, catcher J.P. Arencibia had one of the greatest offensive outputs in an MLB debut.
Called up from Triple-A Las Vegas to fill in for the injured John Buck on Aug. 7, 2010, Arencibia became the 107th player in MLB history to homer in his first at-bat. Subsequently, he became the fifth player in MLB history to hit two home runs in his debut.
What's more, with his four hits and two home runs, he became the first player since 1900 to achieve that feat.
5. Willie McCovey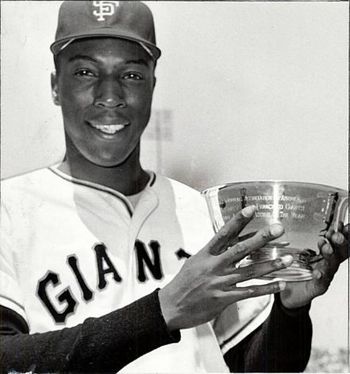 Photo courtesy of the San Francisco Chronicle
4 for 4, 2 3B, 2 RBI, 2 R
In a Hall of Fame career that spanned four decades, Willie McCovey certainly knew how to start it off on the right note.
In his debut, he faced off against a fellow Hall of Famer, pitcher Robin Roberts. McCovey smacked two triples and two singles to go perfect on the day and help his San Francisco Giants win 7-2.
McCovey would win the Rookie of the Year award, despite only playing in 52 games. He also had a 22-game hitting streak, which remains the best among Giants rookies, falling just four games short of the franchise record.
4. Daniel Nava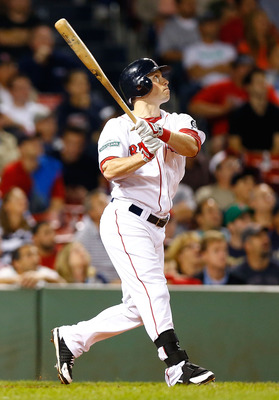 Nava has the kind of perseverance managers like to see
Jared Wickerham/Getty Images
2 for 4, HR, 2B, 4 RBI
In my biased opinion, little Daniel Nava's path has been one of the greatest underdog stories in sports.
He barely made his high school baseball team, was Santa Clara University's team manager for two seasons before transferring out and then back to play his senior year, went undrafted, played in the Independent League for a season and signed with the Boston Red Sox for $1.
Then what did he do in his first major league at-bat in 2010?
With the bases loaded, Nava launched the first pitch he saw over the Green Monster for a grand slam.
He became only the fourth player to hit a grand slam in his first major league at-bat. Coincidentally, one of the players he was filling in for, Jeremy Hermida, was one of those four when he did it in 2005.
3. Starlin Castro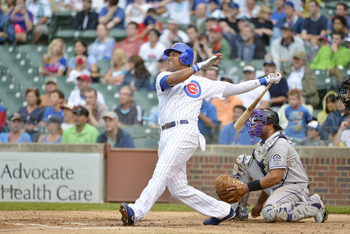 Castro is part of the bright future for the Cubs
Brian Kersey/Getty Images
2 for 5, HR, 3B, 6 RBI
It was a dream-like day for Starlin Castro, who was called up from Double-A Tennessee that morning to play against the Cincinnati Reds.
In his first at-bat, Castro drove a ball over the center field wall for a three-run homer off of Homer Bailey.
With the bases loaded for his third at-bat, Castro tripled, driving in all three runners and becoming the first and only player to have six RBI in his MLB debut.
Castro would remain in the major leagues from that day forward.
2. Karl Spooner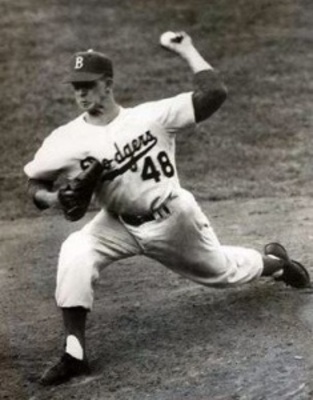 Photo courtesy of The Society for American Baseball Research
CG, 0 ER, 3 H, 15 K
Karl Spooner made his debut with the Brooklyn Dodgers on Sept. 22, 1954, and threw a complete game shutout. He struck out 15 batters on 143 pitches.
In his second and only other start of his rookie year four days later, Spooner threw another complete-game shutout. On this occasion, he struck out only 12 batters and hurled 127 pitches.
Spooner was considered to be an elite pitcher in the majors before injuring his arm during his sophomore season in 1955 and retiring thereafter.
1. Juan Marichal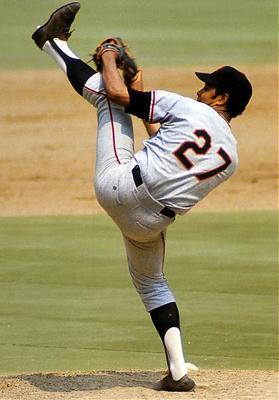 Photo courtesy of the Shadows and Light baseball blog
CG, 0 ER, 1 H, 12 K
On July 19, 1960, a 22-year-old from the Dominican Republic named Juan Marichal took the mound for the San Francisco Giants against the Philadelphia Phillies.
He never could have expected the success he soon displayed.
The future Hall of Famer, with his signature high leg kick, would take a no-hitter into the eighth inning when Phillies catcher Clay Dalrymple singled with two outs.
Marichal fanned 12 batters total in the game and would go on to throw complete-game wins in his next two starts against the Pittsburgh Pirates and the Milwaukee Braves.
Keep Reading