The current NFL.com power rankings feature a change at the top, with the Atlanta Falcons and Houston Texans usurping the San Francisco 49ers. The Arizona Cardinals are the biggest risers, jumping eight places after their victory over the Philadelphia Eagles.
The Cardinals headline the collection of most surprising teams in the rankings, while the 0-3 New Orleans Saints are among the biggest disappointments. Here is a breakdown of the latest power rankings.
All rankings are based on the NFL.com Week 4 Power Poll.
The pretenders: Chicago Bears (11), Philadelphia Eagles (10), Seattle Seahawks (9)
Two wins against rebuilding teams shouldn't be enough to recommend the Chicago Bears for the 11th spot in the rankings. Jay Cutler's offensive line continues to resemble a revolving door for a procession of pass-rushers, while offensive coordinator Mike Tice's play-calling also remains questionable.
Poor performances in victory finally caught up with the Philadelphia Eagles in Week 3. After narrowly defeating the Cleveland Browns and Baltimore Ravens, the Eagles were soundly beaten by the Cardinals in Arizona.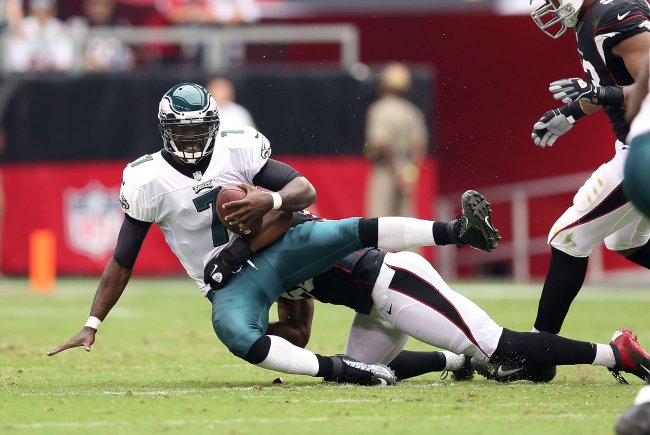 Christian Petersen/Getty Images
A turnover-happy offense continues to undermine a capable defense and Michael Vick's problems show no sign of going away any time soon. Defeat against the New York Giants in Week 4 should see the Eagles plummet beyond the top 10.
It's hard to begrudge the Seattle Seahawks their 2-1 start, but their offense is struggling to keep pace with a dangerous defense. A controversial win over the Packers on Monday night doesn't seem like enough to put Pete Carroll's team ninth.
Living off reputations: Green Bay Packers (8), New England Patriots (7)
How can two 1-2 teams ranks so high? The Packers have certainly shown defensive improvement, currently ranking third overall and first in pass defense.
Yet those rankings are based on performances against the Bears and Seahawks. It's also difficult to recommend an offensive line that surrendered eight sacks on Monday night.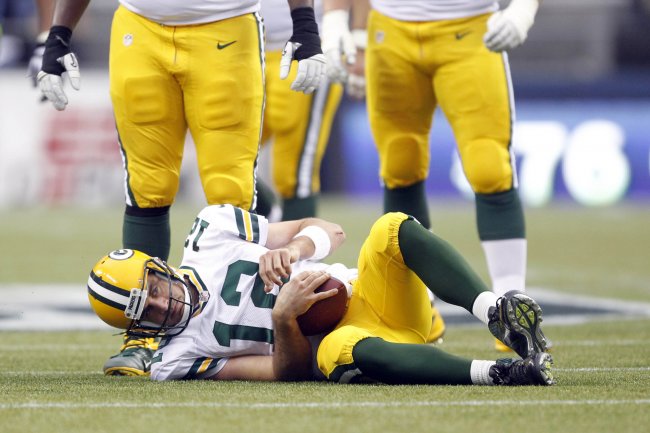 Joe Nicholson-US PRESSWIRE
The New England Patriots, meanwhile, are coming off consecutive defeats. Their Week 2 defeat by the Arizona Cardinals might have been considered a blip, but then they let a late lead slip against the Ravens.
Their offense may be ranked ninth and the defense 14th, but there's little doubt the Patriots are struggling to make big plays in decisive moments on both sides of the ball.
Biggest Surprises: Atlanta Falcons (2), Arizona Cardinals (6), Cincinnati Bengals (15), Minnesota Vikings (20)
Given the start to their schedule, the Atlanta Falcons are defying expectations with their unbeaten record. It's not just the three wins over fancied teams, it's the manner in which the Falcons have earned them.
A team reliant for so long on the smash-mouth, power running of Michael Turner, has successfully transitioned to a pass-first offense. Matt Ryan's connections with Tony Gonzalez, Julio Jones and Roddy White are making the Falcons look like genuine Super Bowl contenders.
No team has been a bigger surprise than the Cardinals. Ray Horton's defense is going from strength to strength, thanks to a cast of young playmakers. Sam Acho and Calais Campbell are dominating up front, allowing Horton's group to create plenty of big plays.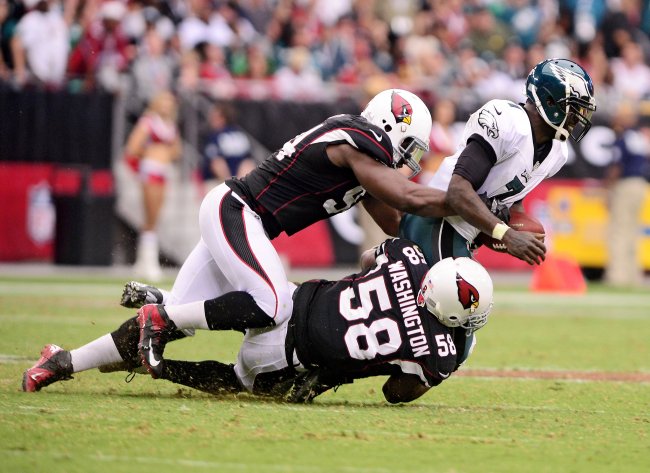 Jennifer Stewart-US PRESSWIRE
The Kevin Kolb-led offense is also managing to make plays when it counts, with Andre Roberts proving an effective red-zone target.
After beginning their season with a 31-point defeat against a division rival, the Cincinnati Bengals have rebounded well. The key to their revival has been a smart and explosive offense, stacked with young stars at the skill positions.
Quarterback Andy Dalton and wide receiver A.J. Green remain a prolific combination, but it is young wideout Andrew Hawkins who is currently making the difference. BenJarvus Green-Ellis has been solid and efficient running the ball and the Bengals seem capable of putting up points against any team.
Just by virtue of beating the 49ers, the Minnesota Vikings deserve a mention. Their 2-1 start currently sees them ahead of both the Packers and Detroit Lions in the NFC North.
Adrian Peterson's comeback from injury has been impressive and young passer Christian Ponder is showing a knack for delivering in key situations. However, the biggest improvement is on defense, where the Vikes currently rank eighth overall and ninth in scoring.
Biggest disappointments: New Orleans Saints (26), Detroit Lions (24), Carolina Panthers (23)
It's tough to decide what's more disappointing about the Saints, their woeful defense or an offense that is failing to adequately protect Drew Brees.
An offensive line featuring the likes Jahri Evans and Ben Grubbs has failed to live up to expectations. That they still have the fifth-ranked pass offense is a credit to Brees and receivers like Jimmy Graham and Lance Moore.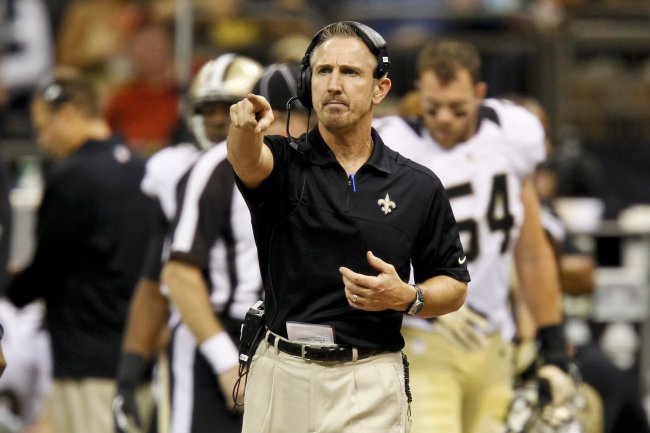 Derick E. Hingle-US PRESSWIRE
However, any struggles on offense are nothing compared to the failings of a revamped defense. New coordinator Steve Spagnuolo has struggled to make his schemes work, despite new personnel, including Brodrick Bunkley and Curtis Lofton.
Even though they own the NFL's best pass offense, the Detroit Lions still rank as a major disappointment. They struggled to beat the St. Louis Rams in Week 1 and have since lost to the San Francisco 49ers and Tennessee Titans.
The defense appears no better than last season and Matthew Stafford and the offense are struggling to keep pace. Head coach Jim Schwartz is sure to come under increased scrutiny following some suspect calls.
The 2012 Carolina Panthers have so far not built on the promise they showed last season. Head coach Ron Rivera's defense still looks shaky, although they have improved in the red zone.
The real problem has actually been the ineffectiveness of Cam Newton and the offense. The second-year pro has struggled to escape pressure and his five interceptions have contributed to the 30th-ranked scoring unit in the league.
The Panthers must soon prove they can find consistency on both sides of the ball, or they will struggle to improve on 2011's 6-10 mark.