San Francisco 49ers Whose Stock Is Rising and Falling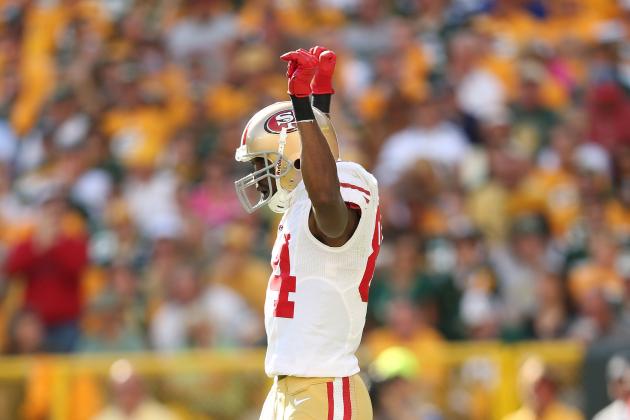 Andy Lyons/Getty Images

The San Francisco 49ers will be okay.
This week's loss to Minnesota notwithstanding, this is still a very good football team that is capable of beating anyone in the NFL. That being said, they probably aren't the world-beaters that many prognosticators (myself included) made them out to be on the heels of two impressive wins against the Green Bay Packers and Detroit Lions.
This team has the talent to win the Super Bowl and the coaching staff to put that talent in a position to win.
However, the players themselves are ultimately responsible for the success of the team, so let's look at some of the pivotal 49ers whose stock is rising and falling.
In many ways, as their stock goes, so go the 49ers.
Begin Slideshow

»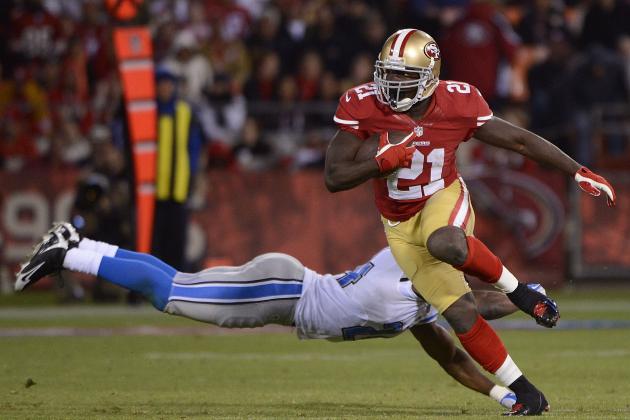 Thearon W. Henderson/Getty Images

The 49ers got away from the run against the Vikings, which means they got away from the heart and soul of their offense.
Frank Gore is the straw that stirs the 49ers drink, plain and simple. Although he had a relatively quiet game with 12 carries for 63 yards and one reception for nine yards, Gore was effective when given the ball.
The fact is that the 49ers usually win when Gore gets 20 carries or more and his string of five consecutive games with 100-plus rushing yards last season was a major part of the Niners' success during that stretch.
Sunday's game was disappointing in that Gore was running effectively before the team abandoned the run. Gore is a sledgehammer-type of back whose hard-nosed, grinding running style can really wear down a defense in the latter stages of a game. As such, he becomes more valuable as the game wears on. By getting away from the run toward the end of the first half and into the second half, the 49ers essentially hamstrung their offense.
Unfortunately, it took a loss to underscore the importance Gore has within this offense. Expect 25 carries or so from Gore this Sunday against the Jets, and expect the 49ers to remain committed to their best offensive weapon for a full 60 minutes.
Thearon W. Henderson/Getty Images

Kendall Hunter is a dynamic player and will still be an effective change-of-pace back for the 49ers.
However, his biggest asset is his speed and shiftiness in the open field. He has displayed very little of this asset thus far.
Against the Vikings, there were two kick returns by Hunter where he looked to have a seam opening up in front of him but simply lacked enough of a burst to take advantage of it. Kyle Williams opened up the second half with an excellent kick return and the difference in acceleration was apparent even from my view on the couch.
Hunters been solid, but far from spectacular. For a team that relies on the run as much as the 49ers, they need backfield production from more than just Frank Gore.
Without that burst and the ability to run right past would-be tacklers, Hunter is very limited. He simply doesn't have the size, regardless of how tough he runs, to be a relevant running back or kick returner if he isn't running with decisiveness.
While he has looked serviceable in limited action this season, he has not taken the next step that many expected him to after a stellar preseason. If the 49ers expect to win, Hunter simply has to make some big plays out on the field. Their offense just isn't dynamic enough, yet, to succeed without his play-making ability.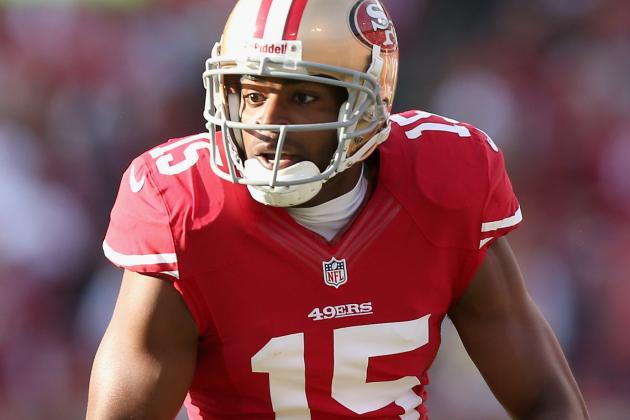 Ezra Shaw/Getty Images

Michael Crabtree has been the target of much derision in his brief professional career, and deservedly so, for the most part.
But this year he's starting to silence his critics. He'll never be the big-time playmaker that he was at Texas Tech, but he can be a very reliable possession receiver in the mold of Keyshawn Johnson or Marques Colston.
To be fair, Crabtree showed more than just a glimpse of his ability last year, but most of the goodwill he built up within the 49er fanbase was forgotten about after a very quiet postseason that seemed to feature more dropped passes than catches. Crabtree didn't come into the league with the reputation of a mentally tough player, and he did little to disprove that notion.
Crabtree had an excellent fourth quarter against Detroit by keeping drives alive with crucial third-down conversions. His rapport with Alex Smith has been improving, and he carried that into Sunday's tilt against the Vikings. Given that Alex Smith, for all his improvement, still looks like he has trouble attacking the back end of opposing secondaries, much of the success of the 49ers offense rests on Crabtree's ability to make tough catches in traffic on short and intermediate routes and his ability to keep the chains moving.
So far this year, he looks up to the challenge.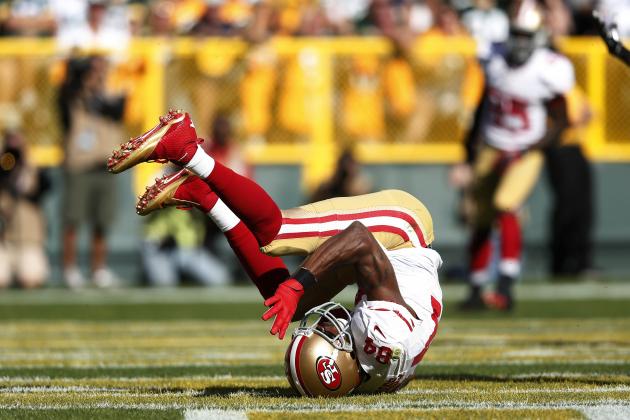 Joe Robbins/Getty Images

Randy Moss cannot be an effective receiver who stretches the field and opens up the underneath routes for Vernon Davis and Michael Crabtree if he's standing on the sidelines.
Why Moss has seen limited action this season is immaterial; the fact remains that he hasn't been a factor at all this season.
Sure, he had a touchdown against the Packers, but he hasn't shown any of the vaunted speed we all heard he still had throughout training camp. Correct me if I'm wrong, but I don't recall Smith having even taken a shot downfield with a deep pass to Moss. He's been able to take advantage of the large cushion most cornerbacks still give him by picking up some yards on quick outs.
But his reputation is only going to go so far. Eventually, teams will begin crowding him at the line of scrimmage and dare Smith, who has never thrown a great deep ball, to beat them down the field.
If Moss cannot stretch the field—especially while playing with a quarterback who won't make that task any easier—he has little value to the 49ers.
Simply put, he isn't going to be a good decoy, let alone a legitimate deep threat, based on reputation alone. It's time for Moss to prove he can still run right past a cornerback and for Smith to prove he can take advantage of that speed. Otherwise, defensive backs are going to backpedal longer, turn their hips later and basically take away the only thing Moss has really been able to exploit, namely the insistence of opposing defenses to play him as if it's still 2007.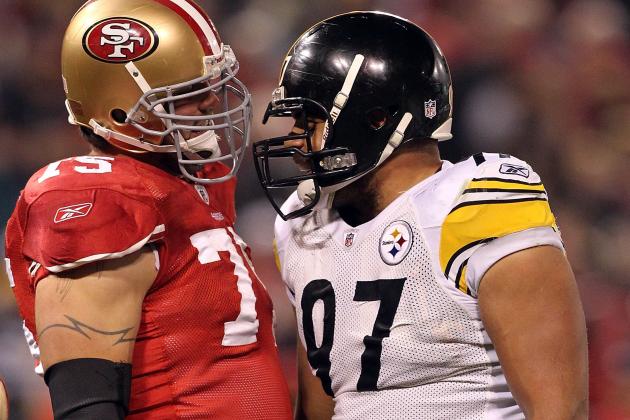 Karl Walter/Getty Images

Coming into this season, Alex Boone was one of the few legitimate question marks for the 49ers.
So far, he's been more of an exclamation point.
Boone's big knock was that he might be too tall to work well in the confined spaces that guards are asked to operate in. But his height has simply not been a problem. The guy is nasty, plain and simple, and what he allegedly lacked in prototypical build he's more than made up for with brute force.
Pass protection has been an issue at times for the 49ers this season—but not with Boone. He held up extremely well against both the Packers and the Lions, and he looked good again against the Vikings in Week 3.
When Hobbes wrote about life being short, nasty, brutish, he must have had Boone in mind.
For a team that relies heavily on physicality and wearing defenses down with the run, a guy who plays with a mean streak the way Boone does is a huge asset. It's an even bigger asset when that sort of sadism is accompanied by stellar play.
Boone has provided that so far and I expect him to continue to improve from game to game.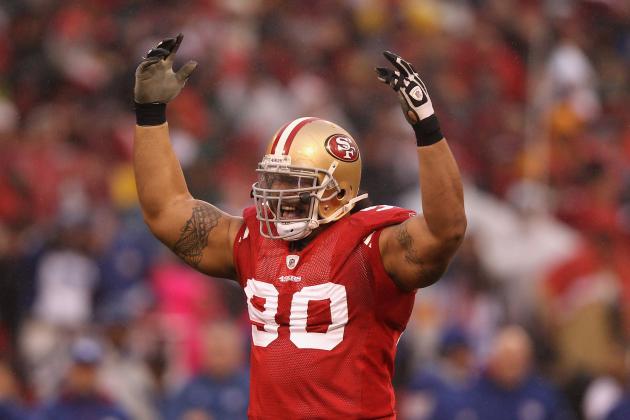 Ezra Shaw/Getty Images

Isaac Sopoaga may be the most important player on the 49ers' defense in terms of stopping the run.
If Sopoaga cannot consistently command double teams and occupy two linemen so that Patrick Willis and NaVorro Bowman can run free without a 325-pound behemoth bearing down on them, this vaunted run defense suddenly becomes a little more mortal.
So far this season Sopoaga has been a non-factor. To be fair, he played less than 20 snaps combined in Weeks 1 and 2, since he is the first off the field when the 49ers go into their nickel and dime packages, something they were forced to do early and often against Green Bay and Detroit.
But on Sunday Sopoaga figured to be in on a majority of the snaps against a team that loves to run the ball right up the middle behind center John Sullivan. It was a matchup that the 49ers needed to win if they expected to bottle up a healthy and rejuvenated Adrian Peterson.
Unfortunately, Sopoaga wasn't up to the challenge. He failed to get consistent penetration, and the Vikings guards were able to get to the second level unmolested on several occasions. Peterson and the Vikings' offensive line physically dominated the 49ers defense and Sopoaga was largely to blame.
It's not time to press the panic button on the 49ers run defense by any means. Adrian Peterson, when healthy, is the best running back in the game. And right now he looks very healthy.
However, if the 49ers want to continue forcing teams into a one-dimensional offensive attack Sopoaga will need to at least hold his own against some of the better offensive lines he'll be lining up against this season.
Much of the success of any 3-4 defense rests largely on the play of the big guy plugging up the middle.
Sopoaga played a little too small on Sunday.