Projecting the 2012-13 Final NBA Pacific Division Standings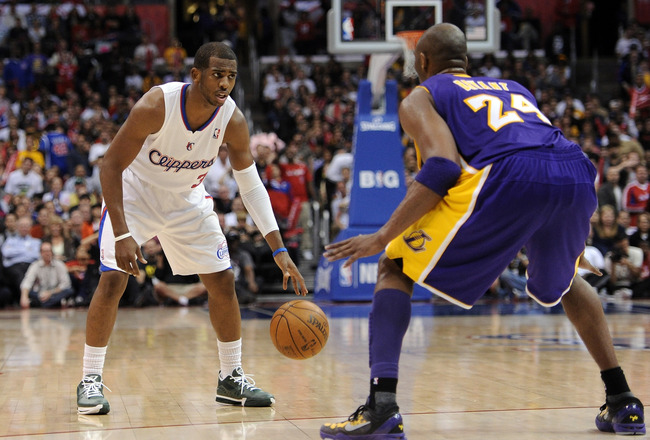 Harry How/Getty Images
After the Los Angeles Clippers ran a close race to the finish with the Lakers last season, NBA fans will watch anxiously to see whether they can hang with the Lake Show this season.
The landscape of the Pacific Division has changed to a moderate extent. The Lakers made two big moves to revamp their championship window. Meanwhile, the Clippers made changes on the edges.
Two of the other three teams made significant changes to reposition themselves in the division race. The Phoenix Suns brought in a rising point guard in Goran Dragic and the Golden State Warriors brought in a solid backup in Jarrett Jack and Carl Landry to reinforce the frontcourt—since you never know when Andrew Bogut's body will fall apart.
The Sacramento Kings signed Aaron Brooks and drafted Thomas Robinson, but appear to be generally the same team.
Mostly, this division race is about the Lakers and the Clippers, though the Suns and Warriors could be interesting. Read along for a breakdown of the Pacific Division standings.
5. Sacramento Kings
The Kings have plenty of talent in their rotation, but the fit of the talent isn't good enough to lift the team out of the Pacific Division basement.
DeMarcus Cousins is an up-and-coming star. Marcus Thornton is a talented scorer. Tyreke Evans is a pretty decent scorer.
Isaiah Thomas had a nice rookie year running the point. Thomas Robinson, a forceful rebounder and defensive player coming out of Kansas, should be a terror inside helping Cousins.
Thomas apparently didn't impress the Kings brass enough though, since they signed Aaron Brooks, who is coming back from a year in China.
The Kings aren't very functional on offense. Brooks and Thornton are outside shooters, albeit subpar ones. Despite their affinity for long-range shots, neither one is extremely accurate. Brooks, who has been up and down in his career, is a 36.3 percent three-point shooter. Thornton has hit 34.5 percent on his career.
Cousins is a decent perimeter shooter. He hit 44.8 percent from the field last season and will likely improve.
Evans is one who prefers to slash, although it's hard to tell what he'll be told to do this year.
In a perfect world, the trio of Cousins, Thornton and Evans could take the Kings somewhere. While Thornton simply has to sharpen his shot, Evans has bigger problems. He has constantly shifted positions during his 3-year career. That he'll settle down at the 3 is unlikely.
Besides, as Sam Amick of Sports Illustrated said on Sulia, Evans doesn't want to.
One wouldn't be surprised if Evans gets lost in the shuffle and is traded during the season.
Aside from the problem of fit is the problem on defense.
Robinson is a sterling defender. Cousins is a pretty decent defender. The guards can't defend, as Thomas, Evans and Thornton allowed more than 110 points per 100 possessions last season. Brooks is no better, allowing 110 per 100 possessions on his career.
As a team, they were worst in the league in scoring defense at 104.4 points per game and 109.8 points allowed per 100 possessions.
The Kings can put up a good amount of points, but if they can't outscore opponents, it won't go well for them.
Record: 25-57
4. Phoenix Suns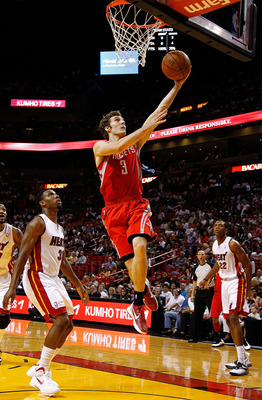 Mike Ehrmann/Getty Images
With the departure of Steve Nash came a sea change in the Phoenix Suns' starting lineup.
The Suns signed Goran Dragic to fill the void left by Nash. Dragic will have to carry the mantle if the Suns are to do any damage in the Western Conference.
Dragic is the lead guard who figures to be the only major piece for a Suns team that features a few secondary players.
The Slovenian emerged as a promising point man in Houston after Kyle Lowry went down with a foot infection. Dragic averaged 18 points and 8.4 assists per game in 28 games starting in Lowry's place towards the end of last season.
He'll have to make this cobbled mess of players better than it is to make it winner. Michael Beasley, who has been flashy at times and uninspired at other times, arrives to provide a scoring burst on the perimeter. Jared Dudley and Shannon Brown are decent scorers in alternating spurts.
Marcin Gortat is an accurate post scorer who can clean up after others. He was in the top six in field-goal percentage the last two years. Luis Scola is a demanding inside man who was cast off by the Rockets and picked up by the Suns. He could be a strong scorer, but is on the decline.
Scola saw his scoring average (15.5 PPG from 18.3 in 2010-11), field-goal percentage (49.1% FG from 50.4% in 2010-11) and assist rate (2.1 APG from 2.5 in 2010-11) drop last season while turning it over more (2.3 times per game). That's especially discouraging for someone who had the highest usage rate on his team at 24.8 percent.
The thought of Dragic and Scola reuniting seems nice until Suns fans realize that Scola wears the pants in the relationship despite his fading skills.
That the Suns could make the playoffs with Dragic and a bunch of average players is a fair possibility, but not a great one until Dragic shows that he can run a team effectively for an entire season.
Record: 35-47
3. Golden State Warriors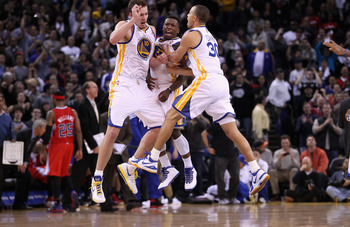 Ezra Shaw/Getty Images
That the Golden State Warriors could reach the playoffs after five seasons in the desert might seem unfathomable, especially after trading Monta Ellis just before the deadline in March.
However, this team has all the talent and depth it needs to reach the last spot. They'll have a ton of scoring between David Lee, Klay Thompson, Stephen Curry, Harrison Barnes and Brandon Rush. If healthy, Andrew Bogut will add a nice amount of scoring.
This group will easily supplant Ellis' scoring, with Lee and Thompson leading the way. Lee averaged 20.1 points per game last season. Thompson averaged 12.7 per game, including 18.5 per game after Ellis was dealt.
Depth is a point of pride for this team. Jarrett Jack, a surehanded veteran, backs up Curry. Carl Landry, a nice supporting rebounder and scorer, will stand behind Lee and Bogut. If rookie Festus Ezeli can't stand his ground when Bogut is sideline or simply off the floor, Landry can jump in.
Whoever is the second string between Rush and Barnes will serve quite nice as a support scorer.
The problem for the Warriors in the past several years has been defense.
In his first year as head coach, Mark Jackson started to work on instilling a defensive mindset. The effort worked to with mixed success. Golden State allowed 100 points per game before the team started to tank late in the season.
They allowed 95 or fewer points in 12 of their first 34 games.
The second season of Jackson's system should bring improved defensive play. Partly, it will be because the players will have fully adjusted to Jackson's system. Also, the acquisitions of Bogut and Landry help the defensive effort.
Again, if Bogut isn't healthy, the former ESPN commentator will likely employ Landry more. Ezeli is a project and may be able to handle 15 to 20 minutes per game without getting knocked around too much. Landry will start at center if Bogut goes down during the season.
The former Hornet won't be a perfect fill-in, but his rebounding ability will allow him to do a reasonable job holding down the fort.
Jackson is starting to balance the squad by working his defensive schemes into players' heads.
The team in the blue and yellow will still be known for its scoring, but being capable on defense will allow it to claim the last spot in the playoffs.
Record: 44-38
2. Los Angeles Clippers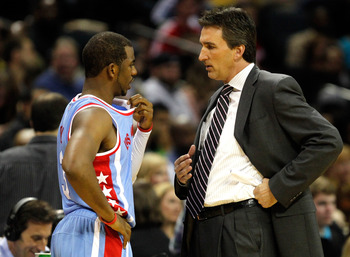 Streeter Lecka/Getty Images
The Clippers were able to come within a game of the Lakers for the division title and then scooted past the Memphis Grizzlies for their third playoff series victory in franchise history.
Now, Lob City is about to see its second season with Chris Paul and third with Vinny Del Negro. The question is whether both men will come out of the season with their heads held high.
The Clippers were running unsteadily behind the scenes down the stretch. Del Negro was reported by ESPN to have "lost the team" as players criticized him for his treatment of them and his use of players in the rotated.
Looking at the team on paper, they look fine.
Paul is the best point guard in the NBA with Derrick Rose injured. He's a brilliant scorer, amazing facilitator and a lock-down defender. CP3 is strong enough to will the team to victory, perhaps even when Del Negro frustrates him with misguided schemes.
Blake Griffin is a wonderful star. He's a powerful dunker and a solid rebounder. Indeed, Griffin needs to develop his offensive game beyond his at-the-rim game. He also needs to improve on defense. His 104 points allowed per 100 possessions last season were nothing special.
If he takes a big step this season, it'll be a great boon for the Clippers.
Chauncey Billups is a nice role player if he stays healthy. He can still score a little bit at age 36, after averaging 15 points in 20 games before going down last season. The former Piston will help Paul facilitate the ball.
The bench looks pretty good. Eric Bledsoe, Jamal Crawford and Grant Hill will combine to give plenty of bench scoring. Lamar Odom and Matt Barnes will provide some range. Barnes will give them a defensive boost.
But if Del Negro constantly switches the bench rotation around and gives players problems, the bench players could lose its purpose. If Del Negro does much more to upset players, the team could slide.
However, with Paul running the point, the Clippers' floor isn't so low that they'd drop out of the playoffs.
Record: 48-34
1. Los Angeles Lakers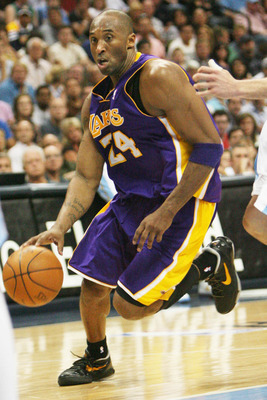 Chris Humphreys-US PRESSWIRE
The Los Angeles Lakers are the runaway favorites to win the Pacific Division. The Lakers' four stars, Kobe Bryant, Steve Nash, Dwight Howard and Pau Gasol, by far outstrip the talent of the core players of the other four teams in the division.
With Bryant, Gasol, the No. 2 center in the league in Andrew Bynum and an above-average point guard in Ramon Sessions, the Lakers finished just a game better than the Clippers for the division title. That combination only brought the Lakers to the second round of the playoffs.
Gasol gave an uninspired effort and Bynum shot a dismal 47.7 percent from the field in their playoff run. Sessions floundered in his first playoff appearance, averaging just 9.7 points and 3.6 assists per game while shooting a miserable 37.7 percent from the field.
Nash brings the playoff experience that Sessions lacked and the elite point guard skills that no floor general with whom Kobe has played ever demonstrated. Nash has averaged more than 9.5 assists per game the last eight seasons.
Nash is an eight-time All-Star and a two-time MVP, something Derek Fisher couldn't speak to in his own regard.
Dwight Howard arrives as the only possible upgrade upon the up-and-coming Bynum. As Lakers beat man Mike Trudell tweeted, Howard is on a good pace towards recovery. If Howard continues to move along, he could be back at the start of the season.
Howard brings an unparalleled amount of assets to the Lake Show. His defense is second to none, as evidenced by his three Defensive Player of the Year awards. A 57.7 percent career shooter, his inside stroke is the best of any serious post scorer.
Kobe will be back to provide characteristic scoring. With Howard in the lineup, Kobe might take two or three fewer shots per game, but will find a way to put 25 to 30 points per game. He'll do this while playing off the ball more than he has before, since Nash will be controlling the ball.
The Lakers will sport a deeper bench than last year.
Last season, Devin Ebanks, Matt Barnes and Steve Blake were relied upon for bench scoring, but didn't produce much. Ebanks averaged four points per game on 41.6 percent shooting. Barnes put up a decent 7.8 points per game on 45.2 percent from the field.
Blake posted a measly 5.2 points per game on 37.7 percent from the field.
Now, Antawn Jamison and Jodie Meeks will lead a more effective effort from the bench. Meeks averaged 8.4 points per game and 12.2 per 36 minutes last season. Jamison averaged 17.2 points per game for the Cleveland Cavaliers last season.
With Howard patrolling the post, the Lakers should defend at least a little bit better than last season. If they can improve somewhat on a No. 13 defensive rating (104.4 points allowed per 100 possessions), they'll be able to stave off just about any opponent.
Record: 60-22
Keep Reading