Is Goran Dragic Ready to Lead the New-Look Phoenix Suns?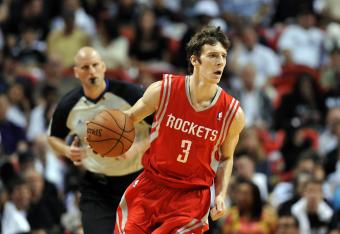 Steve Mitchell-US PRESSWIRE
In order to succeed in the NBA, teams need locker room leaders. The Phoenix Suns need to find one within their ranks.
Their two leaders, Steve Nash and Grant Hill, are done. Whose job is it to step up? Whoever decides to step up won't have an easy job ahead.
Both Nash and Hill were very likable players, they gave 100 percent every night, and managed to get the team going, as well as get the fans cheering.
Doe the Suns actually have anyone on their roster capable of filling in their spots?
Jared Dudley can certainly be the guy.
He wants to be the leader, and believes he is capable of it. This will be his fifth year in Phoenix, which makes him the longest tenured Sun on the team.
With all that said, I believe it is Goran Dragic that will step up and become the leader.
My reasoning for this is pretty simple; he has the most expectations coming in, and he is the starting point guard.
While point guards aren't always the leaders of the team, they are more likely to be in the role because they run the team on the court.
Also, franchise point guards, which is the role Dragic seems to have stepped into, almost always become the strongest personalities on the team.
Who will step up as the leader?
Dudley's case is also hurt by his rather limited playing time. He is going to be the Sixth Man for the Suns, and thus won't play more than 25-27 minutes a game.
Dragic will be on the court for more than 30 minutes and will be a more important part of the action. It is also important to note that no leadership position is exclusive. Dudley will be a strong locker room presence.
I fully expect Dudley to help out the younger players on the team, pump the team up and push the team to play harder. I see Dragic being a silent leader but a more effective one.
His talking will be on the court, and everyone on the roster knows what is expected of him. When he succeeds under the pressure, it will motivate the rest of the team as well as the fan base.
Dudley's role will be more of the locker room guy, a player who is able to inspire his players to play their best. He will share that role with Alvin Gentry, a coach who depends a lot of respect from his players.
All in all, the level of leadership, and overall motivation will drop in the locker room. Steve Nash was one of the best leaders in the NBA, making even an inferior roster compete for the playoffs.
Grant Hill has been through a lot of adversity in his career, allowing veterans to relate to him, and younger guys to look up to him.
Dragic and Dudley are both below 28, and that alone hurts them in comparison to Nash and Hill, guys who are ten years older. That is not to say that they will be insufficient leaders, just not as effective as the two veterans currently in LA.
Thank you for reading and follow me on twitter for sports talk!
This article is
What is the duplicate article?
Why is this article offensive?
Where is this article plagiarized from?
Why is this article poorly edited?

Phoenix Suns: Like this team?