Breaking Down the Possible BCS Title Game Matchups at Week 5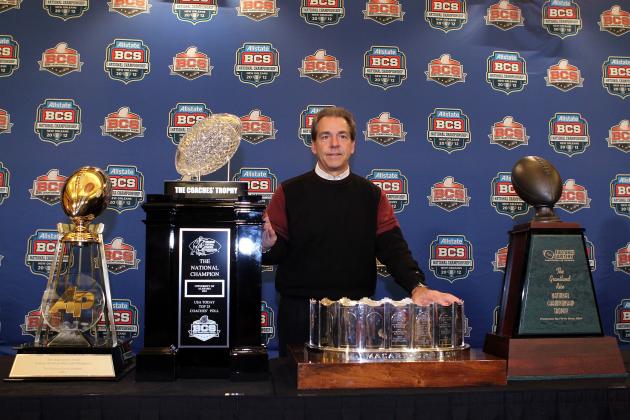 Andy Lyons/Getty Images

With a third of the college football season already in the rear-view mirror, and those initial BCS rankings inching closer and closer, it's time for another look at the possible BCS title game matchups.
Clearly, the currently undefeated teams across the nation have the best opportunity to earn their way into the big game, but there are other programs with one loss that shouldn't give up all hope.
So where do we stand now? Who's sitting pretty and who needs a little help?
Let's break down the best possible BCS championship games after Week 5.
Begin Slideshow

»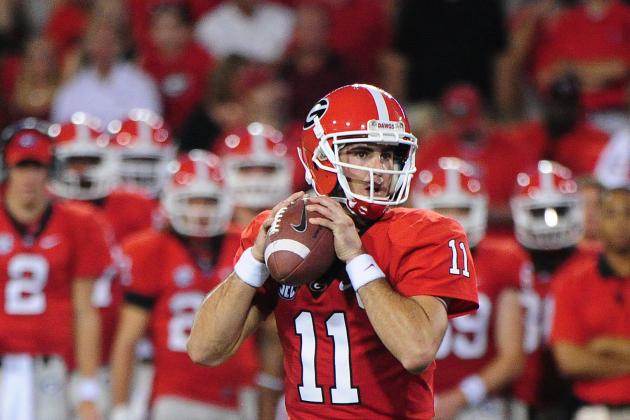 Scott Cunningham/Getty Images

There are currently 17 undefeated FBS programs currently ranked in the Bleacher Report Top 25 College Football Poll, with Baylor added in for good measure (Baylor is undefeated and received enough poll points to fall into at a theoretical No. 27).
Being undefeated at this point in the season means you have a good deal of control over what happens next. Keep winning, and keep improving your chances of playing in the BCS title game. Lose, and the journey may come to an abrupt end.
Teams can often absorb an early loss, but as we near October, dropping a game now can be fatal.
So let's take a look at those undefeated teams, as well as some one-loss teams that need a little help before we delve in to our best-possible BCS title game scenarios.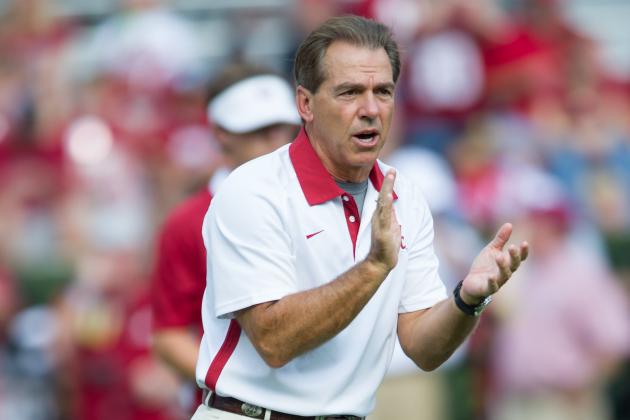 Michael Chang/Getty Images

No. 1 Alabama
Does anyone doubt that Alabama is the early favorite to show up in yet another BCS title game? Unless something disastrous happens to the Tide, we can probably count on seeing them in Miami this January.
No. 2 Oregon
The Pac-12 still looks like it will come down to USC and Oregon, but if Oregon emerges on top, it has an inside track to Miami.
No. 3 LSU
The SEC West will likely come down to that November Alabama-LSU meeting. Again. Let's hope we see a little more scoring this time around.
No. 4 Florida State
An impressive win over Clemson validates this team's chances, not only in the ACC, but nationally.
No. 5 Georgia
With all of the focus on the West Division, people are forgetting there's a darn good race developing in the East this season, currently led by Georgia...
No. 6 West Virginia
Not only is West Virginia thriving this season, but it has a legitimate Heisman contender in quarterback Geno Smith.
No. 7 South Carolina
…and the Gamecocks aren't far behind.
No. 8 Notre Dame
The Irish are 4-0 for the first time in a decade, and Brian Kelly has his team's sights set squarely on the BCS.
No. 9 Kansas State
Admit it: Bill Snyder is an absolute wizard. The Wildcats suddenly look like a Big 12 contender.
No. 10 Stanford
Worries about a slow start (after barely edging past lowly San Jose State) are gone now that the Cardinal have knocked off USC yet again.
No. 12 Texas
Texas controls its own destiny with games against all the ranked, undefeated teams in the Big 12 it could ever want.
No. 13 Florida
Are the Gators back? It's too soon to tell, but they're looking darn good so far.
No. 15 Texas Christian
No trouble yet for the new-to-the-AQers Horned Frogs, but the big tests are yet to come.
No. 18 Louisville
Are we really ready to a see an undefeated Big East team make a case for a title-game slot?
No. 21 Oregon State
Who would have guessed the Beavers would be undefeated at this stage in the season?
No. 22 Mississippi State
It's easy to forget about the Bulldogs, but Mississippi State started 1-0 in the SEC for the first time in well over a decade. Can they keep that momentum?
No. 24 Rutgers
Holy cow! Another undefeated Big East team in the Top 25! Is this a sign that the crazy guy with the "The End is Near" sign is right?
Baylor
The Bears are just outside of the rankings for now, but a few more wins will suddenly validate this RG3-less Baylor team.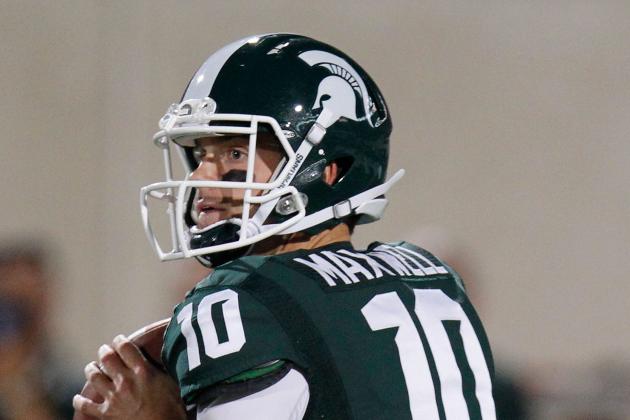 Gregory Shamus/Getty Images

We'll move on to those teams that need some help—and likely a little pollster love—to make it to Miami for the BCS National Championship Game.
Needless to say, winning out is a must.
And just in case you think we forgot about them, we're adding our "no chance" ranked teams at the bottom.
No. 11 Southern California
First, no more losses (which is far from certain). Second, no more than two undefeated BCS conference champions (also far from certain). Third, a lot of poll love. Still, USC is the highest-ranked one-loss team in the nation right now.
No. 14 Clemson
Clemson is still very good, but it looks as if Florida State can put it on cruise control to clinch the division now.
No. 16 Oklahoma
Kansas State is going to need to lose a couple of times for the Sooners to even have an outside shot.
No. 19 Michigan State
Michigan State is still a favorite to win the Big Ten this season, and if Notre Dame keeps winning, that loss won't look too bad for MSU.
No. 20 Nebraska
If UCLA wins the Pac-12 and Nebraska can blow through the Legends Division to a Big Ten title, then the Huskers in a BCS title game isn't completely out of the question. But the pollsters will have to be convinced that the Huskers deserve anything better than a Rose Bowl Game trip.
No. 23 Boise State
It's really hard to envision how a one-loss Boise State team earns a trip to Miami—even if the Broncos go undefeated and MSU wins the Big Ten.
Virginia Tech
The Hokies probably need a resurgent Pitt combined with an ACC title to have any shot at a trip to Miami—for the second BCS game in Miami this season, that is.
Wisconsin
The Badgers look like a hot mess right now. With injuries piling up and quarterback issues, a third straight Big Ten title is looking less and less likely.
No. 17 Ohio State
We really don't know how good this Ohio State team is yet, but since they're ineligible anyway, we've added them to the bottom of our list as logically having no shot.
No. 25 Michigan
The horrible performance in the loss to Notre Dame dropped U-M to 2-2 and validates all the naysayers. The Wolverines have no shot now.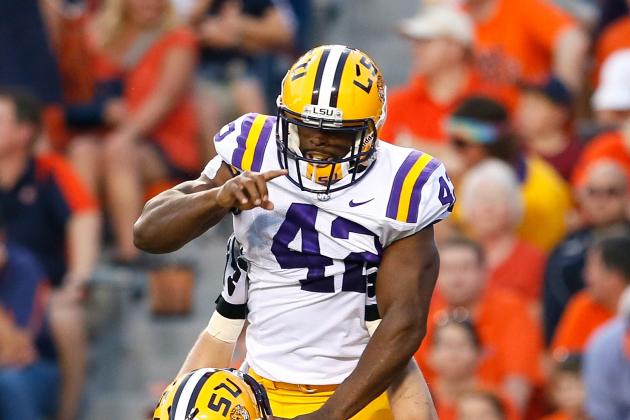 Kevin C. Cox/Getty Images

We'll start our list of best possible BCS title games with the least-best little gem.
We've seen this story before, and we didn't like either chapter. Maybe the third installment this November will be a better read, but like a bad Disney movie followed by an even worse sequel, we're likely to see more demand for this matchup from the niche market in the South.
Unfortunately, when the dust settles, the SEC may be right once again in that the two best teams in the nation will be from the SEC West.
But seriously? Again with this mess?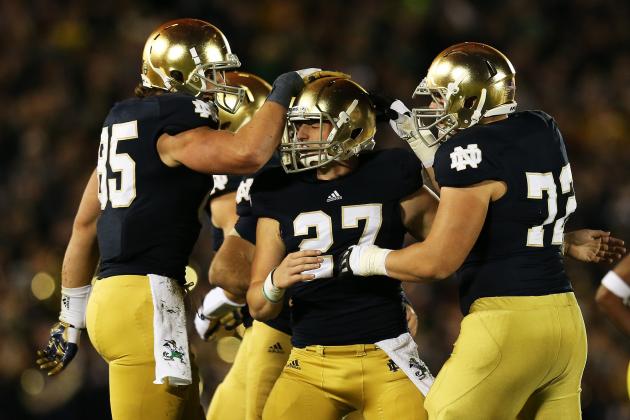 Jonathan Daniel/Getty Images

We have to add this possibility in there. After all, the Fighting Irish are 4-0, and a Top 10 team.
Plus, if Notre Dame goes undefeated, how can the BCS possibly pass up the instant money machine that would be created with the Irish in the big game? Plus, you know the perceived poll bias toward Notre Dame will be kicked into high gear if Brian Kelly can engineer a 12-0 season.
The real question then becomes which of the remaining undefeated top programs could Notre Dame beat this season? Alabama? Oregon? Florida State?
Not likely.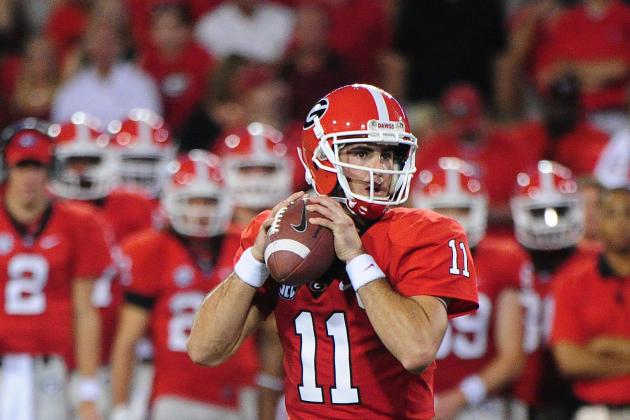 Scott Cunningham/Getty Images

The SEC East actually looks to be more entertaining this year than the West Division.
With Georgia, South Carolina and Florida all sporting undefeated records heading into the end of September, we could have ourselves a real horse race.
So from that perspective, you can replace Georgia with South Carolina.
Florida and Florida State's annual meeting make a Florida-Florida State BCS title game impossible (given the time of year the game takes place), but we wouldn't mind seeing an SEC-ACC matchup this year, especially if the SEC East finally makes its presence known in the BCS title game.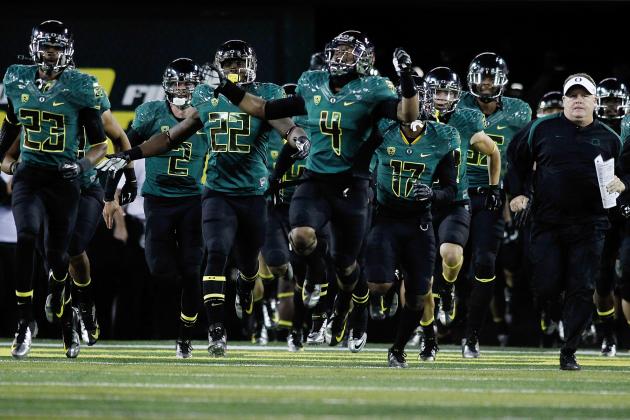 Jonathan Ferrey/Getty Images

SEC fans will hate this, but it's safe to say that the rest of the nation would rejoice if the SEC were finally taken out of the national championship equation.
As unlikely as that sounds, it's at least possible that the top SEC contenders could stumble at precisely the wrong time, opening the door to a non-SEC involved title game for the first time since USC-Texas in 2006.
So how much fun would it be to see Florida State and Oregon go toe-to-toe? Both teams are in the top five in the FBS in terms of scoring offense. Oregon is scoring 52.8 points per game in its first four, while Florida State is scoring 56.3 points per game—both enough to make Fritz Crisler proud (Crisler was the head coach of Michigan's famed "point-a-minute" teams back in the early 20th century).
Both teams are also ranked in the top 20 in the FBS when it comes to scoring defense, too.
With both teams undefeated and looking to be favorites in their respective conferences, isn't it at least possible we could find ourselves on selection Sunday with an undefeated Oregon, an undefeated Florida State and no undefeated SEC teams?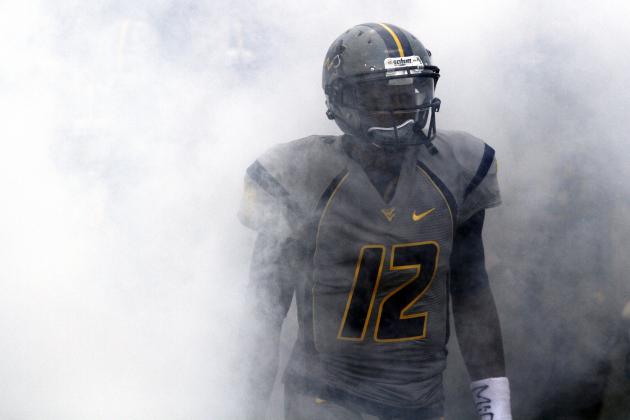 Justin K. Aller/Getty Images

We've already mentioned LSU, and we all know why the Tigers are one of the top contending teams for a spot in the BCS National Championship Game.
But Les Miles and company will need to find the accelerator again if they hope to blow through the SEC en route to a November 3 visit from Alabama. More two-point wins over teams like Auburn won't cut it.
Now that West Virginia has bolted the Big East, the Mountaineers can finally consider themselves among the BCS title challengers without most of the country snickering.
What's more, the Mountaineers actually look like a title contender this season.
Senior quarterback Geno Smith has been nothing short of impressive this season, with more than 1,000 yards passing in just three games. Smith's stats (96-of-118 for 1,072 yards, 12 TDs, 0 INT, 191.2 passer rating) are simply eye-popping, and if these numbers continue anywhere near their current level through the Big 12 part of West Virginia's schedule, we may be talking about both of college football's major trophies: the Heisman and BCS Coaches'.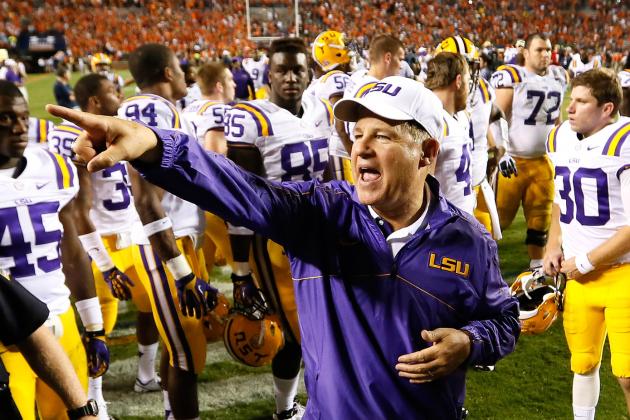 Kevin C. Cox/Getty Images

Oregon is quickly closing in on its fourth-straight outright conference championship in the Pac-12—something no team has done since USC in the 1960s (USC's string of seven titles from 2002 to 2008 included three ties).
Chip Kelly clearly has his Oregon program humming along, and with USC's early loss this season, it now seems clear that the Pac-12 crown is Oregon's to lose.
Oregon had its shot at the program's first-ever national championship in 2010, but lost to Auburn on a last-second field goal. Since then, Oregon has captured its first Rose Bowl Game championship since 1917 and has emerged as a true nationally-relevant program.
The last title game between these two conferences was an instant classic, so why wouldn't we want to see another installment?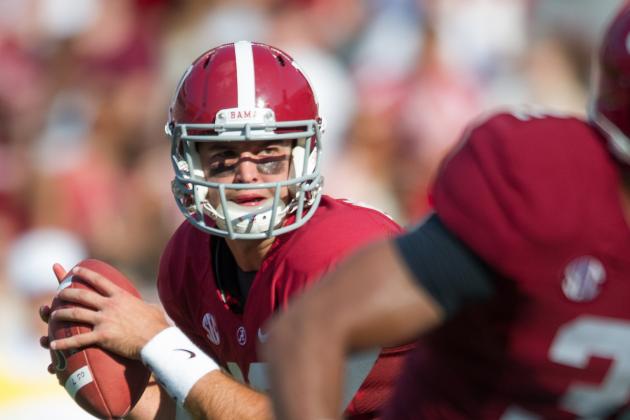 Michael Chang/Getty Images

This increasingly likely BCS title game matchup would be entertaining, to say the least.
West Virginia brings to the table an explosive offense led by a Heisman Trophy contender in quarterback Geno Smith.
Alabama has its stifling defense that effectively corralled one of the nation's quickest players in Michigan's Denard Robinson.
It would also give us an excellent chapter in the great rivalry between the SEC and Big 12, with an "old guard" versus "new blood" twist.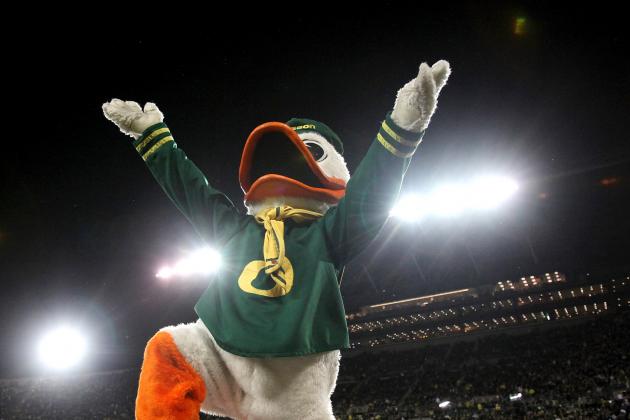 Jonathan Ferrey/Getty Images

With the way the rankings are looking right now, it seems as if Oregon and Alabama may be one of, if not the most likely January matchup for the BCS title Game.
A lot can still happen in both the SEC and Pac-12, but the potential challengers to these two powerhouse programs haven't necessarily looked sharp thus far; USC has already lost to Stanford and LSU escaped Auburn, 12-10.
A high-octane offense against a great defense. What could be more exciting than that?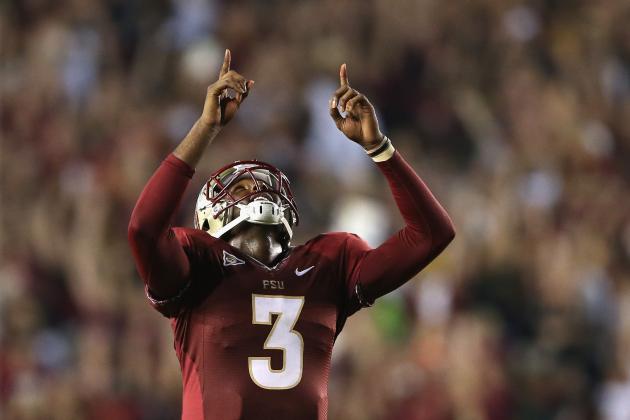 Streeter Lecka/Getty Images

Maybe the final game on our countdown could be all that surpasses a potential Alabama-Oregon meeting in Miami.
Before the 2012 season even got underway, the Seminoles hype machine was once again in high gear. Even though Florida State didn't exactly come through on its Top Five ranking at the start of 2011, the Noles seemed to find some validation this past weekend with an impressive win over Clemson, a fellow Top 10 team.
Florida State now seems completely unopposed for the ACC crown, and with some amazing talent and a deep roster, Jimbo Fisher's squad might sail through the rest of the season en route to a shot at the national title in its home state on January 7.
Florida State versus Alabama. EJ Manuel versus AJ McCarron. The Tomahawk Chop versus Roll Tide. It would be college football at its grandest, and a reaffirmation that sometimes the best new champions are the oldest, history-laden programs.
All we need now is the polls to align in such a way that we actually get what would be sure to be a thriller between these two storied teams.