MLB Postseason: Why 2012's MLB Wild Card Chase Will Be the Best Ever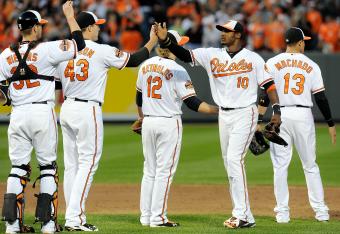 Greg Fiume/Getty Images
Baseball purists had to have thrown up in the nearest garbage can last March when Major League Baseball announced that it would be adding a team as a second wild card for both the American and National Leagues.
Oddly enough, they did the same thing when commissioner Bud Selig made a similar announcement in 1994.
Obviously, that worked well.
The 1997 and 2003 Florida Marlins, 2002 Anaheim Angles, 2004 Boston Red Sox and 2011 St. Louis Cardinals have been very thankful for that addition, as they won the whole thing because of the wild card addition.
What the wild card added to Major League Baseball's pennant race was intrigue. The result was not only a fatter wallet for the 30 MLB team owners via revenue sharing, but also more quality games for baseball fans who crave them when the calendar hits October.
Without the initial wild card, Major League Baseball would not have seen some of the quality Game 163s it's seen over the past 14 seasons. They led to the addition of a second wild card team in each league with an additional (and maybe manufactured) Game 163.
That addition should mean that this year's chase for the two wild-card spots are going to be the best baseball has ever seen.
It's going to be hard to top 2011 after seeing an Evan Longoria walk-off bomb in extra innings send the Tampa Bay Rays to the playoffs over the fading Boston Red Sox, but it also ensures that fans will get to see that pressure-packed moment that all sports fans love in playoffs of any kind.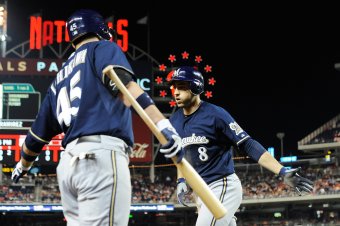 Patrick McDermott/Getty Images
Last year's wild-card race was so good that fans had to switch between four different games on the season's final day just to see who was getting into the postseason.
This year, there could be many more. Entering Monday, there were 16 teams that could be headed to the playoffs via a division title or wild card.
Granted, some scenarios are more far-fetched than others, but it's completely possible that the last day of the season could cause you to overuse your remote control to the point of breaking it.
It's not just that many teams are involved in the race for the two wild-cards, its the teams that are involved.
For cities like Baltimore, Pittsburgh and Oakland, it's been a long time since their teams have been able to play meaningful games—not only this late in the season but also into October.
The second wild card also eliminates the situation where a team that has clinched a playoff spot can be laid back, as they know they're in the divisional round.
This is no longer the case, as MLB added an additional play-in game in which the winner will take on the best division winner in that league.
A slipup on the last day of the season to lose a division lead (a la 2006 Detroit Tigers or 2010 New York Yankees) could mean that a team could find themselves on the road in a winner-take-all environment just to get into the divisional round.
Unless the division is clinched, there will be no such thing as letting up and taking the wild card. Teams now have to earn their playoff spots.
Again, it will be tough to duplicate the last day of the 2011 regular season. However, with everything that has been added with the second wild card, there could be some fantastic baseball down the stretch.
This article is
What is the duplicate article?
Why is this article offensive?
Where is this article plagiarized from?
Why is this article poorly edited?