Heisman Watch: Can Anybody Catch Geno Smith?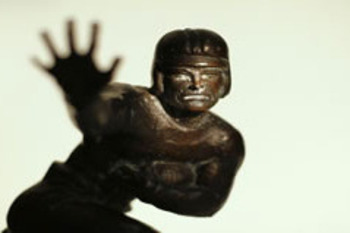 Preseason favorites like Matt Barkley, Denard Robinson, Montee Ball and many others have underwhelmed thus far, leaving Geno Smith as one of the few (relatively) big names still left in the race.
This weekend we saw four big time games that really had a major impact on this early college football season. Both Notre Dame and Florida State survived the weekend to stay undefeated. We also saw Oregon blast Arizona and Kansas State upset Oklahoma. How do these games affect the Heisman race? Let's find out!
Nolan Vasan: NFL Draft Geek
1) Geno Smith: QB, West Virginia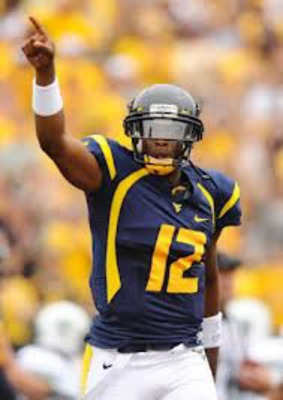 Last Week: 30/43, 338 yds, 3 TDs vs. Maryland (31-21) Next Week: vs. Baylor
It's incredible how going 30/43 for 338 yards and 3 TDs is now just considered "expected" for this hotshot QB, but Smith was still spectacular in West Virginia's win over Maryland. His 338 yards helped shred the Terrapin defense, as the Mountaineers improved their record to 3-0.
Smith continues to play at a very high level and is clearly the front-runner to win the award. Right now, there really isn't a close No. 2.
But it will soon start to get much more difficult for Geno and West Virginia. Big 12 conference play starts this weekend, and although Smith won't have to face any elite defenses, they are still a lot better than anything he has seen so far. With the roll he is on right now, he should be just fine though.
2) Collin Klein: QB, Kansas State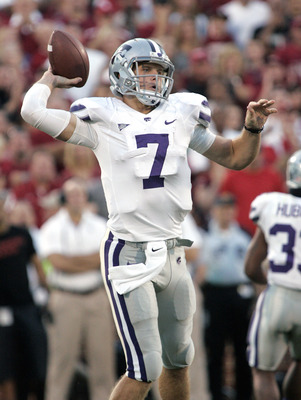 Brett Deering/Getty Images
Last Week: 13/21, 149 yds, 0 TDs, 79 yds rushing, 1 TD vs. Oklahoma (24-19) Next Week: vs. Kansas
In typical Collin Klein fashion, it wasn't pretty, but the Wildcats and Klein got the job done. Klein's stats were not amazing, but he did have a combined 228 yards, however the big thing was getting the victory over Top 10 ranked Oklahoma.
With the win, KState really moved up the rankings and also showcased Klein to the national stage. The win also avenges the Wildcats' 41-point loss to the Sooners last year. Things do get easier for Klein and the Wildcats this week, as they face off against in-state rival Kansas. The Jayhawks are awful this year and should allow Klein to put up some gaudy numbers.
3) Le'Veon Bell: RB, Michigan State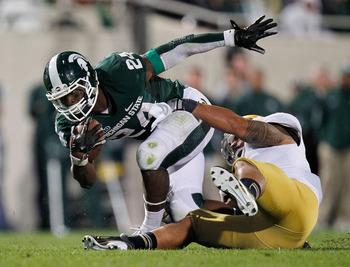 Gregory Shamus/Getty Images
Last Week: 36 carries, 253 yards, 1 TD vs. Eastern Michigan (23-7) Next Week: vs. Ohio State
Michigan State struggled against lowly Eastern Michigan, but it wasn't any fault of Le'Veon Bell's. Despite MSU's inability to put Eastern Michigan out of the game early, Bell did his part, rushing for 253 yards and a touchdown.
This performance is just what Bell needed to stay in the hunt for the Heisman. He has a long ways to go to get back to being one of the favorites, but their game against Ohio State this week could give him that national spotlight boost that he needs. With the way Ohio State's defense has been playing, Bell has a really good chance to make some noise.
4) E.J Manuel: QB, Florida State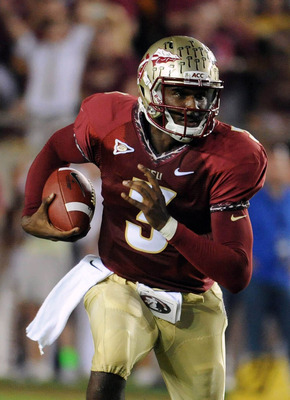 Melina Vastola-US PRESSWIRE
Last Week: 27/35, 380 yds, 2 TDs vs. Clemson (49-37) Next Week: @ South Florida
With Florida State needing to seize the opportunity against Clemson, the senior QB stepped up. Manuel threw for 380 yards and rushed for 102.
The Seminoles needed every bit of those yards to outscore the Tigers' high-flying offense, in one of the more entertaining games we will see all year. Not only did Manuel throw for a ton of yards, but he was just as lethal with his feet.
Manuel was already a dark horse candidate to win the award, but after the Seminoles' big victory over Clemson and Manuel's performance, he is now thrust right into the heat, especially with the race so wide open.
Florida State has an easy schedule ahead of them, with only Virginia Tech and Florida being possible ranked teams. If the Seminoles can get through the season unscathed, Manuel has a great opportunity to make some noise in the Heisman race.
5) Matt Barkley: QB, USC
Harry How/Getty Images
Last Week: 22/34, 192 yds, 2 TDs, 2 INTs vs. California (27-9) Next Week: @ Utah
Looking to bounce back from their big loss to Stanford, Barkley was able to lead the Trojans to victory, but he wasn't overly impressive doing so. The emphasis put on the run game came at the cost of Matt Barkley.
Not only did Barkley throw for less than 200 yards, but he also threw two picks. Those aren't terrible numbers, but in a race for the Heisman, that doesn't look very good.
Barkley still has an outside shot of winning the Heisman Trophy, but his stock is definitely on the decline as of now. He'll have to clean his game up and elevate his passing numbers to get everybody's attention back.
Keep Reading