NFL's Biggest Surprises of 2012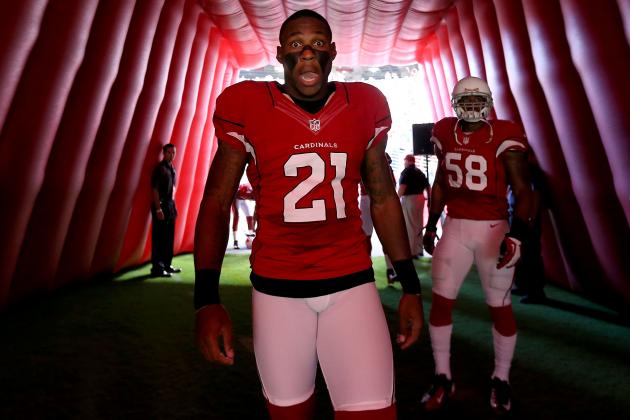 Christian Petersen/Getty Images

Take a moment to break away from the replacement refs debate, and let's talk about some of the big surprises of the young 2012 NFL season other than how horribly bad the officiating has been at times.
There are too many good stories to overlook.
An NFC West team is 3-0, and it's not the San Francisco 49ers. The league's leading quarterback isn't Tom Brady, Aaron Rodgers or Drew Brees. A $100 million man is among the NFL's worst. A rookie and a sophomore QB are among the league's most impressive.
Sure, the biggest surprise of this young NFL season might be that an NFL ref could reason that someone other than the Green Bay Packers' M.D. Jennings came down with that Hail Mary in Seattle.
But for now, let's focus on the other biggest surprises of 2012 so far.
Begin Slideshow

»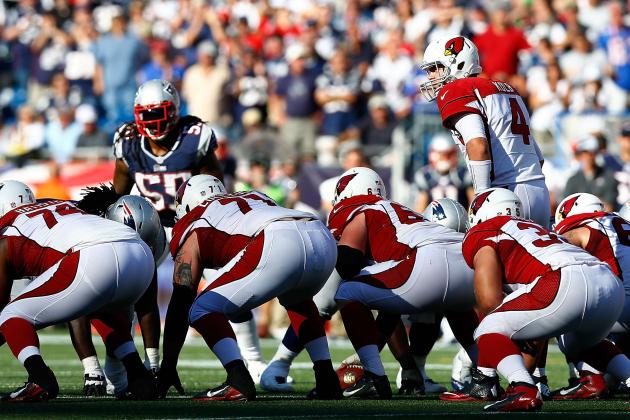 Jared Wickerham/Getty Images

The Arizona Cardinals are 3-0.
Let that sink in.
While I won't embellish by calling them the best team in football—a distinction the also-undefeated Houston Texans and Atlanta Falcons have the inside track on—it's safe to say nobody saw this coming.
It was too early after Week 1, when they slipped past the Seattle Seahawks, for anyone in Arizona to get excited. Sure, a divisional win is always nice, but the Seahawks were a team still trying to find its identity in Week 1, and the Cards took advantage.
In Week 2, things got real.
The Cards went on the road to New England and stunned the defending AFC champs. Even though they needed a timely shank in the final seconds from the most accurate kicker in Patriots history to seal the 20-18 win, the Cards gave us a glimpse of what we can expect from them moving forward.
They were in Tom Brady's face all afternoon, sacking him four times and holding the quarterback to just one touchdown and a 30.6 Total QBR—which, if you didn't know, isn't very good. They also blocked a punt in the third quarter to set up a two-yard strike from Kevin Kolb that gave them a lead they would not relinquish.
In Week 3, they blasted a 2-0 Philadelphia Eagles team that was scrappy enough to overcome turnovers in its first two games to pull out unlikely wins.
But the Cards would have none of that.
They jumped out to a 24-0 halftime lead, aided by a pair of Michael Vick fumbles, one of which was returned 93 yards for a TD as the second quarter closed.
Despite the fact that Kolb was an impressive 17-of-24 for 222 yards and a pair of TD against his former team, the Cards demonstrated—much like they did against the Pats—that they'll ride their defense and special teams to grind out wins. And they'll have to if their 31st-ranked offense doesn't get going.
San Francisco 49ers, beware: The Cards have won 10 of their last 12 games dating back to last season.
Maybe their 3-0 start shouldn't be such a surprise.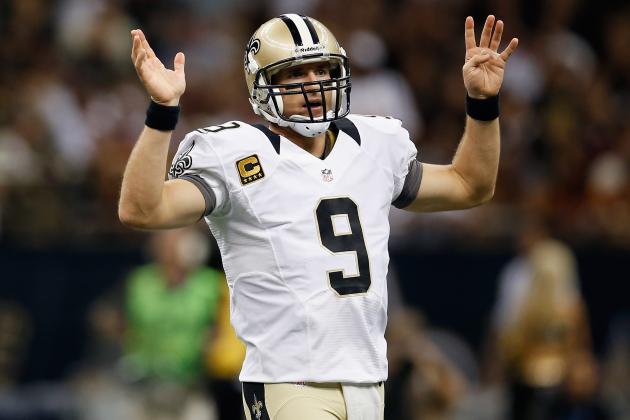 Chris Graythen/Getty Images

It was a rough offseason for the Saints.
So far, it's been an equally exhausting regular season.
The Saints are 0-3. They're already 0-2 at home, where they went undefeated in 2011. They're led by an interim-interim head coach. Next, they travel to Lambeau to take on the Packers.
Times are hard in the Big Easy.
The offense is not nearly as prolific as it was when head coach Sean Payton was at the wheel, currently 10th in total offense. Although the passing game is ranked fifth in the league, Drew Brees' 25th-ranked QB rating of 77, seven sacks and five interceptions are trends that cannot continue if the Saints want to turn it around.
The 32nd-ranked defense certainly doesn't help, either.
The Saints' defense under Steve Spagnuolo is as prone to allowing the big play as Brees and the offense are apt to execute it. The Saints have allowed 13 plays of 20 yards or more, tied for fourth-most in the league.
With the Packers, 49ers, Giants, Chargers and Broncos still on the schedule—along with two tilts against the division-foe Falcons—things could get even uglier for the Saints.
The 0-3 start is the team's worst since 2008, when it started off 0-4 and fought back to finish 7-9.
In 2012, the Saints are on the road from missing Sean Payton to missing the playoffs.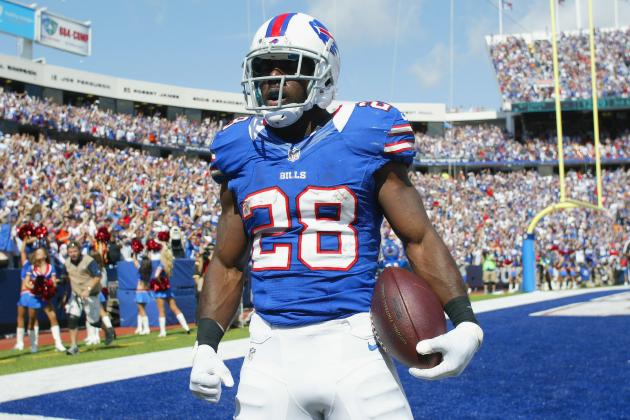 Rick Stewart/Getty Images

One man's injury is another man's opportunity.
Kevin Kolb, now the leader of the aforementioned Cardinals, knows all about that.
A hotly contested preseason QB battle ended with John Skelton winning the job and Kolb being relegated to the bench. But when Skelton went down in Week 1 against the Seahawks, Kolb demonstrated the Cards are hardly short-handed at QB.
His stats are solid, but not overwhelming (428 yards, four TDs in about nine quarters of action). But his near-flawless execution of the no-huddle on the game-winning drive versus the Seahawks and his ability to protect the football (zero picks to date) make him perhaps just what the Cardinals need to contend with the 49ers in the NFL West.
Elsewhere, guys like the New York Giants' Andre Brown and the Buffalo Bills' C.J. Spiller also surprised not only as solid contributors, but as fantasy stars in relief of their injured teammates.
Brown is fresh off his 113-yard, two-TD breakout on Thursday Night Football in relief of Ahmad Bradshaw, while all Spiller did was lead the NFL in rushing through two weeks with 292 yards and three TD before leaving in Week 3 with a shoulder injury.
While the injury isn't as serious as originally thought, he's likely to miss some time. Even though the Bills could get Fred Jackson—whom Spiller filled in for—back in Week 4, they'll be itching to get Spiller's ridiculous 9.3 yards per carry back in the rotation.
Brown's story makes him a nice surprise for the Giants. He was cut seven times by five different teams in three years and barely recorded an NFL statistic before taking the reins from Bradshaw after he left the Giants' Week 2 contest against the Tampa Bay Buccaneers.
Now, it appears he's finally found a home in New York—he and his 5.6 yards per carry.
And it's not Spiller's success that's surprising. After all, he rushed for 561 yards and 5.2 yards per carry in 2011 and demonstrated himself to be a dynamic returner, so we knew he had NFL talent. But what's new is his sudden propensity for the big play both on the ground and in the receiving game, as he's accounted for 422 yards of offense and four TD on the young season.
Kolb, Brown and Spiller are not only making it hard for people to ignore them. They're going to make it tough for their incumbents to get their jobs back.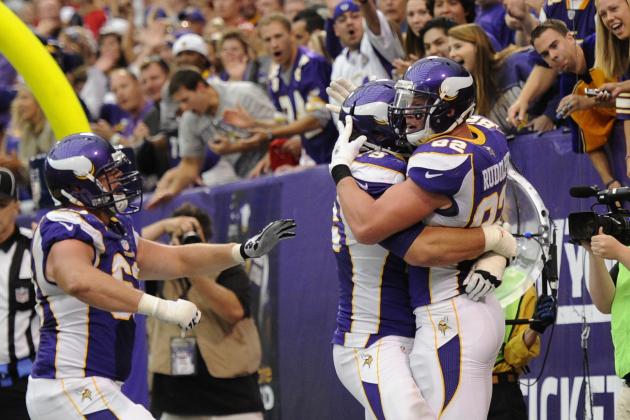 Hannah Foslien/Getty Images

No one had the Niners on upset alert in Week 3.
Following wins over the Green Bay Packers and Detroit Lions, they were squarely in the conversation of best team in football. A QB who doesn't turn it over. A defense that will punch you in the mouth. Playmakers at skill positions on offense. The Niners had it all.
But the Minnesota Vikings didn't seem to care.
Anything that could have gone wrong for the Niners went wrong, from Alex Smith tossing his first interception in a team-record 249 attempts to a blocked field goal that the Vikings turned into points.
The Niners simply couldn't get it going.
Christian Ponder, meanwhile, was busy managing the game and picking his spots to make plays. He was 21-of-35 for 198 yards and a pair of TDs on the day to go along with 33 yards and a TD on the ground.
The Vikings didn't do anything spectacular against the Niners. They didn't dominate. They didn't smack the Niners around. They didn't run away with the game. They simply executed on a day the Niners didn't. And in the NFL, that's all it takes for a team struggling to find its identity to steal one from a Super Bowl contender.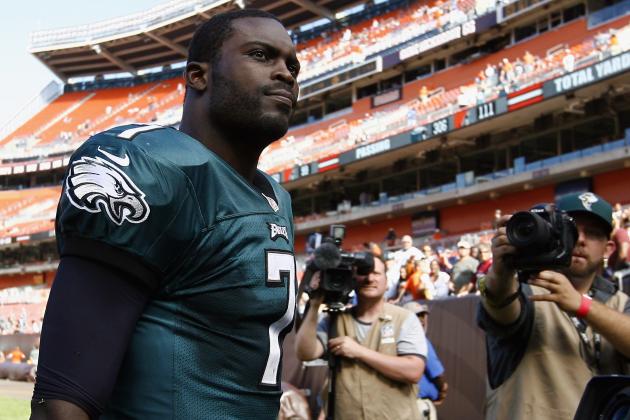 Matt Sullivan/Getty Images

It's not often a QB throws four interceptions on the road and comes away with a win, but Michael Vick found a way to pull that off in Week 1 against the Cleveland Browns. He added two more picks and a lost fumble in Week 2 against the Ravens, but the resilient Eagles still prevailed.
Seven turnovers, four TDs, two wins.
But the Cardinals would not be so kind to Vick in Week 3.
Though Vick didn't toss any picks against the Cardinals, he was sacked five times and lost two fumbles. He completed just 17-of-37 passes and never found the end zone in a 27-6 rout in the desert.
Vick has completed just over 55 percent of his passes through three games. He has nine turnovers and he's been sacked nine times. His 66.3 QB rating is 29th in the league. And his propensity to turn the ball over and his poor game management may finally be taking its toll on head coach Andy Reid.
Reid said Monday that Vick is the Eagles' QB "right now" and that they'll evaluate as they go.
Meanwhile, rookie Nick Foles—the guy that was 40-of-63 for six TDs and two interceptions in four preseason games—is waiting in the wings.
If the Eagles can continue winning despite Vick's blunders, benching the $100 million man is unlikely. But if Vick continues to rely on the defense to bail him out after untimely turnovers, you can bet the losses will start to pile up.
Whatever happened to the Michael Vick of 2010?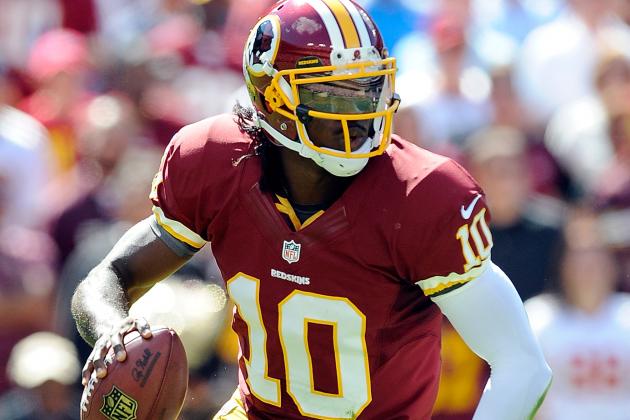 Patrick McDermott/Getty Images

Robert Griffin III is the real deal.
It's only been three games, and the Redskins are 1-2 with their lone win coming against the struggling Saints, but RGIII has shown already that he can play in this league.
The sixth-highest-rated QB in the NFL through three weeks (103.5), Griffin has completed 67.4 percent of his passes and connected on four touchdown strikes with just one interception. He also has 209 yards on the ground and three scores, averaging 6.5 yards per carry.
There's nothing he can't do.
Except block for himself—and at this rate, he may need to, as the Redskins are worried he's taking too many shots in his young career.
Griffin has been sacked nine times, and if it weren't for his ability to scramble, that number would likely be much higher. Additionally, the Redskins run an option offense at times to keep the defense off balance.
The problem is, if Griffin keeps the ball, he's going to get hit. If he pitches it off, he's still going to get hit.
Not exactly setting him up for longevity, but the Skins can't let fear keep such a useful tool in the shed.
Nevertheless, his poise in the pocket, on the move and in pressure situations has been nothing short of remarkable. He's shown he has all the physical tools and the right makeup above the shoulders.
The Skins just need to shore up that offensive line to protect those tools.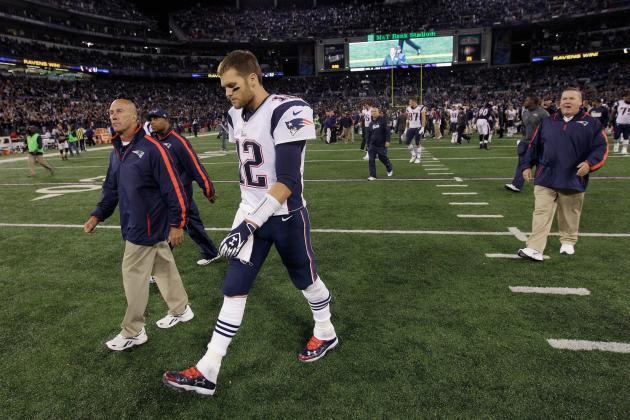 Rob Carr/Getty Images

The Saints aren't the only perennial Super Bowl contender struggling. It hasn't been a smooth ride for the New England Patriots thus far, either.
The Pats find themselves under .500 for the first time since Tom Brady took the reins at QB. The last time the Pats were under .500 was in 2003, when they dropped their season opener to start the year 0-1.
They went on to win the Super Bowl that year.
But perhaps it's not the fact that they're 1-2, but how they got to 1-2 that's most surprising.
Stephen Gostkowski, the most accurate kicker in franchise history, badly pulled a potential game-winning field goal at home against the Cardinals. The following week, a controversial call on a game-winning kick by the Ravens carved another notch in the loss column.
Meanwhile, Brady is running for his life. He's been sacked seven times and hit dozens more, and it's one of the reasons he has just four TD passes through three games.
The Pats will rebound. They always do. Everyone looked at the schedule this offseason and saw the Titans and Cardinals ahead of the AFC championship rematch against the Ravens and likely assumed the Pats would sit at 2-0 heading into that matchup with a chance to start the year 3-0.
Sure, it's only September, and they'll be just fine, but it just looks strange seeing the Pats listed beneath the New York Jets and Buffalo Bills in the AFC East.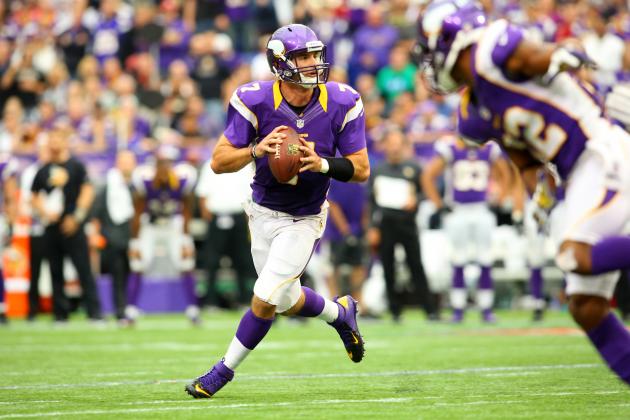 Adam Bettcher/Getty Images

Christian Ponder was one of the biggest surprises of the 2011 NFL draft. Not because of his performance as a rookie, but simply because he was drafted 12th overall, which was considered a significant reach at the time.
But in 2012, he's making the Vikings look pretty smart.
Ponder has five total TDs (one rushing), no INTs through three games and is completing 70.1 percent of his passes. His 104.9 QB rating is sixth in the league—better than Tom Brady, Eli Manning, Aaron Rodgers and Drew Brees.
The Vikings are 2-1 after Ponder helped lead them over the 49ers in Week 3—an impressive win, to say the least. While their first two games were less than impressive, Ponder's poise and game management has been surprising.
He has obvious rapport with tight end Kyle Rudolph, with whom he connected for a pair of TDs against the Niners. He's helped make Percy Harvin the league leader in receptions (27) through three games. He has fumbled a couple of times, but overall, he's protected the ball well and given the coaching staff enough confidence to not have to lean on Adrian Peterson too much.
Ponder and his supporting cast might be on to something in Minnesota.
His high ranking among QBs is likely more attributable to the struggles of other conventional stars than his own prowess, but he's taken advantage of the opportunity, and that's really all you can ask of him.
Ponder and the Vikings aren't playoff-bound or anything, but Ponder's playing well, and the Vikings look like they're at least heading in the right direction, so there's optimism in Minnesota.
Much of it is because of Ponder.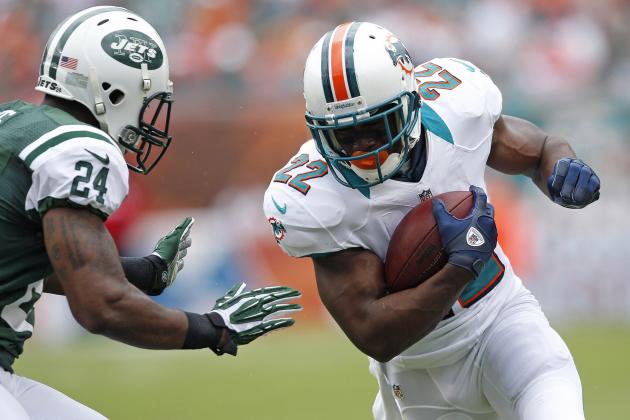 Joel Auerbach/Getty Images

Reggie Bush made it no secret: He wants to lead the league in rushing in 2012.
That sparked a few laughs around the league and in the media. Not because Bush isn't a capable NFL running back, but because he plays in Miami and guys like Adrian Peterson and Arian Foster are out there racking up yards every week.
Bush rushed for 1,086 yards in 2011, nearly doubling his career high of 581. He averaged five yards per carry, highest among 1,000-yard rushers in 2011.
He still finished 11th in the league.
But in 2012, Bush has done more than just pick up where he left off.
Through two weeks, Bush racked up 241 yards and a pair of touchdowns. He had 61 yards on just 10 carries in Week 3 before leaving with a knee injury that will almost certainly derail his quest for league-leading honors if he misses any time, although it's being reported that he suffered no structural damage and could play in Week 4.
He was on pace for 1,616 yards, which would have been good enough to lead the league in 2011. He's showed flashes of his USC brilliance on a couple of spectacular runs, and he's averaging six yards per carry.
No, Reggie Bush won't lead the league in rushing in 2011. But depending on how long his knee injury keeps him sidelined, we could see him make another run at a 1,000-yard season, which would be a feat consistent with a former-former Heisman Trophy winner who never seemed to live up to his full NFL potential.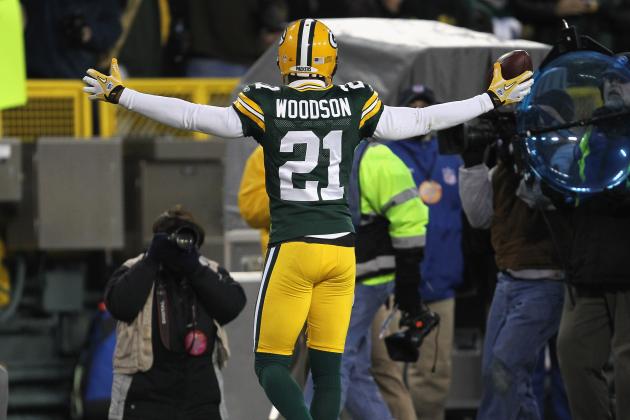 Jonathan Daniel/Getty Images

The Packers and Cowboys are Nos. 1 and 2 in pass defense through three games after finishing 32nd and 23rd, respectively, in 2011.
And they're each doing it differently.
The Packers are relying on Clay Matthews and company putting pressure on the quarterback with their 12 sacks, good for second in the league. Meanwhile, the Cowboys are relying on newcomers Morris Claiborne and Brandon Carr, along with incumbent Michael Jenkins, to smother opposing receivers.
Neither team is forcing turnovers at an alarming rate (Packers have four INT, Cowboys have just one); however, their pass defenses were laughable at best in 2011.
The Cowboys' offense is dead last in the NFL in points per game, and the Packers' offense is surprisingly mediocre, ranking in the bottom half of the league in every major offensive statistic.
Thank goodness their pass defenses have stepped up early in this pass-happy NFL of 2012.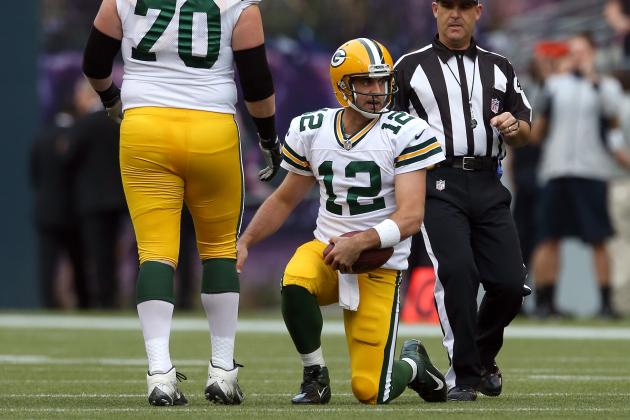 Otto Greule Jr/Getty Images

Per-game numbers: 19 points (26th in the league), 304.3 total yards (25th), 226 passing yards (20th), 78.3 rushing yards (28th).
Doesn't sound like any Aaron Rodgers-led Packers offense I've ever seen.
Forget the debacle that was the Hail Mary on Monday Night Football. Forget the fact that they've played arguably the three best defenses in football in the 49ers, Bears and Seahawks in the first three weeks.
The Packers just look out of sync.
Aaron Rodgers was sacked eight times and hit nine times against the Seahawks on Monday night. And that was just the first half. He completed 12-of-15 passes while under siege in that half, almost all of them checkdowns.
The offensive line can't block. Cedric Benson hasn't provided the spark at running back the Packers had hoped for. Wide receivers can't get open downfield, and there's only so much Rodgers can do.
With St. Louis, Jacksonville and Detroit (twice) still on the schedule, the Packers will most certainly right the ship. And at 1-2, they're hardly in danger of missing the playoffs.
But I, like most people, just didn't see the Packers ranked 25th in total offense after three weeks.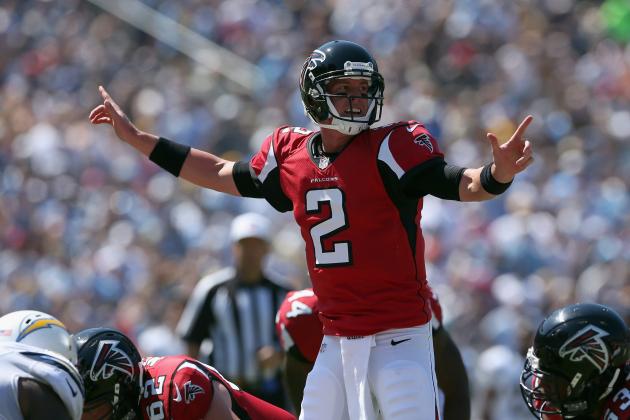 Jeff Gross/Getty Images

There's an elite class of QBs in the NFL. We all know who they are.
Matt Ryan has always been just outside of that class.
Now, he's teaching it.
Ryan's 114 QB rating is tops in the league. He's tossed eight TDs and just one pick through three games, and he has the Falcons at 3-0 and in the discussion of the best teams in the game (along with the 3-0 Texans). He has the most first downs of any QB in the league, he's been sacked just four times and he has Roddy White, Julio Jones and Tony Gonzalez looking like the best receiving corps in the league.
And he's doing it with no running game.
The Falcons rank 25th in the league in rushing with just 90 yards per game on the ground.
But Ryan—aided by a resurgent defense—still has them flying high in 2012.
Perhaps he's simply the beneficiary of other top QBs' woes in 2012, as you'd think names like Brady, Rodgers, Brees or Manning would top the QB rankings. Most years, you'd be right. There would be an elite class of QBs in the NFL, and Ryan would be one of the few worthy candidates left out.
The Falcons are poised to run away with an NFC South division that includes the struggling Saints, the downtrodden Panthers and the inconsistent and unbalanced Buccaneers.
Home-field advantage throughout the NFC playoffs isn't far-fetched for the Falcons, and the way Ryan is playing, they should have no problem locking that up early.