Predicting the Full 2012 Postseason Roster for the Cincinnati Reds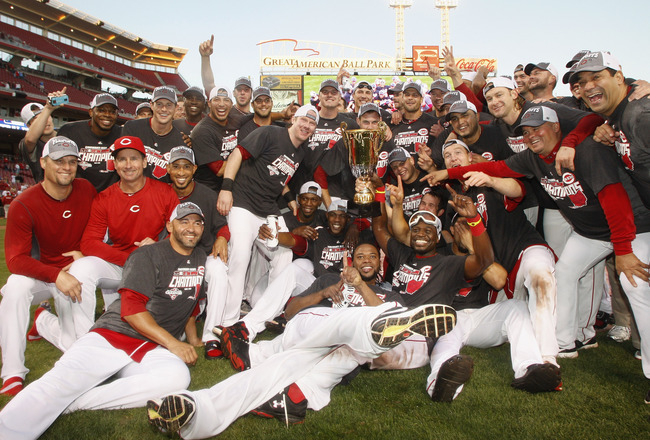 John Grieshop/Getty Images
For the second time in three years, the Cincinnati Reds are heading to the MLB playoffs as National League Central champions.
Manager Dusty Baker dealt with adversity all season and will now have some tough choices to make before the postseason begins. Injuries decimated this team, but Baker found a way to put together a lineup every night.
The Reds have a great pitching staff and an extremely athletic lineup. This team is stronger than it was in 2010, and there were not many weaknesses this season.
Most of the roster is set, so there will not be many positions up for grabs for the postseason roster. Relievers are auditioning for a spot on the roster with every appearance. Bench players are trying to take advantage of every plate appearance to prove they deserve to play in October.
Now that the team has clinched the NL Central, it can begin to set itself up for the playoffs. The rotation is beginning to shape up, and the lineup is beginning to get healthy.
Cincinnati (92-61) trails the Washington Nationals by one game for the top seed in the National League, but the Nationals own the tiebreaker over the Reds because of the head-to-head results. The San Francisco Giants trail the Reds by three games for the No. 2 seed, so it will be interesting to see how each team wants to play down the stretch.
So what should Reds fans expect to see in October?
*Stats are from ESPN.com
Starting Rotation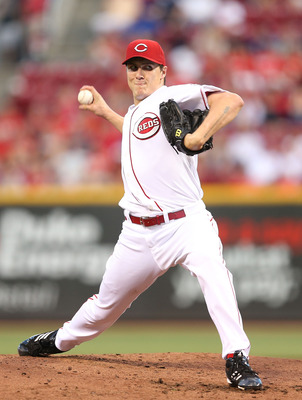 Andy Lyons/Getty Images
Johnny Cueto (18-9, 203 IP, 2.84 ERA)
Bronson Arroyo (12-8, 191 IP, 3.63 ERA)
Mat Latos (13-4, 197.1 IP, 3.60 ERA)
Homer Bailey (12-10, 195 IP, 3.92 ERA)
Cueto and Latos have been legitimate No. 1 pitchers this season, so the team should feel confident about matching up with any team. The Reds pulled the trigger on a deal for Latos in order to make a postseason run. Baker likes to split up his hard throwers, so Arroyo will likely get the nod in Game 2. Arroyo has the most experience of any pitcher on the staff, and he had a nice season after struggling last year.
Homer Bailey presents the team with a difficult scenario. The other three starters have been consistent for most of the season, but Bailey is a different pitcher away from Cincinnati. He has an earned run average above 5.00 at Great American Ball Park, but he has the second-lowest earned run average in the majors on the road (according to ESPN.com).
As of now, Game 2 would be on the road and Game 4 would be at home. If the Reds are on the road for the first two games, Bailey should get serious consideration to start a road game.
Three of the four pitchers pitched in the 2010 National League Division Series:
Cueto: 5 IP, 5 H, 2 R (1 ER), 2 K
Arroyo: 5.1 IP, 4 H, 3 R (1 ER), 2 K
Bailey: 2 IP, 2 H, 0 R, 2 K
Bullpen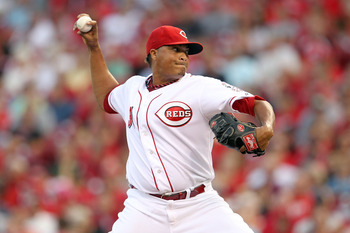 Andy Lyons/Getty Images
Locks
Aroldis Chapman (5-5, 35 S, 68.2 IP, 1.57 ERA)
Sean Marshall (4-5, 9 S, 58.1 IP, 2.62 ERA)
Jonathan Broxton (2-1, 4 S, 19 IP, 2.37 ERA)
J.J. Hoover (1-0, 1 S, 28.2 IP, 2.20 ERA)
Jose Arredondo (6-2, 1 S, 59 IP, 2.90 ERA)
Contention
Logan Ondrusek (5-2, 2 S, 51.2 IP, 3.31 ERA)
Mike Leake (8-9, 173 IP, 4.73 ERA)
Sam LeCure (3-3, 54.2 IP, 3.13 ERA)
Alfredo Simon (3-2, 1 S, 58 IP, 2.48 ERA)
The Reds will most likely only carry 11 pitchers in the postseason, so there are seven spots for relievers. Five of the spots are all but locked up as long as those pitchers stay healthy, so the battle for the last two spots will be intense.
While it isn't necessary to carry more than one long reliever, Cincinnati may feel the need to put two on its roster. Leake has been inconsistent this season, but he was the team's best pitcher last year. Simon was acquired right before the season, and he has overcome a rocky start to be one of the better pitchers in the bullpen.
Ondrusek got off to a great start, but his struggles over the next few months got him demoted in August. He will have to be nearly perfect the rest of the season if he hopes to be on the postseason roster.
LeCure has been strong for most of the season, but he has not pitched very often. The team needs someone who has been used in pressure situations before.
The team has five pitchers who can work an inning and get strikeouts, so it would be smart to have multiple long relievers. Leake can also be used as a pinch hitter or runner late in games.
Prediction: Simon and Leake make the roster.
Lineup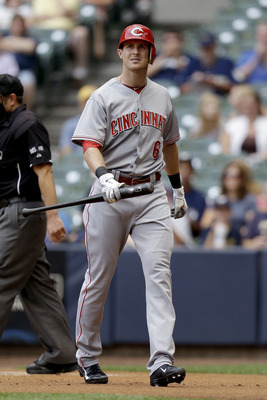 Mike McGinnis/Getty Images
2B Brandon Phillips
SS Zack Cozart
1B Joey Votto
LF Ryan Ludwick
RF Jay Bruce
3B Scott Rolen
CF Drew Stubbs
C Ryan Hanigan
Now that the lineup is finally healthy, fans should not be surprised by the projected lineup. The top five hitters are set barring any injuries. The big questions will come in at the bottom of the lineup, but not many positions are up for grabs.
If Rolen stays healthy, it will be difficult to bench him. His defense is still outstanding, and he has still shown he can hit. He hit .322 in July and August but has cooled off in September. He has been getting more days off this month, so he will be rested for October.
The main controversy will be Stubbs. The center fielder is hitting below .185 during the past two months, and his strikeouts are beginning to pile up. However, his speed makes him dangerous. He can change a game by stealing a base if he gets on, and his speed is valuable on defense. He gets to almost every fly ball hit his way, which is important in the playoffs.
Bench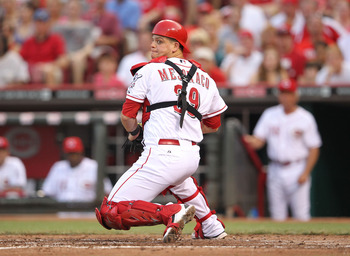 Andy Lyons/Getty Images
Locks
UT Todd Frazier
OF Chris Heisey
OF Xavier Paul
C Dioner Navarro
Contention
UT Wilson Valdez
IF Miguel Cairo
IF Didi Gregorius
C Devin Mesoraco
With six spots available on the bench, only two are up for grabs. Cincinnati has one left-handed hitter and a switch-hitter locked in, but the team is otherwise stocked with right-handed bats.
Before the season started, Mesoraco was the backup catcher. He struggled at the plate as a rookie, and he was demoted in August. Mesoraco ended up losing his backup job to Navarro.
The other three players competing for the final position are similar. They are all infielders, so it will be a tough battle because none of them will see much playing time down the stretch.
Cairo is a veteran but has not done enough to deserve a spot on the roster. The 38-year-old is only hitting .179 this season and has an on-base percentage barely over .200. Of the three infielders battling for a roster spot, Cairo is the weakest on defense.
Valdez can play all over the infield and has played some center field this season. His versatility gives him the inside track to make the roster. He is also hitting below .200, but his ability to put a bunt down can change a game.
Gregorius, who was brought up in September, has been impressive so far. The rookie is hitting .316 since making his major league debut. He would not be a drop-off at the plate even if he begins to struggle, and he has the best glove of the three players.
The competition will be intense, but it is tough to imagine Gregorius making the roster. Of the three infielders, he would give the team the best chance to win. He can play defense and would give the Reds another left-handed bat.
Mesoraco will make the team because he is a better defensive catcher than Navarro, and his presence on the team would allow Navarro to be used as a pinch hitter.
Prediction: Mesoraco and Valdez make the team.
Position Battles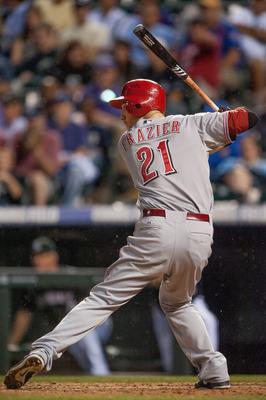 Dustin Bradford/Getty Images
The Cincinnati Reds are lucky to not have to deal with many position battles entering the postseason. The rotation is set, and the lineup is almost ready to go. The 2012 National League Central champions have won with pitching and defense, so they would be wise to continue to go with that strategy.
Center Field: Drew Stubbs vs. Chris Heisey
Stubbs is the superior defender, which can not be overlooked. He has great speed and an above-average arm. Heisey can make the spectacular play, but he also dives and misses occasionally. Stubbs gets those same balls on the run, and he never dives for the ball if he can't make a play on it. Preventing runs is important in the postseason, and Stubbs is the better option in the outfield.
Heisey is a more consistent hitter, but Stubbs has better power. On the bases, Stubbs is a better base runner and can steal a base with more consistency. But he also swings at pitches out of the strike zone, which is why fans clamor for Heisey.
Prediction: As noted before, Stubbs wins back his job.
Third Base: Scott Rolen vs. Todd Frazier
This is not much of a battle.
Rolen will be the starting third baseman as long as he is healthy. The 37-year-old is still one of the best third basemen in baseball, and his defense allows pitchers to pitch with confidence. Frazier has improved a lot on defense, but he is nowhere close to Rolen's level. That is not a knock on the rookie at all.
This season, Frazier has clearly outperformed Rolen at the plate. The rookie is hitting .281 with 18 home runs and 64 RBI to put himself in the race for National League Rookie of the Year. Rolen is only hitting .241 and has seven home runs this season while missing some time. Rolen's injuries have allowed Frazier to prove himself.
Prediction: Rolen wins the job, and Frazier gives the Reds a dangerous bat off the bench.
Projected Playoff Roster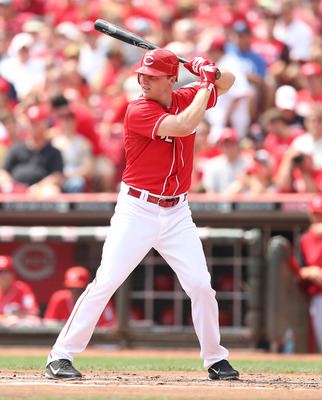 Andy Lyons/Getty Images
Starting Pitchers
RHP Bronson Arroyo
RHP Homer Bailey
RHP Johnny Cueto
RHP Mat Latos
Bullpen
RHP Jose Arredondo
RHP Jonathan Broxton
LHP Aroldis Chapman
RHP J.J. Hoover
RHP Mike Leake
LHP Sean Marshall
RHP Alfredo Simon
Catchers
Ryan Hanigan (R)
Devin Mesoraco (R)
Dioner Navarro (S)
Infielders
Zack Cozart (R)
Todd Frazier (R)
Brandon Phillips (R)
Scott Rolen (R)
Wilson Valdez (R)
Joey Votto (L)
Outfielders
Jay Bruce (L)
Chris Heisey (R)
Ryan Ludwick (R)
Xavier Paul (L)
Drew Stubbs (R)
Keep Reading

Cincinnati Reds: Like this team?