Toronto Maple Leafs: One Part of Their Game Each Leaf Should Work On This Season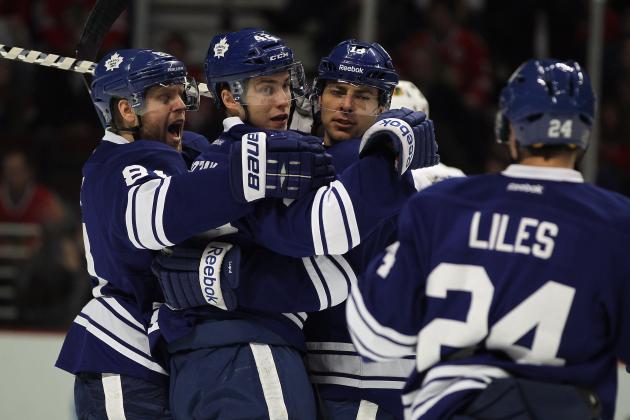 Jonathan Daniel/Getty Images

Whether there is a season or not, the Leafs will be looking to avenge an absolute horror show of a finish to the 2011-12 season which saw them fall from a playoff spot, to having a chance at the first overall selection in the 2012 NHL Draft.
After the Leafs fired head coach Ron Wilson and hired Randy Carlyle, the team did improve defensively, however, a lack of goaltending and scoring up front after the injury to Joffrey Lupul, saw the Leafs plummet down the standings and out of the playoff picture.
Call it what you will, but the Leafs looked to be far too inexperienced last year for a playoff run, especially in net. While they didn't have what you'd call a contending team, many people believed they were at least a playoff team.
The inexperienced bunch I believe got swallowed up by the monster we'd like to call Toronto Sports Media. Because of the immense pressure laid upon them, the young group crumbled and missed the playoffs for a record eighth year in a row.
With that said, I'll run down 25 Leaf players and one aspect of their games each of them need to improve on prior to the start of the next season. Whether its this year or next.
Begin Slideshow

»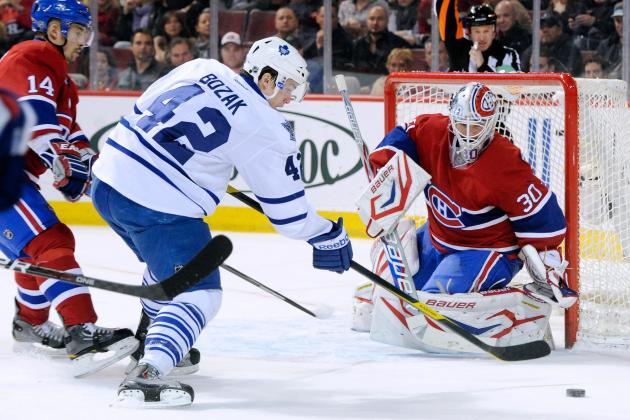 Richard Wolowicz/Getty Images

Tyler Bozak has been a nice addition to the Leafs team, however, I believe he's been given far too much responsibility as the teams' first line center.
This season he may still be the Leafs first line center, but hopefully he has grown enough as a player to really thrive in that role.
Bozak's one aspect I believe that he needs to work on is his two-way game. Not considered a very good defender, playing next to Phil Kessel and Joffrey Lupul should mean you don't finish as a minus. Bozak though has been a minus player his entire career, so its definitely something he should work on.
Goal: Finish the season even or a plus.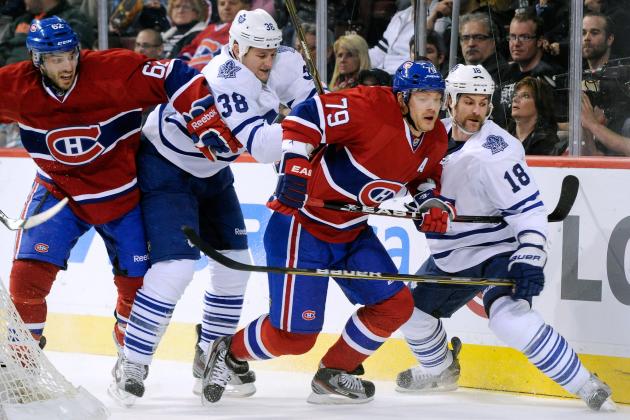 Richard Wolowicz/Getty Images

Mike Brown is one of the Leafs best defensive forwards, that is only if he's healthy.
Last season Brown struggled with injuries and didn't play nearly enough as he should.
Despite only playing 50 games and playing about 810 minutes a night, Brown managed to finish with over 75 penalty minutes, 120 hits, and 50 blocked shots.
If you average that out over a 82 game season and playing 16 minutes a night, he was probably closer to 150 penalty minutes, 250 hits, and nearly 100 blocked shots. However, those per minute stats I don't like to use that often.
Goal: Play in 65+ games and lead the Leafs to a top 12 penalty kill.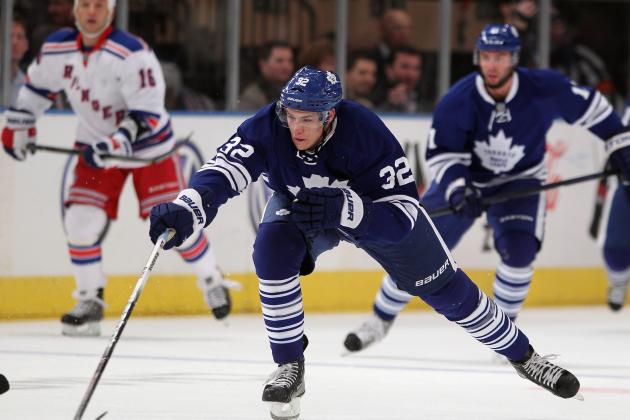 Bruce Bennett/Getty Images

At 6'5" and over 200 pounds, Joe Colborne is a giant amongst small people in the Leafs lineup. With only the recently acquired James Van Riemsdyk standing over 6'1" amongst the forwards, Colborne's massive frame would be a welcomed addition to a smaller Leafs lineup.
Is he ready is the better question though. Colborne will likely play another year in the minors before getting a full time gig with the Leafs.
With the likes of Tim Connolly, Matt Lombardi, Tyler Bozak, and David Steckel all expiring at the end of the season, there will be a void up front that the Leafs will need to fill. That's where Colborne could step in.
Goal: Use his size more and finish the season averaging more than a hit per game in the AHL.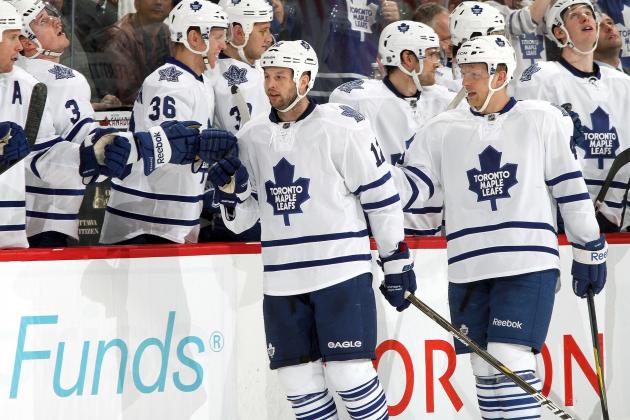 Jana Chytilova/Freestyle Photo/Getty Images

Brought in to be the first line center last year, Tim Connolly really struggled to find his role with the team last year. Rotation between first, second and third lines last year, Connolly rarely found a linemate he had chemistry with.
After the firing of Ron Wilson and the hiring of Randy Carlyle, Connolly saw his minutes decrease even more, and found himself in more a checking role, rather than a goal scoring role.
He wasn't that open to the idea of playing a checking role, but he did a pretty good job at it, helping lead the Leafs to improve their atrocious penalty kill that had them ranked last in the NHL for many months.
Goal: Keep that defensive mindset and earn top line center out of camp.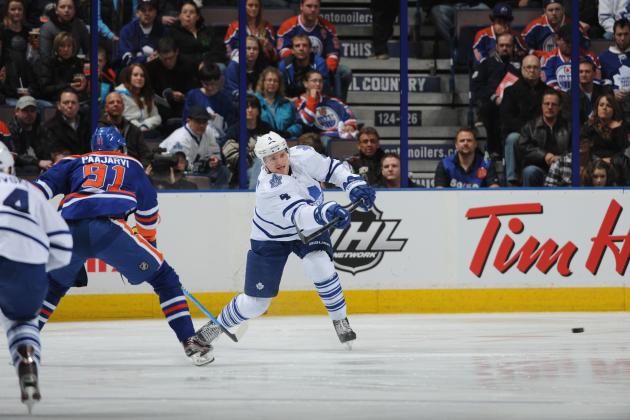 Dale MacMillan/Getty Images

While I still firmly believe Franson got an unfair shot last year with the team, he still needs to work on his skating to ever get top four minutes with any NHL team.
His shot is deadly from the point and really should be used on the power play, but that isn't the point.
Franson will need to improve his skating so he can stay with his opponents to get a better idea of the time he will get on the ice.
Goal: Start skating and hope to find a spot on the Leafs top four next to Dion Phaneuf, John Michael Liles, Carl Gunnarsson, and Jake Gardiner. First, he'll need to get resigned.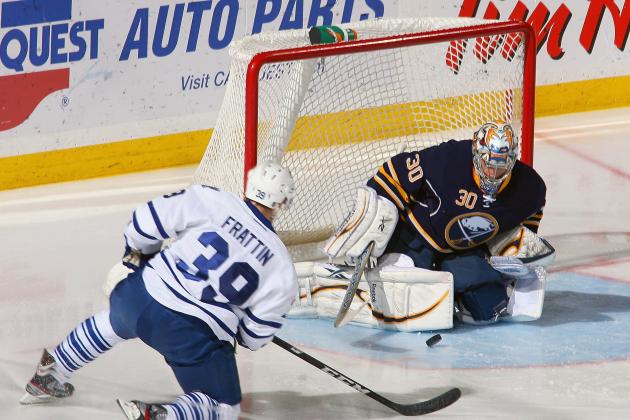 Rick Stewart/Getty Images

Matt Frattin was arguably the Marlies best performer in their Calder Cup run last season. This season though, he has his eyes set on a roster spot with the big club.
Frattin is a good skater, uses his size and hits players, but he's better known for his goal scoring ability.
With the Leafs last year, he struggled to score and often missed the net or shot the puck right in the bread basket of the opposing goalies.
This year, with some added confidence, hopefully he can find his goal scoring touch with the Leafs if he makes the team.
Goal: Score 30 goals with the Marlies, or score 10-15 goals with the Leafs.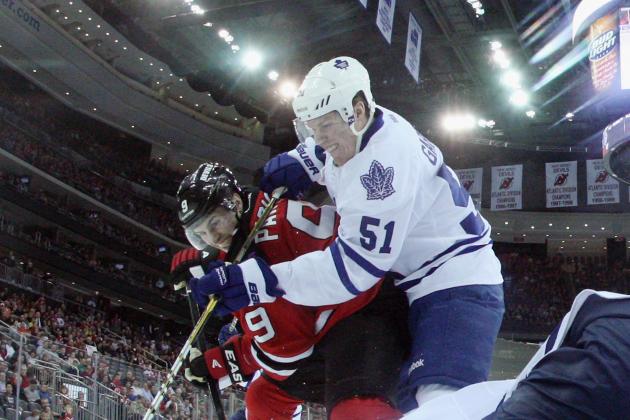 Bruce Bennett/Getty Images

Jake Gardiner was likely the biggest surprise of the Leafs season that was filled with utter disappointments.
Gardiner, who was not expected to make the club out of camp, in fact did make the team out of camp. His dazzling skating, and mature game helped him become a mainstay on the Leafs backend.
One aspect of his game that needed work was his strength. He was often found getting out-muscled in front of the net and was often knocked off the puck.
Goal: This year add some strength so he can be used more in all situations.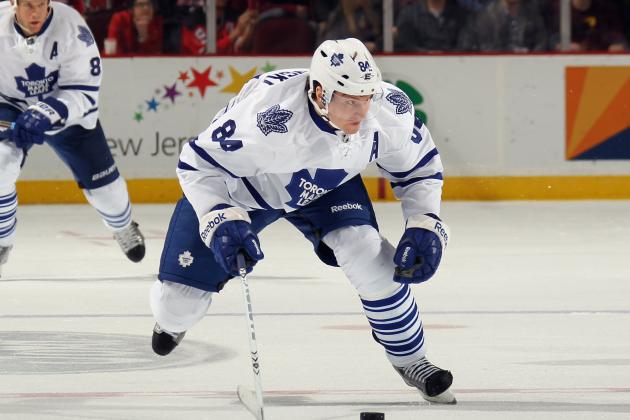 Bruce Bennett/Getty Images

After signing an extension with the Leafs, center Mikhail Grabovski is now the highest paid Leaf forward on the team, even ahead of All-Stars Phil Kessel and Joffrey Lupul.
With that title will likely come increased playing time.
Grabovski will need to get stronger to play against the NHL's best, but also to help him take on the extra work load.
Goal: Add some strength and average over 18 minutes of ice time a night.
Bruce Bennett/Getty Images

Carl Gunnarsson is one of the Leafs silent assassins. A very quiet guy, and an even more silent player, Gunnarsson is rarely seen making large mistakes on the ice that cost the team a goal.
His ability to always be in the right spot at the right time makes him a valuable asset to have on a young defensive squad.
If he ends up being paired with Dion Phaneuf, Gunnarsson will need to work on his offensive game because opposing players and coaches will be overplaying Dion Phaneuf and leaving Gunnarsson relatively untouched.
If he can develop into a viable offensive option from the point, it will make Phaneuf, and the Leafs better in the long run.
Goal: Try and get 30 points this season, previous career high was 20.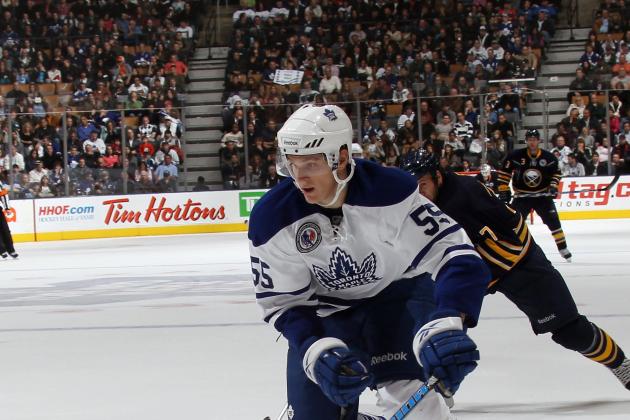 Bruce Bennett/Getty Images

If the NHL season were to start ,the Leafs would have Dion Phaneuf, Carl Gunnarsson, John Michael Liles, Jake Gardiner, Cody Franson (if re-signed), and Mike Komisarek filling the teams' top six defensive spots.
For Holzer, who will likely be the teams' seventh defenceman, his goal will be to push the vets in practice and make it harder and harder for the Leafs to keep him in the press box when the season begins.
Holzer is a tough German defenceman who has shown a little bit of offensive upside. Holzer, unlike many Leafs defenceman keeps it simple. Not making a difficult pass to complete, uses the boards, and of course, uses his body. His play earned him a spot on the German Olympic team where in four games he failed to record a point, but he did manage to still impress me.
In the season that followed, Holzer scored 13 points in his first season on North American Ice, while finishing a +10 with 88 PIM, which is a testament to his keep it simple stupid, playing method.
Goal: Eventually force the Leafs to make a decision on one of their six defenceman, most notably the expiring Mike Komisarek. If his play means we see less of Komisarek, he gets an A+ from me already.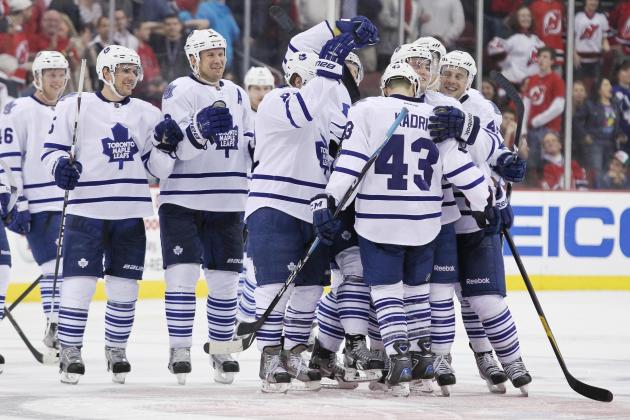 Ed Mulholland-US PRESSWIRE

Arguably the most critiqued Maple Leaf prospect of all-time, Nazem Kadri has really been mistreated by the team that drafted him.
Thought to be too offensive, Ron Wilson, Brian Burke and company believed he needed to improve his defensive play before making the jump to the pros.
In a season with the Marlies, he proved he was capable of playing a two-way game with some offensive flare.
This season, Kadri was critiqued for showing up to camp out of shape, despite taking the offseason to train with Gary Roberts.
That's the life for Nazem Kadri it appears, nothing is ever good enough.
Goal: Manage to stick with the team and make an impact. Average a point every two games.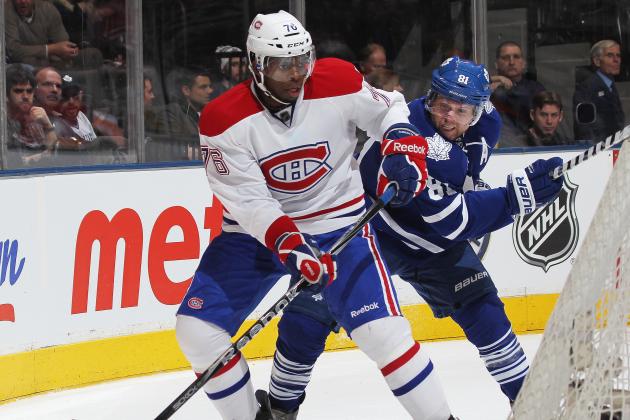 Claus Andersen/Getty Images

There's no denying Phil Kessel can score at a high rate, however, as a Leaf he's on the ice for as many goals as he scores, which makes him a liability defensively.
Under Randy Carlyle, I'm expecting Kessel to play a little bit better defensively, but it would be a stretch to expect to see Kessel penalty killing, or finishing the year as a Selke Nominee.
Goal: Finish the year as a plus player and help lead the Leafs to the playoffs.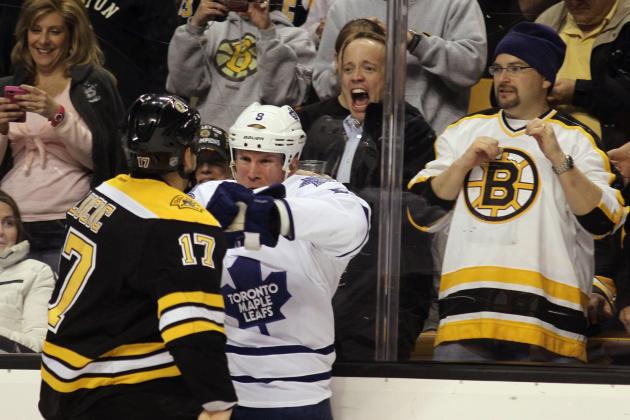 Bruce Bennett/Getty Images

When Mike Komisarek was signed in 2009, many experts believed he was the missing physical piece the Leafs needed in order to be a feared defensive club.
Three years after the fact, Komisarek has finished as a minus every year, struggled with inconsistency and injuries, and overall, has been a waste of over $4.25 million a season.
Overall, as a seventh overall selection in 2001, Komisarek has failed to live up to his potential.
He was looking like a pretty good defensive defenseman when he was playing with Andrei Markov, but that may have been more Markov's doing that that of Komisarek's.
Goal: Finish the season as a plus, play over 60 games, and finish the season leading the Leafs in hits. Pretty tall order.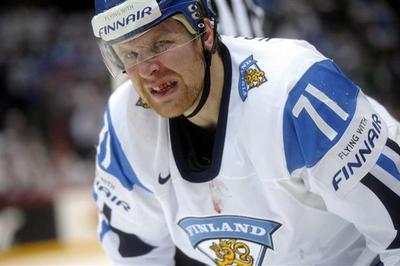 Komorov played last season in the KHL with Dynamo Moscow, and his play earned him a spot with the Toronto Maple Leafs organization, eventually signing a one-year entry level deal with the Leafs.
His on-ice game is similar to that of Sean Avery, Steve Ott, and Matt Cooke. He is one of those players you hate on the opposing team, but absolutely think is invaluable to your team.
For Komorov, I think that a year in the AHL with the lockout might prove to be a welcomed sight so he can get used to the North American game and the speed of the game on a smaller ice surface.
In his first few games with the Marlies, Komorov has not disappointed showing his grit, and a little bit of offensive flare for the Estonian native.
Goal: Help push the Leafs into making a decision at the end of camp. Crack the Leafs opening night roster.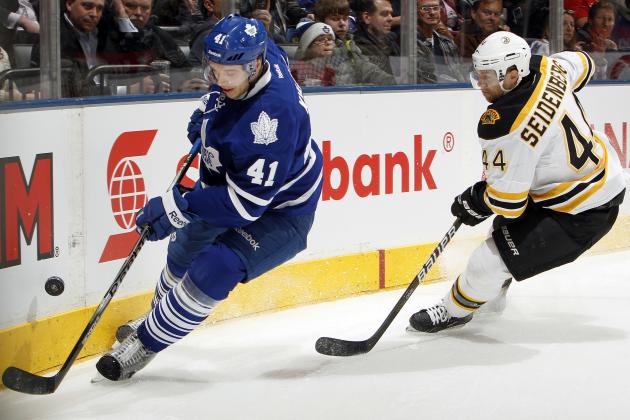 Abelimages/Getty Images

One glaring need last season was scoring depth. The year prior was when we saw the second line of Clarke MacArthur, Kulemin, and center Mikhail Grabovski take the NHL by surprise. Kulemin scoring 30 goals, MacArthur netting over 40 assists, and Grabovski evolving into the teams' best center.
Many have attributed that outburst to a contract year explosion, similar to that of the 40-goal campaign Jason Blake had with Alexei Yashin prior to signing his monster contract with the Leafs the year after.
Anyways, for Kulemin, he'll need to regain that scoring touch for him to remain in the teams' top six. If he doesn't, look for Kulemin to become a checking third line forward.
Goal: Score 25 goals or more this season. Pretty straight forward.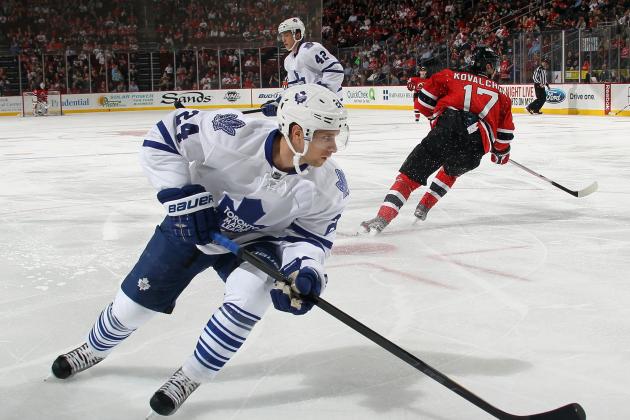 Bruce Bennett/Getty Images

John-Michael Liles, despite a down year by his own admission, ended up signing an extension with the Leafs. Even though he wasn't a huge hit offensively, his veteran leadership was an invaluable piece to the Leafs puzzle. When he was injured, the Leafs never played the same I found.
With him in the lineup, the power play had more zip, defensive partner Cody Franson played better, and overall, the Leafs played better (minus the March Meltdown).
What Liles is known for is offence though, and he never really showed that side of his game with the Leafs.
Scoring only 27 points last season, Liles is more in the 45 point range in a full 82-game season.
Goal: Score 40 points and help lead the Leafs to a top 10 power play this season.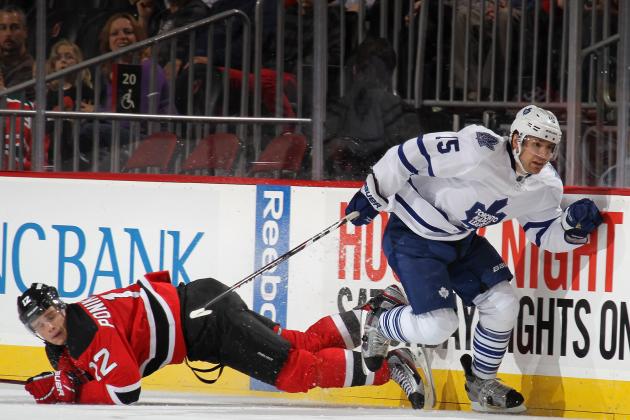 Bruce Bennett/Getty Images

By my own admission, I don't believe we'll be seeing Matthew as a Maple Leaf this season. His expiring contract, coupled with the fact the Leafs need a goaltender still could land him on the trading block.
Yes, a team like the Canucks makes sense in a trade for Roberto Luongo, but hey, that's not the point of this slide.
If he remains with the Leafs this season, all I want to see from Lombardi is him using his speed more and improving the teams' atrocious penalty kill.
Goal: Improve the Leafs penalty kill this season, hopefully bringing them into the upper half of the league's penalty kills.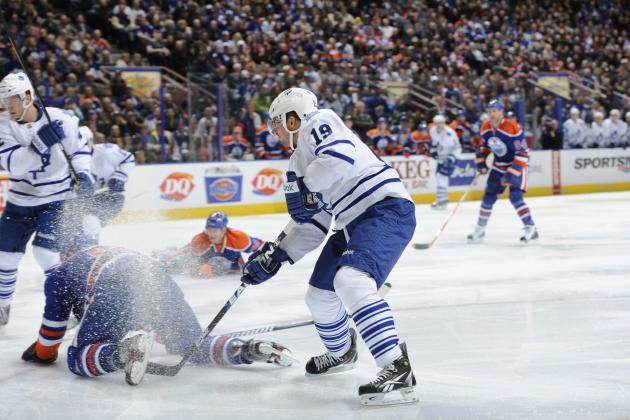 Dale MacMillan/Getty Images

When Randy Carlyle was first signed, many believed that his slight feud with Joffrey Lupul would affect his game.
Unfortunately we didn't really get to see what Lupul could do under Carlyle as Lupul separated his shoulder and missed the remainder of the season.
Lupul was on fire last season finishing with 67 points in 66 games, becoming the Leafs first point per game player since Mats Sundin.
Goal: Return to his 2011-12 form and manage to be near a point per game forward.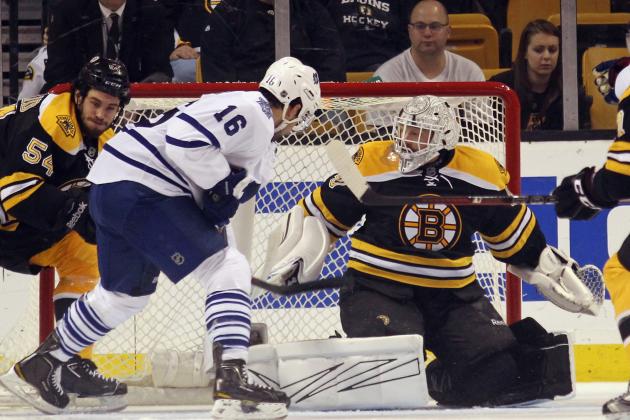 Bruce Bennett/Getty Images

Mac enjoyed a breakout season in 2010-11 when he scored 62 points in a full 82-game season.
Last season though, he still managed a 20-goal campaign, but the assist numbers were way down, probably can be attributed to linemate Nikolai Kulemin's offensive struggles going from 30 goals to a measly seven goals.
Other than that, another stat I noticed was his hit total last season which was twice less that it was the year previous (60 to 115).
For MacArthur to be successful, he needs to be active at both ends of the ice.
Goal: With James van Riemsdyk on the roster, I expect MacArthur to score at least 50 points and manage 20 goals.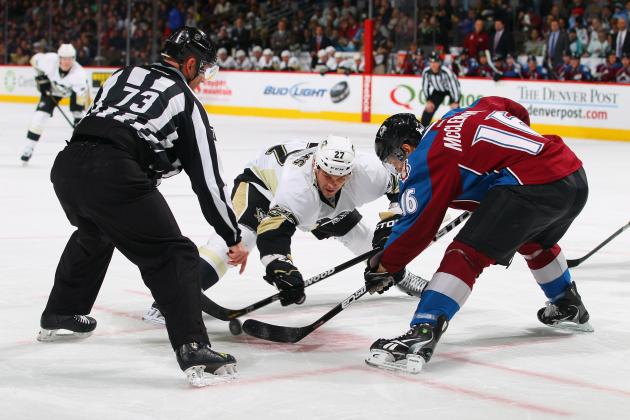 Doug Pensinger/Getty Images

Jay McClement signed this offseason after Brian Burke targeted his services after the Leafs had one of the worst penalty kills of all-time. After the new year, the Leafs did improve the penalty kill, but it wasn't nearly enough to convince this guy they can be a decent penalty killing team.
Many facets account for a good penalty kill. Effort, communication, the will to block shots, clearing the puck quickly, and of course solid goaltending.
As a whole, the Leafs never really showed any of that last season.
With McClement aboard, hopefully the Leafs can improve a putrid penalty kill.
Goal: Although the career plus minus numbers don't show it (-76), McClement should help the Leafs become a better defensive team. Look for the Leafs to be a top 15 penalty killing team with him on the team.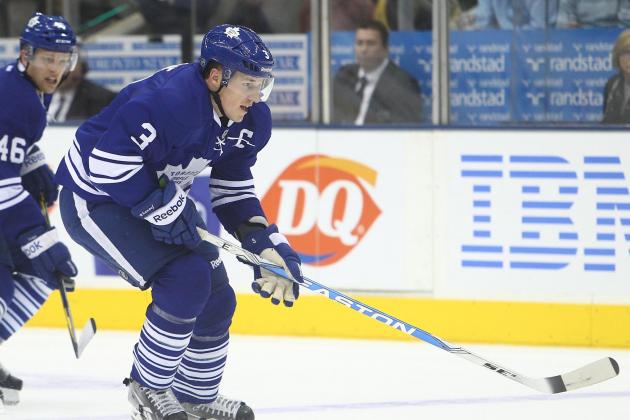 Tom Szczerbowski-US PRESSWIRE

The Captain of the Maple Leafs really showed his true colors when the Leafs were in a playoff position in January and eventually fell off the face of the Earth, losing that playoff spot and falling to 26th in the NHL standings.
The fallout of that collapse was a coach being fired, and Leafs Nation wondering whether their captain can actually lead the team to a long-awaited playoff berth.
For Phaneuf, what he'll need to do is be a better leader for the upcoming season, whether that's being more physical, stronger in his own end, or a stronger voice in the locker room.
Goal: Prove to everyone he has the ability to lead this team to the playoffs.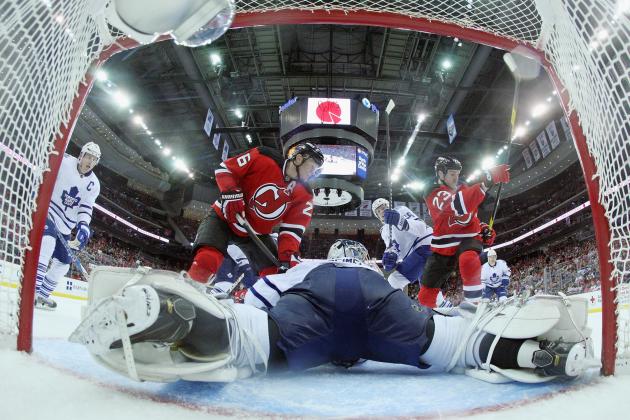 Bruce Bennett/Getty Images

When James Reimer started the 2011-12 season as the teams' number one goalie, he started out great, shutting out the Montreal Canadiens, and in the first 6 games, having a 2.57 GAA and rather mundane .892 SV percentage. On the plus side, he was 4-0-1 in those six games.
When a 5'9" Brian Gionta stepped in front of him though in that sixth game and managed to elbow Reimer in the head, the entire season for Reimer changed that night.
He went from a confident goalie, to a goalie that was afraid to come out of his shell. His shell was the crease in this case.
To Reimer's credit he did finish the season with a .900 SV percentage (not great but its a start), and a 3.10 GAA despite giving up 4 goals in 13 minuted to the Boston Bruins in a 8-0 shutout loss to their division rivals.
Goal: If he remains a Leaf, finish the season with a 2.75 GAA or better and a SV percentage over .910.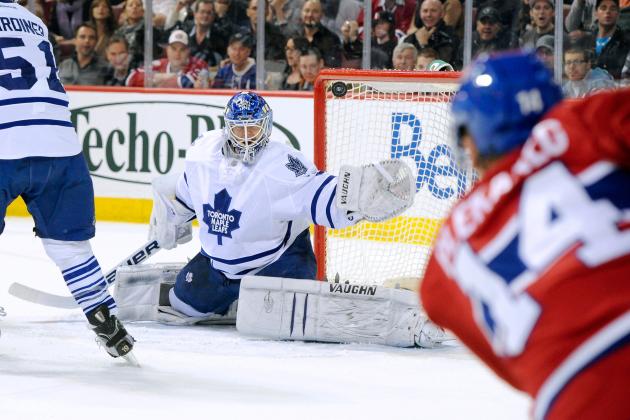 Richard Wolowicz/Getty Images

Ben Scrivens wasn't a huge success in his first 15 games in the NHL, but he did prove something to Leaf fans that James Reimer did not. In games he started, only once was he pulled. Also, in the games he started, he posted a 3.05 GAA and a .906 GAA.
When he saw more shots, he played even better as a result.
The culminating moment of his season was leading the AHL's Toronto Marlies to a Calder Cup Final appearance, eventually getting swept by the Norfolk Admirals in four games. His ability to carry a team on his back helped Leaf fans see the light at the end of the tunnel.
Because of that performance, the Leafs were comfortable enough to let "The Monster" Jonas Gustavsson leave via free agency, eventually finding a home backing up Detroit Red Wings stud goaltender Jimmy Howard in the Motor City.
Goal: Look for Scrivens to push Reimer and finish the season with better overall numbers than his counterpart. For Leaf fans' sake though, the goal should be to play far less games than the teams' number one.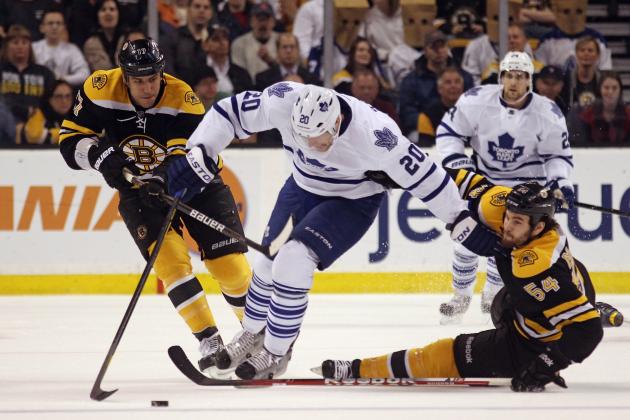 Bruce Bennett/Getty Images

One of the first Leafs I haven't had a complaint about. Steckel did exactly what I expected out of him. He won draws at a high rate, brought veteran leadership and used his body.
The fact he finished as a minus 14 in 76 games is a troubling statistic though. He only managed about 10 to 15 minutes a game and over half of those minutes came on the penalty kill where you cannot receive a minus for a goal against.
He played with many different linemates, and was also on the ice for goals against that came right after a penalty expired, so that +/- number may be skewed slightly.
In those limited minutes though, Steckel finished with 170 hits, which in a fantasy league with faceoff wins and hits, Steckel would be a sleeper pick of epic proportions.
Goal: Finish the season closer to even and lead the Leafs to an improved penalty kill.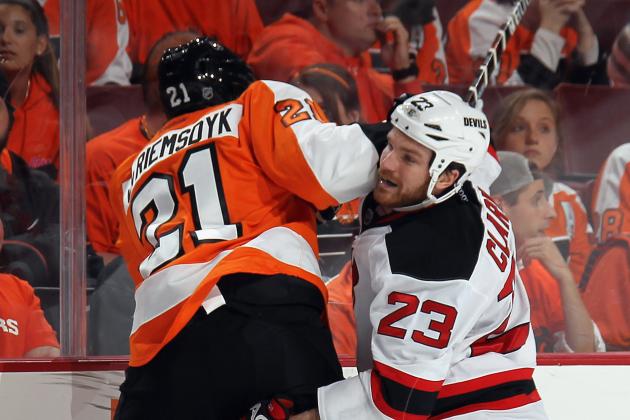 Bruce Bennett/Getty Images

When he was acquired in a one for one trade that saw former Leafs fifth overall selection Luke Schenn head to Philadelphia to join his brother Brayden for a bit of brotherly love, it was apparent the Leafs were addressing the size factor up front with respect to their forwards.
Brought in to be a goal scoring forward, the 6'3" 200 plus pound JVR can offer plenty more than just an odd goal or two here and there. With the potential to be a very good power forward in the league.
The fact is, Van Riemsdyk, despite only averaging about 15 minutes a game, improved in some form every season with the Flyers, meanwhile, Schenn with the Leafs was all over the place, having a good season, followed by a terrible season.
Goal: With more ice time and less hands to feed, I expect JVR to be a 25-35 goal scorer this season and finish with 60+ points. The big stat I want to see rise is his hit total. In his last season where he had more than 70 games played, he only had 107 hits, I'd like to see that number upwards of 150 to 175 for this season.