Power Ranking the UFC's Fastest Rising Stars
Paul Abell-US PRESSWIRE

Fighters come and go all the time.
From unprecedented upsets to guys who disappear in a matter of months, these athletes never seem to fulfill their potential.
However, a select few occasionally separate themselves from the pack and showcase everything a future champion embodies.
So, on the back end of their individual vicious knockouts, historic submissions and one-sided beatdowns, here's how the UFC's new breed of rising stars hold up in an unbiased power ranking.
Divisional titleholders not included. Enjoy.
Begin Slideshow

»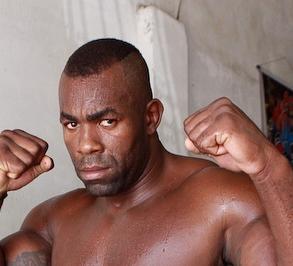 mmalinker.com
One look at Geronimo dos Santos and it's easy to see how dangerous he can be inside the Octagon.
The recent UFC acquisition has the heavyweight power to literally make heads roll.
Throughout his career, dos Santos has fought some of the best big men in the world, including UFC heavyweight champion Junior dos Santos and former Strikeforce heavyweight champion Josh Barnett.
So even though the 32-year-old Brazilian has yet to compete under the Zuffa banner, his potential for stardom lands him a honorable mention.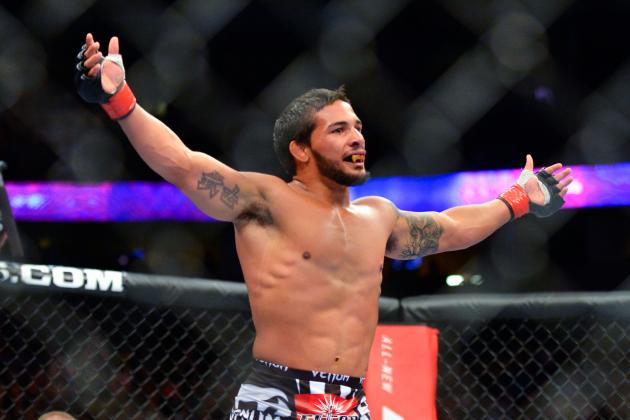 Ron Chenoy-US PRESSWIRE

As one of the most naturally gifted featherweights in the UFC today, TUF alum Dennis Bermudez has one of the most promising futures of any fighter on this list.
He's strong, elusive, disciplined and has executed a variety of techniques inside the Octagon over a span of just three fights.
As long as the 25-year-old keeps his head on straight and improves his striking, he should continue to climb the divisional ranks en route to title contention by the end of 2013.
cagepotato.com
After decimating Kyle Kingsbury this past Saturday at UFC On Fuel TV: Struve vs. Miocic, London-based Jimi Manuwa looks to be an outstanding addition to an already jam-packed light heavyweight division.
Currently undefeated at 12-0, Manuwa possesses devastating striking abilities and an even more bone-crushing left hook.
His history of being incarcerated is only going to feed his focus as his UFC career continues to maturate. Not to mention he's finished every single professional fight he's been a part of.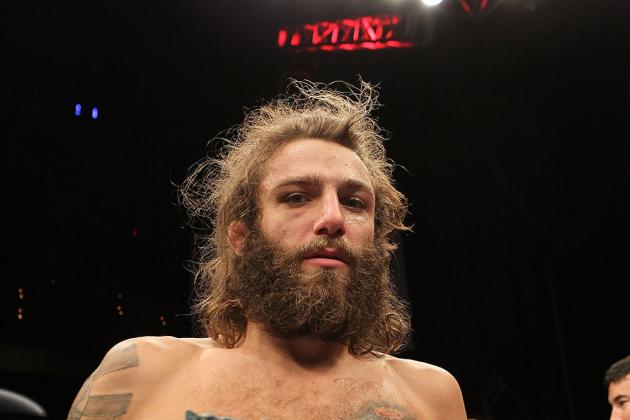 themmanews.com
The verdict is still out for the most recent TUF winner, but if Michael Chiesa's time on the UFC's perennial reality show gave us any insight into how good he could be, the well-rounded 24-year-old should have no problem finding success.
As a 6'1" lightweight, Chiesa has an innate ability to keep fighters at bay in order to utilize his formidable ground game.
He may not be overly powerful, but once "Maverick" gets on top of an opponent, chances are a submission will follow suit.
He'll make his second organizational fight at UFC on FOX 5 in December.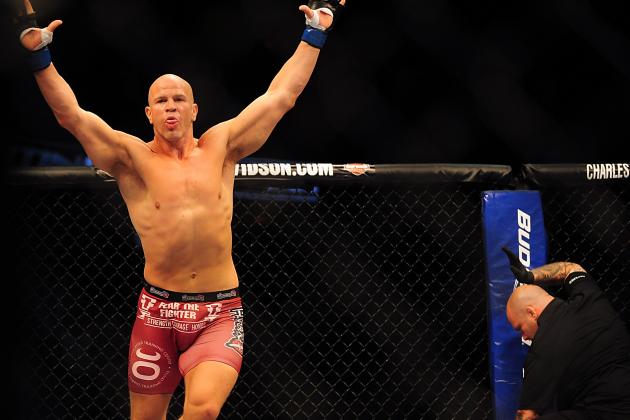 Anne-Marie Sorvin-US PRESSWIRE

It only took Ryan Jimmo seven seconds to record his first KO in the UFC.
Better yet, it took him only one fight to showcase his potential as a future star in the light heavyweight division.
His UFC sample size may be a bit small, due in part to being so good, but as of now it seems like the Canadian is prone for immediate success.
Jimmo's karate background, strong build and natural finishing instincts should be enough to make him a household name by the end of the next year.
It's just a shame that the light heavyweight championship picture is already spoken for because the 30-year-old deserves to fight the best of the best.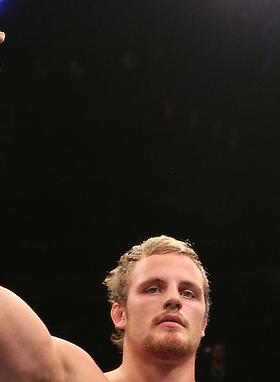 joshuahedges.photoshelter.com
If you don't know who Gunnar Nelson is, it's time to do some research.
More or less, in short, the kid can do it all.
He has KO power, world-class submissions, excellent wrestling and the ability to out-muscle the biggest of welterweights.
As a matter of fact, Nelson has finished each and every one of his professional victories on the back of seven submissions, two TKOs and one KO.
His recent debut against a tough DaMarques Johnson proved that the 24-year-old is ready to make an immediate impact.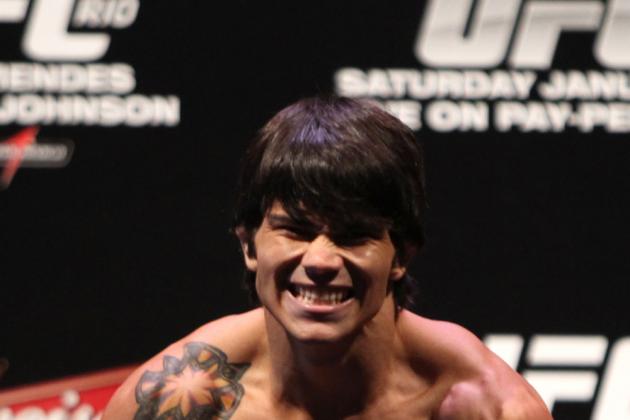 mmaforum.com
Besides a disqualification against Carlo Prater at UFC 142, Erick Silva has been perfect inside the Octagon since making his debut back in 2011.
He's demonstrated precise striking, devastating KO ability and the sense to finish fights by utilizing his Brazilian Jiu-Jitsu black belt.
Bottom line, if Silva can finish Jon Fitch at UFC 153, he'll finally gain the mainstream recognition he deserves.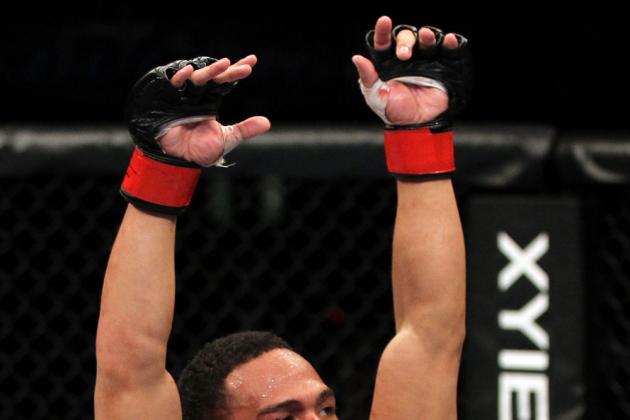 mmaoctagon.ru
John Dodson may very well be the most powerful flyweight in the UFC today.
His muscular build, explosive standup skills and awesome wrestling techniques make him a favorite to compete for a championship sometime next year.
Also, considering the majority of UFC fans already know who Dodson is from his time on TUF, "The Magician" possesses promotional qualities by the boatload.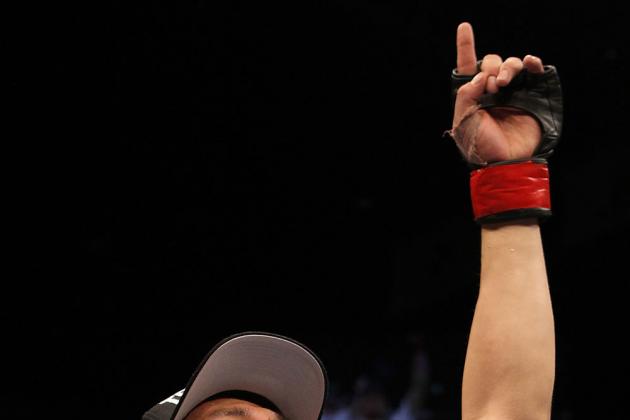 mmafrenzy.com
He may be a bit high on this list, but the truth is that Chan-Sung Jung is pound-for-pound one of the most dangerous fighters in the UFC.
The 25-year-old star in the making has showcased some of the best finishes in the UFC over the past five years.
From his unforgettable twister on Leonard Garcia to his seven-second KO of Mark Hominick, "The Korean Zombie" never seems to miss a beat.
Think about it this way. Over his three fights in the UFC, Jung has captured two Submission of the Night awards, one Fight of the Night, one Knockout of the Night and the rights to the fastest KO in UFC history.
That's pretty impressive.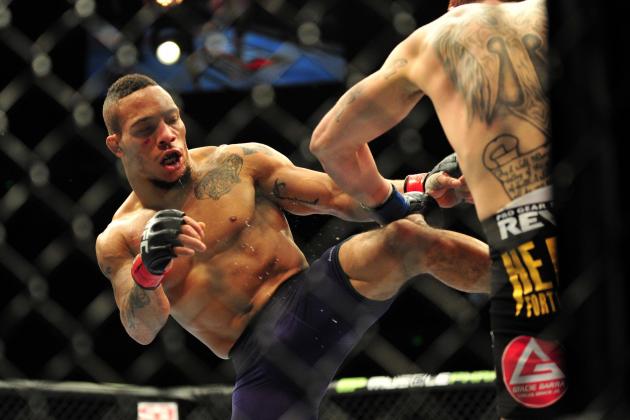 Don McPeak-US PRESSWIRE

Despite average efforts over his last two UFC fights, top bantamweight contender Mike "The Hulk" Easton still promises to be one of the best fighters in the division for the next few years.
Easton possesses a black belt in not only Brazilian Jiu-Jitsu, but also Tae Kwon Do, making his overall skill set borderline unstoppable.
The 28-year-old could run into problems down the line against longer and more rangy opponents like champion Dominick Cruz and interim champion Renan Barao, but for the most part he should be just fine.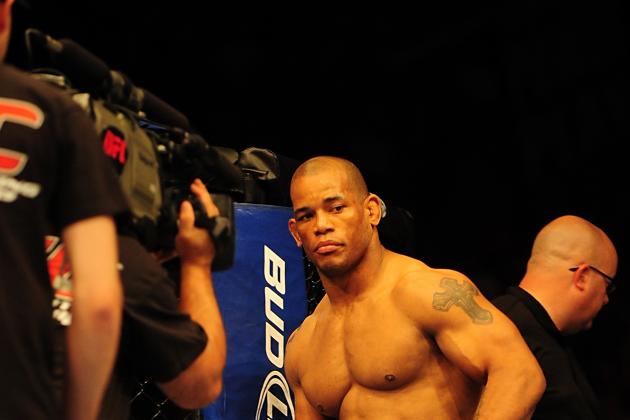 Anne-Marie Sorvin-US PRESSWIRE

Arguably the most powerful middleweight in the world, Hector Lombard has a lot more to offer than what he showed in his UFC debut against a streaking Tim Boetsch.
Lombard was clearly not on top of his game, but there have been plenty of high-level talents who've fizzled out under the spotlight.
However, the heavy-handed Cuban should possess enough resolve to bounce back and start knocking out top tier talents like everyone knows he can.
His 31 professional victories aren't just for show.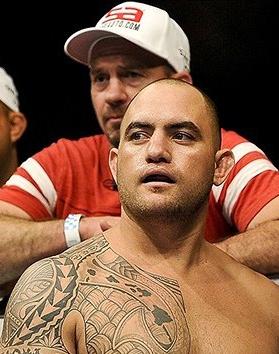 themmareport.com
Many people overlook the undefeated Travis Browne due in part to the fact that he isn't an Alistair Overeem or Fabricio Werdum.
He doesn't possess devastating KO power or world-class submissions, but Browne does incorporate all facets of mixed martial arts nearly every time he steps inside the cage.
At 6'7", the 30-year-old has a distinct reach advantage over most top heavyweights in the UFC and has demonstrated the ability to finish fights early and often.
He'll look to build on a respectable resume when he takes on Antonio "Big Foot" Silva this Friday at UFC on FX 5.
If he can beat Silva, he'll surely make the popularity leap that would complement his evolving skill set.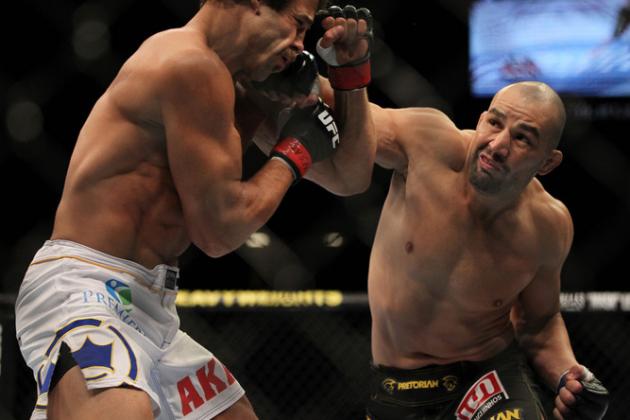 mmafrenzy.com
Glover Teixeira may be the most hyped light heavyweight to come into the UFC in the past five years.
Everybody knew who he was before he made his debut at UFC 146, but people weren't sold on his adaptation to the world-class fighters that the UFC had to offer.
Well, he discredited any reservations about his potential in one of the promotion's most competitive divisions after dismantling Kyle Kingsbury with a first-round arm triangle.
Teixeira looked so good that Mauricio "Shogun" Rua declined a fight with him, which more or less sealed his fate as one of the most intriguing fighters in the sport today.
If the Brazilian is the real deal, which seems to be the case, we could be looking at Jon Jones' main competition for 2013.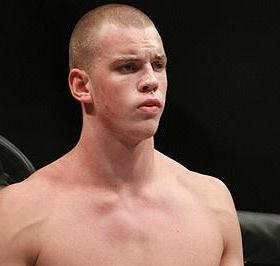 themmareviewblog.blogspot.com
It's officially time to consider Stefan "Skyscraper" Struve an elite heavyweight.
People use to wonder how long Struve could stay afloat atop a powerful division considering his somewhat weak chin and inability to utilize his reach.
Well, following his recent TKO victory over promising prospect Stipe Miocic this past Saturday, the 24-year-old has seemingly put it all together.
He now looks poised to battle the best big men in the world by throwing long jabs, leaning power shots and falling back on his unstoppable submission game.
Food for thought, Struve's only losses in the UFC have come against Junior dos Santos, Roy Nelson and Travis Browne. That's not too shabby for a guy who has 25 professional victories before his twenty-fifth birthday.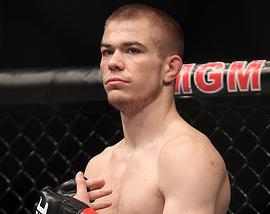 whotalking.com
It's absolutely astonishing to witness what Michael McDonald is doing so early in his UFC career.
Through just three fights, McDonald has demonstrated decapitating power, excellent elusiveness and solid takedown defense, as well as securing two consecutive first-round KOs.
To think that he's running through tenured veterans like Miguel Angel Torres at the young age of 21 seems borderline fictional.
But, as rare as it is, young phenoms often elude the trials and tribulations that so many other fighters encounter when they first start out.
McDonald is definitely part of that exclusive group.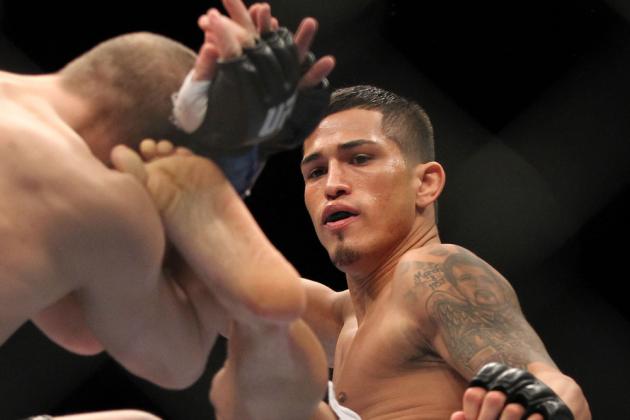 theflyingkneemma.com
Anthony Pettis is arguably already a star, but he has so much more to offer if he ever captures UFC gold.
Remember, Pettis came into the UFC as the WEC lightweight champion after laying the smackdown on Benson Henderson in 2010.
His game has evolved so much at such a young age that it seems unfair to match him up against guys like Joe Lauzon and Jeremy Stephens.
However, despite his past fights, Pettis' future has nowhere to go but up.
His Tae Kwon Do is exceptional, he surely possesses one-punch KO power and he never seems to be in too much trouble in any fight.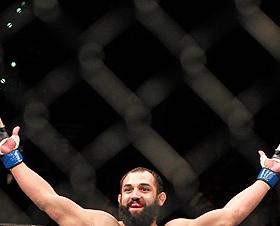 espn.go.com
You could literally pick any synonym for powerful and it would describe Johny "Bigg Rigg" Hendricks in a nutshell.
Mighty. Potent. Forceful. Authoritative. Vigorous.
Every single one of those words fits the fighting mold that Hendricks satisfies every time he competes.
From one-punch knockouts to awesome takedowns, the 29-year-old never lets up.
If he can once again meet the requirements of a top contender against Martin Kampmann at UFC 154, he'll be fighting for the welterweight championship sometime next year.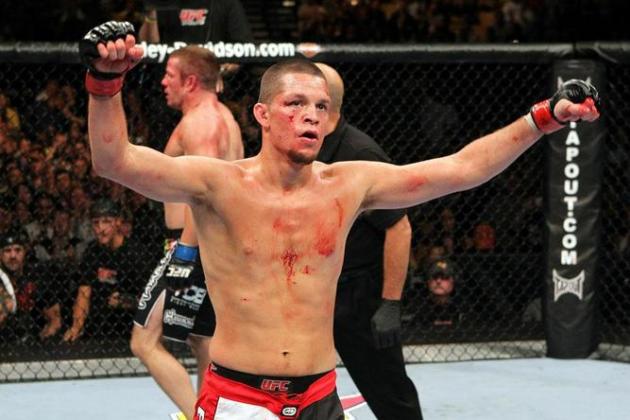 mmafrenzy.com
If you think Nate Diaz can't keep his mouth shut now, just wait until he captures UFC lightweight gold.
Now that may be a little premature, but everything Diaz has showcased inside the cage over the past year suggests his time to shine is now.
The kid can land punches in bunches against any striker in the division and he can roll with any submission expert, too.
If Benson Henderson thinks he can simply overpower Diaz when the two meet at UFC On FOX 5 in December, he has another thing coming.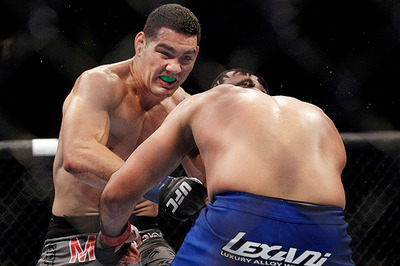 espn.go.com
Many people consider Chris Weidman the best all-around prospect in the game today.
They often go as far as saying he's the chosen one to finally dethrone Anderson Silva as the UFC middleweight champion.
As much as it would please many people to see the G.O.A.T. pass the torch to a young and disciplined athlete like Weidman, it's not going to happen anytime soon.
Weidman is still an experiment in process, but a good one at that. His game is most definitely evolving, but nobody should jump the gun after one KO victory over a one-dimensional striker like Mark Munoz.
With all of that said, as long as Weidman sticks to his wrestling and becomes more elusive on his feet, he'll get an opportunity to prove why he does deserve a shot at Silva after all.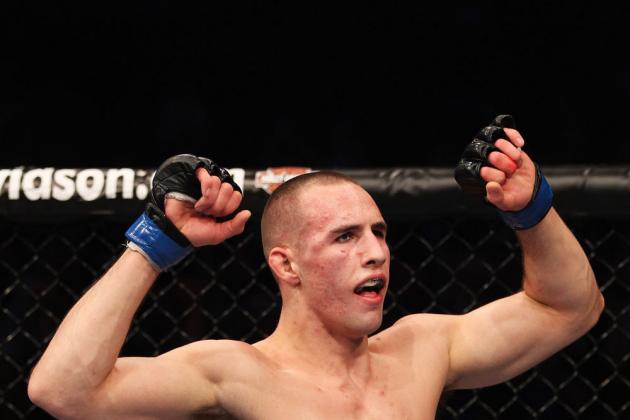 fiveouncesofpain.com
This may come as a surprise, but Rory MacDonald, better known as GSP 2.0, is not the No. 1 guy on this list.
You'll find out in one click who is and for good reason.
As for MacDonald, a fighter who has surpassed every physical and mental limitation expected by young age, he has a true chance to become a perennial champion in the UFC.
His striking is relentless, his ground game is borderline perfect, and at 23 years old, his game is evolving by the minute.
It's eerie to think about how much MacDonald truly resembles his Canadian predecessor, but it's even more frightening to think he has a chance to be better.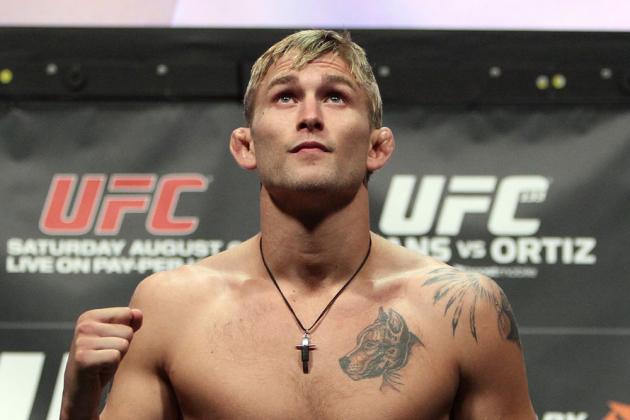 mmafrenzy.com
Through seven UFC fights, Alexander "The Mauler" Gustafsson has become a quintessential champion in training.
Based on his smooth striking ability to finish fights on his feet and on the ground, lengthy build and top-level experience, Gustafsson's overall evolution could eventually push Jon Jones to the brink.
It may take longer than initially expected, but if the 25-year-old can finish Mauricio "Shogun" Rua at UFC On FOX 5 in fashion, his confidence as a contender could manifest into humbleness as a champion.
For more UFC news and coverage, Follow @DHiergesell