WWE Raw Live Results: Reaction and Analysis for September 24, 2012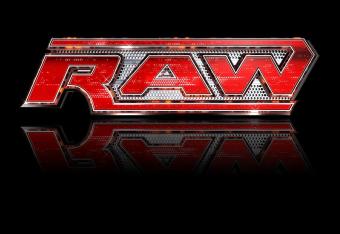 wallpapers-wwe.com

Welcome to the Bleacher Report live WWE Raw blog where we cover all the action as it happens live on television.
Tonight's show will most likely address the fact that CM Punk had his foot on the rope while being pinned in the main event from last week.
WWE has a rare opportunity to really build up some feuds over the next several weeks as we are in the early part of a long stretch between PPVs.
It will be interesting to see what feuds WWE progresses with tonight and which ones they leave for SmackDown to deal with.
There are a lot of possibilities for how tonight will go, but one thing is for sure, and that is that Jim Ross will be announcing at tonight's show to fill in for The King while he recovers.
JR will have the unfortunate duty of following up an impressive showing from JBL last week, but he is more than up to the task.
While following the action we encourage readers to discuss and debate during the show in the comments section below.
Make sure to bookmark this page and check back when the show starts tonight.
You can follow me on Twitter @BR_Doctor.
Ice Cube still ain't got no job.
Check out this video from Raw.
The most obvious choice for match of the night was Ziggler vs. Kofi. Everything else was pretty standard in-ring action.
Kane and Bryan were on fire as always, but I wonder how long they can sustain this gimmick.
I am very curious as to what the appearance at the end by Ryback will lead to next week.
On a final note, last week WWE Raw led into a showing of Friday and this week we get Next Friday after Raw.
USA has some strange scheduling habits.
Punk says Cena's speech reminds him of the presidential candidates and Cena should have been a politician.
Punk says nobody buys into Cena's crap and he mentions how he has beaten Cena several times at this point, but he doesn't bring up how he was also pinned at NOC.
Cena tells Punk to shut up and face him at HIAC to see what happens and Punk says there are a lot of reasons he won't accept it.
He says he is sick of Cena getting shot after shot at the title. I love the intensity Punk has as he berates the crowd.
Punk says Cena should run so he doesn't get attacked by Punk. Punk says he is turning around and counting to five and if Cena is still there he is going to hurt him worse than anyone else he has ever hurt.
Punk turns and starts counting and Cena doesn't move. Cena pulls out a lead pipe and waits for Punk to turn around.
Punk turns around and gets hit right in the gut with the pipe. Punk stumbles up the ramp in pain selling the hit like he was shot in the stomach.
Cena makes a pipe bomb joke as he stands tall in the ring with Punk in pain on the ramp.
I like that they finally had Cena take the easy way out of a situation. It makes him look human.
Cena shakes hands with Cole and JR before interacting with the crowd a bit. They go backstage to CM Punk running into Foley, who just stares at him as he walks by
Punk turns back around and attacks Foley with a kick to the gut for no reason whatsoever. He goes to leave but then he turns around and is surprised by who he sees.
The camera pans back to Ryback standing there staring at Punk. This is a little surprising.
After the break we see that Big Show will take on Randy Orton on SmackDown.
John Cena is out next for his interview and probably a statement from CM Punk as well. Cena addresses the mixed responses he gets to start off.
Cena says something about his future being in question. Cena also thanks everyone for supporting Susan G. Komen and he thanks the WWE Universe for the foundation.
Cena says he came out to apologize, first to the refs who were abused by CM Punk. He goes on about CM Punk and he has trouble saying a bunch of PG-friendly words to describe Punk.
Haha. Mentioning how he tried to keep that PG was kind of funny. Cena says he can't guarantee his recovery, but he can guarantee he will be at HIAC.
Punk's music hits and he comes out with Paul Heyman, who is holding up Punk's title as he follows the champ to the ring.
Punk stares down some ginger kid in the aisle and I have to give the kid credit for keeping a pretty straight face.
Brodus Clay vs. Tensai
Clay is out after the break with the Funkadactyls to face Tensai
I don't car what anyone says, I like the Funkadactyls. They put a lot of energy into Clay's entrance.
Tensai is out without Sakamoto and I just got kind of excited. This could go either way, but I think these two could have a decent match under the right circumstances.
The two big men power each other around the ring until Clay gets Tensai in the corner, forcing a break. Tensai attacks Clay with headbutts in the corner.
Clay hits a headbutt of his won and then hits a sloppy suplex, which I did not expect to be good considering he is trying it on Tensai.
All of a sudden Big Show's music hits and he comes out to the ring. He gets in the ring and knocks Tensai out causing a DQ.
Clay looks pissed and he runs right into another WMD. I guess Show is taking a page out of Stone Cold's book.
Arrive. WMD. Leave.
I love how JR calls them "Restaurant quality right hands." That is hilarious for some reason.
Layla and Alicia Fox vs. Eve and Beth Phoenix
It is funny how Fox gets put on whatever team they need her without regard for if she is a heel or face. She was on the heel team a week or two ago.
Beth and Layla start out and Layla hits a kick to get the advantage early. She hits a cross body for a near fall.
Fox comes in off the tag with two dropkicks. Beth misses in the corner and Fox rolls her up for a two count. Beth hits a powerslam to take back control.
Eve tags herself in after Beth hits a rope-assisted suplex and she hits her neckbreaker for the pin on Fox.
Winners: Eve and Phoenix
Kaitlyn comes out on crutches and thanks Eve for the tweets. She says she has security footage from when she was attacked and she could tell who it was from her hair.
She says the attacker was a blond and Eve looks at Beth.
Five bucks says it was Eve in a wig.
Eve attacks Beth and is trying to blame the attack on her.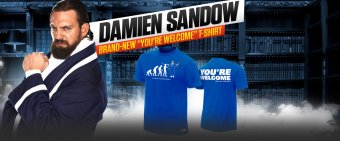 Daniel Bryan is out after the break. He is yelling No at the crowd, not even trying to act like he has it together.
Kane is out next and it looks like we will get the results of the vote for their team name. Cole reveals the results.
They are now known as Team Hell No. Cody Rhodes and Damien Sandow come out of nowhere and attack Team Hell No.
Sandow says they did this to themselves. I love Sandow's new shirt by the way. Apparently these two are now known as Team Rhodes Scholars.
I think I would rather see Rhodes and Sandow succeed as singles stars, but if they can be a good tag team then I am all for it.
Cole throws to a clip of earlier when Heyman proposed to AJ. We go to another video of Punk and Foley from earlier.
Now team Hell No is back in the lead.
Nice. A third diner video.
Shelby is telling them they have made a lot of progress today, but there is one last thing they have to do.
Bryan and Kane have meals placed in front of them that are obviously for the other person. Bryan has meat balls in his and he picks one up with a fork.
Kane takes a bite of salad as Bryan struggles to take a bite of the meat ball. Kane lets out a huge burp and Bryan says the meat ball wasn't as bad as he thought, then he starts heaving.
Shelby says no several times before Bryan pukes on him. Kane asks for the check.
I hope this is the last puke and burping humor we see from them, but it was still funny.
Cole brings up the team name vote, which seems to be back up on the website.
Del Rio, Rodriguez and Otunga vs. Rey, Sin Cara and Sheamus Part 2
Sheamus is in the ring with Otunga and he throws him out of the ring. Everyone takes out the heels outside the ring before Sheamus rolls Otunga back in.
Quick tags from Otunga and Del Rio keep their team on top, but every time they tag in Ricky he gets taken advantage of.
The heels control most of the match by isolating Rey and Cara for a while. Rey hits some impressive moves with Del Rio.
After a few minutes we see Sheamus come in and clean house. Sin Cara ends up getting the win over Ricky with a spring board senton.
Winners: Sheamus, Rey and Cara
After the match we see Sheamus take out Otunga with a Brogue Kick. We head to commercial after what ended up being an alright match.
Sorry I didn't have more detailed coverage of this one. Somehow it got deleted from my template and I couldn't recover it.
Del Rio, Rodriguez and Otunga vs. Rey, Sin Cara and Sheamus Part 1
Rey does his usual thing where he gives some merch to kids at ringside before the match. Sheamus is out last.
We are about to begin the second hour and I have to point out how time seems to be flying by tonight. Maybe it is just me but it feels like we are barely into the show so far.
Another break already? Never mind. It feels normal again.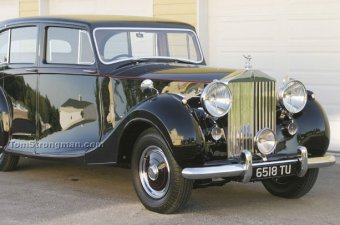 David Otunga is out first for the six man match AJ made a little while ago. Ricky still does Del Rio's intro even though he too is wrestling. Now that is commitment.
Del Rio is in a beautiful 1950 Rolls Royce tonight. We go to break with Del Rio making his entrance.
Cole is in the ring after the break and he talks about what happened a few weeks ago when Lawler had hi heart attack.
King is one the titan-tron and the crowd gets on their feet in support of the King. He is in a room with a lot of King merchandise in it, complete with throne.
Cole says King looks fantastic. King has a raspy voice, but he seems like he is feeling better. Cole asks what he remember thinking as the heart attack happened.
He says he remembers the opening to the show, but nothing from his match with Orton later or the actual heart attack.
Lawler says he woke up thinking he was still in Aruba with his girlfriend. Cole brings up all the messages from people wishing him well.
King says he never expected this kind of support. I wonder if he has read what New Jack said about him?
King thanks everyone for their thoughts and prayers. Cole asks when we can see King back on commentary.
King says it was impossible to sit next to Cole for three hours every week and not have a heart attack. Classic King joke.
King says he wishes he could be there tonight but he is leaving it up to the doctors as to when he can return. Cole wishes him well and the crowd cheers for Lawler.
Hmmm. The page with the voting for Kane and Bryan's tag team name has been removed from the front of WWE.com and when I go to the link I took the screenshot from it has nothing on it.
Interesting.
Wade Barrett vs. Tyson Kidd
Kidd got the jobber entrance. I guess we know who will win this one. The bell rings and Kidd hits a dropkick right away, but can't take Barrett down.
Kidd hits a few more kicks for a near fall. Barrett ends up hitting his own kick to the gut to take out Kidd. He runs over Kidd with a clothesline before holding him in the ropes and delivering numerous knees and a big boot.
Barrett goes outside to inflict more punishment on Kidd before rolling him back in the ring. Kidd rolls out another side of the ring to the apron and hits a nice pinning combination for a near fall.
Barrett hits a huge black hole slam before picking Kidd up for his elbow finisher for the pin and win.
Winner: Wade Barrett
After the break we will get the interview with King.
AJ talks to the refs backstage before Alberto Del Rio comes in with Ricky and David Otunga.
AJ offers them a chance for redemption in a six-man tag against Sheamus, Rey Mysterio and Sin Cara. Rodriguez still has a neckbrace and everyone freaks out about how he should not wrestle.
Ricky seems excited to get in the ring and runs off yelling Ariba! Wade Barrett is out next for a match.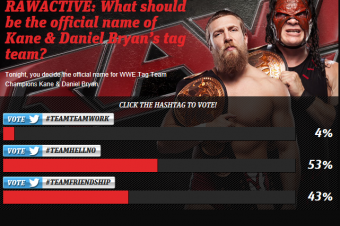 Team Hell No takes the lead!
We get another diner segment between Kane and Bryan. They talk about how they might not be able to be friends, until they remember taking out 8 men with those chairs.
Nice. Mae Young does a When Harry Met Sally joke when Kane and Bryan act insane.
Ryback vs. Miz
After the break we get Miz coming out for the match. I love how JR gets in a BBQ sauce plug while discussing Ryback's catchphrase.
Ryback is out next and Miz looks focused ad the big man heads to the ring, unlike most of his opponents who look freaked out.
What s the black thing on Ryback's head?
Ryback circles Miz and Miz takes a shot at Ryback. Ryback no sells a bunch of kicks and punches before putting Miz in the corner and throwing him across the ring.
Ryback runs into an elbow. Miz tries to counter a poweslam with a neckbreaker but Ryback lifted him right up for the powerslam anyways.
Miz takes a break outside the ring after having his head slammed into the ring a few times. Miz ends up kicking Ryback into the barricade, but Ryback picks him up and throw him in the ring.
Miz hits a bunch of kicks to Ryback's face followed by a DDT for a near fall. Ryback kicked out with authority.
Rybacks hits the big clothesline and security pounce on a guy who rushed the ring. Hilarious.
Ryback hits his finisher on Miz and gets the pin on the IC Champion.
Winner: Ryback
I wonder what happens to those guys who try and rush the ring? I know MLB has people arrested for rushing the field. Maybe WWE does the same thing.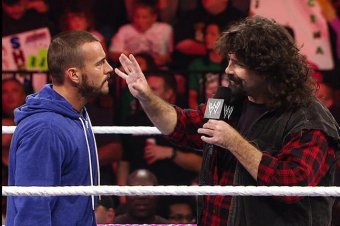 Foley tells Punk he should at least listen to him when it comes to Hell in a Cell. He says his match with Taker made him a legend in this business, but it shortened his career.
Foley says he earned all the respect he needed that night and anyone who survives the match will earn respect. Foley brings up Shawn Michaels, Triple H and Undertaker.
Punk asks what Foley wants and Foley says he wants Punk to go to Hell in a Cell against John Cena to prove he is the best in the world.
The crowd cheers the idea but Punk brings up how Cena gave him the same speech about beating him in Boston, which he seems to think he did.
Punk says he won't attack Foley because he is beneath him. He says he doesn't need to do anything for the audience because they turned their back on him.
Punk goes a long way to basically say he doesn't have to earn anyone elses respect because he has been champion for over 300 days.
Foley brings up how he only held the title for 29 total days and he asks if Punk wants to be a stat or a legend. Foley gets loud as he explains that Punk still has something to prove.
Foley says Cena is here tonight and Punk needs to tell him to his face if he accepts the challenge fr Hell in a Cell. Foley leaves the ring as Punk sits and ponders his situation.
Foley really delivered in that segment.
JR hypes a match between Ryback and Miz for after the break It will be very interesting to see how Ryback does.
We return from break to see Cole and Lawler talk about WWE partnering up with Susan G. Komen.
Mick Foley is out after the break and the crowd goes nuts as he comes out to the ring. Foley talks about how he was inspired by CM Punk last year.
As Foley talks about how he is upset with Punk we hear Punk''s music hit and he comes out in a blue hoodie. At least he looks less like a homeless guy than he did in the gray hoodie.
Some guy at ringside is yelling at Punk and Punk stops to listen to him for a minute before getting in the ring and all but ignoring Foley.
He tells Foley to say whatever he has to say to his face. Foley tells Punk that after he shocked the world last year he sent him a congratulations text message and he was shocked to see a reply that said thank you.
Foley says he knows he was one of the few people to get a reply which lets him know that his opinion matters.
Punk yells at the crowd to "show a little respect you jerks." He says he will shove a mic down the throat of anyone who has the guts to say anything to his face.
Foley says he used to be a Paul Heyman guy but he didn't become somebody important until he stopped listening to Paul Heyman.
Foley says Heyman never lied to him, but he knows Heyman will always do what is best for himself. He asks why Punk would need Heyman to speak for him when he is such a good talker on his own.
Prime Time Players vs. Zack Ryder and Santino
PTP are in the ring when we return and Ryder and Santino come out second. The bell rings an Young and Ryder start things off.
Young shoves Ryder and gets a slap and a flapjack for a near fall. Young ducks a cross body by Ryder and Ryder hits the ropes.
Ryder tags in Santino and he goes to work on Young. He hits his headbutt for a near fall and O'Neil breaks up the pin.
Titus gets the bling tag and takes out Santino as he tries for the Cobra on Young. Titus hits a big spinebuster for the quick win.
Winners: Prime Time Players
JR makes sure to mention how the ref made sure the pin was legit before Cole hypes his interview with Lawler for later.
We see a door marked Special guest before going to break.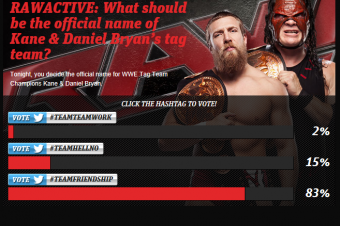 Here are the choices for voting. Visit this link to vote.
We go to a video of Dr. Shelby with Daniel Bryan in a diner. Shelby says he set up a role-playing exercise to show how Kane and Bryan could get along outside the WWE.
Kane walks up in an apron and asks for their order. Bryan laughs and then orders steamed vegetables and a tag team partner who is not s selfish freak.
Shelby says Kane's name is Gerald. I don't know why they wouldn't use the name Glen.
Kane says they have a new cook because he dunked the old cook's head in the deep fryer and then sprinkled his beard hairs in every meal he has served.
That was really odd, but still pretty funny. Apparently their will be a Rawactive vote to choose Kane and Bryan's team name.
After the break we get a video recap of Kane and Daniel Bryan's interactions from SmackDown. They had a lot with those two on Friday night.
This article is
What is the duplicate article?
Why is this article offensive?
Where is this article plagiarized from?
Why is this article poorly edited?