5 Things We Learned from Dylan Bundy's Much-Anticipated MLB Debut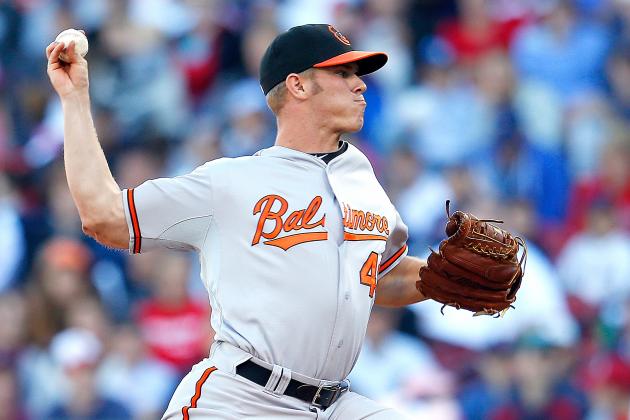 Jim Rogash/Getty Images

Prior to last Wednesday night's game against the Seattle Mariners, the Orioles surprisingly promoted top pitching prospect Dylan Bundy to the major leagues despite previous claims that it would not happen this season. At the time, Bundy had not pitched in a game since starting an Eastern League playoff game on Sept. 5.
After several days of soaking up the experience but idling in the O's bullpen, Bundy was finally called upon to take the mound on Sunday afternoon—at Fenway Park nonetheless.
In his major league debut, a 2-1 loss to the Red Sox, Bundy entered the game in the eighth inning to face pinch-hitter Ryan Lavarnway, followed by Danny Valencia.
The right-hander induced fly outs from both hitters, thus capping his highly anticipated and successful debut.
Here are my thoughts on the 19-year-old's big league debut.
Begin Slideshow

»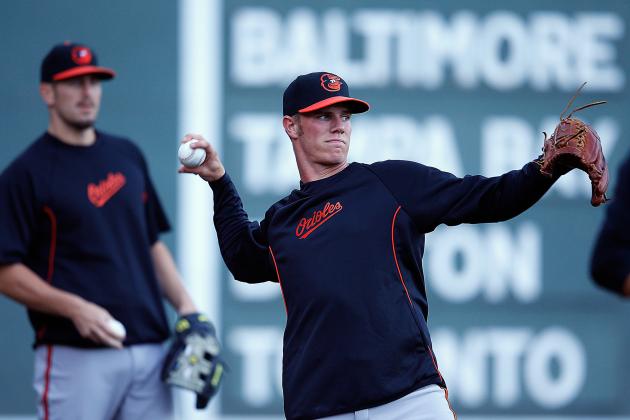 Jim Rogash/Getty Images

Despite his legend as a 19-year-old pitching wunderkind, Dylan Bundy proved that he is, in fact, human. Speaking with Roch Kubatko of MASNsports.com after the game, Bundy stated,
"Tommy Hunter answered the phone and told me I was going in. I said, 'What?' and I couldn't find my glove. Took me about a minute to find it," Bundy said. "He told me to get going, so I was like, OK, its happening, and I got loose as quick as I could."
…snip…
"Yeah, I said I was good to the bullpen coach (Bill Castro)," Bundy said. "I don't know if I was loose or not, but I was ready to go out there and throw.

"I was nervous at first. When I threw that first pitch, I was hoping it would be a strike. But after that first pitch, I felt a whole lot better about the whole thing."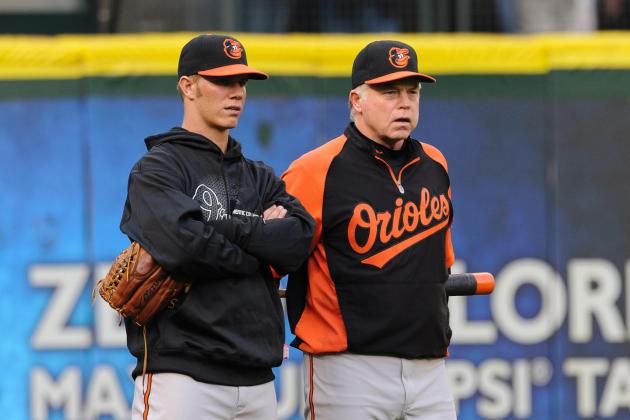 Steven Bisig-US PRESSWIRE

Despite his nerves and the temporary bout of confusion, Bundy came into the game and did exactly what the Orioles needed him to do, get outs.
The first batter he faced, Lavarnway, flew out to center field on a 1-0 fastball. He then induced a weak fly out to right fielder Lew Ford on a 2-2 fastball to Danny Valencia.
Accustomed to a starting role, the appearance out of the Orioles bullpen was his first since spring training.
So, how did the right-hander's nerves hold up in the defining moment?
"It was a lot longer run than I thought it would be," Bundy said. "I looked up at (Showalter) and he said 'Get us out of the inning,' and I did my best. I threw strikes and was able to get two popouts.

"Not really (nervous) on the mound. My legs were kind of a little bit light. But then when I got to the dugout, my hands were shaking. Other than that, it was pretty good."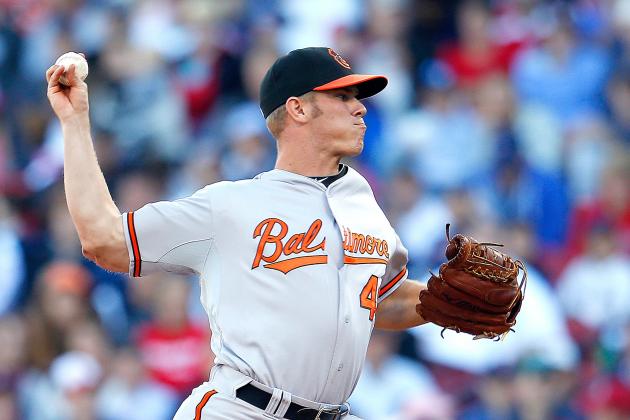 Jim Rogash/Getty Images

According to Fangraphs.com, Bundy threw five fastballs with an average velocity of 93.4 mph. The 19-year-old's heater topped out a 94.4 mph. He's capable of throwing the pitch in the mid- to upper-90s, so expect the right-hander to routinely exceed 95 mph in his next appearance, which might be today considering that the Orioles have a day-night double-dip against the Blue Jays.
He also threw two sliders with an average velocity of 83.1 mph.
It'll be interesting to note the velocities of both his curveball and changeup once he throws them for the first time (in the major leagues, obviously).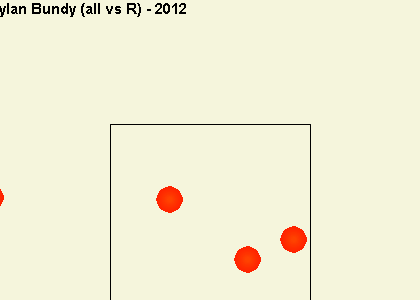 Courtesy of FanGraphs.com
As one can see in the heat map from this big league debut (also courtesy of FanGraphs.com), Bundy pounded the lower half of the strike zone with four of his offerings.
His fastball featured heavy sink, which was especially evident on the pitch used to retire Valencia.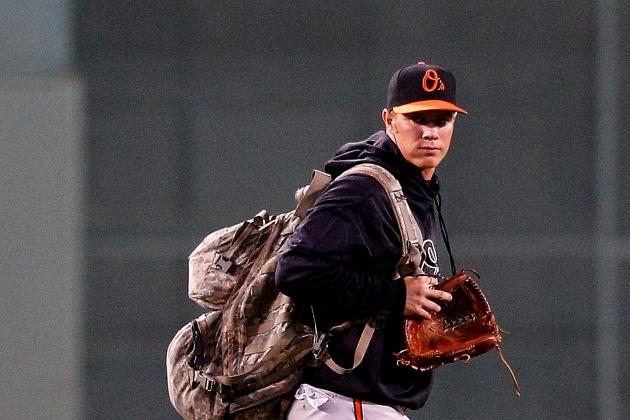 Jim Rogash/Getty Images

Coming out of high school—remember: that was only a little over a year ago—Bundy's slider was widely regarded as his best pitch. Unfortunately, entering the Orioles organization has done nothing to advance the pitch, as general manager Dan Duquette happens to be an outspoken advocate of scrapping the pitch not just for Bundy, but for all of the team's pitchers.
Via Kubatko's post-game article:
Bundy confirmed that he didn't throw any cutters to Valencia.

"Yeah, slider, not a cutter," he said.