Rajon Rondo: Will This Be His Best Year Yet?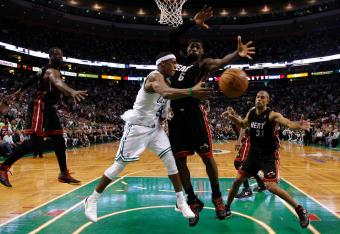 Jared Wickerham/Getty Images
There is no doubt that Rajon Rondo is a top five point guard in the NBA today.
Averaging roughly 12 points, 12 assists, and 5 rebounds during last year's regular season and 17 points, 12 assists, and 7 rebounds during the playoffs, Rajon Rondo makes a strong case for being the very best point guard in the NBA.
With his long limbs and massive wing span, Rondo is not only an offensive magician distributing the ball; but he is also one of the best defenders.
Aside from his impressive rebounding numbers for a point guard, Rondo also averaged 1.8 steals last season and 2.4 steals during the playoffs.
With gaudy numbers that belong on an NBA 2K12 box score, Rondo was able to spearhead the Celtic offense and be a pest on the defensive end of the floor while leading the team to more-than-expected success despite injuries to key players last season.
However, this coming season, Rajon Rondo is going to have the chance to have an even more impressive year than his previous seasons with the reemergence of returning players such as Jeff Green and Chris Wilcox as well as incoming youngsters like Fab Melo and Courtney Lee.
Of course, while Paul Pierce and Kevin Garnett share the floor with Rondo, there is no doubt that the Boston offense runs best through Kevin Garnett in the post and with Paul Pierce creating his own shots.
However, Boston now boasts a lot more capable role players that will allow Rondo to really take advantage of his ball handing skills, passing and speed on the fast break.
Firstly, Rajon Rondo has always been capable of starting his own fast break because he is so proficient at rebounding.
With the acquisition of Fab Melo and the return of Chris Wilcox, the Celtics now have mobile big men that can help them really run the break.
Although Fab Melo is definitely an offensive project, his defensive abilities are impressive and his ability to run the floor will be a definite bonus. Fab Melo is definitely a better fast break partner for Rondo than previous big men such as Kendrick Perkins, Jermaine O'Neal, Shaquille O'Neal, etc...
Jeff Green is a versatile power forward with a small forward's skill set who has yet to maximize on his potential. He is a decent rebounder, defender, offensive presence and can run the floor really well.
His ability to do various things like stretch the floor with his shooting, run the pick and roll or the pick and pop, his ability to post up, and his speed and finishing ability on the fast break will allow Rondo to keep the defense guessing.
Courtney Lee has had an up and down career ever since his impressive debut with the Magic a few years prior. However, like Jeff Green, he brings versatility in the shooting guard spot with his ability to shoot the three (close to 40 percent for his career)as well as run the break and finish.
In essence, the young guns, as well as the acquisition of veteran Jason Terry and the eventual return of Avery Bradley, loads up the Celtics with speed, mobility, and shooting options for Rondo to utilize.
Take, for example, a line up of Rondo, Courtney Lee, Paul Pierce, Jeff Green, and Kevin Garnett.
With the additions of Lee and Green, Rondo now has a player that can shoot at every position. Driving and kicking to any one of the four other players could potentially lead to an open shot.
Further more, each of those players can run the break, whereas last season, the lack of quality backups would have resulted in an offensively unskilled Stiemsma hindering the offensive options in the open court.
With the return of Wilcox, there are now quality back-up big men waiting to come off the bench to contribute on the boards as well as keep up with the pace of the game should Rondo decide to push the pace.
Now, consider a situation in which the Celtics still want weapons for Rondo to utilize; but need more defense and rebounding.
With a line up of Rondo, Bradley, Green, Garnett and Wilcox, the Celtics have gone large without giving much speed on the break.
Though they lost a shooter at the five spot, Rondo can still hit three shooters as well as run the break with an athletic finisher in Wilcox.
There are myriad of options the Celtics can utilize this season without hindering their offense, which will relieve a lot of the pressure on Rondo.
With a bench that couldn't really score last season, Rondo was forced to play practically the entire duration of every game to aid the offense. However, because he lacked a jump shot, the Celtics really faltered when Kevin Garnett or Paul Pierce hit the bench.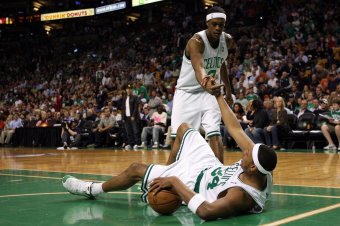 Elsa/Getty Images
However, with these added weapons, Rondo will be able to accumulate more rest as well as raise his efficiency on offense in terms of assists due to the myriad of options he now has to utilize.
Furthermore, Rondo will be allowed more driving lanes because they now have more shooters that will really stretch the floor for him.
With the prospect of more rest given real veteran options off the bench, a solid array of weapons to utilize on the fast break, and a myriad of shooters to stretch the floor and allow wider driving and passing lanes, Rondo has more tools at his disposal this upcoming season than ever before.
With the next two or three seasons being the swan song of this era of Boston Celtics basketball, Rondo is at a juncture in which he can truly elevate his career and his team to another championship as well as establish himself further as the present and future of the Celtics.
This article is
What is the duplicate article?
Why is this article offensive?
Where is this article plagiarized from?
Why is this article poorly edited?

Boston Celtics: Like this team?