Every NBA Team's Greatest Question Mark Heading into Training Camp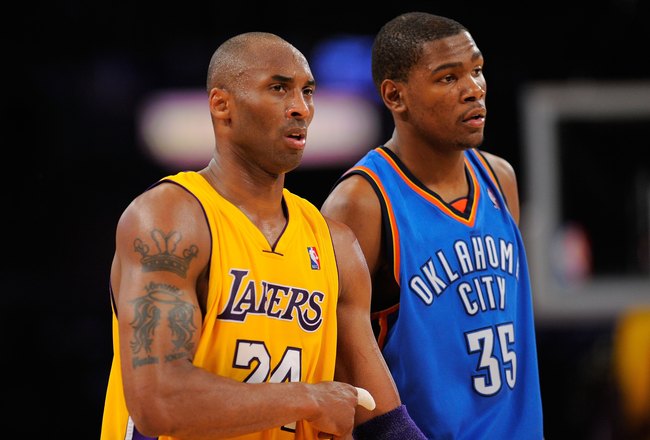 Kevork Djansezian/Getty Images
Every NBA season starts with a bunch of questions and not too many answers. The 2012 offseason provided tons of unanswered queries that will dominate the discussions during the October training camps.
Every team has one player who carries the biggest question mark. From the Los Angeles Lakers (Can Kobe Bryant bond with the Lakers' new stars?) to the Charlotte Bobcats (Is Michael Kidd-Gilchrist a star or a role player?) each team has one big player they need to figure out.
It's all a jumbled mess, but at least there is a bit of certainty this season. A year ago, the only question we found ourselves asking was, "When is this dang lockout going to be over?!" I think we can all agree that NBA fans find themselves in a much more enjoyable situation these days.
The NBA offseason is finally coming to a close, and training camps are on the horizon. Let's take a look at the biggest question mark for each of the league's 30 teams.
Atlanta Hawks: Josh Smith
Elsa/Getty Images
With Joe Johnson gone to Brooklyn, the Atlanta Hawks' season is squarely in Josh Smith's hands. The crazy-athletic big man averaged 18.8 points and 9.6 rebounds a game last season, but he'll need to be even bigger this year if the Hawks hope to contend for a playoff spot.
When the team traded away Joe Johnson for cap space, they put themselves in a very awkward situation. They're still too talented to get a great draft pick, but they aren't good enough to warrant a playoff lock. For a team that already had been stuck as the fourth- or fifth-best team in the East for years, this limbo is just not healthy.
It all comes down to Smith. Is he ready to prove he is the face of a franchise? Or, will he ride out the season on a truly mediocre roster and sign elsewhere next year?
Boston Celtics: Rajon Rondo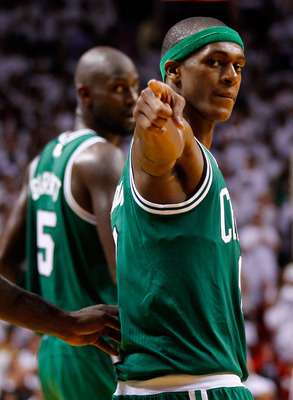 Mike Ehrmann/Getty Images
The Celtics' Big Three has begun to dismantle. Paul Pierce and Kevin Garnett inch closer to retirement, and Ray Allen packed his bags months ago for a cushy position in Miami.
Thus, it comes down to Rondo.
For years, you could argue that Rondo was the Celtics' best player, but now it isn't even a question. Rondo will control just how far Boston will go this season.
Can the Celtics make one more magical run at the title, or will they stumble and fall apart, unable to keep up with the younger teams? Is Rondo a player you can build your franchise around, or simply an excellent point guard for a championship contender?
Rondo always will be limited as a scorer due to his shooting issues, but as long as he has talented players around him, he can dominate as a floor general. Avery Bradley, Jeff Green and rookie Jared Sullinger will be key pieces this season that will all need to be effective.
If Rondo's teammates can't keep up with him, Boston will fall apart.
Brooklyn Nets: Brook Lopez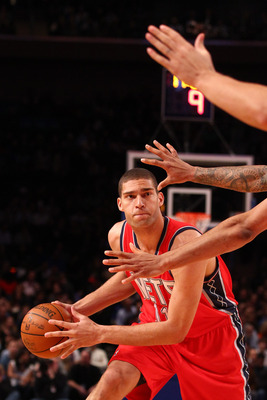 Al Bello/Getty Images
Brook Lopez looked like a franchise big man after his first two years in the league. His sophomore season, he averaged 18.8 points and 8.7 rebounds a contest while shooting 49.9 percent from the field.
Over the past two seasons, however, the question marks began to rise. In his third season, Lopez averaged 20.4 points, but nabbed just 5.4 rebounds contest. For a 7'0" center, that number is unforgivable.
Last season, Lopez only played in five contests before he was held out by numerous injuries. He was the big name in the Dwight Howard trade rumors, but with Howard in Los Angeles, Lopez remains the big question mark in the middle for Brooklyn.
The Nets have the potential to be a contender with Deron Williams, Joe Johnson, Gerald Wallace and Lopez in the middle. If Brooklyn expects to get anywhere, though, Lopez will have to prove he deserved the max contract he signed in the offseason; that means returning to his 8.7-rebounding average he had his second season.
Charlotte Bobcats: Michael Kidd-Gilchrist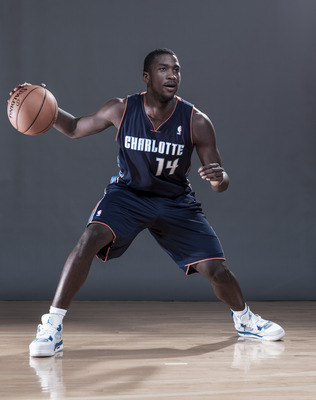 Nick Laham/Getty Images
Kidd-Gilchrist is one of the more intriguing rookies in the league and the Bobcats' only interesting player.
At Kentucky last year, Kidd-Gilchrist was an exceptional role player. He wasn't the team's top offensive option, but he was an excellent positional scorer and defender. He averaged 11.8 points on 48.2 percent shooting.
Will he ever turn into a star? He may not have the offensive potential to do that, but he certainly has the demeanor and work ethic. He'll become a fan favorite in Charlotte in a matter of days—which isn't saying much.
Chicago Bulls: Carlos Boozer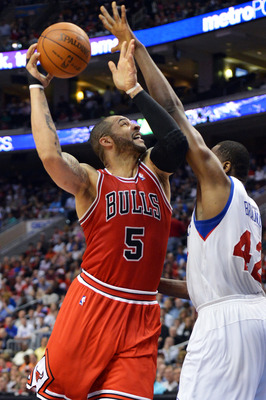 Drew Hallowell/Getty Images
I could have gone with Derrick Rose here since the health of his knee will determine the Bulls' future, but Carlos Boozer will have a bigger impact until Rose returns.
For Boozer, Rose's injury might be a blessing in disguise. As I discussed in this article about Boozer, the big man may be poised for an explosive season. Boozer needs more space to operate down low, and with a more traditional point guard in Kirk Hinrich, he'll get more room. While Rose is an excellent passer, he is a slasher point guard, and he clogs up the lane.
Boozer has proven in the past that he can carry the offensive workload, and I expect he'll prove he can do it again this season.
Cleveland Cavailers: Dion Waiters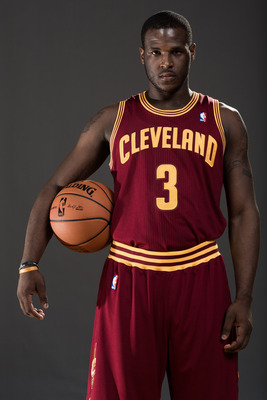 Nick Laham/Getty Images
It was the shocker of the 2012 NBA Draft when the Cavaliers selected Waiters with the No. 4 selection. Waiters was expected to go in the lottery, but he had not worked out with any team during the draft process.
For a guy who never started a game in college, the pick seemed high.
Waiters could very well fit nicely in Cleveland. Next to point guard Kyrie Irving, Waiters certainly has the most scoring potential. He's great at driving to the basket, and he's also a sharp passer. With Irving and Waiters running the floor, it could really open up the offensive game for the Cavaliers.
There are tons of question marks about Waiters, however. Is he a good enough shooter to thrive in the NBA? How will he transition from Syracuse's zone-heavy defense to an NBA man-to-man approach? Was he really worth taking over guys such as Thomas Robinson, Harrison Barnes and Andre Drummond?
Dallas Mavericks: O.J. Mayo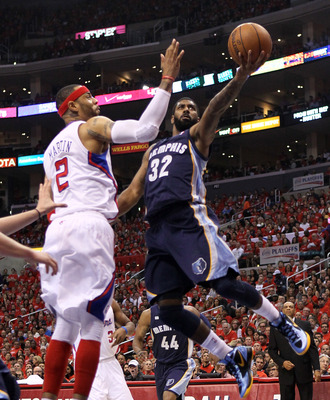 Stephen Dunn/Getty Images
After four mediocre years in Memphis, O.J. Mayo gets a fresh start in Dallas. He spent the last few years as the Grizzlies' sixth man, but with the Mavericks he's a sure-fire, Day-1 starter—you just have to wonder how effective he can be.
In 26.8 minutes a contest last season, Mayo averaged 12.6 points on 40.8 percent shooting. He's a streaky shooter and will never be called efficient, but in Dallas he may be the Mavericks' second-best scorer behind Dirk Nowitzki. Whether or not that is a good thing for Dallas remains to be seen.
If Mayo comes out hot, the Mavericks might be a sleeper playoff pick. If he continues to shoot around 40 percent from the field, however, Dallas won't be much more than an interesting eighth seed.
Denver Nuggets: JaVale McGee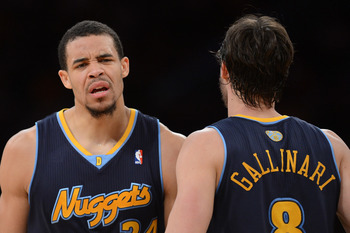 Harry How/Getty Images
The Nuggets know what they're getting out of newcomer Andre Iguodola.
They can't be so sure on returning big man JaVale McGee, though.
McGee anchors the middle for a very fast-tempo Nuggets squad. He's an excellent shot-blocker, but inconsistent at everything else. According to MySynergySports.com, McGee allowed .87 points per defensive possession, which is ranked 257th in the league. His true shooting percentage of 55.2 percent was mediocre as well, tied for 86th.
The rest of Denver's roster is composed of efficient players who are sharp on the defensive end. That doesn't exactly describe the headache-inducing McGee very well. If the Nuggets are going to make any noise in the postseason, they need their big man to become far more consistent.
Detroit Pistons: Brandon Knight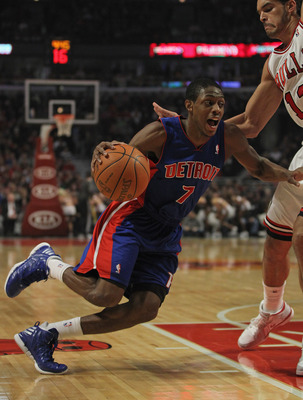 Jonathan Daniel/Getty Images
The Pistons have a star in Greg Monroe, and they might have one in Andre Drummond (come back in a few seasons). Their more immediate question is point guard Brandon Knight.
Knight was the No. 8 overall selection in the 2011 draft. He played well at times last season, averaging 12.8 points and 3.8 assists. Knight is a talented all-around player, but he'll need to vastly improve as a floor general if he's going to be the guard Detroit needs.
Knight had a mediocre 20.1-assist rate last season. Compare that to some other rookie point guards such as Kyrie Irving (21.7) and Isaiah Thomas (26.0), and it is clear Knight has a long way to go before he becomes a real NBA point guard.
Golden State Warriors: Stephen Curry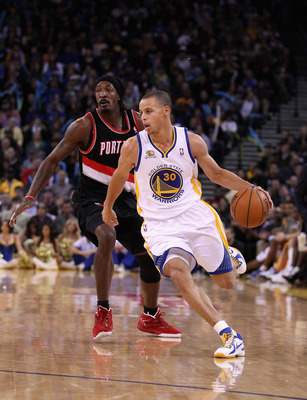 Ezra Shaw/Getty Images
When Curry is healthy, he's one of the league's most efficient scorers. It's just a matter of staying healthy that keeps both Curry and the Warriors from the playoffs.
In 2011-12, Curry averaged 14.7 points and 5.7 assists per game with an insane 60.5 percent true shooting percentage. For a guard, that is an astounding number. He also had a 26.5-assist rate, which proves he isn't just a scoring wonder.
The problem was that Curry only appeared in 26 games last season, suffering from troublesome ankle injuries.
Curry isn't the only Warrior with health issues, either—Andrew Bogut is just as injury-prone. If the two can stay healthy, Golden State could make the playoffs.
That is a pretty big "if," though.
Houston Rockets: Jeremy Lin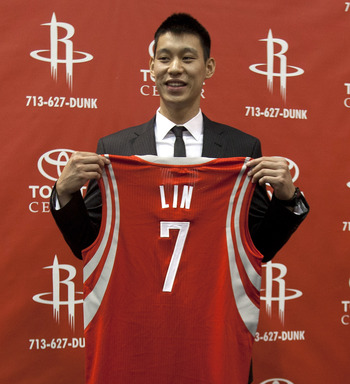 Bob Levey/Getty Images
Can Jeremy Lin keep up the Linsanity he sparked last season?
In short, no.
There is no denying that Lin was one of the top headlines last season, but over time he proved that he just couldn't maintain the stardom. His 20.8-point, 8.4 averages in February gave way to an average of 14.6 points and 6.3 assists in March.
Houston signed Lin to a three-year deal worth just more than $25 million (viewable here thanks to HoopsHype.com). While he will be paid $5 million this year and $5.22 million next year, in the third year he is set to make $14.898 million.
The Rocket needed a big-name player, and they certainly got one. I expect Lin will average near his March numbers (14.6 points, 6.3 assists) rather than his superstar numbers from February. He will make or break the Rockets' season.
Indiana Pacers: George Hill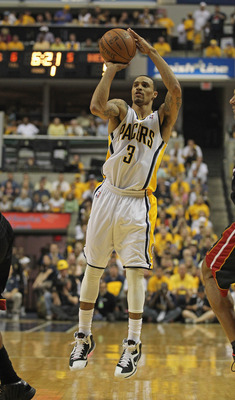 Jonathan Daniel/Getty Images
The Pacers handed George Hill the reins to the franchise when they decided to trade away incumbent starter Darren Collison. Can Hill prove the Pacers were right to give him the floor general duties?
Hill is a more efficient scorer than Collison (he had a 55.7 true shooting percentage compared to Collison's 52.6 percent), but Collison was the far more proven point guard. Collison had a 29.0-assist rate compared to Hill's 23.1. While Hill is an acceptable starting point guard, Indiana may regret trading away Collison.
Over the past three seasons (his first two were in San Antonio), Hill was a role player. An efficient one, but a role player for certain. Now, he's being asked to run a very deep and talented team. Is that too much for his talent level?
Indiana has the talent to win the Central Division, and they may be the East's second-best team behind Miami. As their new point guard, a lot rides on Hill this season.
Los Angeles Clippers: Vinny Del Negro
Kevin C. Cox/Getty Images
Okay, yes, I'm cheating a bit by putting a coach here, but Del Negro is the Clippers' biggest question mark, bar none.
When the Los Angeles Clippers picked up the contract option for the head coach in May, it was considered a surprise by most in the business. Oftentimes last season he simply looked out of his element.
Del Negro is commanding a team with the talent to be a top-four squad in the West. Chris Paul and Blake Griffin have solid depth around them in Chauncey Billups, DeAndre Jordan, Lamar Odom and Jamal Crawford. They have all the right pieces to make a deep run, but again, it comes down to Del Negro.
Can Vinny prove he's the right man for the job? Will the Clippers reside near the top of the West? If he can't manage that, the Clippers won't hesitate to remove him and find another coach.
Los Angeles Lakers: Kobe Bryant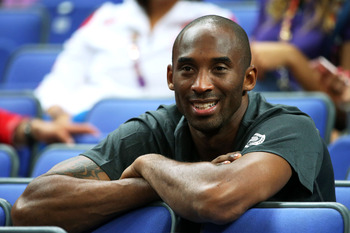 Christian Petersen/Getty Images
It's weird to be questioning Kobe Bryant. For the past 10 seasons, he's been at the top of the NBA's talent pool.
It's just that now, with the new talent coming into Los Angeles and the increasing years on Kobe's record, you have to begin to wonder.
Kobe is 34 years old, but more importantly has 16 years of NBA wear and tear on his resume. That's getting up there for any player, especially one who has been as highly depended on as Kobe. At some point, all those years have to catch up to a guy, even one as talented as Bryant.
Secondly, (and even more important) are his new teammates. Kobe has to share the spotlight with Dwight Howard, a top-five NBA player. Kobe has had Pau Gasol for years, but while Gasol is a talented player, he has never commanded the attention Howard gets.
With Howard coming to the Lakers, you have to wonder if Bryant can accept sharing the attention (or perhaps he'll even embrace and welcome the chance to fade into the shadows a bit).
Then there is Steve Nash, who will be the first real "ball-dominant" guard with whom Kobe has ever played. Even at 38 years of age, there is no denying that Nash can run an offense.
Kobe just has never had to share the ball so much, nor has he ever really been an off-the-ball scorer. Can coach Mike Brown design an offense that fits around everyone?
The Lakers are championship contenders, but they have a ton of unanswered questions.
Memphis Grizzlies: Rudy Gay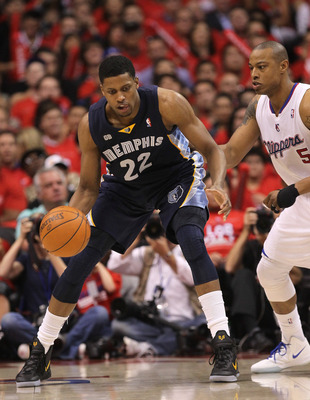 Stephen Dunn/Getty Images
In the 2011 playoffs, the Memphis Grizzles bowled through the top-seeded San Antonio Spurs, and then took the Oklahoma City Thunder to a seven-game series—all without their top scorer in Rudy Gay.
A year later, the Grizzlies lost a seven-game series to the Los Angeles Clippers. They played the final game in front of their home Memphis crowd and fell 82-72.
The main difference between the two seasons? In 2011, the Grizzlies were playing without Rudy Gay. In 2012, he was back with the team.
I'm not saying that having Gay on the floor cost the Grizzlies the series over the Clippers, but Memphis was far more efficient in 2011 without Gay than it was with its scoring star.
Gay is a strong scorer, but he's not a very efficient player. Can Memphis win big with Gay as its go-to guy?
Miami Heat: Ray Allen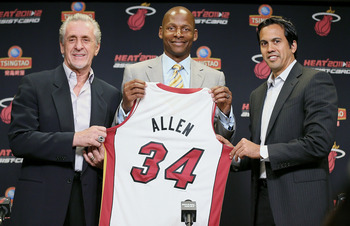 Mike Ehrmann/Getty Images
It's hard to doubt any of the Heat's big-name players. I could have gone with a lesser-name player here (looking at you, Joel Anthony), but I'll go with Ray Allen instead.
On paper, Allen looks like the absolutely perfect fit for the Heat. He gives them an outside weapon they lacked, and with LeBron James/Dwyane Wade/Chris Bosh drawing away attention, Allen will get tons of open looks.
Even though he's getting up there in years, if all he has to do on offense is stand still and catch passes for open threes, he's going to thrive.
Can he keep up defensively? How many minutes can we expect out of him? There are some questions about Allen, but like any questions surrounding the Heat, there isn't anything big to worry about.
Milwaukee Bucks: Monta Ellis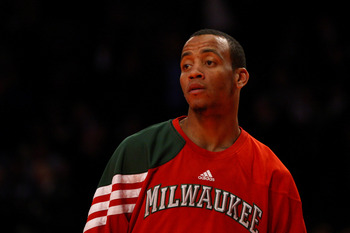 Chris Chambers/Getty Images
In 21 games with Milwaukee last season, newcomer guard Monta Ellis averaged 17.6 points, but shot 43.2 percent from the field and 26.7 percent from downtown.
His backcourt partner, Brandon Jennings, wasn't much more effective. He averaged 19.1 points on 41.8 percent shooting and 33.8 percent from three-point land. The two make one of the more deadly scoring duos, but you can't win consistently without consistent scoring.
The Bucks defense is even less efficient. According to MySynergySports, Ellis allowed .93 points per possession last season, which was tied for 370th overall. Jennings was a bit better, allowing .82 points per possession, 147th overall.
Milwaukee will be, just like the last few seasons, stuck in mediocrity. If Ellis and the Bucks want to escape basketball limbo, Ellis (or, to a lesser extent, Jennings) will need to learn to score more with less shots.
Minnesota Timberwolves: Brandon Roy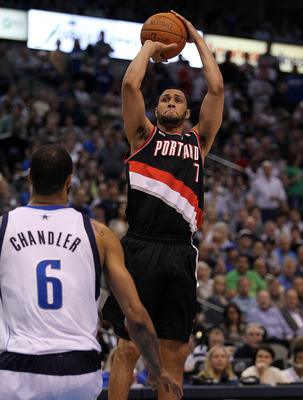 Ronald Martinez/Getty Images
Just a year removed from retirement, Brandon Roy is back in the NBA and says his surgically repaired knees are doing fine.
We know what Roy was capable of when healthy—in his peak with the Portland Trail Blazers, he was a top-three shooting guard in the league. Minnesota took a gamble on him this offseason, but if he can return to form he could turn the Wolves from a fun-to-watch sideshow into a true dark-horse contender in the West.
With Kevin Love down low and Ricky Rubio running the show, the Timberwolves will be thrilling to watch. They have the talent, the depth (Derrick Williams, the Wolves' 2011 No. 2 overall selection, is arguably their fifth-best player) and the coaching (Rick Adelman remains a top NBA coach) to win a ton of games.
Roy provides them with a much-needed second scoring option behind Love. If he can keep his knees intact, the Wolves could be a top-four team in the West.
New Orleans Hornets: Anthony Davis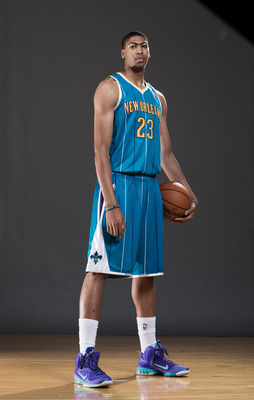 Nick Laham/Getty Images
We know Anthony Davis is a monster defensively. He's a transformative defensive player with a defensive awareness and IQ that's off the charts. Entering the league, he's already a top-10 defender in the business.
The question marks start with Davis' offense, though.
Davis isn't exactly raw, because calling him that would be selling him short. He has decent post moves, he possesses a solid jumper and he was excellent in transition. He's not raw, but he's just not developed yet.
We don't even know yet what kind of offensive player Davis will become. He's too skinny right now to dominate the low block, but he's not quite enough of a shooter to play the Kevin-Garnett, top-of-the-key scorer role.
The first step for the Hornets is to figure out what they want Davis to develop into, and then figure out how to get him there.
New York Knicks: Amar'e Stoudemire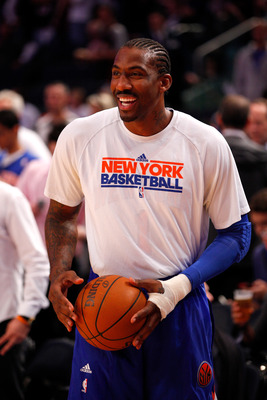 Jeff Zelevansky/Getty Images
In one year, Amar'e Stoudemire went from averaging 25.3 points per game on 50.3 percent shooting in 2010-11 to 17.5 points on 48.3 percent shooting in 2011-12.
Certainly, the addition of Carmelo Anthony might have affected that, but it was more about Stoudemire than it was about his new teammate.
Stoudemire always was a big man who depended on his athleticism to dominate. When he began losing that freakish athleticism last season, he looked downright old.
The Knicks need Stoudemire to be both healthy as well as consistent if they hope to be real title contenders. He doesn't need to score 25 points a contest—that is Melo's job. What Stoudemire needs to do is stay healthy, score 18-20 points a night and stay consistent.
Is that too much to ask from Stoudemire's knees?
Oklahoma City Thunder: James Harden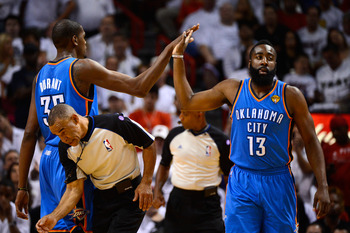 Ronald Martinez/Getty Images
The Thunder have a different concern than player talent on their hands—they have a contract extension to worry about.
James Harden and the Thunder are negotiating an extension, and Harden wants a max contract, according to ESPN's Chris Broussard. Oklahoma City already has locked up Kevin Durant, Russell Westbrook and Serge Ibaka to big deals, and a max contract for Harden (which would be $58 million over four seasons) would put the Thunder way into the luxury-tax realm.
Oklahoma City is bursting with talent and is a contender for the title, but entering training camp, its biggest question mark is Harden and his future. If the two sides cannot agree to an extension by the beginning of the season (Oct. 31), Harden can enter next summer as a restricted free agent.
Orlando Magic: None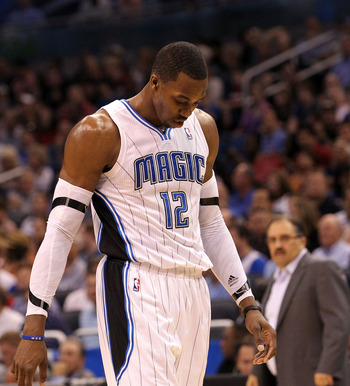 Sam Greenwood/Getty Images
The Orlando Magic have nothing going for them this season. Dwight Howard is gone, and the best player they got back was Arron Afflalo. Jameer Nelson and Glen Davis are the only other big names, and they aren't a part of the franchise's future.
The big question mark for the soon-to-be-miserable Magic is simple—who will they get with a Top Four pick in next year's NBA draft?
The Magic will be at the bottom of the league this season, and for their sake, I hope they snag a Top Three pick in next year's lottery. If they end up with the No. 4 pick after a dreadful 16-66 season, things will only get worse before they get better.
Philadelphia 76ers: Andrew Bynum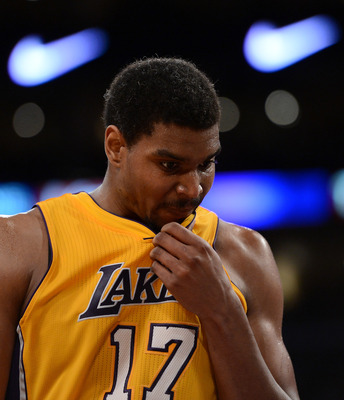 Harry How/Getty Images
The Philadelphia 76ers snagged center Andrew Bynum as part of the Dwight Howard-to-Los Angeles deal. When he's healthy, Bynum is the second-best center in the league (behind only Howard)—the main issue is that he also can be a bit of a head case.
Bynum had a good number of issues when he was in Los Angeles. Philadelphia head coach Doug Collins doesn't have a history of working so well with troublesome stars (anyone remember some kid named Michael Jordan?), so it'll be interesting to see if Collins can rein in Bynum.
Bynum gives the 76ers an inside weapon and probably the best big man in the Eastern Conference, but it'll take some time before we can know if it's a long-term fit.
Phoenix Suns: Michael Beasley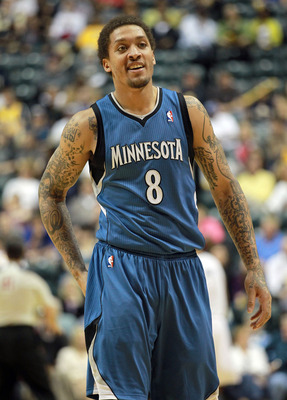 Andy Lyons/Getty Images
If Michael Beasley can live up to the incredible potential he showed in college at Kansas State, the Phoenix Suns may have just gotten a massive bargain.
That "if" in there is pretty darn big, though.
Through four years (two in Miami, two in Minnesota), Beasley looks like a sparkplug bench scorer, at best. He can score in bunches (he averaged 19.2 points his sophomore season), but he's very ineffective and leaves a ton to be desired in everything but scoring.
Phoenix needed a top scoring option, and it gambled on a relatively cheap Beasley. Can he prove he really is a top scoring option? Can he learn to be more consistent on defense? Can he commit 100 percent to the team and lead the well-balanced Suns to a playoff spot?
I doubt it, but he'll be fun to watch.
Portland Trail Blazers: Damian Lillard
Nick Laham/Getty Images
I'm fully on board the Damian Lillard fan bandwagon. He's my pick to win the 2012-13 Rookie of the Year Award.
Lillard averaged 24.5 points and 5.4 assists for Weber State last year. While it's easy to somewhat dismiss those numbers due to Weber State's poor schedule, Lillard absolutely has everything you want in an NBA point guard. He's a lights-out scorer, a dynamic shooter and he improved drastically last season as a floor general.
Portland may have just snagged the next Deron Williams (and, at the No. 6 pick, that's pretty darn good).
If Lillard plays like I expect this season (averaging 16 points and six assists or so while shooting around 45 percent), Portland has a great shot at making the playoffs. LaMarcus Aldridge and Nicolas Batum are two excellent players, and now that they finally have a really electric point guard, the Trail Blazers easily could be a surprising team this year.
Sacramento Kings: Tyreke Evans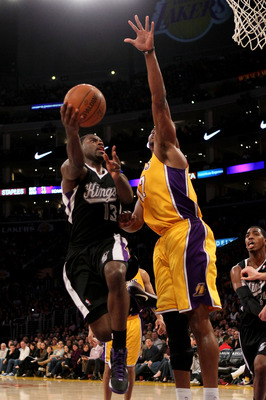 Stephen Dunn/Getty Images
It is the make-or-break season for Tyreke Evans. I don't believe Evans has regressed, certainly not to the extent of the popular belief, but he needs vast improvements.
Evans' shooting is dreadful—his favorite pull-up and step-back jump shots are way below what they need to be. There is no denying that Evans is, right now, a bad shooter. That said, he certainly has improved as a player, and he became a far more efficient player toward the end of last season.
Before the All-Star break, Evans averaged 17.3 points, but shot just 42.1 percent. After the All-Star Game, playing mostly off the ball with Isaiah Thomas locked as the team's floor leader, Evans averaged 15.5 points, but shot 49.8 percent from the floor. His shot opportunities went down, but his efficiency went way, way up.
Whether or not Evans has truly regressed or not, this is the deciding season for him. Has his offseason work really improved his jump shot? Can he accept playing off the ball? Or, will he struggle through another season and find himself somewhere else in 2013-14?
San Antonio Spurs: Tim Duncan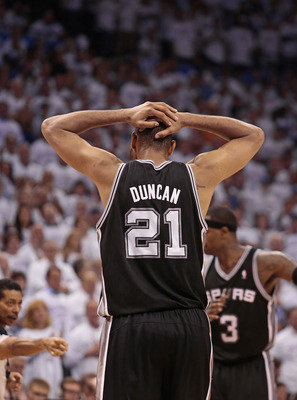 Brett Deering/Getty Images
The "Spurs are Old!" narrative is nearly as worn out as Tim Duncan. It certainly didn't stop them from dominating last season and looking like title favorites for much of the year.
But when you think of the Spurs, you immediately think of Duncan, right? And when you think of Duncan now, isn't his age one of the first things that pops into your head?
Duncan has 16 years of grueling NBA minutes on his body, and you can't expect him to last much longer. He is the heart and soul of the smartest basketball team on the planet, but you remove him, and the Spurs will crumble to dust. Head coach Gregg Popovich has to know Father Time is coming, and he's coming soon.
The Spurs need to find some way to snag a young, face-of-the-franchise player soon (James Harden next summer, maybe?) because Duncan won't be on the court much longer. I bet in two years he'll be on the sidelines as Popovich's top assistant.
Toronto Raptors: Jonas Valanciunas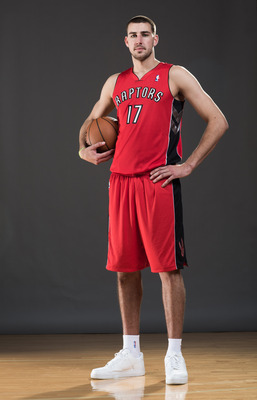 Nick Laham/Getty Images
The 2011 draft's No. 5 overall selection, Jonas Valanciunas comes to Toronto carrying huge expectations and not a ton of certainty. He's certainly one of the top foreign prospects in recent memory, but are Raptors fans expecting too much out of their rookie?
In addition to Valanciunas, the Raptors traded for point guard Kyle Lowry. Lowry is a top-10 NBA point guard when healthy, and Toronto's record should improve this season. But if Raptors fans are expecting playoffs, they're simply expecting too much out of their squad.
Valanciunas is a smart player who can do everything you'd want a big man to do, but will he really be that good, that fast? Give him (and his Raptors teammates) at least a year to figure out how to play with each other—then we'll see if the Raptors are playoff ready.
Utah Jazz: Derrick Favors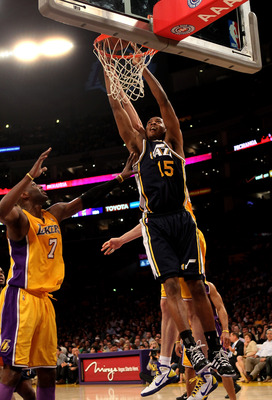 Stephen Dunn/Getty Images
No one on the Jazz's roster has Derrick Favor's potential, but he still may not even start for Utah.
With Paul Millsap and Al Jefferson clogging the lane (not to mention 2011 No. 3 overall pick Enes Kanter), Favors finds himself in a crazy-deep Utah big-man core. Can he beat out either Millsap or Jefferson for a starting job, or will Utah have to trade someone to get Favors substantial minutes?
Favors is already a great defender, and he improved last season offensively. If he comes out and impresses in training camp, perhaps the Jazz will trade another big man for some guard help (where they are sadly weak).
If you're looking for a break-out candidate of the year, Favors may be your guy.
Washington Wizards: John Wall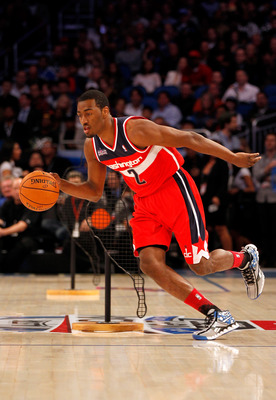 Mike Ehrmann/Getty Images
If the NBA consisted of nothing but games of one-on-one, John Wall would be a top-20 player. But in the real-life NBA, Wall has been held back by his team.
Last season Wall might as well have played one-on-five every night—he had no one to consistently count on.
Things might be changing, though. Nene Hilario came over late last season in a deal with Denver, and newcomers Trevor Ariza and Emeka Okafor were acquired this summer. The Wizards also used the 2012 No. 3 overall selection to draft Bradley Beal, a sharpshooting guard from Florida who should fit very well with Wall.
Hopefully for Wall's sake (and the NBA's at large—I mean, who wants a top-20 player without any talent around him?), this batch of Wizards teammates is vastly improved. Look for Washington to sneak into the playoffs this season.
Keep Reading