Formula 1: The Sport's Unwanted Records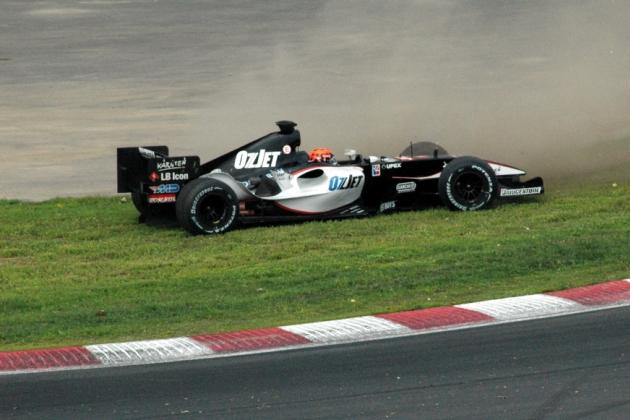 (Picture: Tinou Bao)
In the world of Formula One, holding a record is normally considered a mark of excellence.
Michael Schumacher, without question one of the greatest drivers of all time, holds the records for most wins (91), most poles (68), most fastest laps (77) and most championships (seven).
Alberto Ascari's record of nine consecutive race wins is unlikely to ever be bettered. And Sebastian Vettel, quite a fan of statistics, is the proud holder of the record for the most pole positions in a single season (15).
But on the other end of the scale lie the records no one really wants to hold.
Claudio Langes for example, who failed to pre-qualify for every single one of the 14 races he entered, likely isn't too proud of being the least successful driver in F1 history.
Let's take a look at some of the other unwanted records the sport has to offer.
Begin Slideshow

»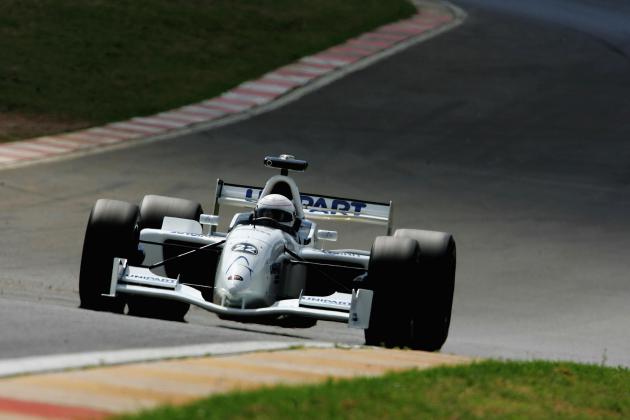 Clive Rose/Getty Images
De Cesaris driving in 2005 GP Masters season.
Andrea de Cesaris - 208
This one is held by the unfortunate Andrea de Cesaris, with a staggering 208 starts and not a drop of winner's champagne.
The Italian started his career in 1980 with Alfa Romeo. Over the years he drove for McLaren, Alfa Romeo again, Ligier, Minardi, Brabham, Rial, Scuderia Italia, Jordan twice, Tyrrell and Sauber.
Due to his tendency to find walls, gravel traps and other cars early in his career, he earned the nickname "Andrea de Crasheris."
This, coupled with the reliability issues suffered by the cars of the 1980s and early 1990s, meant he was classified as a finisher in only 69 races—around 33 percent of his total.
De Cesaris scored five podiums and came very close to a win on a few occasions—most famously of all at the 1982 Monaco Grand Prix.
Alain Prost led on Lap 74 of 76, but he crashed on the exit of the Harbour Chicane after spinning on a damp track. Riccardo Patrese took the lead, but barely half a lap later he spun at the Leows Hairpin and stalled the car.
Didier Pironi was the next man at the front, passing the stationary Patrese with one and a half laps to go. He managed to get within a mile of the finishing line and promptly ran out of fuel, stopping in the tunnel.
De Cesaris would have taken the lead, but he also ran out of fuel a few corners before Pironi and parked just after the exit of Casino Square.
Derek Daly was the next man in line, but (you guessed it) he ran out of fuel too, before he could start his final lap.
While all this was happening, Patrese managed to roll his car downhill towards Portier and successfully jump-started it. He completed the last lap and a half to win one of the most bizarre races of all time.
De Cesaris was classified third.
Beatable?
Even at 20 races a season, a driver would need an 11-year career to match this one. And it seems somewhat unlikely that an unsuccessful driver could last 11 seasons in the current climate of rapid recycling and pay drivers.
Adrian Sutil is the closest, needing another five and a half seasons to beat de Cesaris.
Others
Andrea wasn't a terrible driver compared to some, but longevity has left him with a host of unwanted records.
Most are for non-finishes, including those for the most total retirements (148) and the most retirements in a single season (14, held jointly with four others).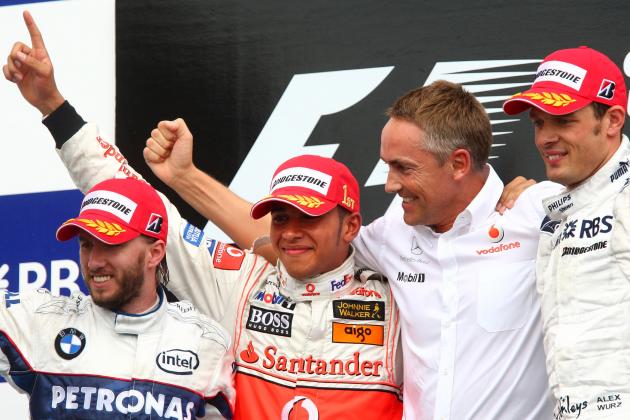 Mark Thompson/Getty Images
Heidfeld (left) following his second place at the 2007 Canadian GP.
Nick Heidfeld - 259
Nick Heidfeld entered F1 in 2000, a highly-thought-of young driver with Formula Ford, F3 and F3000 championships to his name. He spent 1999 as the test driver for McLaren, and many observers expected great things from his career.
But things rarely turn out the way we expect.
Though Heidfeld spent most of his career in uncompetitive machinery, a six-year stint with BMW-linked teams (first Williams, then Sauber) saw him finally given the opportunity to succeed.
But despite eight second places and five thirds, Nick never made it into the top step of the podium.
Beatable?
It appears unlikely the German will ever return to F1, and the new points scoring system should see his record overhauled sooner rather than later.
Romain Grosjean is the current front-runner, 114 points behind.
Other Records Held

Heidfeld also holds the record for the most podiums without a win (13).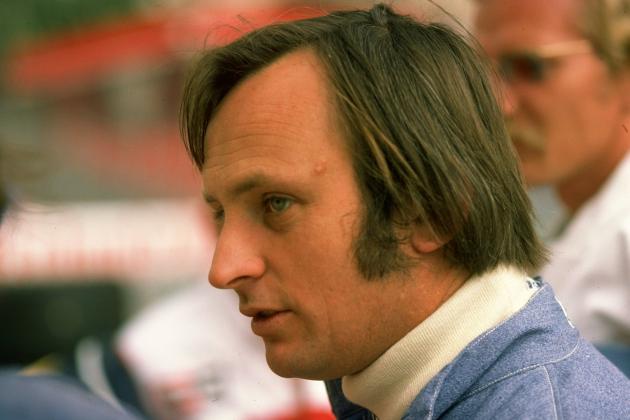 Tony Duffy/Getty Images

Chris Amon - 183
If the Dictionary of F1 had an entry for "unlucky," there would be no words beside it—only a picture of Chris Amon. Mario Andretti once said of Amon, "if he became an undertaker, people would stop dying."
The Kiwi led a total of 183 laps in seven different races, but never crossed the line first. Every time a victory looked possible, something turned up to stop it happening.
And it wasn't just the "normal" problems. For example, Amon can lay claim to losing a good opportunity for a win due to the visor falling off his helmet as he tried to remove a tear-off (Italian Grand Prix 1971).
The man himself denies he was unlucky, and he has a point. Chris drove for 14 seasons during the most dangerous era in F1 and survived to tell the tale—something many of his contemporaries did not.
And his victory in the 24 Hours of Le Mans in 1966 owed more than a little to good fortune.
But this man was probably good enough to win championships—and he should have won at least one race at the highest level.
Beatable?
Anyone wanting to beat this one would realistically need something modern F1 doesn't have—awful reliability. The cars of today are near-bulletproof and if you regularly lead laps, you're going to win sooner or later.
Nico Hulkenberg is the closest of the current grid with 38 laps.
Others
Amon also holds the record for the most pole positions without a win (five), most fastest laps without a win (three) and most different teams driven for (13).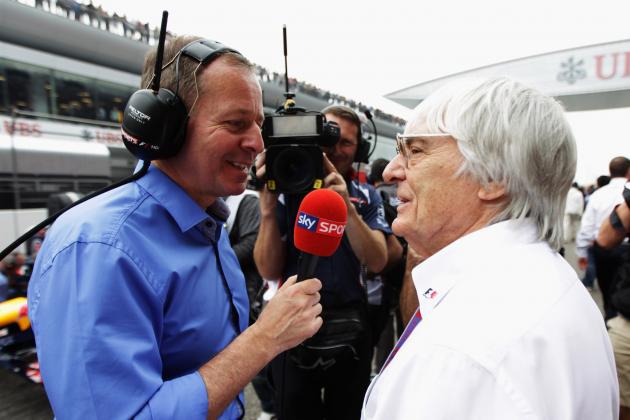 Mark Thompson/Getty Images
There's one role in which Brundle is outdoubtedly No.1.
Martin Brundle - 158
Now known more as a commentator than a driver, Martin Brundle narrowly lost the British F3 championship to Ayrton Senna in 1983 before embarking on a long career in Formula 1.
A fan watching back in 1984 would probably think it ridiculous that Brundle would never lead a lap. He was very fast at a young age and had the potential to get even better. Martin finished fifth in his first race and very nearly won his seventh, coming home in second—only 0.837 seconds behind the winner.
Everything was looking rosy at this stage of his career, but things soon fell apart. Brundle broke both his ankles in a crash at the 1984 Dallas Grand Prix, which put him out for the rest of the season.
Then it got worse.
His team, Tyrrell, were caught bending the rules and disqualified from the 1984 season. All their results were wiped out—along with Brundle's career so far.
A succession of drives at back-marking teams took Martin through to the end of 1989, with a break from F1 in 1990 bringing with it victory at Le Mans. In 1991 he drove for the once-great Brabham, scoring the team's last ever points (and his only points of the season) in Suzuka.
His talent deserved better, and in 1992 he finally got his hands on a half-decent car, partnering then-rookie Michael Schumacher at Benetton. In a season dominated by Nigel Mansell and Williams, Martin scored five podiums.
Over the next few years he stood on the podium a further four times during spells with Ligier, McLaren and Jordan, adding some respectability to his career statistics—but somehow, he never led a single lap.
Brundle declined a drive at Sauber and retired from F1 at the end of 1996, going into commentary alongside Murray Walker for ITV in the UK. Whenever the primary UK broadcaster for F1 has changed, Brundle has followed.
It probably doesn't make up for a career of unrealised potential, but if he was a good driver he's a living legend as a commentator. In 2009 Giles Smith of The Times (subscription required) described him as "the greatest TV analyst in this or any other sport." I'm inclined to agree.
Beatable?
This one would require eight seasons of running in uncompetitive machinery and with no lucky breaks. You often see an odd leader for a lap or two under the Safety Car, or when a backmarker makes an inspired tyre gamble early in the race.
Anyone remember Markus Winklehock?
So it would be tough to beat. The closest current driver is Daniel Ricciardo on 41.
Others
Brundle also holds the record for the most races without a pole position (also 158, shared with Johnny Herbert) and most races before a first podium (91).
Of course, he wouldn't hold the second record had his 1984 results not been wiped out.
Bryn Lennon/Getty Images
Badoer at a test.
Luca Badoer - 50
Luca Badoer had a long career with Ferrari as a test driver, spending 13 years in association with the Italian constructor. But he only drove two races for the team, in 2009—a decade after his last start. With no time to prepare, it was no surprise he qualified last in each.
He came into the sport on the back of winning the F3000 title in 1992. It was a strong field too, including future race-winners Rubens Barrichello, Olivier Panis and David Coulthard, three-time Le Mans winner Allan McNish and future touring and sports car star Laurent Aiello.
As a full-time race driver, Badoer drove for Scuderia Italia in 1993, Minardi in 1995 and 1999 and Forti in 1996. The cars were always uncompetitive and never looked like scoring points, but if nothing else Luca always gave it his all.
Perhaps his most memorable race was the European Grand Prix of 1999. In changeable weather at the Nurburgring, Badoer had worked his way up to fourth place when his gearbox failed 13 laps from the end.
He cried, many of the Minardi team cried and I'm sure a lot of fans at home did, too.
Beatable?
Under the current system (points to the Top 10, under which Badoer would have scored 26 points), this one is more difficult to match than it might once have been.
But there is hope, thanks to the reliability of modern cars and the perennial uncompetitiveness of "new teams" Caterham and Marussia. Charles Pic only needs 21 more pointless races to claim this record.
Others
Badoer also holds the record for the most laps completed without a point (2,364).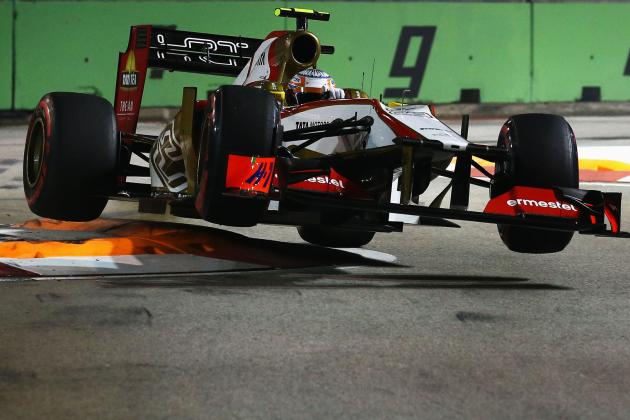 Robert Cianflone/Getty Images
Karthikeyan playing 'Guess the Horrible Corner' in Singapore.
Narain Karthikeyan - 24th
Likeable Indian driver Narain Karthikeyan holds the record for the worst finishing position in a Grand Prix.
The race in which this occurred was the 2011 European Grand Prix at Valencia, which saw a total of zero retirements. 24 men started, and Karthikeyan was the last of them to cross the line at the end.
It was the crowning glory of a "wooden weekend"—Karthikeyan set the slowest lap in each practice session, qualified last and finished last.
Only Pastor Maldonado's untimely pit stop prevented Narain spending every lap in last place and making his wooden weekend a golden one.
By finishing 24th he broke his own record of 23rd, set at the Chinese Grand Prix earlier in the same year.
Not a brilliant driver, but he's a man whose personality always came out through the TV screens—and in a positive way. A rarity these days.
Beatable?
Not right now, because there are only 22 cars on the grid.
But if a 12th (or 13th) team starts racing, the extremely good reliability of modern F1 cars means this record is likely to be equalled (or beaten) sooner or later.
Others
Karthikeyan may also have qualified on the back row more than anyone else (20), but without 100% confidence. The vastness of the F1 statistics universe means someone else may have slipped under the radar.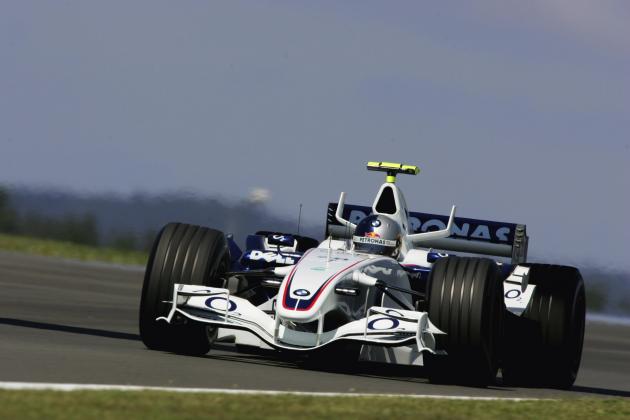 Paul Gilham/Getty Images
Vettel during the session in question.
Sebastian Vettel - six seconds.
Sebastian Vettel may be a triple world champion now, but back in 2006 he was a rookie about to take part in his first-ever F1 practice session at the Turkish Grand Prix.
His BMW-Sauber was started, and off he went on his F1 career.
Six seconds later, he received a penalty for speeding in the pit lane.
Beatable?
Certainly, but it would probably have to be done on purpose.
Others
Vettel doesnt hold any other negative records that I'm aware of. Unless "most annoying finger" counts.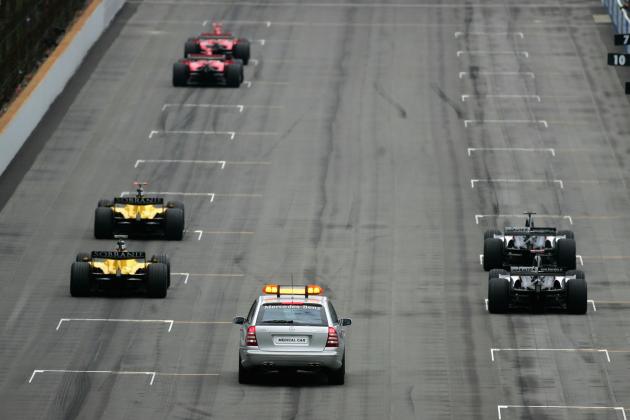 Clive Rose/Getty Images
If you weren't watching F1 in 2005, this actually happened.
HRT hold the record for the most starts without a point for a constructor, with 56. Name changes have kept this record away from Caterham and Marussia.
Minardi are the record-holders for the most races without a win for a team, with a staggering 345. Their best finishing position was fourth.
The 2005 United States Grand Prix had the fewest starters (six, due to tyre issues) and the wet 1996 Monaco Grand Prix had the fewest finishers (three).
And the worst race of all time? If you like overtaking, this is shared between the 2003 Monaco Grand Prix, 2005 United States Grand Prix and the 2009 European Grand Prix, all of which featured zero passing moves.
Of the drivers who have never won a championship, Mark Webber has the most points (953.5 and counting) and Rubens Barrichello the most podiums (68).
Marco Apicella holds the record for the shortest F1 career (he lasted 800 metres in his only race), while in 2012 Pastor Maldonado achieved the most driving penalties in a single season (nine).
So next time Charles Pic doesn't score a point, Daniel Ricciardo doesn't lead a lap or Adrian Sutil doesn't win a race, don't dismiss the occasion from your mind. Tell yourself, "I was there."
Because even the most irrelevant statistic might mean something one day.