Michael Bisping vs Chris Weidman: Why This Is the Fight to Make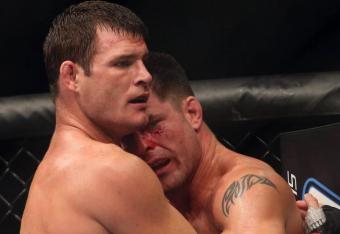 Tom Szczerbowski-US PRESSWIRE

Michael Bisping has fought six years for the UFC, and his cries to be given a title shot against middleweight champion Anderson Silva have grown louder and louder. Unfortunately for him, his victory over Brian Stann at UFC 152 on Saturday wasn't as emphatic as it needed to be, to make his case.
And he knows it.
Leading up to the fight, Bisping was adamant that he would call out Anerson Silva as soon as he beat Briann Stann, but the Brit failed to do so.
Even Dana White, during the post-fight press conference, was reluctant to declare Bisping the next contender.
The problem is, all of a sudden, the middleweight division has become stacked, and for Bisping to be declared the next contender, his win over Stann needed to be as impressive as Chris Weidman's win over Mark Munoz in July.
Until then, Munoz was being lined up to take on Silva as soon as Chael Sonnen had his chance, but he was decimated by Weidman who all of a sudden became the top contender.
At this point, with the series of wins behind them, there are three men who are vying for a title shot – Bisping, Weidman and Alan Belcher.
Alan Belcher himself is on a four-fight winning streak, with his last win over the dangerous Rousimar Palhares. He has been considering his options carefully since that win in May before picking his next opponent, and expectations were that Belcher would face Weidman to decide who the next contender would be.
But given Bisping's long history in the UFC, considering his recent victories and a loss to recent middleweight contender Chael Sonnen in a fight which many thought he won, it would be fair to pit him against Weidman. The winner of that fight should decide who the next championship contender is.
Weidman has looked like a much more exciting prospect than Belcher, perhaps more exciting than anyone else in the division. He is extremely well-rounded and dangerously creative inside the Octagon and is rightly considered one of the best 185 lb'rs out there.
Bisping, with his braggadocio and successful UFC performances, has clawed his way to the top. And, love him or hate him, he is a much bigger draw than Alan Belcher.
For his part, Anderson Silva has not shown any interest in taking on any of the top middleweight contenders—setting his sights instead on a super fight with Georges St. Pierre.
Nevertheless, if either Bisping or Weidman emerge victorious in a match against each other, then they would have both made a compelling case to be given the title shot.
And that's why Bisping vs. Weidman is the fight to make.
Khurram Aziz is a Featured Columnist for Bleacher Report. Follow him on Twitter: Follow @khurramaziz1981
MMA techniques and MMA training
This article is
What is the duplicate article?
Why is this article offensive?
Where is this article plagiarized from?
Why is this article poorly edited?