Detroit Lions: Stat Projections for Starters and Key Reserves vs. the Vikings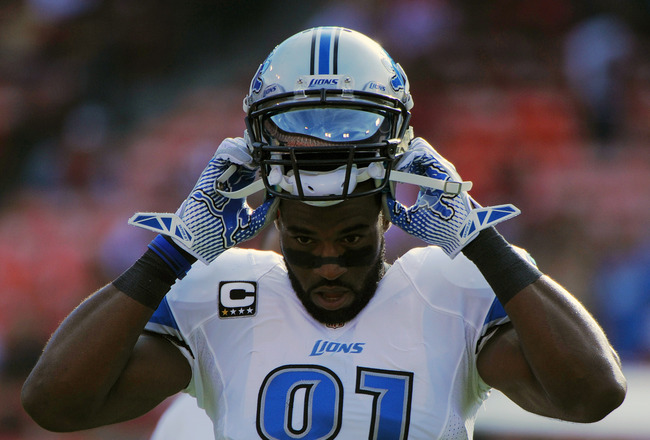 Kyle Terada-US PRESSWIRE
The Detroit Lions will look to break out of their on-field funk in Week 4 when they face NFC North Division rivals the Minnesota Vikings. The Lions have lost two out of three to start the NFL year, including a heartbreaker in Tennessee, and a home game against the Vikings could be the cure for what ails them.
On paper, the Lions should be victorious.
As we all know, NFL contests are not played on paper, though. They're played between the hash marks, and that's where the Lions have stumbled so far this season.
They're a better team than their 1-2 record indicates, but they need to play like it. Then again, maybe they're just not getting the bounces they did last season.
Regardless, the Lions swept their series with the Vikings last year and are very capable of beating them at home. The Viking demonstrated they're no pushovers, though. They beat the San Francisco 49ers in perhaps the biggest shocker of this early season.
If Detroit hopes to get back in the win column, they need big games from their big players and they need their defense to play up to its potential.
Here are projections for key Lions players who need to step up against the Vikings.
* All stats in this article are courtesy of ESPN.com.
Special Teams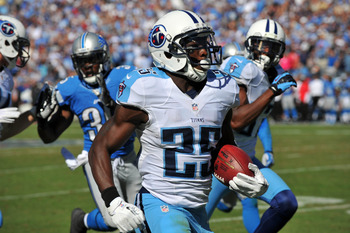 Don McPeak-US PRESSWIRE
It goes without saying that Detroit's special teams were a disaster against Tennessee. Fans can only hope that they don't see an utter collapse like that again this season.
Minnesota has yet to return a kick for a touchdown, but they rank in the top 10 in total yardage and yards per return.
In other words, the Lions special-teamers will have their work cut out for them, and they must dramatically improve from last week.
They can't be that bad, can they?
Realistic Stat Line
0 TDs!
Chris Houston and Bill Bentley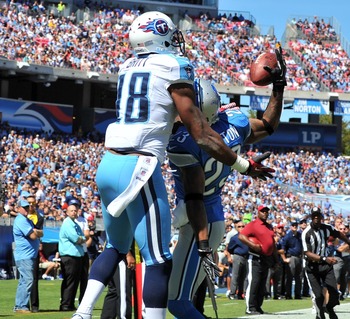 Don McPeak-US PRESSWIRE
After three weeks of football, the Lions are giving up 250 passing yards per game, which puts them at 20th in the NFL.
That's not all on the Lions' cornerbacks, but a lot of it is.
Obviously injuries have played a big role. Then again, the Lions had their two top corners, Chris Houston and Bill Bentley, on the field against the Titans, and we all know how that turned out.
The biggest difference between this year and last is the lack of turnovers. At this time last year, the Lions' corners accounted for three interceptions. Chris Houston had two and Eric Wright had one.
This season, the Lions have zero interceptions.
Minnesota's quarterback, Christian Ponder, threw 13 interceptions in 291 passing attempts last season. He hasn't thrown a pick yet this season, but he's throwing the ball more often. He's due for a mistake.
At home, against the Vikings, the Lions' corners need to come up with a big play.
Realistic Stat Line
1-2 INTs
Defensive Line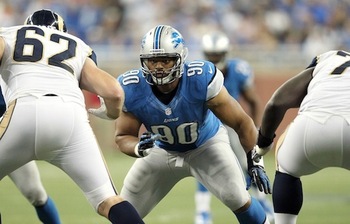 nfcnblog.com
Grumblings about Ndamukong Suh, Nick Fairley, Corey Williams, Kyle Vanden Bosch and Cliff Avril are getting louder each week.
Lions' fans are waiting for this supposed elite group to start dominating—but they're not.
Here's the popular opinion about each member of this unit: Suh hasn't returned to his 2010 form. Williams is solid but isn't exceptional at anything. Fairley is lazy and isn't playing up to his potential. Avril's holdout is affecting his play, and Vanden Bosch is too old, too slow and needs to sit down for Willie Young.
That about sums it up.
The truth is the Lions defensive line has not been dominant, they've just been good. Currently they're tied for 10th in the NFL in sacks with seven, and they're the main reason Detroit is the 11th-rated team at stopping the run.
The problem is they don't get consistent pressure on the quarterback.
Getting to the quarterback won't be easy against Minnesota either. Especially with Corey Williams ruled out.
Their offensive line has only given up six sacks in three games. The Lions will also have to account for a very mobile and very quick quarterback in Christian Ponder.
Then again, if they are truly an elite group, they should find a way to get to the quarterback.
A big turnover or two wouldn't hurt either.
Realistic Stat Line
3 sacks, 4 hits on the QB and 1 fumble recovery
Willie Young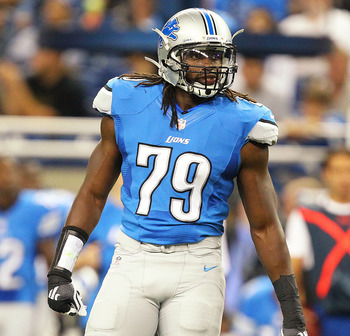 Mike Carter-US PRESSWIRE
I didn't include Willie Young on the last slide because he is due for a breakout game against Minnesota.
He's yet to make an appearance on the stat sheet this year, but he's too good and he improved too much this offseason for that to continue. He had arguably the best preseason out of any Lions player.
I know it was only preseason, but individual performances are more meaningful than how the team finishes.
He's a playmaker. He proved that in limited action last season, and he proved it during the preseason.
Realistic Stat Line
One big play (sack, forced fumble, fumble recovery or interception)
Linebackers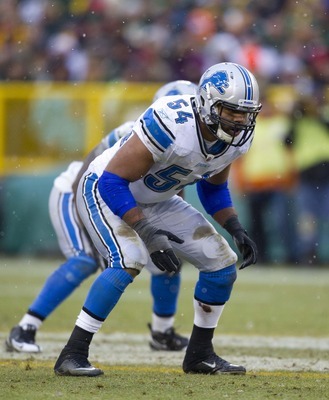 Jeff Hanisch-US PRESSWIRE
The Lions' defensive scheme relies heavily on their front four's ability to penetrate quickly and wreck havoc in the offensive backfield.
When it's working, the Lions are dominant.
When it's not working, it leaves the rest of the defense vulnerable. Particularly the linebackers. They have to patrol the middle of the field, cut down rushers that get past the front four and drop back into coverage.
Stephen Tulloch, DeAndre Levy and Justin Durant have been doing a solid job this season—especially against the run. They are the top three tacklers on the team with a combined total of 65. They've also accounted for six tackles behind the line of scrimmage for 20 yards lost.
The area where that they can improve upon is pass coverage. They've let some receivers get behind them, and we all know the Lions secondary needs all the help they can get.
Minnesota could be a tough matchup. Adrian Peterson is an elite rusher, and they'll need to contain him. He's yet to gain 100 yards in any game this year, and the linebackers will be key in continuing that trend.
The Vikings also have an improved passing attack behind Christian Ponder. He's accurate, is a dangerous runner and has already hooked up with tight end Kyle Rudolph for three touchdowns.
Tulloch and Co. will be key in minimizing Rudolph's impact.
Realistic Stat Line
28 tackles and 1 take away (fumble recover or interception)
Titus Young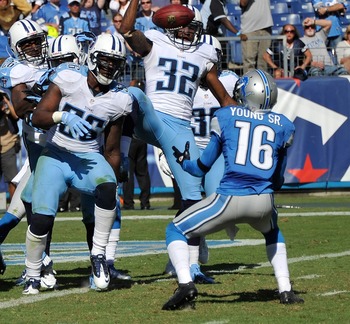 Frederick Breedon/Getty Images
Titus Young might've caught a game-tying Hail Mary pass against the Titans, but for the most part, he's fallen off the map this year.
If you subtract that play from his overall numbers, his season looks like this: Seven receptions, 54 yards and zero touchdowns.
This was supposed to be Young's year to shine, but he's yet to take the big step everyone expected.
Lucky for him, Sunday's game against the Vikings is the perfect chance to get back on track. He's played well against Minnesota before.
In two games last season, Young tallied eight receptions, 138 yards and one touchdown.
He's had the Vikings' number, and he's due for a good game. Maybe that Hail Mary reception was an omen of good things to come.
Realistic Stat Line
5 REC, 75 YDs and 1 TD
Nate Burleson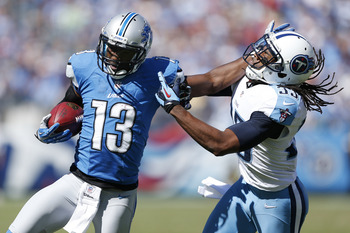 Joe Robbins/Getty Images
Nate Burleson had one of his best games as a Detroit Lion last week against the Titans. He got in the end zone and had double-digit receptions.
Most people assumed that this would be the year that Titus Young overtook Burleson on the depth chart and staked his claim for the No. 2 receiver spot permanently.
It hasn't happened. The wily veteran has outperformed Young and is a valued leader for the Lions—on the field and off.
He struggled against Minnesota last year, though, and with Titus Young poised to have a big game, Burleson might not get that many targets.
Realistic Stat Lines
4 REC and 40 YDs
Brandon Pettigrew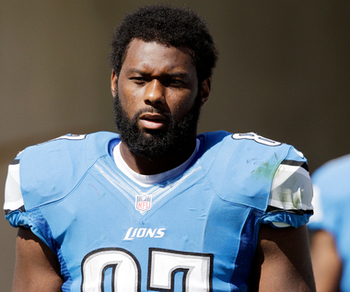 mlive.com
So far this season, Brandon Pettigrew, like his team, has been an enigma. Many were predicting a breakout year for the third-year tight end, but he's been inconsistent.
There are times when he looks dominant. In Week 1 against the Rams, Pettigrew caught three passes for 62 yards in a key fourth-quarter drive that ended in a touchdown. He was also the only Lions player to see the end zone against the San Francisco 49ers.
Those are the bright spots. He also dropped a handful of catchable balls, completely disappeared from the offense at times and he committed a huge turnover against Tennessee.
I've said before that Pettigrew is Matthew Stafford's security blanket, and it's still true despite his poor start to the season.
He's a big body that Stafford loves to target in the middle of the field, both as a primary receiver and a checkdown.
Against the Vikings, Pettigrew could have his best game yet. They are rated ninth overall in pass defense, and they've given up 171 yards and two touchdowns to tight ends so far this year.
That's a good sign for Pettigrew. He'll come out looking to make fans forget about his miscue against Tennessee.
Realistic Stat Line
8 REC, 105 YDs and 1 TD
Mikel Leshoure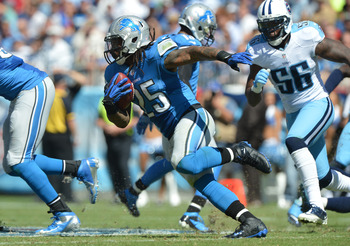 Don McPeak-US PRESSWIRE
It's safe to say that against the Tennessee Titans, Mikel Leshoure exceeded expectations. The Lions and their fans were hoping for the best, but everyone was cautiously optimistic.
That caution speaks to both Leshoure's injury history and the Detroit fanbase's history of letdowns. Fortunately, no one was let down. Leshoure played very well and gives the Lions offense a dimension they've lacked for...ever.
He's a power runner who can move the pile, and he's elusive enough to make one or two guys miss.
His numbers against the Titans, in his first NFL game, were impressive: 26 carries, 100 yards, one touchdown.
Impressive, but he'll be hard pressed to repeat that against the Minnesota Vikings. Their defense is much better at stopping the run than Tennessee's.
In two games against Detroit last year, they only gave up a combined 78 yards rushing and no touchdowns.
That doesn't mean Leshoure can't have success. The Lions are committed to a balanced offense, so expect him to get plenty of carries. He might not rack up tons of yardage, though.
Realistic Stat Line
24 carries, 75 yards and 1 touchdown
Joique Bell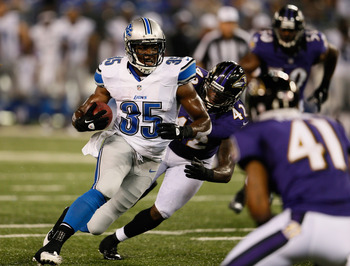 Rob Carr/Getty Images
It appears that Joique Bell has grabbed hold of the No. 2 running back spot and is literally running away with it. The Wayne State product has been impressive in limited duty and was the first off the bench for Mikel Leshoure against Tennessee.
Bell isn't exactly a change-of-pace back. He's more similar to Leshoure than he is to Jahvid Best or Kevin Smith. However, the Lions have found ways to work him into the game.
He scored a touchdown in Week 1 against the Rams and carried the ball five times, averaging 4.6 yards a carry, against the Titans.
Smith is healthy, but Bell has been getting the opportunities and has done more with them as of late.
Look for Bell to be a factor against the Vikings as the Lions continue to work at establishing a solid rushing attack.
Realistic Stat Line
5 carries, 28 yards
Matthew Stafford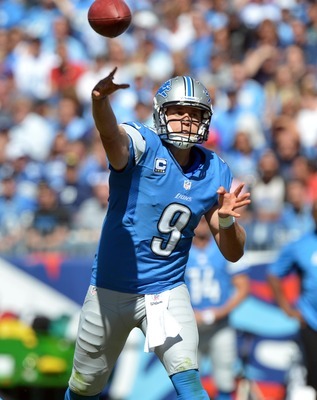 Don McPeak-US PRESSWIRE
Most people would say that Matthew Stafford and the Lions offense haven't performed up to the high standards they set for themselves last season. However, if you look at the numbers, it's hard to support that argument.
According to ESPN, they are currently the highest-rated passing offense in the NFL, and they're 14th in rushing. That's far from disappointing.
The problem is their record. Despite the offense's success, they're losing games.
They're also not passing the eye test. Stafford has thrown too many interceptions, receivers are dropping balls and they're not finding the end zone enough.
At home against Minnesota, Stafford needs to find his groove and play mistake-free football. That means no interceptions and better accuracy.
Will he play? He practiced Thursday, so that bodes well. Barring a setback, expectations will be high for him to finally put together a complete game and dominate the Vikings.
Realistic Stat Line
325 YDs, 2 TDs and 0 INT
Calvin Johnson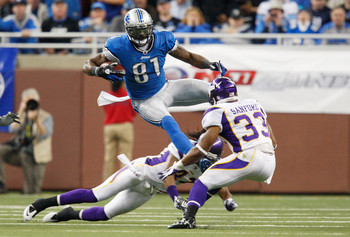 zimbio.com
Some people, myself included, have said that the Lions need to involve Calvin Johnson in the offense more. One look at his numbers makes that statement sound silly.
He's currently third in the NFL in receptions (24), first in receiving yards (369) and first in yards per game (123). Those are the numbers of someone who is deeply involved in the offense.
There is something to be said for even distribution, though. Johnson's catches have come in bunches and usually after halftime. That works for his stat line, but it's not the best scenario for Detroit's overall success.
Johnson needs to be involved consistently, not just in the third or fourth quarter. The Lions need to get him involved early and maintain that. Their offense has stalled in the first half in every game, and the reason is that Johnson isn't being targeted enough.
As for his numbers, Johnson is going to get his against Minnesota. More often than not, he's put up good numbers against them. He's faced them nine times and averaged 64 yards per game and has six touchdowns.
The Vikings have had success shutting down opponents' passing games this year. Then again, they haven't faced a player like Johnson.
Realistic Stat Line
9 REC, 120 YDs and 2 TDs
Keep Reading

Detroit Lions: Like this team?