College Football Week 5 Conference Power Rankings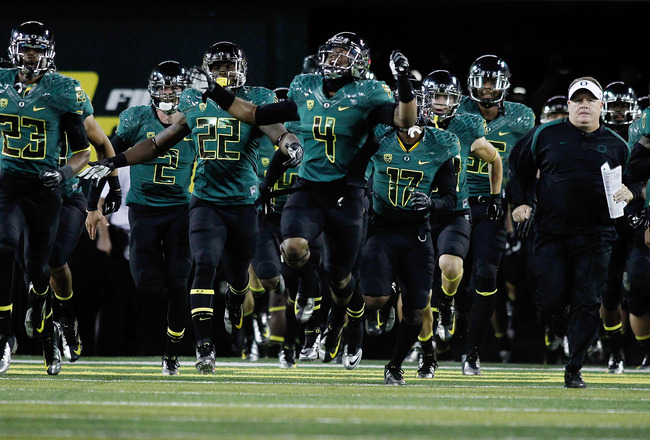 Jonathan Ferrey/Getty Images
After four weeks of college football, which conference stands above all the others?
The SEC may claim to be the toughest conference in the land, but are others catching up? How bad can things get for the Big Ten? And what do these Oregon Ducks have to quack about?
Where do the conferences stack up going into Week 5 of the season? Read on.
No. 12: Conference USA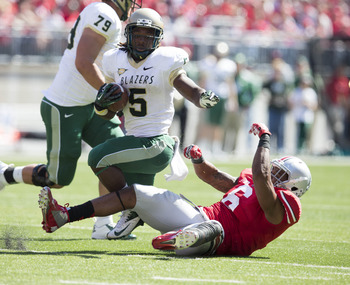 Greg Bartram-US PRESSWIRE
UAB put up a valiant effort against Ohio State, but there's not much good news coming out of C-USA these days.
Tulsa and Central Florida are the only two schools in the conference with winning records, while East Carolina and Marshall sit right at 2-2. Five teams (UAB, Memphis, Houston, Southern Miss and Tulane) have yet to win a game in 2012.
The entire conference has just one win over a team from an AQ conference, and that was Rice's 25-24 win over Big 12 bottom-feeder Kansas.
No. 11: Sun Belt Conference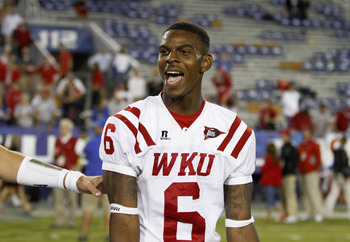 Mark Zerof-US PRESSWIRE
After an exciting few weeks of football for the Sun Belt Conference, things seem to be returning to normal.
Louisiana-Monroe still holds the win over Arkansas and took both Auburn and Baylor to the wire. It really is too bad that the Warhawks weren't able to finish the Tigers or the Bears, as the win over the Razorbacks is looking less and less impressive as that program continues to implode.
Still, at least the conference race should be interesting, as Louisiana-Lafayette, Louisiana-Monroe, Arkansas State and Western Kentucky duke it out.
And I wouldn't rest on those Hilltoppers at Western Kentucky. They have a win over an SEC team, even if it is just Kentucky.
No. 10: Mid-American Conference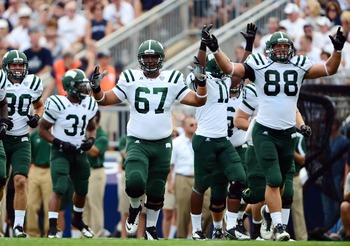 Andrew Weber-US PRESSWIRE
Ohio's BCS-busting dreams remain alive, as it is one of only three teams from non-AQ conferences that has not lost a game. The Bobcats aren't ranked in the Top 25 yet, but how long can voters keep them out if they keep winning games?
They had a close call against Marshall, however. They're going to have to rack up the style points if they want to ensure a BCS bowl bid, as they don't have any quality opponents on their schedule.
And watch out for Ball State. The Cardinals have wins over Indiana of the Big Ten and now South Florida of the Big East.
No. 9: Mountain West Conference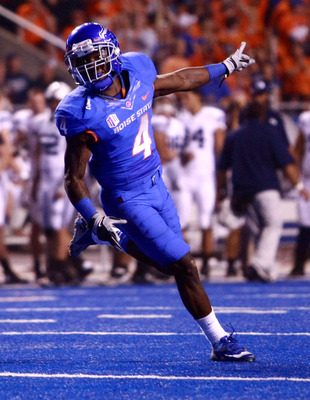 Brian Losness-US PRESSWIRE
Boise State narrowly held onto its Top 25 ranking after failing to score an offensive point against BYU but winning anyway. The Broncos are the only team outside of the AQ conferences and Notre Dame to be ranked in at least one major poll this week.
However, don't sleep on Nevada. Other than a disappointing one-point loss to South Florida, the Wolf Pack have gotten off to a good start. I wouldn't be surprised to see them make an appearance in the Top 25 before the year is out.
Things really drop off from there in the conference, however, as the rest of the teams have a combined record of 11-19.
No. 8: Western Athletic Conference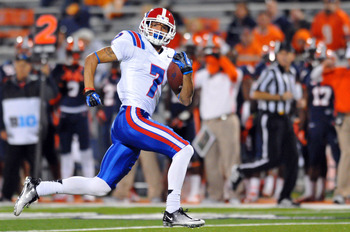 Bradley Leeb-US PRESSWIRE
There are only three unbeaten teams outside of the AQ conferences that could potentially bust the BCS, and the WAC has two of them.
Louisiana Tech (3-0) continues to roll, as it took down Illinois last week, but Virginia and Texas A&M still loom large on the schedule.
The other undefeated team? Texas-San Antonio (4-0). Granted, only one of those wins was against an FBS team, and that was fellow newcomer South Alabama.
Utah State owns a victory over Utah and could sweep the state if it can beat BYU.
No. 7: FBS Independents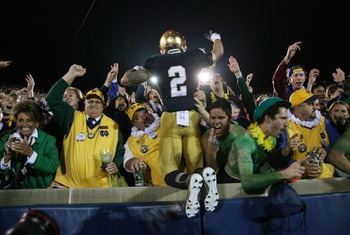 Brian Spurlock-US PRESSWIRE
Finally, after years of mediocrity, it looks like the Fighting Irish might be for real.
Notre Dame is 4-0, with wins over Michigan and Michigan State. However, Notre Dame has plenty of stern tests ahead of it, including Stanford, Oklahoma and hated rival USC.
BYU is 2-2 after two bizarre finishes against Utah and Boise State. It has the defense to run with just about anybody, but the offense is losing games for the Cougars.
Meanwhile, Navy just picked up its first win over Virginia Military Institute, while Army has yet to feel the thrill of victory in 2012.
No. 6: Big East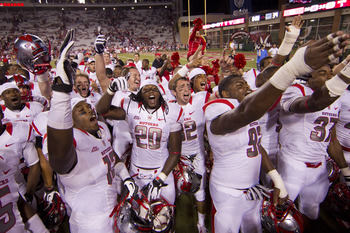 Wesley Hitt/Getty Images
Normally, a Rutgers win over an SEC program like Arkansas would give the Scarlet Knights more reason to move up in the rankings.
The fact that Louisiana-Monroe beat the Razorbacks first kind of diminishes that victory. However, the Scarlet Knights did find their way into the Top 25, meaning that there are two teams from the Big East in the polls for the first time since the end of last season, when West Virginia and Cincinnati were both ranked at the same time.
Louisville, however, almost found a way to drop out of the polls, as it got a scare from Florida International.
No. 5: Big Ten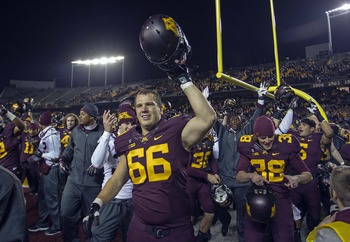 Jesse Johnson-US PRESSWIRE
Who would have guessed that the only three unbeaten teams left in the Big Ten would be Minnesota, Northwestern and Ohio State?
Sure, you expected the Buckeyes to be unbeaten up to this point, but the Golden Gophers and the Wildcats?
Wild.
So far, the only signature win that the conference has is Michigan State's win over Boise State, as that's the only victory over a team currently ranked in the Top 25. This conference continues to flounder, as Iowa fell to Central Michigan, Illinois got routed by Louisiana Tech and Indiana fell to Ball State.
Even Ohio State had a bit of a scare against UAB.
No. 4: Atlantic Coast Conference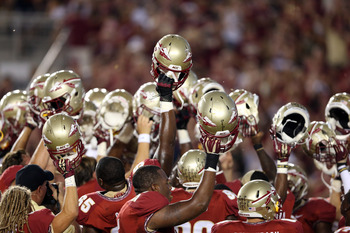 Streeter Lecka/Getty Images
Don't look now, but it seems Florida State is truly back after an impressive win over Clemson.
Yes, it was a year later than people expected, but certainly better than never.
But there's a distinct difference between the Seminoles and Tigers over the rest of the conference.
Usual stalwart Virginia Tech inexplicably lost to Pitt, Georgia Tech lost in overtime for the second time this season and there really isn't much else to be excited about from the ACC.
No. 3: Big 12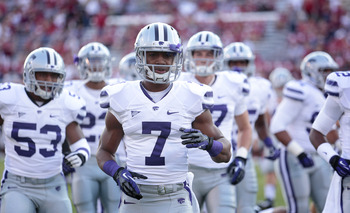 Brett Deering/Getty Images
After four weeks of football, the question still remains.
Just how good is the Big 12?
Seven of the 10 members of the Big 12 remain undefeated (ponder the irony of that statement for a moment...), but there aren't too many quality opponents in the list of the victims.
TCU beat Virginia, Kansas State has wins over Miami (Fla.) and Oklahoma, Baylor won over Razorback-killer Louisiana-Monroe, Iowa State defeated Iowa, Texas destroyed Ole Miss and West Virginia escaped Maryland.
None of those are quality wins except the Wildcats' win over the Sooners, and that was a conference game.
No. 2: Pacific-12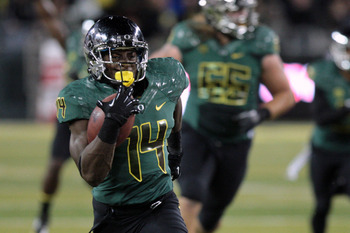 Scott Olmos-US PRESSWIRE
How about the state of Oregon?
The Ducks are flying high after routing Arizona, and they have soared to the No. 2 spot in both polls. Meanwhile, the Beavers of Oregon State chopped UCLA down to size using their fantastic defense.
The "Civil War" just might determine who gets to go to the Rose Bowl, or maybe even the BCS National Championship Game.
USC's national title hopes took a serious hit against an Andrew Luck-less (and still winning!) Stanford team, but the conference holds some impressive non-conference wins over teams like Illinois, Syracuse, Oklahoma State, Nebraska, BYU and Wisconsin.
No. 1: Southeastern Conference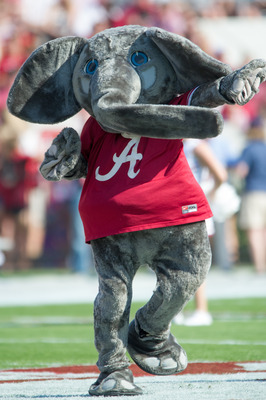 Michael Chang/Getty Images
To the surprise of probably no one, the SEC still reigns supreme.
Alabama looks as good as ever, but LSU appeared a bit uncomfortable in the close call against Auburn.
Also, the SEC East looks better than it has in years.
The race in the East looks promising, as Georgia, South Carolina and Florida remain unbeaten. Whoever wins in the West, be it the Crimson Tide or the LSU Tigers, shouldn't take the championship game in Atlanta for granted.
Could the SEC make it seven national championships in a row? I certainly wouldn't bet against it.
Keep Reading