Pittsburgh Steelers vs. Oakland Raiders: 5 Lessons Learned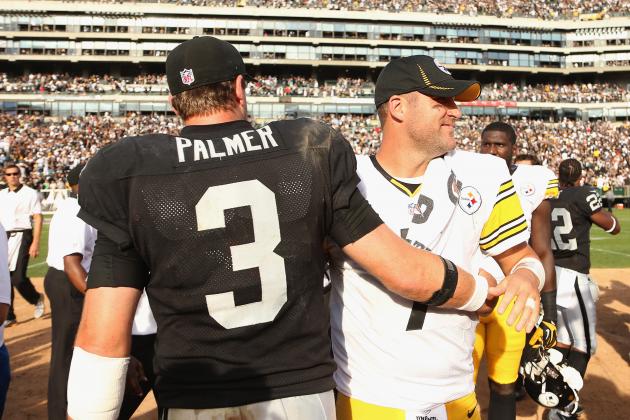 Ezra Shaw/Getty Images

The Pittsburgh Steelers fell to the Oakland Raiders on Sunday afternoon, dropping their season record to 1-2.
There is plenty of blame to go around: the defense that looked to be out-coached in the second half; the complete lack of any kind of running game. But why look at the surface when there is so much more to this miserable iceberg to examine?
As they head into their bye week, let's look at what we have learned from this latest loss.
Begin Slideshow

»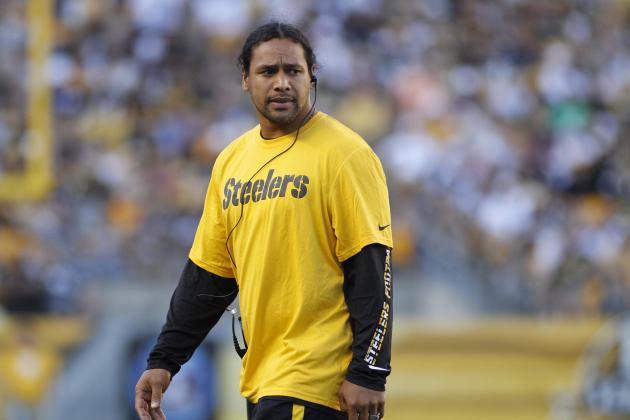 Justin K. Aller/Getty Images

Say what you want about "next man up," but when you lose two former defensive players of the year, you are going to suffer some setbacks.
Without James Harrison, there is no pressure on opposing quarterbacks. The team has five sacks this young season, tied for 21st in the league. Woodley and Timmons simply cannot overcome the double-teams they often see, nor are they good enough to beat larger offensive linemen in one-on-one matchups.
They are better when Harrison is on the field because he forces defenses to deal with him.
Far too often, especially in the second half, Raiders QB Carson Palmer had time to pick apart a defense he is familiar with from his years in Cincinnati.
With the time he had to find open receivers in the second half, Palmer was able to convert seven of eight third-down attempts after going 0-for-4 in the first half.
Without oft-injured superstar Troy Polamalu patrolling the defensive backfield, the Steelers were forced to play a bend-don't-break style of defense, allowing Palmer and company chunks of yardage through the air and on the ground.
Oh yeah, did I mention that the once-vaunted defense, against whom teams would never have dreamed of attempted to run the ball against, allowed Darren McFadden a 64-yard touchdown on his first carry? McFadden would finish with 113 yards on 18 carries, good for a nearly obscene 6.3 yards per carry.
Someone on this defense needs to start playing better until Harrison and Polamalu come back, or this will be a very long season for Steelers Nation.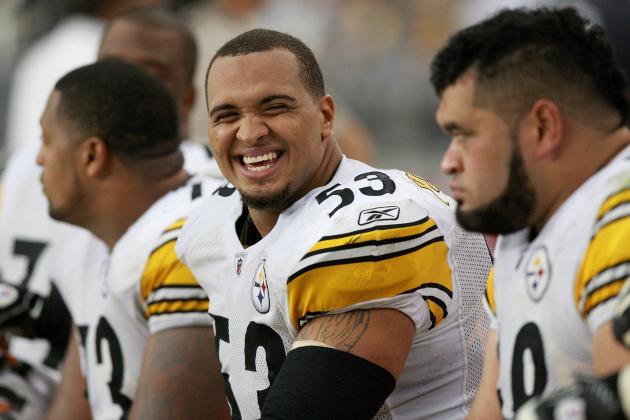 Karl Walter/Getty Images

The Steelers currently sit 15th in rushing yards on offense. Is this the same team that we hoped would get back to Steelers football this year?
That hope has gone unfulfilled in three games this year.
To be fair, Coach Tomlin can't help that first-round pick OG David DeCastro was hurt in the preseason. And he can't speed up the development of second-round pick Mike Adams. But we all know the guys who were in front of QB Ben Roethlisberger last year are not the guys to get the job done.
Again, to be fair, the line did an impressive job of protecting Big Ben in this game against the Raiders. Let's be honest, though. It is the Raiders. They currently sit 26th in the league in passing yards per attempt.
What is noteworthy is that the Steelers could only muster 55 yards (2.7 yards per carry) on the ground against a team who are allowing 4.2 yards per carry after yesterday's game. That means playing the Steelers actually helped their average.
The longest run of the day for the Steelers? An eight-yard scramble by Ben Roethlisberger. The longest run by a running back? Six yards by Isaac Redman on a 4th-and-1.
On top of that, when it mattered the most and a score probably would have won the game for the Steelers, they were forced to go for it on fourth down in their own territory and eventually punted a few plays later because they couldn't convert a 3rd-and-9. In fact, the Raiders' only sack came during the Steelers' last offensive series.
This is not the kind of football we were looking for.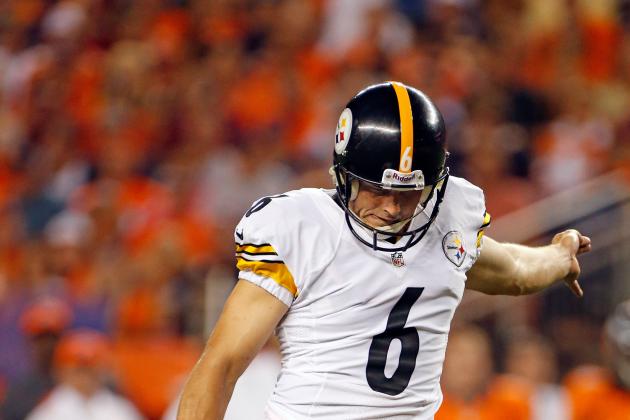 Doug Pensinger/Getty Images

It seems like the Steelers have never had a complete special teams game. If they are doing well on kick coverage, they are missing field goals. If they are making field goals, their punter is not doing well.
Sunday's game against the Raiders seemed to continue that trend.
Drew Butler is currently 30th in the NFL in average punting yards with 41.4 yards. In a game where field position can be the difference between a win and a loss, that is not good enough. The kid has a knack for making the ball bounce straight up in the air near the goal line, but sometimes, you have to simply put your foot in one, and he has shown a disturbing lack of power.
His longest punt on Sunday was 44 yards. The leader in punting in the NFL, Thomas Morstead of New Orleans, averages 10 yards more than that.
Antonio Brown could only muster 11 yards on two punt returns, but the Steelers countered that by covering their own punts well, only allowing five return yards. Of course, when you can barely punt the ball out of your own shadow, the coverage should be good.
It was on kick returns that the Steelers struggled against the Raiders. On two kick returns, the Steelers allowed 87 yards, which set up the Raiders with good field position.
I don't know what the answer is, but clearly, whatever the Steelers are doing is not working.
On a positive note, Shaun Suisham continues to be solid, if not very flashy. He has made five of five field goals this year, his long from 45 yards.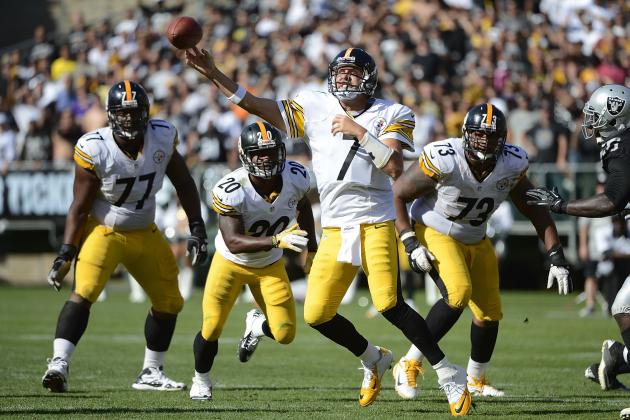 Thearon W. Henderson/Getty Images

Ben Roethlisberger is an extremely good quarterback. The reason a lot of people don't know that is because he spends most of his time running for his life.
When you give him time, he can take any defense apart. And even if he doesn't have a lot of time, he is so good at making time for himself that you find yourself criticizing him when he doesn't make the big play.
It's not very fair to Ben, but it's true. Steelers fans have become so accustomed to Ben making every play that we are really upset when he doesn't find a way to win.
With a game to play in Week 3, Ben is second in the league in passer rating, fourth in passing yards per game, tied for first with eight touchdown passes and has only one interception. And, he is completing more than 68 percent of his passes while having the sixth-most attempts in the league.
Of the players with 120 attempts, only Matthew Stafford in Detroit has a higher completion percentage than Ben, and he gets to throw the ball to the otherworldly Calvin Johnson. Antonio Brown and Mike Wallace are good, but they aren't Calvin Johnson.
Only Atlanta's Matt Ryan has a touchdown to interception ratio as good as Ben. In fact, only Ben, Ryan and Tom Brady of New England have more than 100 attempts and only one pick thrown.
If that isn't elite, I don't know what is.
Roethlisberger is on pace to throw for over 4,800 yards with 42 touchdowns and five or six picks. Of course, I don't expect these numbers to continue, but it is worth noting that Ben Roethlisberger is playing out of his mind right now.
Imagine what he could do if he had a running game and even an average offensive line.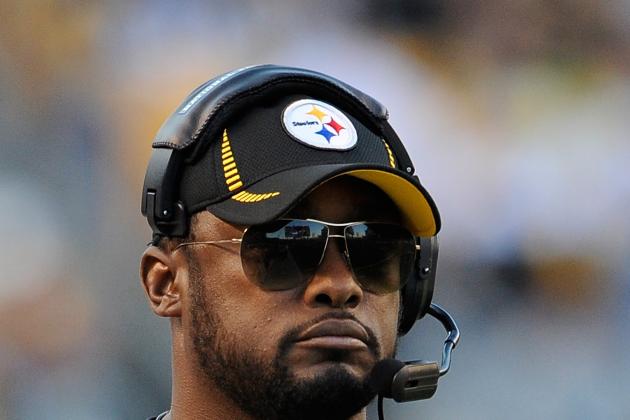 Joe Sargent/Getty Images

In the past, it was a mortal, iron-clad lock that the Steelers would win if they held a 10-point lead at any point in a game.
Nowadays, in the pass-happy, offensive-friendly NFL, no lead is safe. If you take your foot off the pedal for even a minute, you can find yourself trudging back to the locker room in disgust very quickly.
For Steelers fans like me who were born and raised in the "defense wins championships" era of the NFL, this is not a welcome change. I don't watch college football because I like defense. It is not fun for me to see 70, 80, 90 points in a game.
Those days are moving into the past, however, and even relics like me need to move with the game into the 21st century.
If you had told me that the Steelers would take a 10-point lead into the fourth quarter over the Raiders, having scored 31 points, I would have told you there was no way, no conceivable way, they lose.
Of course, protecting a lead involves two things the Steelers are struggling to do right now: run the ball and play defense.
Not being able to shorten the game by running the ball on Sunday probably gave the Raiders at least one more possession, if not two. And then not being able to stop the Raiders from erasing that lead with that extra possession or two ended up costing them the game.
The solution? Like some other teams (hello, New England), the Steelers are going to have to score 35-plus points and hope the defense can get just a couple stops to win.
Or, the defense and the running game are going to have to come around very soon.
That's life in the modern NFL.